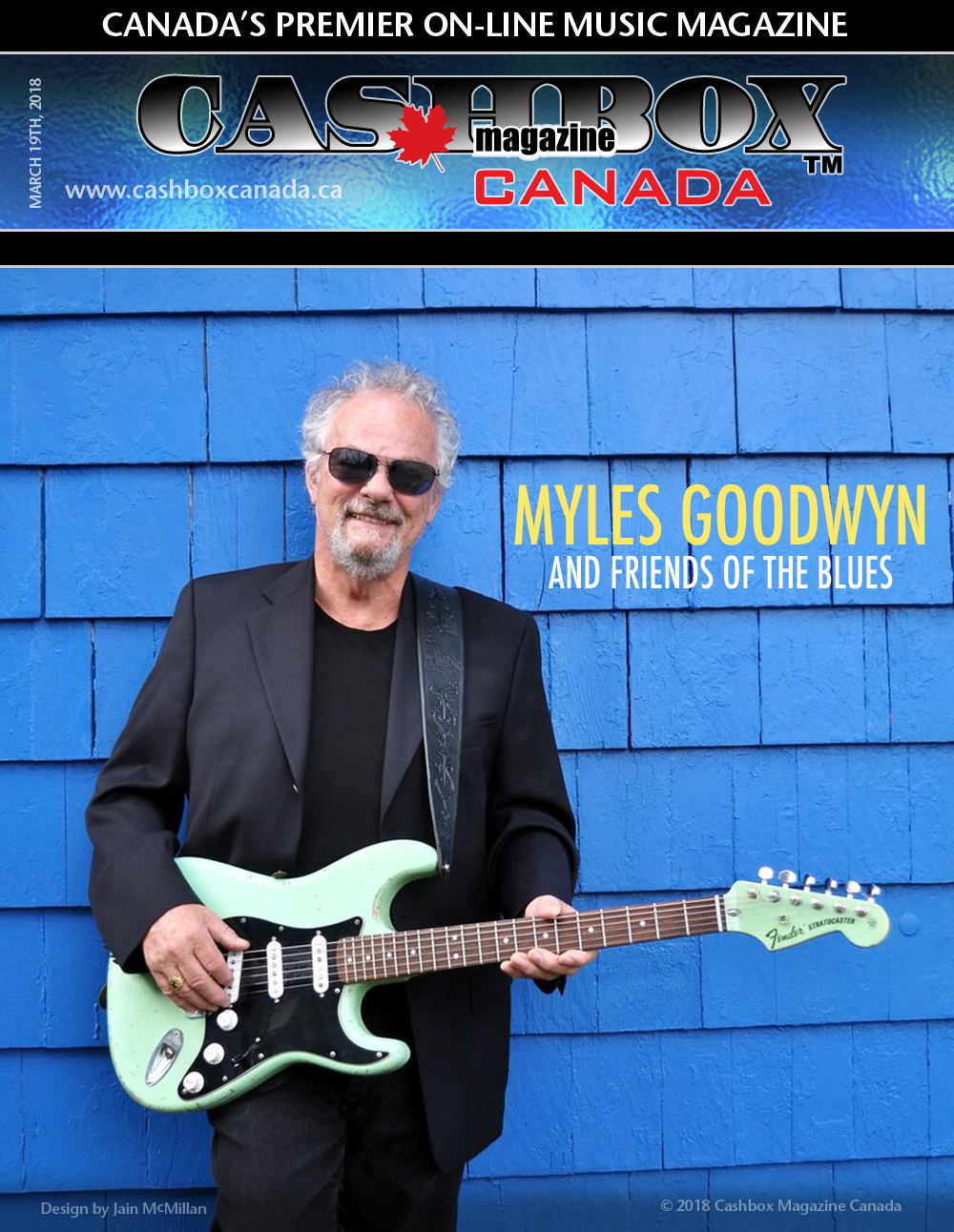 Fri Mar 16, 2018
April Wine is, of course, a household name with their string of hit records and 20 albums, many written by founding member and lead singer Myles Goodwyn.
Now the aforementioned Myles Goodwyn is making a good case for becoming a household name as a solo artist with Goodwyn's much anticipated new CD. Myles last solo recording was 30 years ago so this has been a long time coming. Friends of the Blues just landed on my desk and it blew me away. I wasn't sure what to expect, I knew it would be a good album but I had no idea how good. Often when a lead singer of a band puts out a solo album it really just sounds like the band without using the name of the band. But Myles' album is a completely different animal than April Wine and is, in my opinion, a brilliant piece of work. We caught up with Myles at his winter getaway in the Dominican Republic to discuss the new record and its genesis. "I've always been a lover of the blues and blues guitarists, B.B King. Howlin' Wolf and Muddy Waters. So when I was writing songs I would often write in that style, knowing they weren't April Wine songs but knowing that someday, with any luck, I would record them on a solo project. I took a long time making this record but I knew what I wanted and I'm proud of how it turned out."
Myles wrote all the songs on this twelve song set save for a soulful cover of an old Jesse Winchester song "Isn't That So." The lyrics are very blues oriented but also give you a little of the Goodwyn humour. This is after all the man who gave us the April Wine song "Holly Would".
The opening track "I Hate To See You Go" (But I Love To Watch You Walk Away) is a stone cold hit with more hooks than a cloakroom. Great vocal, superb horn parts arranged by Eric Khayat,  reminiscent of Natural Gas and Blood Sweat and Tears, and excellent slide guitar by Shaun Verrault. Next is the Jesse Winchester song "Isn't That So", which highlights Myles' grasp of the lyrics and featuring Sonja Ball on background vocals. The bluesy "It'll Take Time To Get Used To", is very B.B. King and features Amos Garret on guitar. The next track "Tell Me Where I've Been" ( So I don't Go there Anymore ) is a piano driven track with Kenny "Blues Boss" Wayne on the keys and some fine vintage Goodwyn guitar work. This track is the closest thing to an April Wine track on the CD. Is there a better blues title than "Ain't Gonna Bath in the Kitchen No More?"  'When I get rich and I ain't poor. I ain't gonna bath in the kitchen no more.'
More classic blues with "I'll Hate You Till Death Do Us Part" reunites old Montreal buddies Myles and Frank Marino. Excellent track. "Good Man in a Bad Place". "There's no shame no disgrace, just a good man in a bad place.' "Brand New Cardboard Belt" features April Wine's Steve Segal with Frank Marino teaming up with Myles for a guitar ace trinity. "Weeping Willow Tree Blues" slows the pace and highlights Myles vocals and the simplicity takes you to that spot under the willow tree. And signature David Wilcox licks on guitar. Well done. The powerhouse "Last Time I'll Ever Sing The Blues" brings together two guitar legends Myles and Rick Derringer. Crank this one and feel the power. "Nobody Lies About Having the Blues" brings Jack De Keyser into the mix, a "get to the heart of the matter" blues riff, another stand out track. The final track "You Never Got The Best of Me" with Dewey Reed's harmonica and Garret and Segal on guitars.
All in all, this is one the best albums I've heard in a long time and I hope we get to hear a lot more from this Canadian treasure. Keep on keeping on Myles.
I Hate To See You Leave (But I Love to Watch You Walk Away)