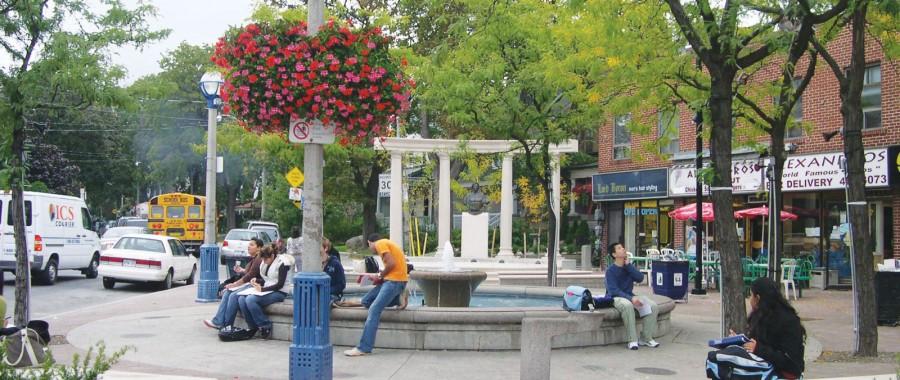 Fri Dec 16, 2016
The little village square in my hood has a small stage at one end, so the sound of live music providing counterpoint to the omnipresent traffic thunder, is often and welcome. 'Twas early summer, the city air still soft , the greenery new and full of promise, a fresh crop of toddlers duking it out with the pigeons for fountain space when I heard the subtly turbulent chromatics and cascading arpeggios of Debussy rushing like a springtime stream from a keyboard.  Behind the keys, an elfin brunette young woman just getting started on a set that referenced Brubeck, Fatha Hines, Oscar Peterson, some delicate etudes from Beethoven, Burton Cummings and Diana Krall, among the stuff I recognised.
Come break time, I'm right over there curious to hear what else she can do. So she played me some show tunes, some Elton John, and when I called out for New Orleans sounds, she dropped some Dr. John, some Professor Longhair and her Fats Domino medley had the rugrats rompin'. All layered with numerous to me, unknown pieces, some of which were gorgeous and celebratory in tone, with a persistent flow of challenge and struggles informing the dynamic.
After a particularly arresting pair of those, I asked here who they were by, and she said, "Me."  "Wow", was the best I could do because the brain that composed those powerful works must have them executed by a pair of hands that need to scale mountains for each and everyone performance. On the left hand, the three middle fingers were fused together, leaving only the thumb and pinkie to play with. On the right hand, the playing is done with the thumb and first two fingers.
By now the kiddies were being drawn to her and as I paid my cover and turned to leave, asked if she had anything of her own she would play for them.  She allowed as how she was adapting a Quebecois children's song written for fiddle and squeeze box to for the piano and launched into it, to the delight of her audience. I left the square awed and uplifted once again by the magic of the music and the sheer power of the human spirit.