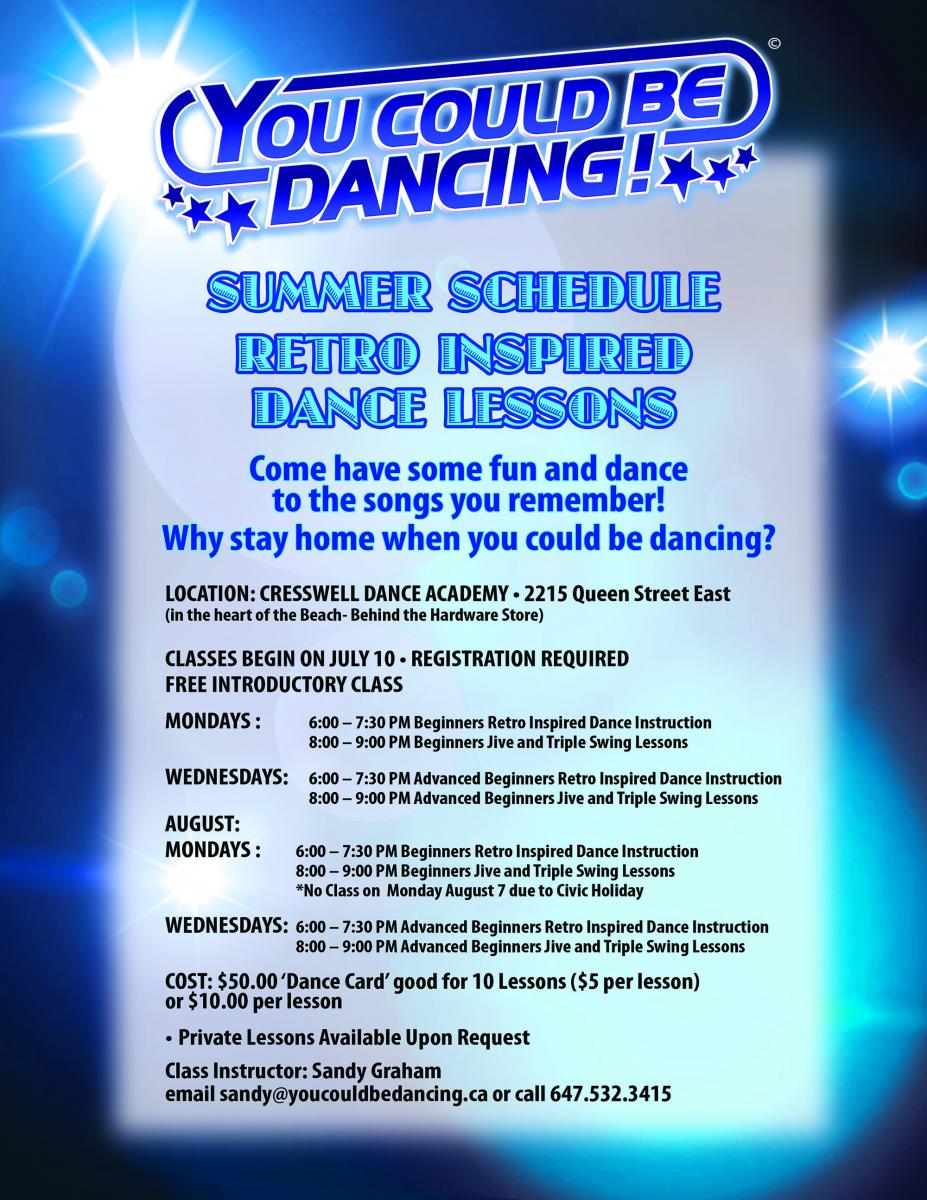 Fri Jul 07, 2017
Canadian music business veteran, Sandy Graham, has been involved in the entertainment industry for more decades than she cares to admit. "I can't remember not being involved in music or dance my whole adult life," she said from her home/office in Toronto's Beach neighbourhood. And a quick check of her history backs that up.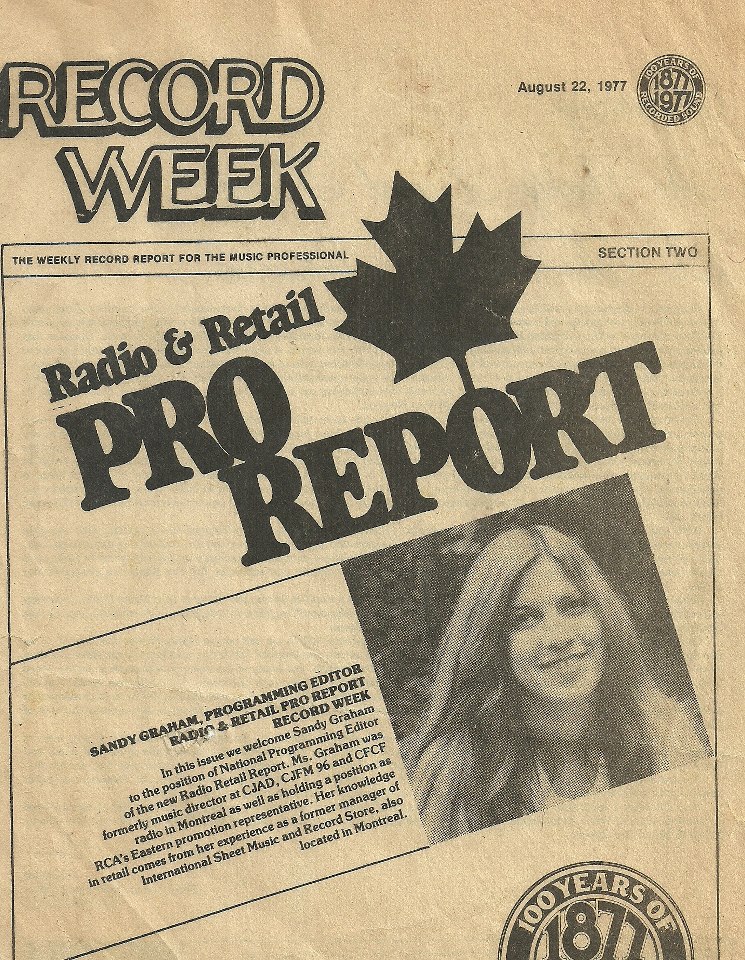 Her first steady job as a young girl out of high school was at International Music Store, located in the heart of downtown Montreal. This was a store that featured records as well as sheet music and was a great place to work for a music lover. It actually was where famed drummer Corky Laing from Mountain worked and where songwriter/singer Rick Neufeld earned his living before their careers took off. Sandy worked on the record side. One of the perks of working there was the staff got to choose the background records that played during business hours. Sandy noticed a gentleman who would stand around looking at albums for an hour or so every day and he appeared to be listening closely to the records being played. "I had no idea who this guy was but there was something odd about him because he never bought anything." In time the guy approached her and introduced himself as Gord Logan, Program Director from CJFM (CJAD) Radio directly across the street and offered her a job in radio. She worked her way up there, eventually becoming Music Director, no small feat for a female in the '70's, and one of the first women in radio to hold that position. The legendary CFCF stole her away and she became Music Director there as well. The radio gigs led to a job in the promotion department at RCA Victor Records under the legendary Andy Nagy. Andy Nagy and Ed Preston (President of RCA) hired the first female Promotion Directors in the record business, Sandy was located in Montreal and Linda Dawe was in Toronto.
Then an opportunity came that would change her life and her location. The political climate in Quebec was affecting the economy and life in general in Montreal. It was time to move on. Joey Cee in Toronto had started Record Week and offered Sandy a job working for him as his Programming Editor - Radio's Retail and Pro Report. After some deliberation at leaving her family and hometown, Graham decided it was a move she had to make. "It was hard packing up and moving to a different city and starting a new life. At least it was a city I knew because my Dad was a Torontonian (and a beacher as well) so I had a history with the city of Toronto which I knew quite well. "
Record Week was too ahead of its time so when it closed, Sandy returned to her hometown of Montreal. Not sure what to do next she stumbled upon an oldies bar in Montreal called Yakety Yak. " It was such a cool place, oldies music, people dressed in poodle skirts, guys with greased back hair. I loved it." She loved it so much the she ended up managing the club after the original owner was tragically killed in a car accident. And this is where her love of dance was rekindled. "My Mum was a dancer and my older sister Donna who was a teenager in the fifties taught me how to jitterbug. I was totally hooked on the dancing and the music brought me back to my youth."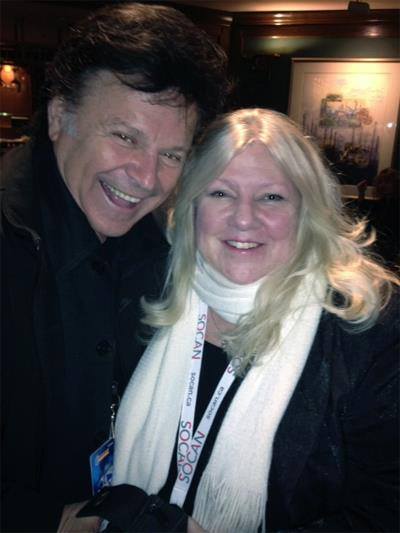 Graham decided to start her own club that would shape her future. Route 66 on Jarvis Street in Toronto was one of the most successful bars in the city in 1979, with line-ups around the block that lasted for four years. It was similar to Yakety Yak in Montreal, with poodle skirts and ducktails and even a Fonzie lookalike to entertain. And free dance lessons. This is where Sandy started the Jitter Jive Dancers, a group of energetic and talented kids who loved to dance, who also doubled as the staff. They were so popular that Sandy and the troupe got off-site gigs, dancing for the Drifters, Pauly & the Greaseballs, the Blue Jays, the biggest of which was dancing and choreographing the first half time show for the Argos at the Sky Dome. " We had so much fun and we became family. I have stayed in touch with a lot of them over the years and we still get together and cut a rug every once in awhile. Many of them met their future wives and husbands there. It was a magical time. "
During this time, she met Canadian teen idol Bobby Curtola who was part of the show, 'Back To The Five and Dime', a Dick Clark type production. Sandy and the re-named Route 66 dancers were the opening act for Chubby Checker and this is where Curtola and Graham met backstage for the first time. That relationship was a deep bond that saw Sandy and Bobby working together for close to 30 years on many projects right up until Bobby's untimely passing in June of 2016.
Her first foray into outside choreography was next, working on a TV Series for David Chase (The Sopranos) called 'Almost Grown'(teaching Tim Daley of Wings fame and creating dance scenes from the '50's and '60's, 'Robo Cop' and the quirky series 'Maniac Mansions' teaching Joe Flaherty to waltz (try that on with a Second City TV comedian!) Never having done television or movies before this was a huge advancement for Sandy and the woman who convinced her that she could do it was Kim Todd, who of course, has gone on to be an Emmy Award winner for the hit series 'Fargo'.
Then came another opportunity to own and operate Cashbox Canada Magazine which she continues to publish as Editor in Chief along with a talented staff with career history in their own right. Now in its 8th year of online publication it is a mainstay in the music and entertainment industry.
Earlier this year Sandy started getting the urge to dance again and discussed with an old friend Marc Mitchell, who is retired but teaching classes weekly in Montreal. It was these talks that inspired her to pass on her knowledge and skill of the love of retro dance, with a strong focus on jive and swing.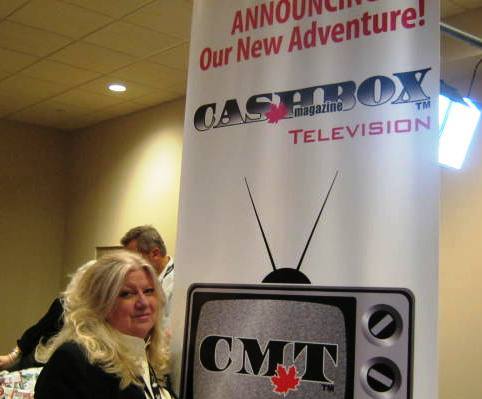 "I was toying with the idea of teaching dance in a studio environment with just a small group of people who wanted to dance and have fun." Like everything else in her life, once she made up her mind to do it, it wasn't long before it became a reality. Sandy sought out a local dance studio and landed firmly with both dance shoes on the ground at the wonderful setting of Cresswell Dance Academy, located in the heart of the beach, with wonderful studios and a warm staff who share the love of dance of all types. Creswell opened their doors and support to me and it is a wonderful studio full of inspiration. It feels so good to be back in the dance world. Once again I am back in a magical place."
So began 'You Could Be Dancing'. With different options and times available people of all ages and genders can experience to joy of dancing under the encouraging instruction of Sandy Graham, have fun and learn at the same time. And the reviews are in with the current crop of students raving about the good time they are experiencing at 'You Could Be Dancing'.
"Summer sessions have begun and you can join up with no dance experience, the only requirement is to have fun! You don't have to be a dancer it is all about the music and fun - and a great way to meet people and socialize. The music is all oldies and there is more laughter than you can imagine."
With her 'Route's once again returning to the world of dance Sandy says, "Why sit around watching tv when 'You Could Be Dancing' ?
For further info check out the poster or log on to www.youcouldbedancing.ca or contact Sandy at sandy@youcouldbedancing.ca