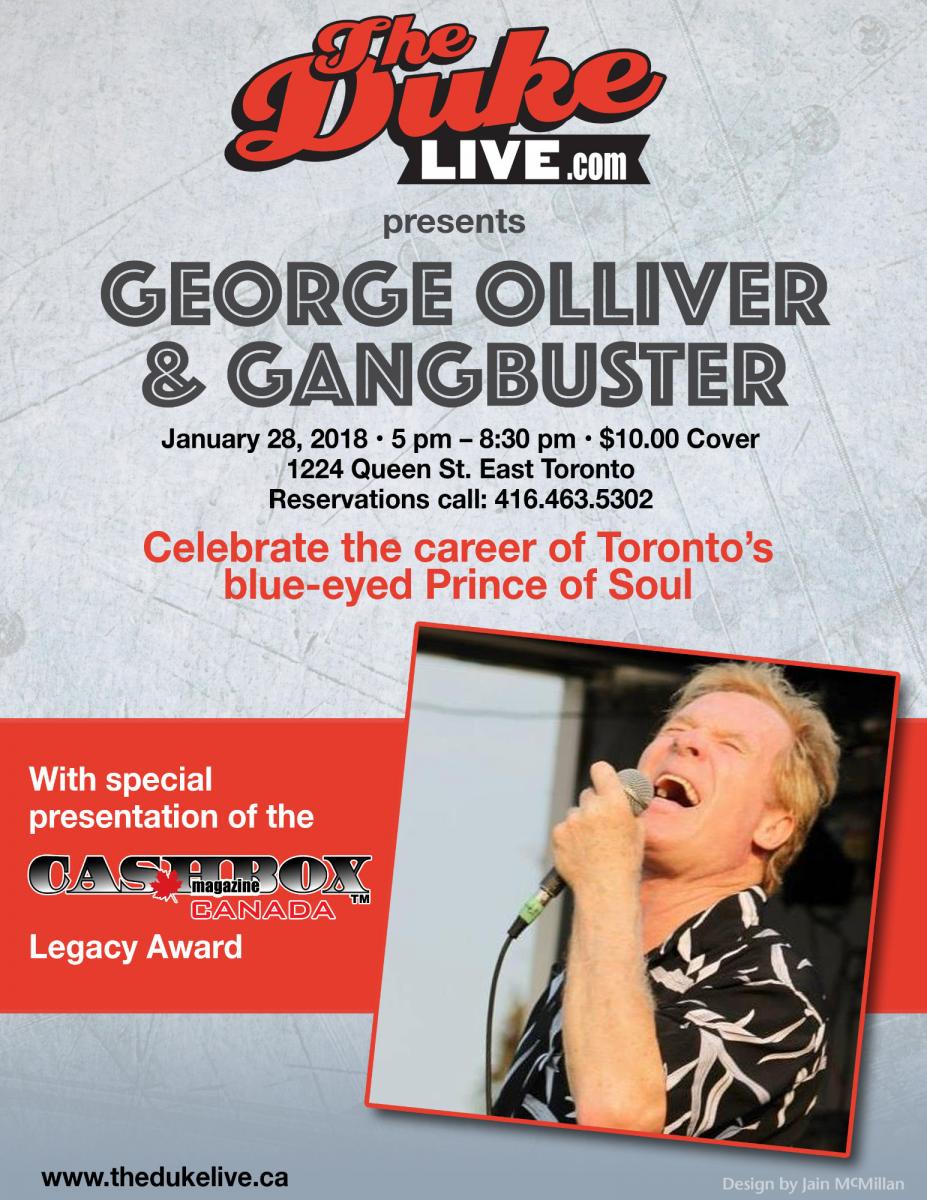 Fri Jan 05, 2018
George Olliver is a Canadian musical institution. Audiences have been raving about his stage show for years. He has been described as a dynamic performer, great soulful voice and probably the best showman in Canada! What is often overlooked is that he is a prolific writer, producer, and successful recording artist. Olliver's career shot to stardom as the lead singer of the now legendary R&B band Mandala, with TOP TEN hits "Opportunity" and "Give and Take".
Nicknamed "The Blue-Eyed Prince of Soul" he has remained one of the most popular performers on the Canadian music scene. George's extensive touring over the years has brought him international success, acknowledged by fans and industry critics alike. Having performed on tours with such acts as The Who, Rolling Stones, Cream, George learned the importance of live performance.
Moving on into the seventies, Olliver formed Natural Gas with the bands self-titled album, charting in the TOP 10 in Canada and TOP 50 in the U.S.
In the eighties George co-owned and performed at The Bluenote in Toronto from 1982-92. During that time Quality Records (Domenic Troiano producing) recorded George Olliver and Gangbuster - LIVE @ THE BLUENOTE, an amazing live album, featuring him and his band Gangbuster and special guests. It was one of the finest live records made in Canada up to that point. In the middle of his run at the club, he recorded his first studio solo album Dream Girl which brought him a Juno nomination for best R&B album. As well George was able to book and perform with some of his idols such as Wilson Pickett, Etta James, Sam and Dave and Martha Reeves. "Whitney Houston broke her first album at the Bluenote in 1985 when no one had heard of her yet!" says Olliver. "I've got hours of live recordings to be released from the Bluenote that is timeless." Now a devoted father of 3 (two sons and daughter) and with a renewed faith in God, Olliver has never stopped performing and recording his brand of "white hot soul" which has become part of what's called the Toronto Sound.
Taking his place amongst the other artists awarded The Cashbox Legacy Award, George Olliver will now be in the ranks with the earlier recipients the first being Canada's Own Rock 'n' Roll Legend, Bobby Curtola, Robbie Lane and Danny Marks. A special award was also given to Fred Ramsperger, owner of the famous music store in Montreal, International Music. Affectionately known as "Mr. Fred", he hired many young people who went on to success in the music business including myself. (Sandy Graham).
Please come celebrate the career of one of Canada's own legacy artists on Sunday, January 28, 2018 at The Duke Live, 1225 Queen Street East, Toronto.
Tickets are $10.00  5pm-8:30pm
Reservations are recommended 416.463.5302.
The Canadian live music scene was built by artists like George Olliver.
For more visit: georgeolliver.com