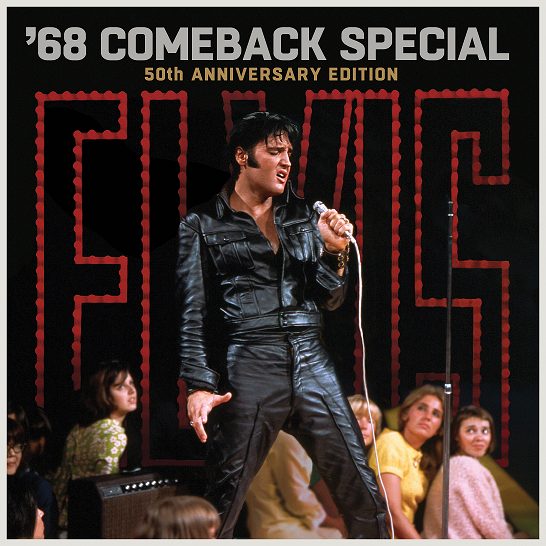 Fri Oct 26, 2018
Submitted to Cashbox Canada
This 7-Disc definitive box set Contains all known recordings/rehearsals from the RCA vaults and from original NBC-TV videotapes available November 30, 2018.
'68 Comeback Special (50th Anniversary Edition) is the definitive chronicle of the now legendary NBC-TV show, Elvis. After years of making formulaic movies, Elvis was finally unleashed to perform live again on an intimate stage with his original sidemen, Scotty Moore and D.J. Fontana. Playing "That's All Right", "Heartbreak Hotel", "Lawdy Miss Clawdy" and many of his great hits, the sheer rawness and excitement of the performances attracted unanimous critical acclaim. Greil Marcus in his book Mystery Train said, "If ever there was music that could bleed, this was it". 1968 was a profound year for America. Martin Luther King had been assassinated, and while Elvis was making the special, Bobby Kennedy was shot. The closing song "If I Can Dream" encapsulates every emotion that Elvis and the entire production crew felt during the making of the special. NBC-TV's Elvis is as raw and inspirational today as it was in 1968.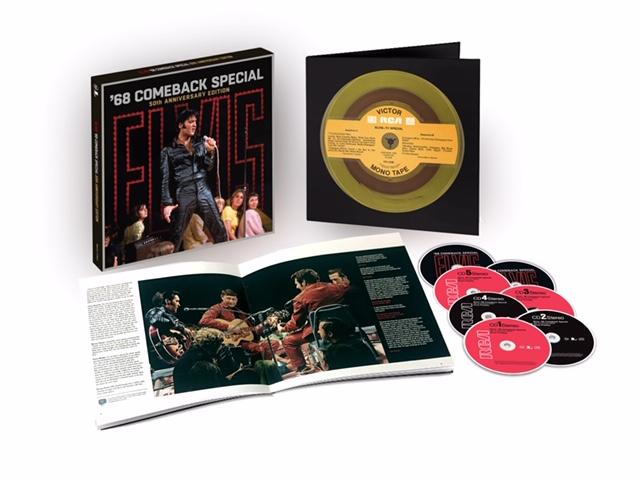 This 50th Anniversary Edition includes all the known audio recordings from RCA's vault and all the videotaped performances are here for the first time on Blu-ray.
For millions of fans, including a young Bruce Springsteen, the Elvis '68 Comeback Special was a life-changing event. "I remember I waited for weeks for the '68 Special," Springsteen recollected recently. "I knew it was coming. I can remember exactly where our TV was set up in the dining room, the exact place I was sitting. I mean, it's one of those things that's imprinted on my memory forever."
CAREER-DEFINING '68 COMEBACK
· 7-Disc definitive box set chronicles the pivotal NBC-TV '68 special called Elvis and takes you behind the scenes in audio and remastered 4:3 Blu-ray video
· Contains ALL KNOWN recordings/rehearsals from the RCA vaults and from original NBC-TV videotapes
· 80-page book includes a new, oral history on the special, crafted from interviews with producer Steve Binder, recording engineer Bones Howe, Tom Petty, Bruce Springsteen, Priscilla Presley, Emmylou Harris, Scotty Moore conducted for Thom Zimny's 2018 documentary, "Elvis Presley: The Searcher."
· The book also features rare photos and memorabilia and full recording data
· Over 7.5 hours of footage across 2 newly mastered Blu-ray discs, overseen by Thom Zimny.
Elvis Presley re-established himself as The King of Rock and Roll with Elvis, the widely-seen "comeback special" broadcast on NBC at the end of 1968. The show's many highlights included laid-back live performances recorded in the round before a small audience and featuring a powerful ensemble—including guitarist Scotty Moore and drummer D.J. Fontana, both part of Elvis' original, classic backing band. To celebrate the 50th anniversary of Elvis, both electrifying, intimate "sit-down" sets will be released widely on vinyl for the first time in a 2LP package with a newly created gatefold sleeve.
Pre-Order Here: www.amazon.ca/dp/B07HBKTHPT/ref=sr_1_2?ie=UTF8&qid=1540306836&sr=8-2&keywords=The%2BKing%2BIn%2BThe%2BRing