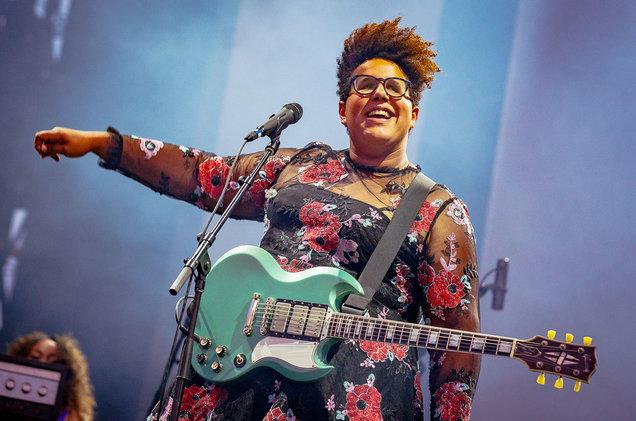 Fri Sep 27, 2019
In Jaime, Alabama Shakes' Brittany Howard has a contender for album of the year. Howard's most recent offering, 13th Century Metal, "as "a roller-coaster of a spoken-word rant that's part self-help exhortation, part sermon. View Howard performing the song live with her touring band in this Danny Clinch-directed video https://www.youtube.com/watch?v=S7YtOa7jD_c
Howard, who performed on "The Late Show with Stephen Colbert" on September 26, has extended her North American headline tour into November. Every online ticket purchased for the U.S. fall headline dates will include a CD of the new album, Jaime.
In a four-star review, Rolling Stone hailed Jaime as "strikingly bold" and noted, "Brittany Howard is a Southern rock & roll radical with a centuries-deep sense of history and some inspiring ideas about how to reshape it to fit our moment." MOJO and Q also awarded the album four stars. The New York Times observed, "The songs are funky, experimental, rowdy and exposed: the work of a songwriter going deep to explore spirituality, sexuality, traumas of the past and ideas about the present, by way of danceable propulsion and sonic escapades."
I concur with all of that and given the well informed, well executed performances from the band, we may have heard the last of Alabama Shakes.
Feel good gem "Stay High," the first single, climbed into the top 5 of Billboard's Triple A Songs chart. Views of the official video, which stars Terry Crews ("Everybody Hates Chris," The Expendables films, Deadpool 2), have surpassed six million.
Brittany Howard Tour Dates
9/27| Philadelphia, PA| The Fillmore
10/5 | Austin, TX | ACL Festival
10/8 | Los Angeles, CA| Theatre at Ace Hotel
10/9| Los Angeles, CA| Theatre at Ace Hotel
10/12 | Austin, TX | ACL Festival
10/13 | Atlanta, GA | AFROPUNK Festival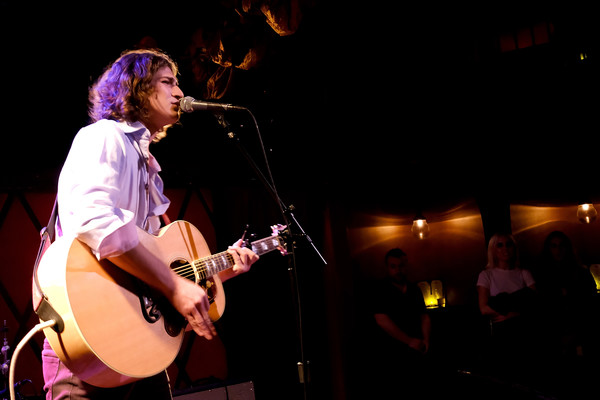 The Beatlesque "When I Was Yours,"is the new single from emerging London singer-songwriter Roman Lewis, out now via Bright Antenna. It's about the liberation in heartbreak, release in finality and of a piece with the young Brit's knack for walking on the sunny side. , 'When I Was Yours' is both touching and direct, neatly distilling Roman Lewis' stellar abilities. The song was recorded with acclaimed producer Catherine Marks (Foals, The Killers, Local Natives) at her Assault & Battery Studios in London.
Listen/share here https://www.youtube.com/watch?v=jdwnMmcAq1Y
Of the song, Roman explains, "I was getting over someone and got to a place where I was just a little sad all the time, so I sat down and thought a little and realized how funny it all was. I was getting caught up on all these things that didn't matter and realized how ridiculous I was being so just kind of laughed then wrote this song. Writing it put me into a really good mood and listening to it does too now."
"When I Was Yours" will appear on Roman's second EP, due for release in early 2020.
To support the release, Roman has confirmed U.S. tour dates alongside fellow UK bands Inhaler and Blossoms. These run of shows include performances at Brooklyn's Elsewhere, Los Angeles' The Roxy, and more.
Roman draws inspiration from 18th Century poetry, which is quite the anomaly for someone just 18 years old. He carries a young Francophile's sense of romance and a wide-eyed sense of wonder, but already a heaviness of heart too. Studying in French until the age of fourteen, and fluent in the language he adores, there's a notable joie de vivre that enriches his unhinged and oft exuberant vocals.
Roman Lewis Live
November 5—Washington, DC—Rock n Roll Hotel
November 7—Brooklyn, NY—Elsewhere
November 9—Toronto, ON—Mod Club Theatre
November 10—Chicago, IL—Subterranean
November 13—San Francisco, CA—The Independent
November 14—Los Angeles, CA—The Roxy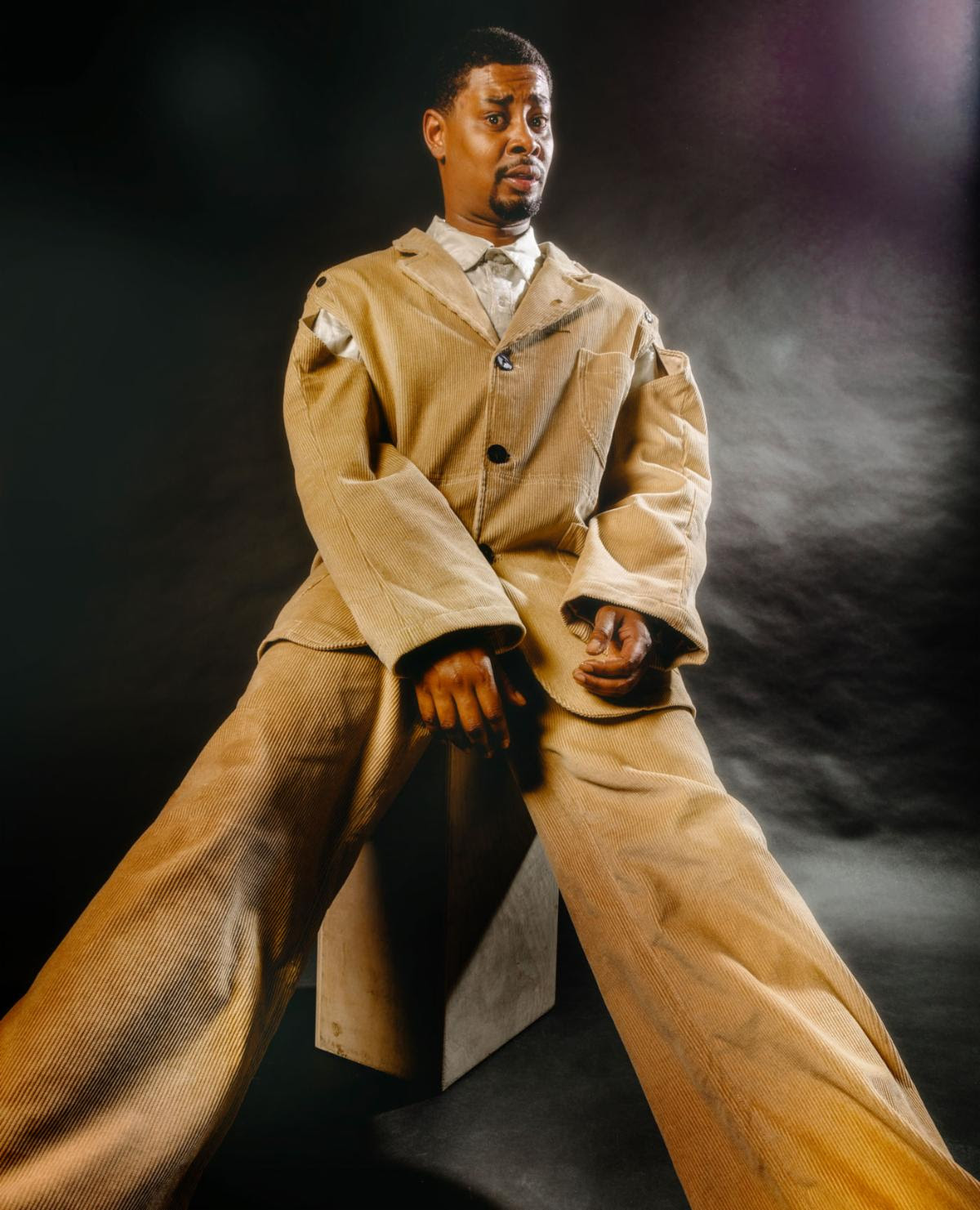 In the nearly ten years since Danny Brown's magnum opus XXX was released, he has permeated both underground and mainstream music culture with an authentic and ever-evolving persona and a sound wholly his own, transcending genres and any parameters the world around him might impose. He set the blueprint for many of today's critical darlings. Today, Brown announces his long awaited and much anticipated return with his fifth studio album uknowhatimsayin¿, slated for release October 4th via WARP. The news coincides with the release of the album's first single and video "Dirty Laundry", directed by Simon Cahn. Brown's lyrics balance earnest storytelling with laugh-out-loud one-liners, especially apparent on "Dirty Laundry"; Danny's ode to stand-up comedy, an art-form he's long respected.
Danny goes on to explain "This is my version of a stand-up comedy album. Most of my close friends now aren't rappers -- they're comedians and actors.So I wanted to create something that mixed humor with music. Something that was funny but not parody."
One track into the new album and it's obvious Brown is at the next high point of his career and life, meticulously crafting his next chapter. Earlier this year, Brown previewed details on the album in a cover story with High Snobiety, revealing executive production from the iconic rapper and producer Q-Tip of A Tribe Called Quest. Q-Tip's involvement in uknowhatimsayin¿ marks the first time the legendary artist has executive produced an album since Mobb Deep's The Infamous.
With Q-Tip's guidance Brown returned to his own version of traditional production but not without the toolbox of tricks he's built along the way: "There was no room for error. Q-Tip wanted me to go back to that 'Greatest Rapper Ever' era. I almost had to relearn how to rap again -- an ego death type thing. He gave me this whole new outlook on music. I can't go back to how it was before." Additional production comes from Paul White, JPEGMAFIA, Flying Lotus,Standing on the Corner and more with features from Run The Jewels, Obongjayar, JPEGMAFIA and Blood Orange
In the past few years since the release of Atrocity Exhibition, Brown's critically acclaimed fourth studio album and psychotropic audio memoir, he has toured the world and festival circuit, treating audiences to one of the most bombastic occasions to get sweaty, mosh and head bang - a punk energy brought into hip-hop culture that was scare before Brown's early catalogue.
Brown's star turn as an artist and individualist are both clearly demonstrated on uknowhatimsayin¿, it solidifies his rep as an innovator and hip-hop's favorite curiosity. In the truest sense, it defies genre and re-imagines what a hip-hop album can be in 2019.
Danny Brown Tour Dates.
Sat-Oct-12-19 - Atlanta, GA -  Afropunk ATL
Mon-Oct-14-19 - Nashville, TN - Basement East
Wed-Oct-16-19  - New Orleans - Republic NOLA
Thu-Oct-17-19  - Houston, TX - Warehouse Studio
Fri-Oct-18-19   - Dallas, TX - Canton Hall
Sat-Oct-19-19  - Austin, TX - Empire Control Room and Garage
Mon-Oct-21-19  - Phoenix, AZ - Crescent Ballroom
Tue-Oct-22-19  - Pomona, CA -  Glass House
Wed-Oct-23-19 - San Diego, CA - Music Box
Fri-Oct-25-19  - Los Angeles, CA - Regent
Sat-Oct-26-19  - San Francisco, CA - August Hall-Music Hall
Mon-Oct-28-19 - Portland, OR - Roseland
Tue-Oct-29-19  - Vancouver, CANADA - Vogue Theatre
Thu-Oct-31-19  - Seattle, WA – Showbox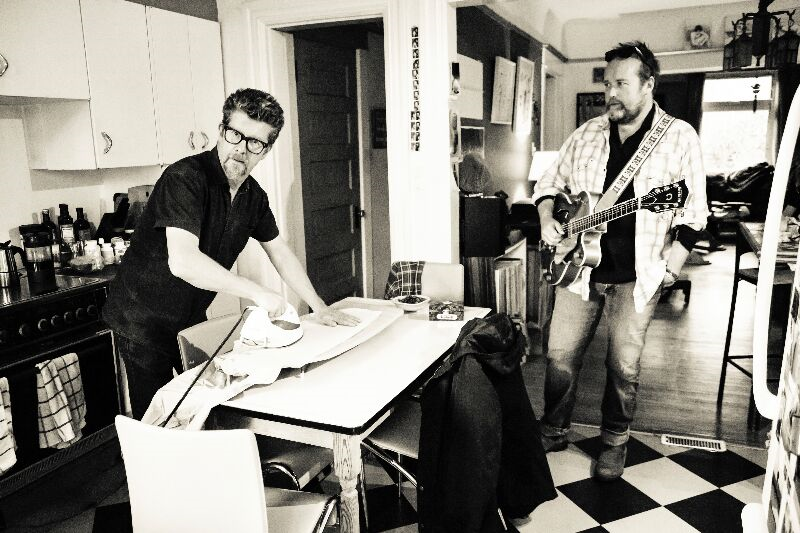 In November of 2017 Skydiggers' co-founders, Josh Finlayson and Andy Maize found themselves turning to the healing power of music to deal with the recent loss of several friends and family members. A week-long writing retreat at the Banff Centre led to a recording session in early 2018 at The Tragically Hip's The Bathouse Studio with engineer/producer Nyles Spencer, drummer Peter von Althen and multi-instrumentalist Aaron Comeau.
Initially intending to write and record a suite of songs chronicling the 5 stages of grief, the idea for the album gradually morphed into a nine-song celebration of the enduring relationships that have influenced, inspired and carried Josh and Andy through life's fleeting passage... and to finding a way to overcome loss through music's "good medicine".
Let's Get Friendship Right was produced by Nyles Spencer, Josh Finlayson & Andy Maize, recorded & mixed by Nyles Spencer at The Bathouse, Bath, Ontario and executed by Aaron Comeau - bass, keyboards, guitar, Peter von Althen - drums & percussion, Josh Finlayson - bass, keyboards, guitar and Andy Maize - vocals, piano, trumpet.
Listen to If I'm Spared   https://www.youtube.com/watch?v=RCChWVzxEmU&list=RDRCChWVzxEmU&start_radio=1
Skydiggers On Tour
Saturday, October 5 - Winnipeg, MB - Club Regent (w/ The Watchmen) - TICKETS
Thursday, October 17 - Kitchener, ON - Centre In The Square (w/ Cowboy Junkies & LeE HARVeY OsMOND) -
Friday, November 1 - Edmonton, AB - Station on Jasper - Saturday, November 2 - Calgary, AB - Bella Concert Hall -
Friday, December 13  - Ottawa, ON - NAC Theatre (w/ Donovan Woods, Basia Bulat)  
Saturday, December 14 - Ottawa, ON - NAC Theatre (w/ Donovan Woods, Basia Bulat) -
Saturday, December 21 - Toronto, ON - Danforth Music Hall 
Great Lake Swimmers are announcing the new acoustic version of their latest LP, The Waves,The Wake, out November 8. "There were a handful of demos from the album recording that were very scaled back and stark," says songwriter Tony Dekker. "I recorded a few more with producer Joe Lapinski – those turned out so well that we decided to do a full album of acoustic versions from The Waves, The Wake. No frills, no weighty production, just voice and guitar. It's meant to be a companion piece to our latest release."
The limited edition LP is available for pre-order exclusively through the band's website, on 180-gram vinyl, with original artwork by Niagara artist Geoff Farnsworth. The JUNO Award nominated and Polaris Music Prize shortlisted band are also sharing a new video for the acoustic version of "In A Certain Light" from the LP, which was recorded in Sleeping Giant Provincial Park.
"The northern shore of Lake Superior has an intense grip on my imagination and I wanted to make a dedicated trip to explore more deeply its mythology and wild landscapes," says Dekker. "In conjunction with Ontario Creates, we set off on an exploratory trip this past July documenting sounds by way of audio field recordings, visual footage, gathering inspiration for new songs, and recording demos in the locations we found ourselves in. The ultimate destination was Sleeping Giant Provincial Park. This will be the heart of the next Great Lake Swimmers album, which is currently a work in progress."
Check 'In A Certain Light' https://www.youtube.com/watch?v=7qD5mVvPM2E&feature=youtu.be
Released late last year, The Waves, The Wake was recorded in the 145-year-old Bishop Cronyn Memorial Church and produced by Chris Stringer (Union Sound). On the LP, Dekker decided to challenge himself by writing new music without any acoustic guitar, which has always been his instrumental mainstay. Each song on the album is brought to life in its own distinctive way, using an acoustic palette that includes woodwinds, harp, congas, marimba and pipe organ.
Great Lake Swimmers On Tour  
Sept. 26: Halifax, NS @ The Seahorse
Sept. 27: Annapolis Royal, NS @ King's Theatre
Sept. 29: Sackville, NB @ Thunder & Lightning w/ Colleen Brown
Oct. 1: Quebec City, QC @ L'Anti w/ Colleen Brown
Oct. 2: Montreal, QC @ Studio Base Bin
Oct. 3: Ottawa, ON @ The 27 Club w/ Colleen Brown
Oct. 5: Grimsby, ON @ Station 1
Oct. 6: Napanee, ON @ Doghouse Studios w/ Colleen Brown
Oct. 8: Collingwood, ON @ Crow Sessions with host Jeff Woods (Sold Out)
Oct. 9: Gravenhurst, ON @ Peter's Players
Oct. 17: Paris, ON @ Dominion Telegraph Hall (Sold Out)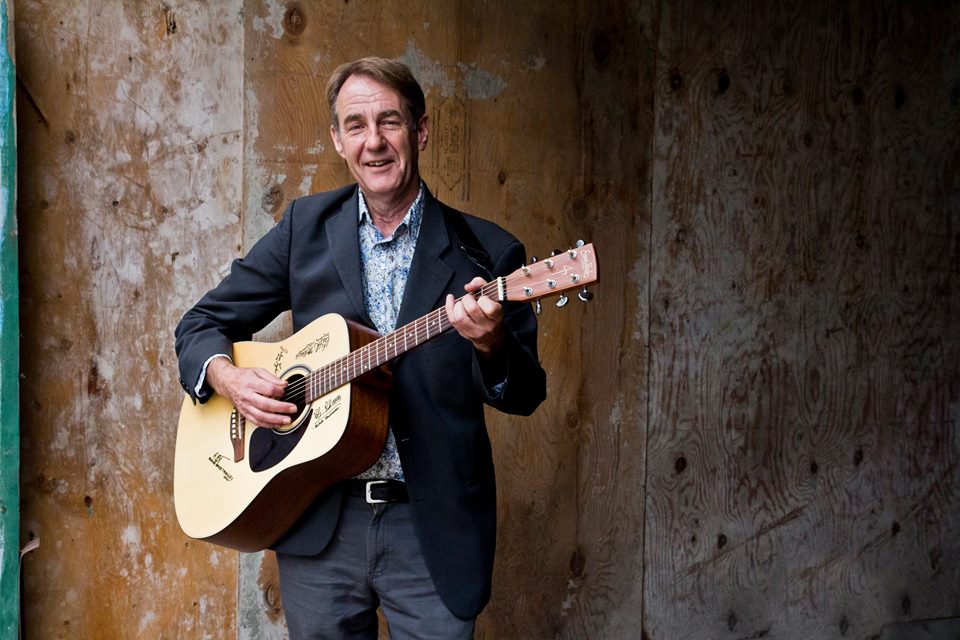 BITS'N'PIECES…….Neighbourhoods is the newest album from Fergus Hambleton and it's a smoky and reflective tone poem to the circle of life. As 'A Good Place to Be' wraps it up, 'After all that we've been through…it's a good place to be." That one's a little Cat Stevensy and but one of the flavours Hambleton employs in adding variety to what is ostensibly a folk album….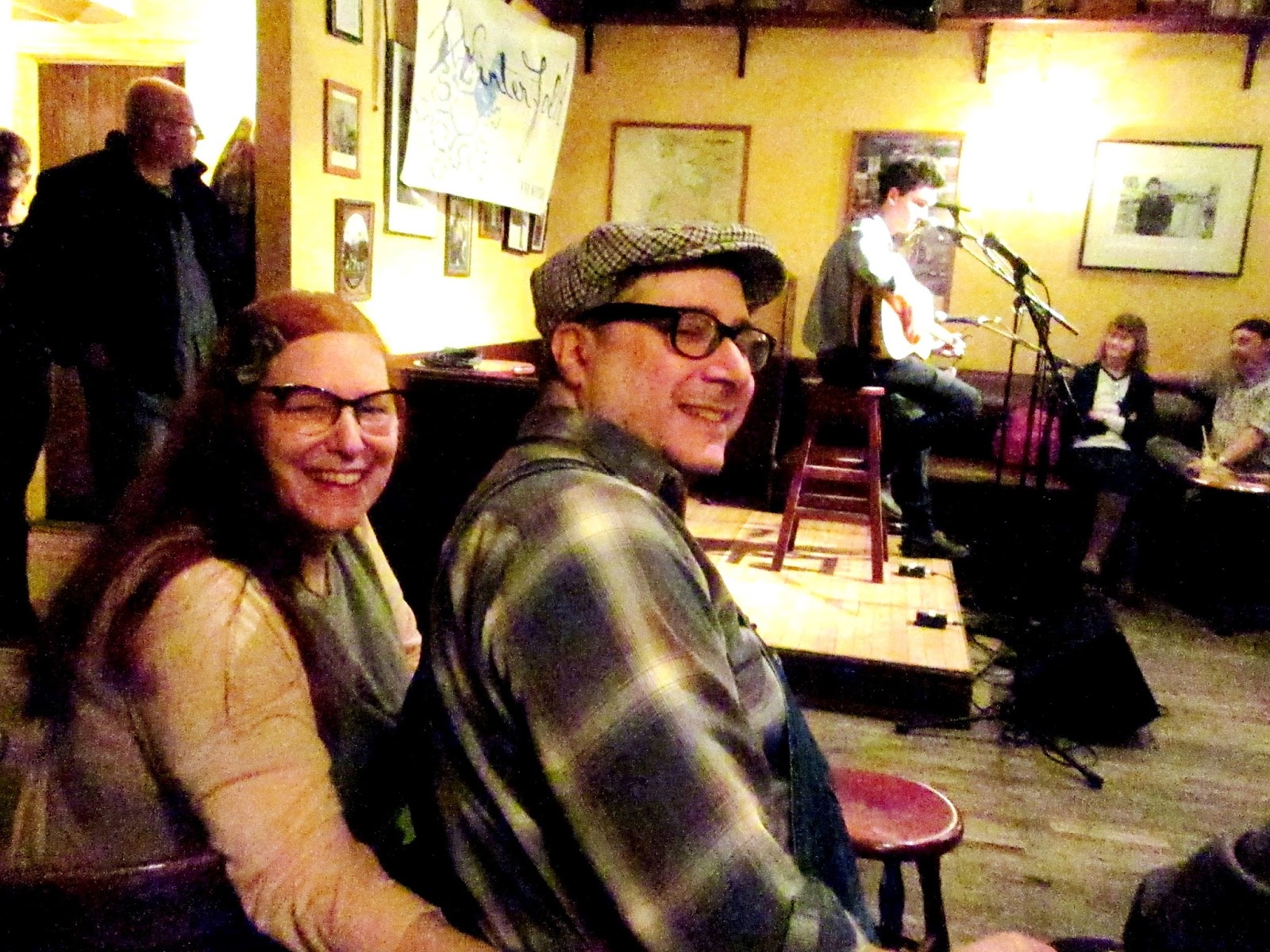 Opener 'Late September Song' sets the tone perfectly, abetted by a new type of folk blending choral music with tropical rhythms and classic genre tropes. The harmonizing with Wood and Water is ethereal, chant like in places, conjuring drowned water nymphs singing for the weeping willows.
The surfy, jazzy guitar on 'Walking in a Storm' is a  reminder all the way through of the fluidity and tonal effervescence of the man's guitar playing and 'Wedding Song' throws in another change-up, coming in all English madrigal style…replete with flute, traces of Jethro Tull and Pentangle….
The jangly, rocking 'Life of my Own' is a rueful an act of defiance atop a swarm of guitars and a pushy organ riff….'Pretty Peggy O' takes the album out skipping to an Irish nursery rhyme, rhythm 'n' folk conflation. Through it all, Hambleton's warm and rumpled baritone is the beacon and the glue….A gentle and affecting album and perfect mood fit for the time of year…..From the desk of the irrepressible Bev Kreller:"Award-winning, high-energy hillbilly swing duo Beverly Kreller and Howard Druckman, blend old-time Western, bluegrass, early swing and country gospel, delivered with the energy of a runaway train. Soaring vocals, lively accordion, gritty guitar, wailing harmonica and big-beat bodhran are featured. BTW, HOTCHA! in uppercase is our brand but FB won't let us use that in the title :(:( LOL."….They really are all that and doing it Sunday, September 29, at 7:30 pm at the Tranzac Club on Brunswick. The Broom Straws (Duo version) open 7:30 pmwith HOTCHA! 8:30 pm.It's pwyc!!....Reggae icon Lee 'Scratch'Perry is releasing a new dub album, Heavy Rain in December.
Local Toronto Troubadour Don Graham is bringing it home to the East End after a summer of performing in Sweden and France. Bringing his entertaining show of original songs and singalongs to the BlackJack BBQ at 1104 Gerrard Street East it is gonna be a night of good grub and great music. Laissez les bons temps rouler!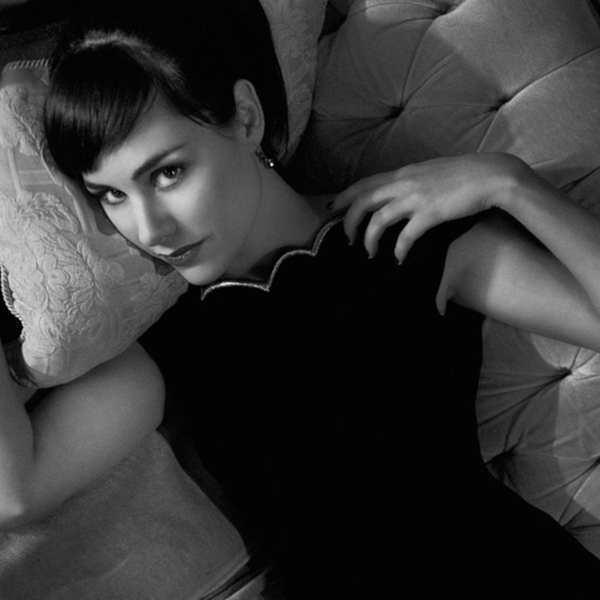 The dub companion to Rainford, released earlier this year features cameos from Brian Eno and The Wailers Vin Gordon….made it to a live show last Saturday. To the Carrigan Arms, a 'nabe bar in Burlington for first look at female 'supergroup' Sisters. This hard rockin' crew of formidable reputations be Cheryl Lescom (vocals), Kim Doolittle (bs), Maureen Brown (drums), Kaye O'Chay (kybds) and Best New Artist at the Maple Blues Awards 2019, guitarist Emily Burgess. The ladies all take turns with lead vocals and the pace and repartee only slacken when they throw in a slow dance for the daters and hopers. The music's high spirited, the stage patter tangy… Sisters play The Red Dog in Peterborough Fri. Oct. 18 and The Ganny in Port Hope Sun. Oct.20…..Thursday night had me at Lula Lounge for Jaymz B's One Stop Jazz Safari, featuring 24 singers and the hot band of Attila Fias (piano), Carlie Howell (Bass), Sarah Thayer (drums) and multi-instrumentalist Drew Jurecka. Songs were performed in English, Japanese and Peruvian and standouts included turns from Heather Luckhart , Aaron Davis, Sherrie Marshall, John Finley, Genevieve Marentette, Avery Raquel nailing Don't You Worry 'Bout A Thing,Irene Torres,Joanne Powell,Billy Newton Davis and June Garber. Find of the show was quirky balladeer Taylor Abrahamse, whose songs, persona somewhere between Ed Sheeran and Ron Sexsmith and confident delivery signaled an artist just about ready for prime time. You'll be hearing lots more from the lad in 2020….then I went home and couldn't move for a couple of days…New personal best, two hours before I had to fold…
Support live music. Everywhere.