Fri Nov 13, 2020
Greetings. Today we spotlight the Ryerson Food Bank 55 Gould Street.
Food bank runs Mondays and Fridays from 12 p.m. to 3 p.m. Serving takeaway meals on Monday, Tuesday, Thursday, and Friday between 9 a.m. to 10 a.m. and 12 p.m. to 1 p.m. The Ryerson University Students' Union supports the Good Food Centre at 55 Gould Street.
Support your local food bank. The need is dire.
Here's a pair to draw to boys, I would not steer you wrong.  Juno award-winning artists iskwē and Tom Wilson have released their new single "Blue Moon Drive" featuring trumpeter Chuck Copenace with Red Music Rising.
The lyric video dropped November 12th and the collaboration began as a gig at the 2020 Indspire Awards. "We happened to be asked to perform together at the Indspire Awards in Ottawa. We had never sung together so until we actually stepped up to the microphone and started to sing we didn't know that we had a little bit of magic going on between us;" shares Tom Wilson. "We are able to now share that magic with you."
iskwē adds; "It is a beautiful song, and it was a nice way to find our footing with US. The song was written a while ago, and it had its home, and now it has a new home, and it feels very much like a new energy has been infused into it. This is just the beginning!"
iskwē & Tom are Red Music Rising's first multi-artist collaboration. Matt Maw (Director, Lead Artist Manager) shares; "We are beyond thrilled to release iskwē and Tom's rendition of "Blue Moon Drive" featuring Chuck Copenace. This release exemplifies what Red Music Rising stands for now, and moving forward; collaboration, community, artistic eminence, and Indigenous excellence."
The song was recorded live off the floor with an incredible group of musicians from Jukasa Studios in Six Nations, ON. The magic of trumpeter Chuck Copenace sprinkling in his notes, fluttering in the air, in space, and contributing a different breath to the song was all captured in Winnipeg. The single is an incredible collaboration of not only three amazing artists, but also the celebration of four Indigenous nations uniting together to celebrate their art - iskwē (Cree, Métis), Tom (Mohawk), and Chuck (Ojibway).
See 'Blue Moon Ride' here: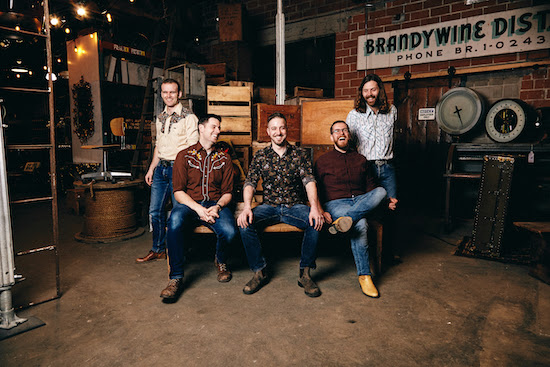 More rootsy music with broad shoulders from bluegrass powerhouse The Barrel Boys. Due to the COVID-19 pandemic, the Toronto crew were unable to tour in support of their new album Mainline when it dropped in September but they're trying to make up for it with the release of a live video for their latest single 'Upgraded Love'.
'Upgraded Love' is the 3rd single to be released off Mainline. A heartbreaker of a song, 'Upgraded Love' was written by the band's banjo player Rob McLaren who got the idea for the song from a friend. 
"A friend of mine went through a breakup a few years ago that left him feeling unsure whether he wanted to continue with where he was living and working," says Rob.  "However, in a short time he had started a new job, met someone new, and bought a house. It's a happy story, but makes for a sad song, as told from the opposite perspective."
Produced by Canadian mandolin icon and decorated engineer/producer Andrew Collins, Mainline is jam-packed with new original material penned by each of the band's five members. With this project, the band digs deeper into the sounds of traditional bluegrass, classic country, folk, and new acoustic music while also exploring classic tropes of bluegrass (including trains, heartbreak, mining, and murder), grounding those themes in a distinctly Canadian context and bringing their own experiences into the stories. Like the murders are all done with hockey sticks. Just kidding.
Since the release of debut album, Early On, in 2014, The Barrel Boys have endeared themselves to folk and bluegrass audiences across Canada, honing their craft through a long-running weekly residency at Toronto's Cloak and Dagger Pub. Notable performances include: Mariposa Folk Festival (ON), Folk Fest sur le Canal (QC), and Northern Lights Bluegrass and Old-Tyme Music Festival (SK).
The Barrel Boys are Kyle Kirkpatrick (dobro), Rob McLaren (banjo), Tim O'Reilly (bass), Nathan Smith (fiddle), Ben Wright (guitar)
New album Mainline is available now on Spotify, Apple Music/iTunes, and the other usual suspects.
Check 'Upgraded Love' here: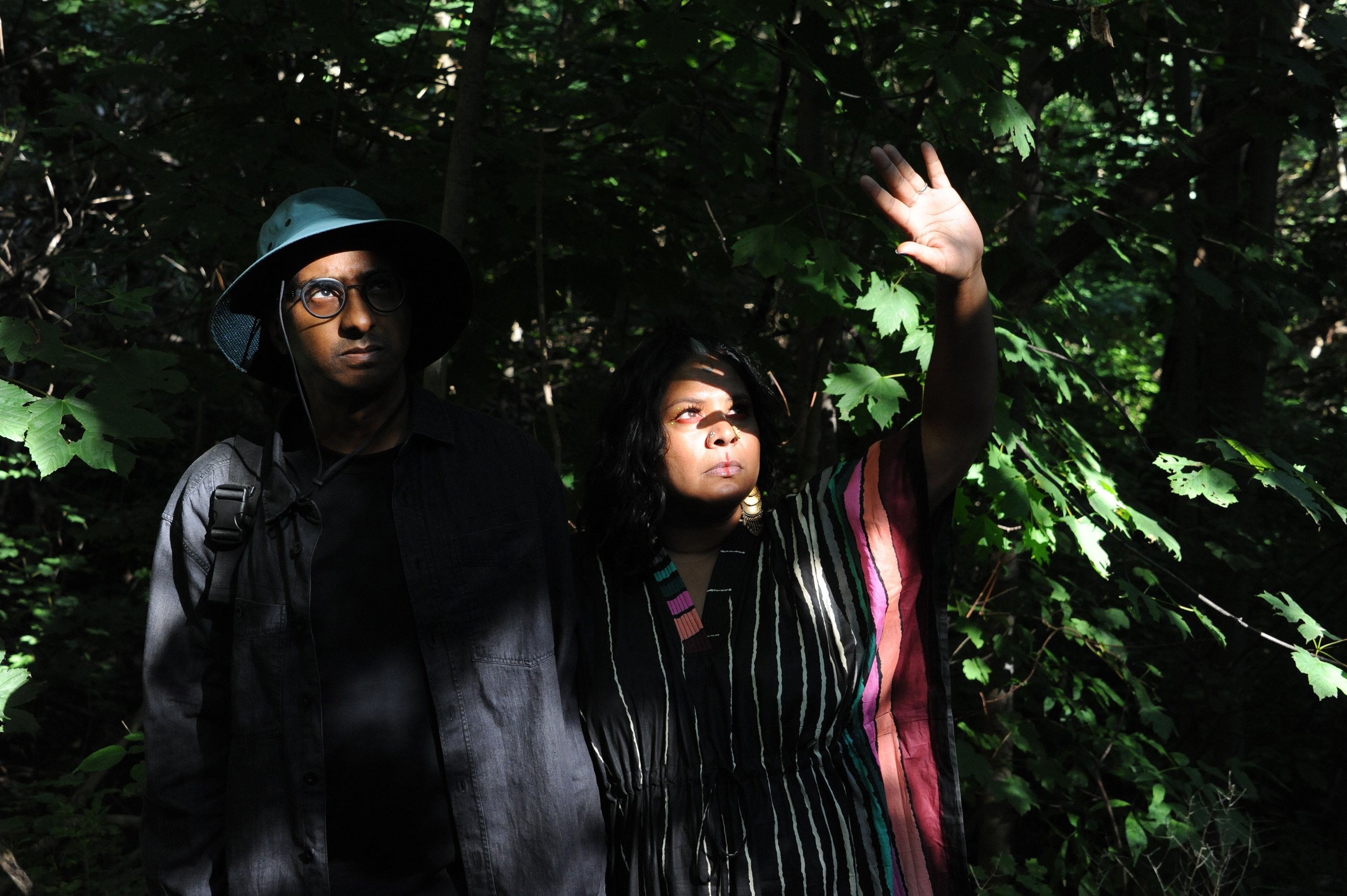 Now for some serious departure music. With their new LP, Meteors Could Come Down just out, LAL (comprised of Rosina Kazi and Nicholas Murray) are sharing one last track from the album today. "Free And Broken" is dedicated to the rebels, the weirdos, the misfits, the queers, the ones who find each other, who don't fit into a box and who don't want to. It is a song about personal and generational convalescence and resilience and the cycles of living and dying.
"Rosina's father passed away in early June, so on top of the intensity of the world, and the grief that we were already feeling, we found ourselves in a deeper sorrow," says Murray. "'Free And Broken' explores our journey as living beings constantly in search and fight for freedom, not just for ourselves but for past and future generations. Rose watched their father, born in Noakhali, Fenni District, Bangladesh, slowly die at 91 years of age. The end of the song is how I imagined my father was feeling and perhaps thinking as I lay witness, day after day, to his transcendence."
Check the soaring and orchestral 'Free And Broken":
For over two decades, Polaris Music Prize longlisted electronic duo LAL have built a catalogue of silvery, internationally-influenced electronica that insists that the dancefloor remain a place of resistance. In the process, they've become the backbone of Toronto's sprawling DIY scene, nurturing and propping up a multi-generational group of artists.
Recorded in the early months of 2020, Meteors Could Come Down finds LAL looking inward, examining the intricacies of their own relationship to understand how to provide care to their community. Experimenting with minimalism and a concise inventory of sounds, the album explores for the potential for open space offered through drums and voice—dually centering on the richly dynamic textures of Kazi's vocals and Murray's skilled ear for world-building through silvery synths and drum beats—to hold a great deal of emotive weight
On Meteors Could Come Down Kazi and Murray capture a lofty anticipation that's uniquely available to artists who have long been on the frontlines of radical change: hope for the energetic transformation into a new world.
Meteors Could Come Down captures the spirit of a season fueled by a moment of pause that stoked the embers of revolution. Inspired by road trips along the coast to radical DIY arts scenes in Oakland and Olympia, and Adrienne Maree Brown's bestselling book Pleasure Activism, Meteors Could Come Down is both their most minimal, and intimate, album to date.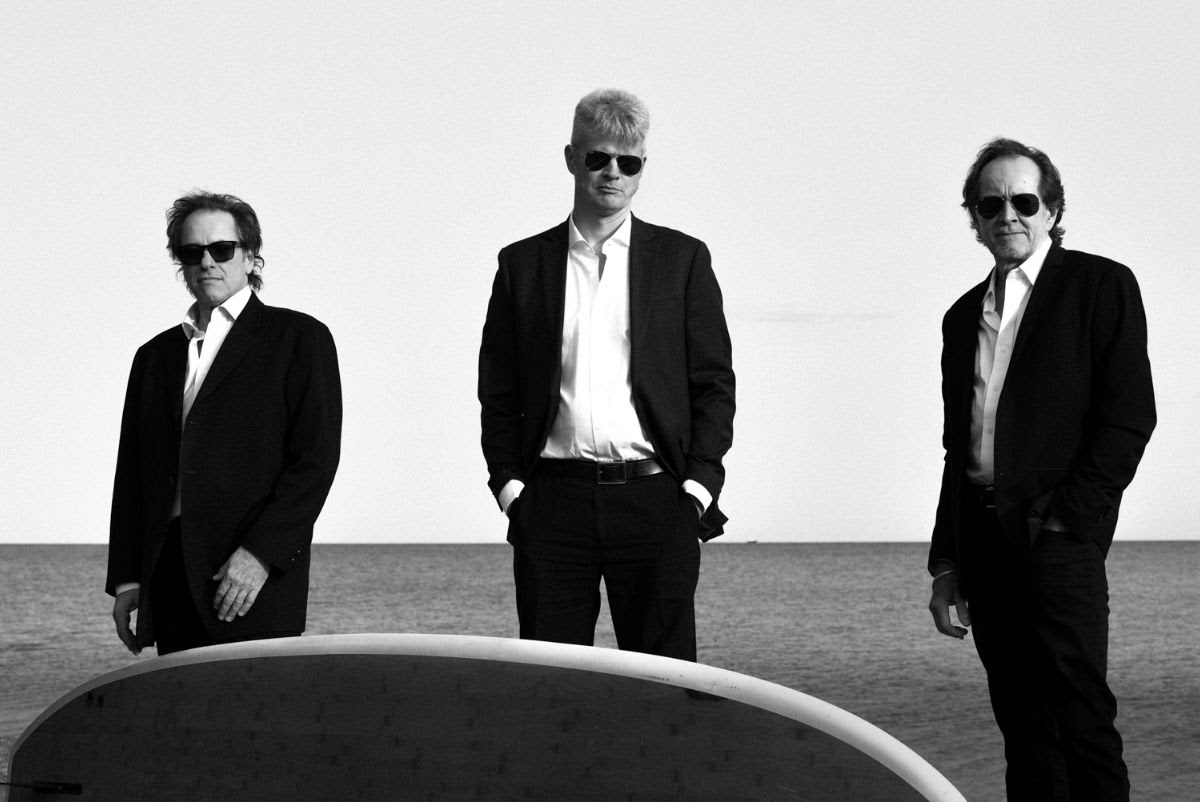 Thermal wet suit? Right. Maybe next year. With winter closing in, surf rock trio Chairmen Of The Boards are here to keep the warm summertime vibes alive on your jukebox. Yeah, surf rock in Toronto from realass local surfers. Offer pre-orders through Bandcamp of their full-length debut album Surfin' The Apocalypse, officially out Nov. 27 via (weewerk) on CD, limited run vinyl and digital download.
CD orders are available to ship immediately. and digital download pre-orders will instantly receive six gratis tracks from the album including the singles "Board Whacks," "Run-A-Wave," "Moonlight Beach," the Dick Dale cover "Taco Wagon,"  the album's title track and the sweet album closer "Sand Between Your Toes."
The beaches on Lake Ontario aren't exactly Malibu but Toronto does contain a small but hardcore surfing community. By extension, there's also a small but hardcore community of surf-rock fanatics, three of whom now comprise Chairmen of the Boards. The seeds were planted when Chairman Rob started bringing original "surf compositions" to Chairman Leo during a residency at Grossman's Tavern, the storied Toronto venue long known as professional musician jam spot. In no time, the pair were working out new ideas, eventually realizing they were building up enough material to make an album.
Enter Chairman Gary, and after a period of intense rehearsals, studio time was booked at prestigious Toronto studio Revolution Recording where his drum tracks were captured. The rest of the album was laid down at Chairman Leo's personal studio The Notebox, where additional sugaring to songs was applied by keyboardist Denis Keldie, pedal steel guitarist general Kevin Neal, and the Hang Ten Horns—Rebecca Hennessy and Carrie Chesnutt. Tracks were then sent to New York for mixing by Grammy winner William Wittman, and mastering by Greg Calbi and Steve Fallone at Sterling Sound.
If you appreciate raw rock and roll with a touch of psychedelia, as practiced by the likes of The Sadies, Beachwood Sparks and even The White Stripes, then Surfin' The Apocalypse will fit your collection or slide onto your favourite playlist. Everybody's gone surfing, surfing Woodbine Beach.
Watch 'Board Wax' here.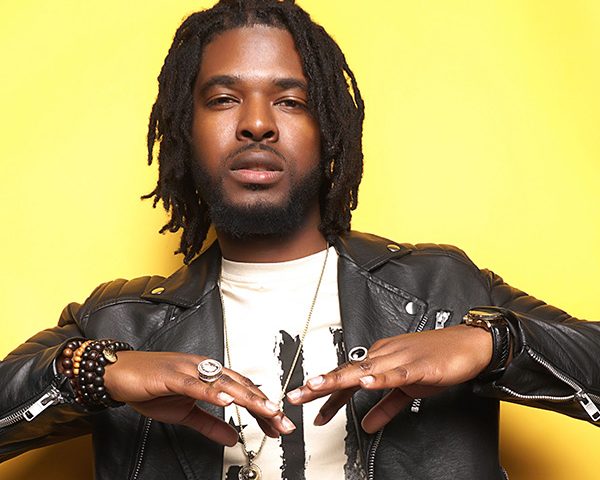 In the aftermath of the ousting of the Orange Outrage, Juno Award-winning reggae singer, songwriter, producer and social activist Kirk Diamond offers timely messages of unity and hope in new single and video "Let It Be Done".
"'Let It Be Done' was written in light of the political climate and social unrest that has affected so many worldwide, myself included," Diamond shares. "That's directly, indirectly, or psychologically."
The video was filmed in Uganda, a location reflective of his creative works influenced by the philosophies of Haile Selassie and Marcus Garvey. "As a student of Garveyism, believing in the unification and empowerment of African-American men, women, and children under the banner of their collective African descent — and the repatriation of African slave descendants and profits to the African continent — I felt it was befitting to take it back to the motherland for the video.
"As demonstrations continue across the world as an expression of frustration over longstanding issues of police brutality and inequality, all while facing a pandemic, the world just seems a bit dark and gloomy right now, This song is meant to give the world hope of the change that will come, to encourage people to shine amidst the darkness, and remind them we are stronger united."
These are traits Diamond is known for, spreading musical messages of inclusion, unity, and love for all walks of life. A multi-JUNO nominee, he won for his debut EP, Greater, in 2018.
"Let It Be Done" is available now.
Watch its uplifting video here: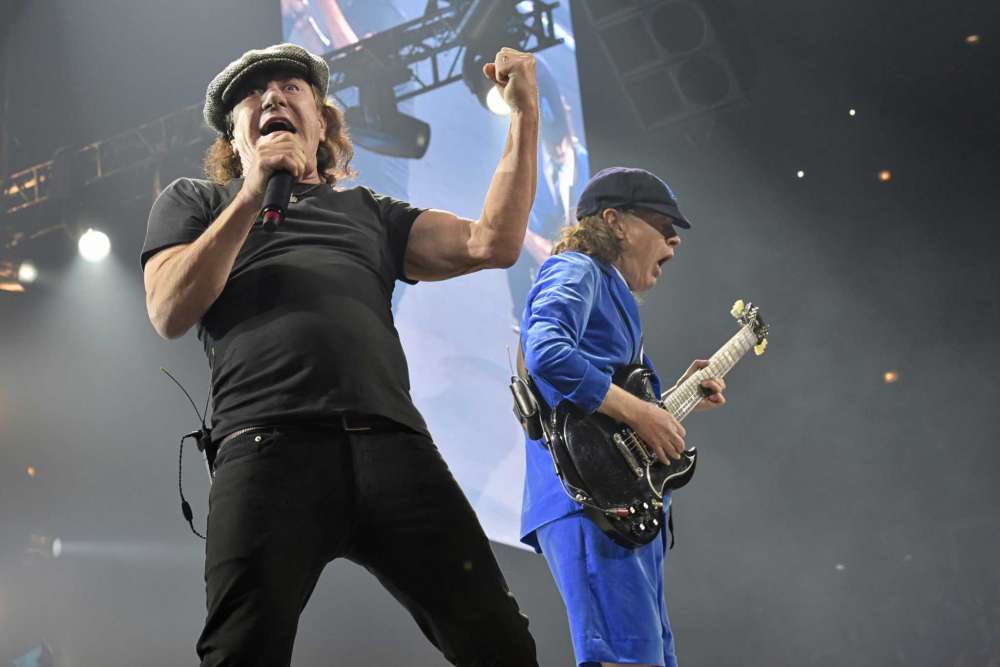 BITS'N'PIECES  Friday, Nov. 13 comes "Power Up," AC/DC's 17th studio album. Recorded in Vancouver with producer Brendan O'Brien, the 12-song hard-hitting heavy rock workout has OGs Johnson, Rudd and Williams back in the lineup and songs again written by the Young brothers from riffs they'd had on file. Malcolm's nephew Stevie Young, continues as his replacement in the band. First single, "Shot in the Dark," powered to No. 3 on the Billboard Mainstream Rock chart, on what is the comeback rock album of the year….. Toronto singer/songwriter Valerie Shearman's current single follows on the strong performance of debut single, She's Everybody's Daughter. The powerful ballad "Broken" was written by Rick McCue of Denmar Music and is actually about healing. All guitars were played by Steve Shelski of Coney Hatch and vocals performed by Shearman and the result is a catchy country/AC sound that should resonate with the same country charts on which She's Everybody's Daughter peaked at #5…..
Support all music…be kind with one another,,,,, support your local food bank.