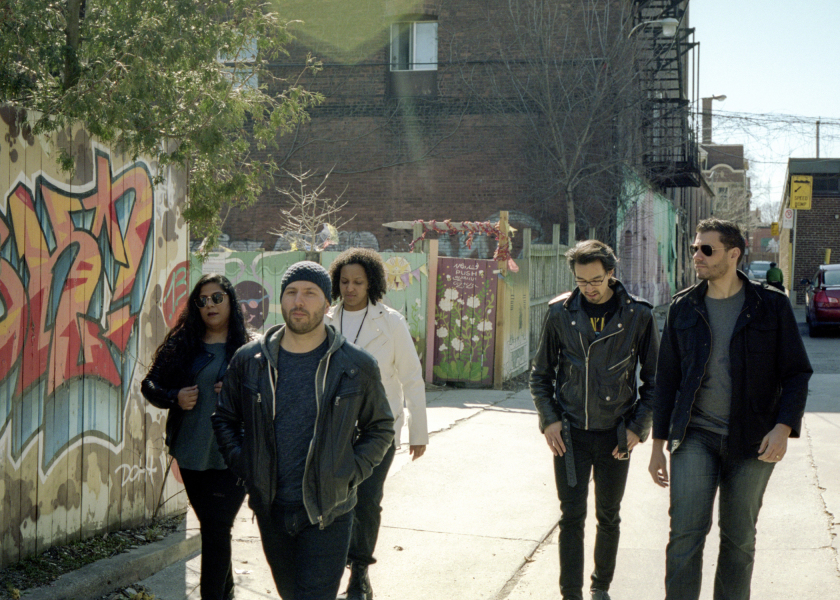 Fri Jan 11, 2019
Here we go into 2019 and wishing all of you all the best and may much good music fall on your ears. Due to an ongoing medical issue, BTW is gonna become a little more limited in scope, as my situation limits the number of live gigs I'll be able to attend. On the other hand, an increasing US profile means we'll be able to get access to more US indie acts and that base, in turn, will continue to be exposed to more up and coming Canadian talent. 
A splash of Goth here, a greasy garage feel there. Toronto-based rock band Madame Psychosis kicks off 2019 with the release of "Just Wanna Be Myself", the lead single off their upcoming album. With sing-along lyrics and a catchy hook, this radio-friendly single highlights the fight for individuality in a world full of predetermined expectations. The song was recorded by Alex Gamble at Union Sound Company.
The five-piece band first made waves with debut album "Madame Psychosis", released in June of 2017. Alan Cross, the internationally syndicated host of The Ongoing History of New Music, selected the single "Space Motorcycle" for his weekly Top 11 Playlist in August of 2017 and that just fine by me.
Madame Psychosis is now turning attention towards their sophomore effort. They performed"Just Wanna Be Myself" on Global's nationally televised The Morning Show on January 3rd, 2019, and will be showcasing songs off the upcoming album at The Bout MusicFestival & Competition at The Hideout in Toronto on March 22nd, 2019.
Chicago psychedelic Americana isn't a thing yet but this could be the crazed collective that makes it so.
Dogs at Large is a collective of musicians revolving around Chicago-based vocalist, guitarist, keyboardist, and songwriter Sam Pirruccello. For years, he's been using music to explore and make sense of the worlds that exist inside and around us. Upcoming Delusions of Paradise is his most fully realized vision yet. Released on the new Chicago-based label FINE PRINTS, founded by Robby Haynes and Ziyad Asrar (a past member of Whitney and Smith Westerns), the record will be available everywhere on March 1st, 2019.
Pirruccello has an ear for the sonic palette of psychedelic Americana, and his compositions sit nicely beside those of his influences like Gram Parsons, Judee Sill, The Band, and Jackson Browne. But don't be fooled: Pirruccello is no revivalist, and you wouldn't mistake a Dogs at Large tune for one released before the turn of the millennium. The themes he explores are distinctively modern, with a protagonist in one song suffering from "paranoid psychosis stemming from being too anxiously involved in social media, a feeling all know too relatable.
Though he says that his diagnosis with a mood disorder and a "feeling of general despair" influenced the songs on Delusions of Paradise, it's a disarmingly beautiful and comforting record. Nowhere is this juxtaposition more striking than on standout track "All Day", about which Pirruccello says "I think people should embrace failure more often and recognize when they've failed." The first lyrics are "Getting fucked up all day / shouting at a TV till the dawn," and the lyrics don't get more hopeful from there. The song is a slow build, and before you know it, a majestic coda has appeared: "I've come so far to be let down again," he sings over a towering cushion of slide guitar and plucked arpeggios, an admission of defeat that plays like a kind of quiet triumph. It makes embracing failure feel like a warm hug from an old friend.
Delusions of Paradise was recorded completely live at Shirk Studios, aside from select vocal and piano overdubs. Pirruccello cites a desire to capture the live sound of his band as the impetus for this pared-back approach. And given room to breathe, his band shines. Adam Gilmour, Jamie Yanda, and Aaron Turney (on bass, guitar, and drums respectively) expertly lay the foundations for these songs. But it's the clever addition of slide guitarist Steve Malito (also of Chicago band Bike Cops) that lends the band its distinct tone. Throughout the record, slide guitar is tastefully employed to add pastoral hooks, melodic counterpoint, and color to the songs. Throughout the variety of topics and sounds covered on the record, something about Sam's approach to music always conjures a connection to nature. Perhaps it's channeled through Sam's day job as a prairie restorationist with a deep knowledge of botany and a love for the natural world. Or maybe it's more closely tied to Sam's desire for total honesty in his songs: "I don't want to sing any songs that I don't mean. My approach to songwriting is really subconscious, and if I want to write about something specific I kind of have to sneak up on it."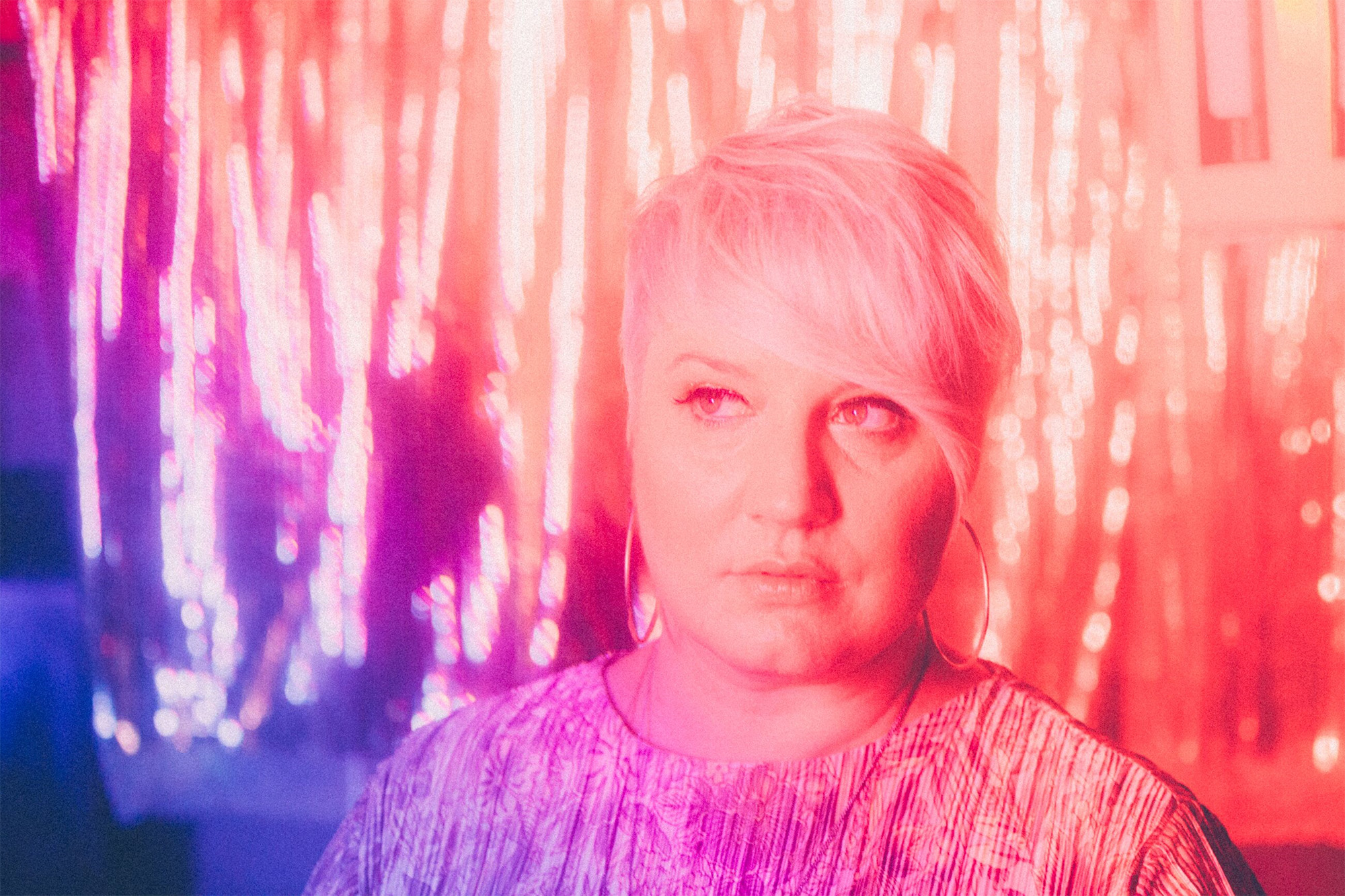 Here's an artist, six solid albums deep in her career, possessed of all the tools for success and yet remains very much under the radar. Nova Scotia folkist, Erin Costelo current single. All In Your Head, from her recent album, Sweet Marie, out on October 19, 2018, in Canada (Venue Records, distributed by Pheromone Recordings) and on Compass Records worldwide on November 2, 2018. Costelo's oft-stated mandate to create beautiful songs that challenge our perceptions is in full effect on Sweet Marie. All In Your Head is accompanied by a behind the scenes video directed by Juno-winning songwriter, turned filmmaker, Amelia Curran.
Watch and share here: https://youtu.be/jbZpeuEbC7Q.
Recorded in 10 days in a timber-frame home on the ocean in Little Harbour NS, Erin gathered together some of the best musicians in the country. Glenn Milchem of Blue Rodeo on Drums, Anna Ruddick on bass (Randy Bachman, Ben Caplan), Leith Fleming-Smith on organ (Matt Mays, Hawksley Workman) and Erin's long-time guitarist and partner, Clive MacNutt. The full band will join Erin on select dates out West. See below.
Although she has been compared to icons like Carole King and Nina Simone, Erin Costelo's fifth studio album, Sweet Marie, cements her status as an utterly inimitable voice in Americana music. On the new album, Erin looks at a world and industry that pushed her to the edge of ending her musical career – but she pushes back. Taking inspiration from sources as varied as Ryan Adams, Randy Newman, and the Staple Singers, Sweet Marie is a genre-defying album that sounds at once timeless, timely and fresh. Pulsing with confident and cathartic energy, Erin's voice soars even as her songs dive deep.
Erin Costelo on Tour
Jan 15 - Norman Ritchie Community Centre - Kindersley, SK
Jan 16 - Moosejaw Cultural Centre - Moosejaw, SK
Jan 17 - Centre Street United Church - Shaunavon, SK
Jan 18 - Sky Centre - Swift Current, SK
Jan 19 - Trinity United Church - Preeceville, SK
Jan 20 - Anne Portnuff Theatre - Yorkton, SK
April 4 - The Almanac - Edmonton, AB
April 5 - The Basement - Saskatoon, SK
April 6 - The Artesian - Regina, SK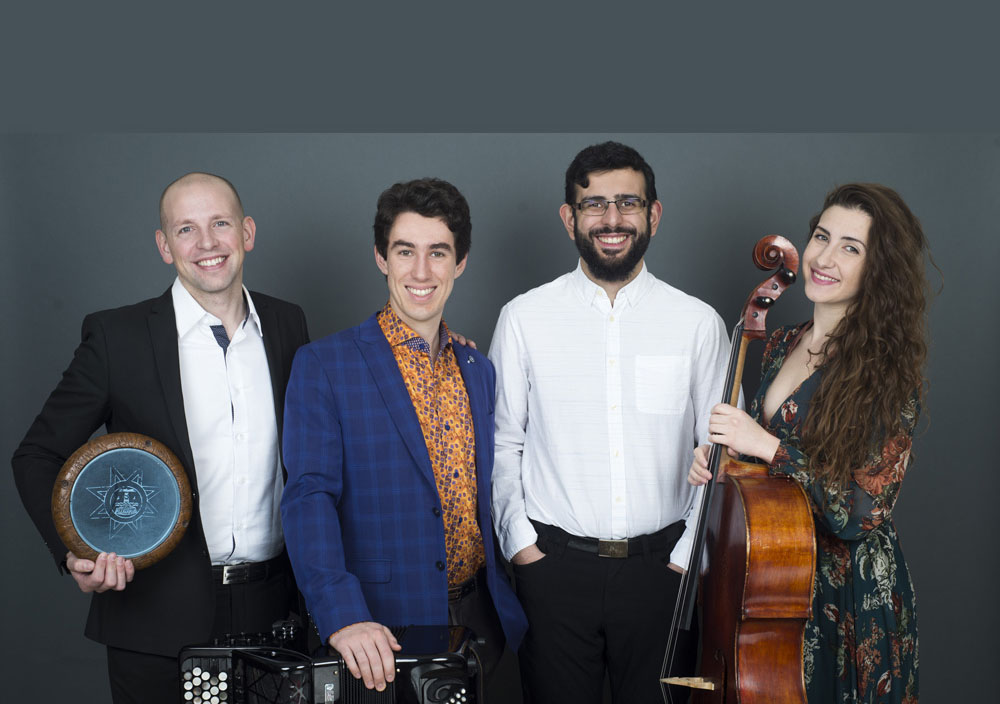 Now for a mashup new to me. Ladom Ensemble combines piano, cello, accordion, and percussion in a unique blend of acoustic chamber and world music that is passionate, sophisticated, and wild. The group met and formed in 2007 while studying music at the University of Toronto. Individual members hail from Alberta (Michael Bridge - accordion), Toronto (Beth Silver - cello), Prince Edward Island (Adam Campbell - percussion), and Ontario by way of Tehran, Iran (Pouya Hamidi - piano).
Pouya, the in-house composer, writes original music for the group inspired by Persian and classical fusion but the Canadian spread of the group also reaches across the world and genres as their all-original repertoire incorporates inspirations from Argentinean tango, Serbian folk and dance traditions, Persian classical repertoire, as well as music from the Classical (Bach, Prokofiev) and progressive rock worlds (Radiohead). Ladom doesn't pretend to represent any one particular tradition but rather expresses an authentically Canadian experience. Ladom's musical identity is combined from many sources and reflects a beautiful new world with a Western classical toolset. They also commission original music by local, Canadian composers such as Elisha Denburg, Igor Correia, Maziar Heidari, Keyan Emami, Saman Shahi, and Afarin Mansouri.
The breadth of this music's reach is to be experienced. Accordionist Michael Bridge who is working on his doctorate in accordion at the University of Toronto, brings his whole heart and ballooning talent to the Ensemble, despite being extremely active performing around the world, from orchestras to solo recitals. He has been named one of CBC's "30 Hot Classical Musicians Under 30" and does over 100 concerts per year. Sock-foot on stage, Adam Campbell (MMus) passes around a twinkle-in-the-eye during performances, and always brings the bottles... as part of his hand percussion toolkit! Cellist Beth Silver (MMus) starts spontaneous jams in between takes, with playful sounds that can only be called 'fiddling around'. Pouya Hamidi (MMus) usually emerges from rehearsals declaring, "They're such sweethearts!" In performance and composition, the pianist has a deep love for the music and a profound humbleness that makes bragging impossible, although warranted. All are active, professional musicians in various contexts.
To date, Ladom Ensemble has toured and enthralled audiences across the provinces of Ontario, Quebec, Saskatchewan, New Brunswick, Nova Scotia, and Prince Edward Island. They completed a 38-day tour of Ontario and Quebec with Jeunesses Musicales Canada in the Fall of 2017 and a 3-week tour with Debut Atlantic (Spring 2018). They are going on two more tours in 2019 with Prairie Debut (Winter 2019), and Jeunesses Musicales Canada (March 2019). They have also been presented by the Ottawa International Chamber Music Festival. CBC, Radio-Canada, The Whole Note magazine, and the BBC have featured Ladom in print and video media. A postlude performance marked their debut at the prestigious Koerner Hall in Toronto. Ladom has been selected to showcase at festivals such as CAPACOA in Ottawa and at OSAC conferences. The group has been receiving wide acclaim for their imaginative arrangement and performance of Radiohead's Weird Fishes/Arpeggi (video released to YouTube, January 2017).
CBC's Errol Nazareth gave a glowing review of Ladom's first, self-titled album: "I can honestly say that this is the first time I have heard such a fascinating mix and it really works well. The music can be very elegant and contemplative and it can also be rocking and fiery... there is no denying the passion of the four musicians investing in their playing." Grant agencies are in agreement with the press! Both Ontario Arts Council and Canada Council for the Arts have awarded Ladom Ensemble grants for their upcoming album and concert productions. Their new album, The Walls are Made of Song, is set to be released on January 16, 2019, all original tunes and arranged works specifically for the ensemble.
Ladom Ensemble will be performing music from their upcoming soph album The Walls Are Made Of Song and more at the Cd release party at Toronto's Lula Lounge on January 16th2019, music at 8 PM.joining them will be classical crossover cello duo VC2 who will be releasing music of their own that night. This could get spiritual.
One of the music trends predicted for 2019 is the resurgence of the concept album. Here's a band with one of the first such this year. The first single from Ottawa band ThePepTides' forthcoming album Galápagos Vol. I(to be released January 25/19) is "We Fell in Love For the Very Last Time."Galápagos Vol. I is a salute to Kurt Vonnegut's 1985 novel Galápagos. The 10-song album weaves a soundtrack through the darkly hilarious story, which includes a global financial crisis, World War III, an ill-fated nature cruise, and a million years of evolution.
"We Fell in Love For the Very Last Time" mixes warm 80s synths with soaring vocals. The catchy, breezy, pop sound draws the listener into a bittersweet dream on a coastal cruise. Think a funkified yacht rock.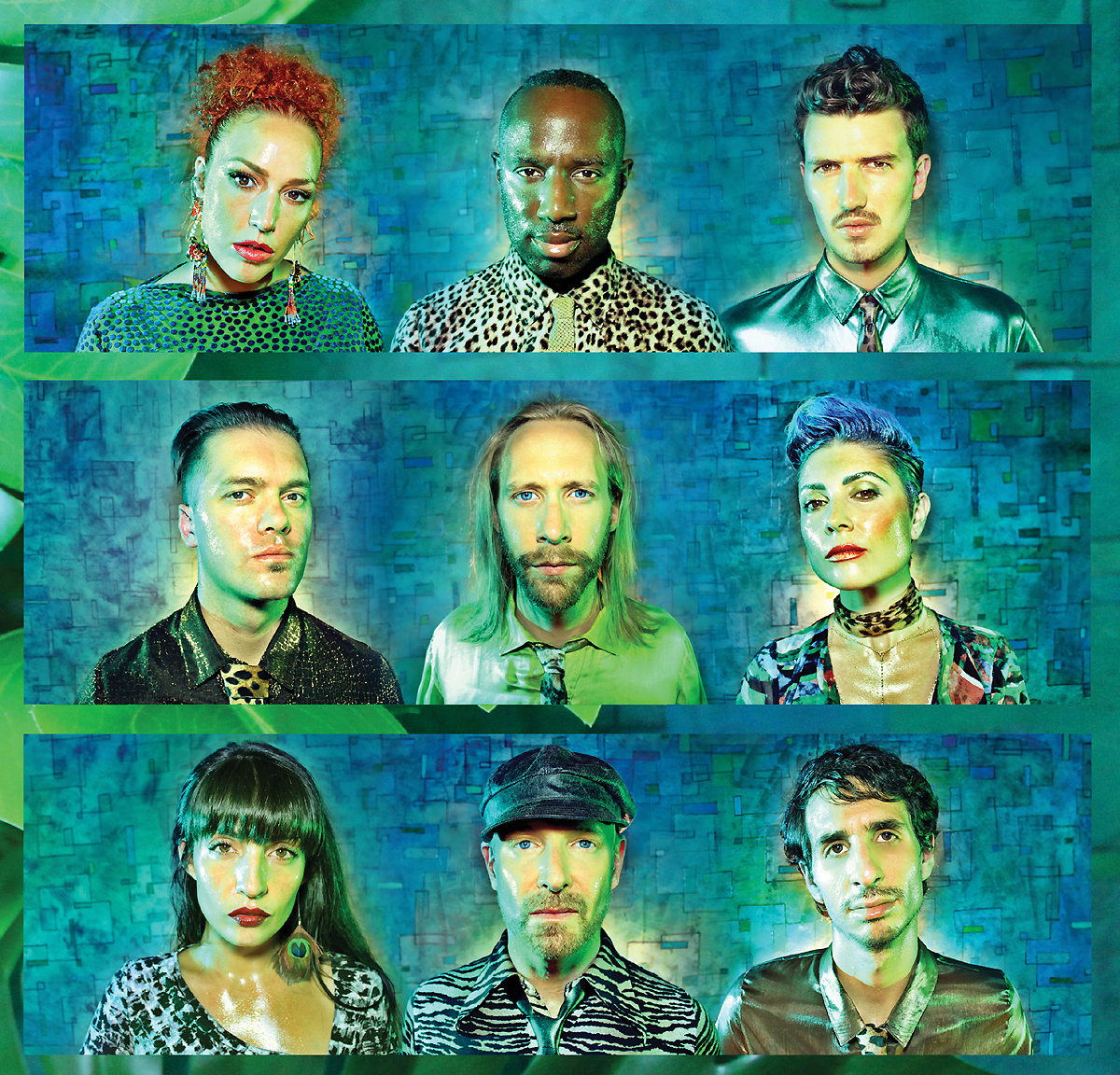 The PepTides are a nine-member band with a larger-than-life sound, featuring five vocalists and four instrumentalists that combine elements of Funk, Soul and New Wave. The band has charmed audiences at major music festivals including RBC Bluesfest and NXNE.
They come with solid vocal interplay, funky beats, an abundance of theatrical dance moves and lotsa quirky soul. So the single has all that and more….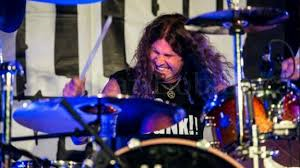 ….Bandleader and drummer of Killer Dwarfs Darrell Millar has always had a way with a good yarn, as anyone who's ever had a beer with him can attest. Dude's now turned his hand to writing and just dropped his first joint, Guardian of a Timekeeper. The personal memoir was started soon after the passing of Millar's dad.
Here's Darrell. "After the death of my father, Bill Millar, the piano man and war vet, on September 2nd, 2017, things changed. Although he was 93 years old and had lived an amazing life, I don't think you can ever be totally prepared to lose a parent or any family member for that matter. After his death, I took to the keyboard and started writing more of a journal of memories and times that I can remember as a kid. I really started doing this as part of the grieving process, and found it comforting."
"After spending a full year of doing this, I realized I had stumbled upon ten short chapters of near death mishaps that occurred from the time I was 3 years old, up until present day. My father was involved with some of these events. Thus, Guardian Of A Time Keeper was born." It's currently available all over from the usual suspects and sounds like a ride on the wild side….
"These are the songs I grew up with every week, being raised a Catholic in an Italian-Canadian household," says Rich. "I wanted to honour and celebrate those infectious tunes, burned into my psyche at an early age".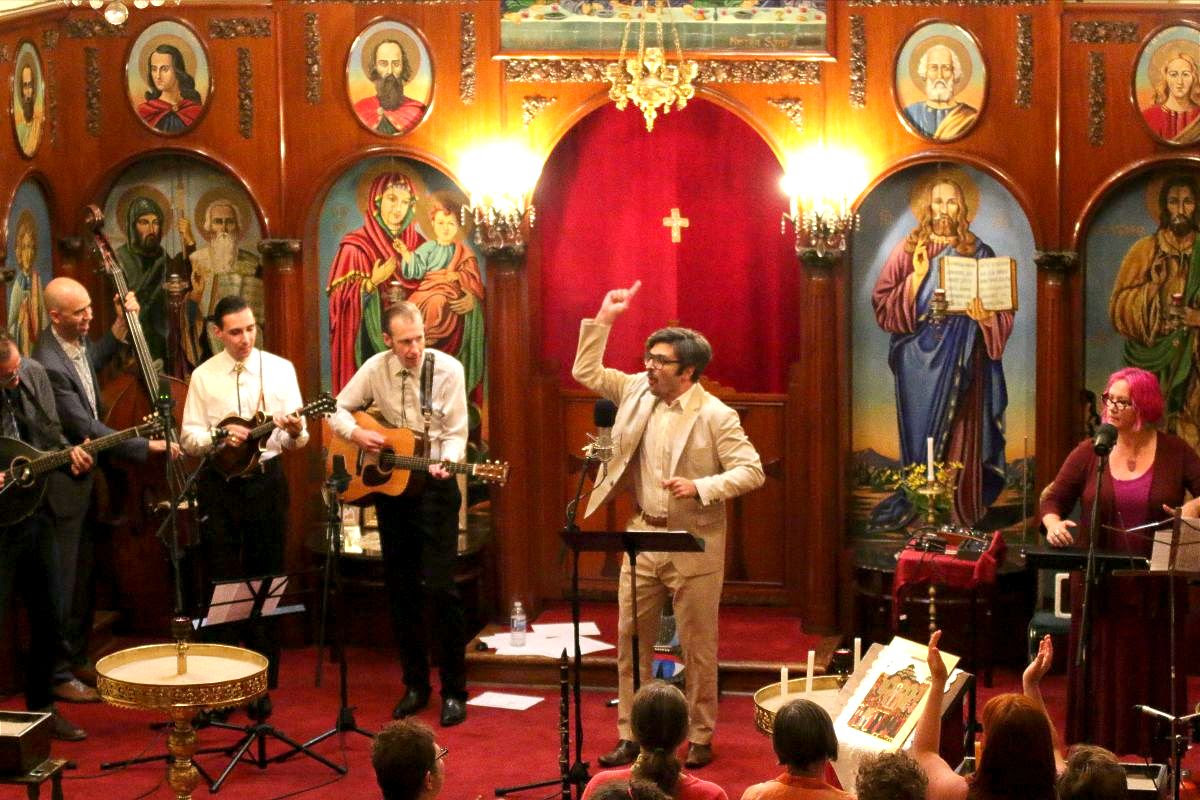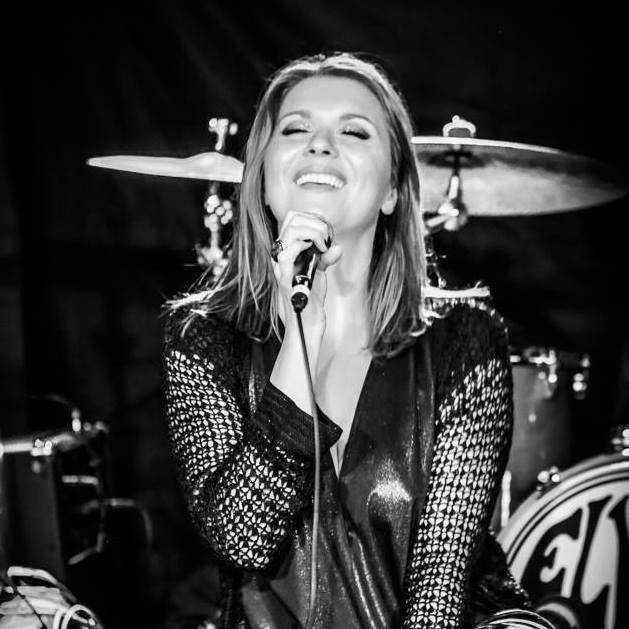 BITS'N'PIECES
The 'Afterglow' girl, Audra Santa is back in the studio working on the follow-up single, with 'Redwood' and 'Burn It Up' being name-dropped. Check for her at CMW in Toronto in May…..blues maestro Danny Marks fronts a new year of Saturday matinees at Toronto's Cadillac Lounge…. This is a sure sign we're in for a fun year, The Pumpkin Pie Corporation proudly dropped a new live recording, FRIENDLY RICH SINGS THE CATHOLIC BOOK OF WORSHIP II. Recorded last Fall in a Toronto orthodox church by Joe Lapinski, this recording is a strange interpretation of tunes from the Catholic songbook. The recording features The Layrite Boys (guitar and mandolin), Kevin Breit (mandocello), Michael Herring (double bass), Christine Duncan (voice, Theremin) & The Element Choir.
Support live music.