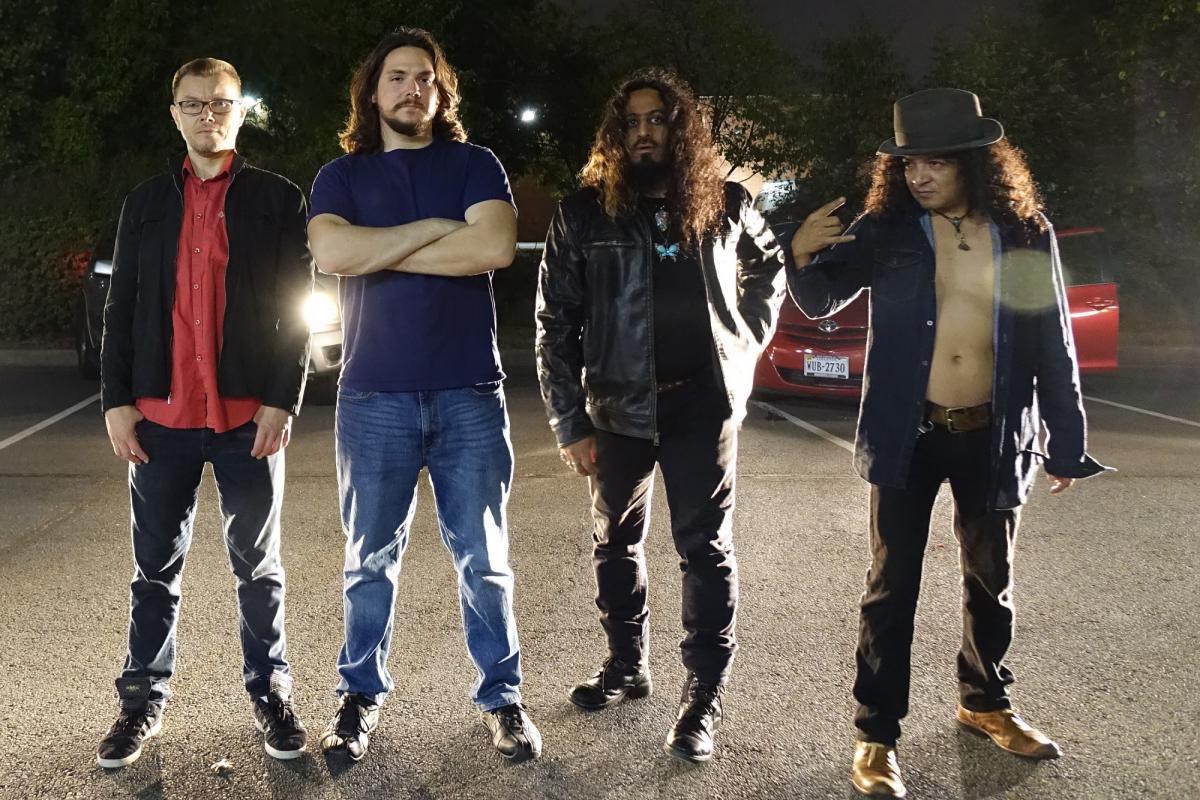 Fri Jan 10, 2020
Happy New Year. 2020 is gonna need all the luck that comes its way. Setting the tone, Robert Zimmerman's environmental scream '"A Hard Rain's A-Gonna Fall".'https://www.youtube.com/watch?v=T5al0HmR4t
Straight outa the Washington, DC swamp, the hard-hitting Never Elected have a new single "Wake Up" that will be out on November 15th. Energetic and engaging, it's pure rock with a catchy flair. The grunge power crew is Altan Aydin– Guitar, Dr. T – Bass, AbelPaiva – Drums and Sujit Kumar– Madness of a percussive and vocal nature.
Check "Wake Up" https://www.youtube.com/watch?v=IXq4F9B4UPg
"Wake Up" is the musical interlude that comes after "Down Too Long", which was released in 2017 and precedes the new album Never Elected are working on which takes a heavier, grungier turn. The band explains the release of the single:
"This single is just an indication of what lies ahead on our next album. We dropped our tuning to D, figuring that it gives us exactly what we are looking for sound-wise. Our fans love to sing along to our songs and "Wake Up" was chosen to be the single based on what the fans loved most at our live shows."
What started out in 2015, as an acoustic rock duo playing covers evolved into a full band that began turning heads in their hometown of Washington, with their high energy live performances, which includes their frontman climbing the walls, literally. Never Elected talks about the intricacies of the single:
"Catchy riffs are matched with a catchy vocal melody reaching out to convey a message. The pauses with absolute silence in between the choruses are deliberate to kind of show how we as a society in general, WAKE UP loudly to a certain problem, think about it, and once it's all silent, we go back to sleep again until WOKEN UP to another issue only to repeat the same all over again."
Citing main influences coming from the glory days of 90s grunge like Soundgarden, Foo Fighters and Alice in Chains, Never Elected is recommended for fans of the genre and anyone who likes hard rock with something to say.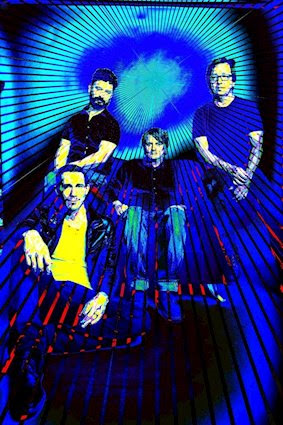 More rock with stuff to say, Los Angeles' indie psych-rock outfit Tombstones in Their Eyes present their new 2-track single 'Maybe Someday' with b-side 'I Can't Feel It Anymore (Junkie Version)'. Appearing not long after the single 'Open Skies' (also two tracks with an alternative version of 'Dreams'), these tasters preview the band's new album 'Maybe Someday'.
Tombstones create walls of sound simultaneously sonorous and hazy. These are cavernous, stoner lullabies wrapped in dark shoegazing dreamscapes and descend into post-rock soundscapes. They also sound like Charles Bukowski's backing band, if he ever had one.
This album was recorded at L.A.'s Kitten Robot Studio with Paul Roessler (Nina Hagen, The Deadbeats, The Screamers, 45 Grave), trippy cover artwork by LazebraArt.
'Maybe Someday' is the first long-play from Tombstones In Their Eyes since their debut release 'Sleep Forever' (2015). Haven't been slacking though, having put out 2017\s 'Nothing New' EP, 'Shutting  Down' single and 'Fear' EP. They also released their huge sounding 'Bad Clouds' EP (2016).
"Maybe Someday is a magic song!  It came together quickly and I fell in love with the demo.  I was scared to re-record it in the studio, so we were very careful not to mess with the magic.  Maybe Someday says it all, as far as the theme of the song goes.  It's about yearning to break out of the self-imposed chains but knowing that it will probably never happen.  So sad, really," says John Treanor.
"It features some wonderful melody guitar playing by Josh in the breaks and Stephen even played a spring to make the beat sound more clock-like and hypnotic.  Mike plays a straight-ahead bass line to further accentuate the steady movement towards the payoff of the final chorus.  One of my favourite songs and I've listened to it hundreds of times."
'Maybe Someday' single and album are out now, available on limited edition CD through Somewherecold Records. Digitally, it will be available across platforms such as iTunes and Spotify, but can already be pre-ordered via Bandcamp.
Watch 'Maybe Someday'   https://www.youtube.com/watch?v=tpqaEafoM20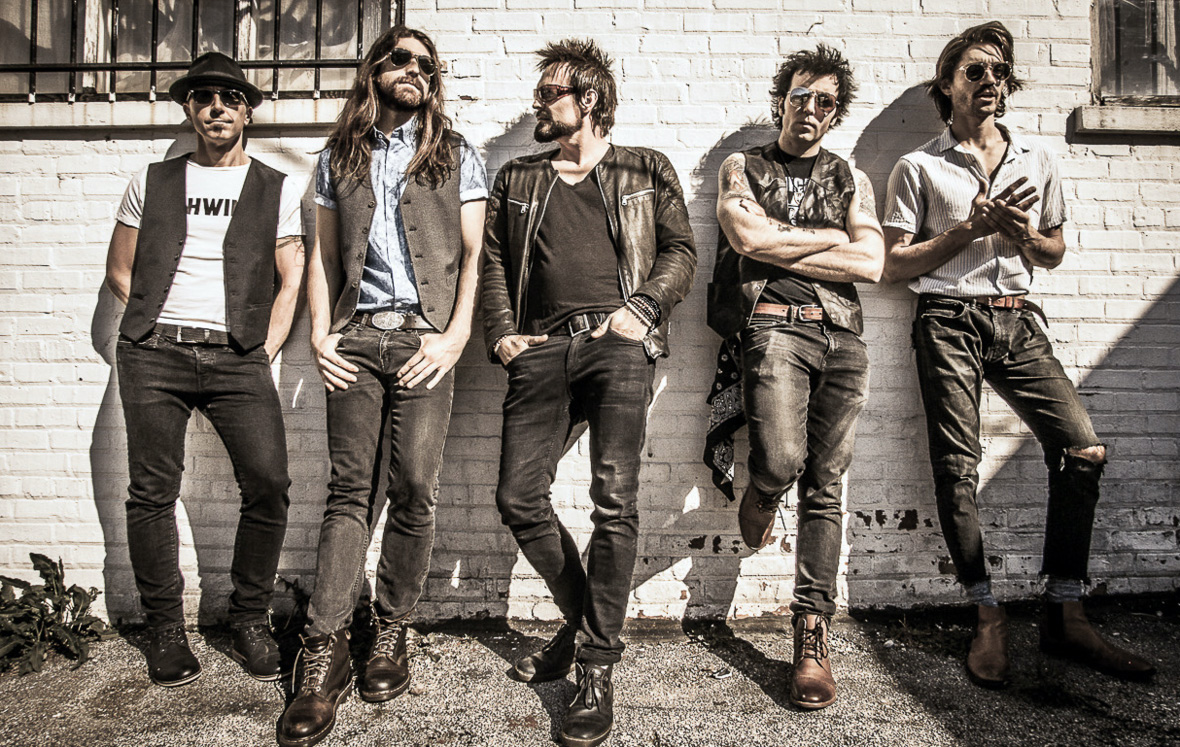 Who knew there was a sweet spot between blues and punk? Chicago's The Jab claims to have found it and smeared it all over the upcoming album 'Consume.' out Feb.4, 2020.
Lead off single is 'Riot'. The term "scuzzy" has been used to describe the slashed-speaker, distorted rock 'n' roll practiced by The Jab, but this ain't scuzzy at all. It's soulful, complex, and the sound of smouldering rock 'n' roll ambitions and swagger presented in an infectious package. Easy comparisons rattle around in one's rock 'n' roll mind: The attitudinal guitar playing of Billy Squier backing the over-the-top frontman-ness of Peter Wolf. Or Wolf leading the MC5. But none of those would really do this band justice. You just have to let them be who they are.
Watch 'Riot'  https://www.popmatters.com/jab-riot-premiere-2641580053.html
Frontman Jam Alker, a veteran of Chicago's club circuit and a punk blues enthusiast, says, "This is a social conscious alarm clock going off next to society's bed. It's a rock 'n' roll call to action in response to the restless discontent and disempowerment so many feel in our society, a response to inequality, addiction, consumerism, violence. 'Riot' is The JAB's mission statement."
Alker was showcasing his punk-blues aesthetic for major labels on the Chicago club circuit just a handful of years ago. With the world at his fingertips, he swapped his guitar for the needle and disappeared for nearly a decade. In 2014, the birth of his daughter finally flipped the life or death switch and he began treatment. An arduous journey of detox and song-writing therapy laid the foundation for his debut LP, Consume. Bandmates Tom Stukel, Terry Byrne, Ryan Herrick, and Alex Piazza—all seasoned, dynamic players —collaborate with Jam on his blue-collar thinking-man's music, delivered with grit and transparency.
The result is the bluesy, post-classic rock, a modern sludge rock record that is Consume. With bite-sized versions of Led Zeppelin's monstrously thick-grooved riffs, the sensibilities of a Black Keys album, and an often-deep southern melody, this is the darkest feel-good record in years.
The Jab is Jam Alker: lead vocals, guitar Tom Stukel: drums Terry Byrne: guitar, keys, etc. Ryan Herrick: lead guitar, Alex Piazza: bass. A Spring tour is in the works.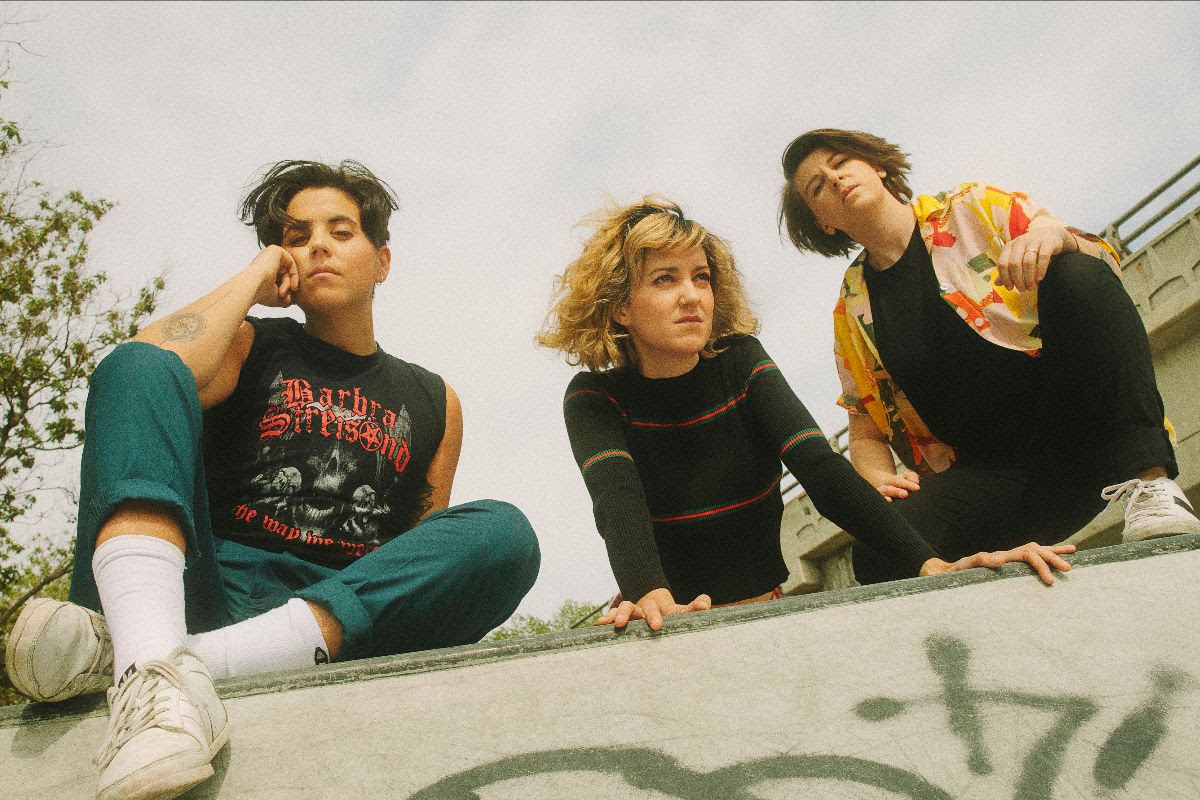 All woman electro-posters Caveboy say they're are excited to announce the release of debut album, Night in the Park, Kiss in the Dark, due out January 31, 2020. The album features previously released singles "Landslide", "I Wonder", "Hide Your Love", and "Silk for Gold". Album is available for pre-save and pre-order now! The Montreal trio, comprised of Michelle Bensimon(lead vocals, guitar, synth), Isabelle Banos (bass, synths, backing vocals) and Lana Cooney (drums, percussion, backing vocals), will celebrate with a special hometown show on February 8th at the Phi Centre, and have added new shows in Toronto at the Drake Underground (Jan 24 w/ special guest T. Thomason), Kingston's Mansion (Jan 25) and NYC's New Colossus Festival (March 11-15). Details at www.caveboymusic.com. 
"We wrote close to 40 songs and searched high and low for the right producer. We felt like our previous material never managed to reach the sonic level we dreamt of because of our limited budget and experience. We've always been so precious about our music and have struggled to let outsiders into our creative process. It dawned on us that we would have to let our guard down to create something truly special. We finally found the collaborative partner we'd been dreaming of in Derek Hoffman (RALPH, The Trews, Arkells). We immediately referred to Derek as the fourth brain of Caveboy. He knew exactly what we wanted; he took what was in our heads and turned it into reality. Our dream team spent six months through the winter of 2018 and 2019 working through all our demos to create the 10-song world of our debut album Night in the Park, Kiss in the Dark. We couldn't be more proud of it." - Caveboy
Check for deep cuts "Lifetime' and 'Up In Flames.'
Caveboy On Tour
January 23, 2020 - Toronto, ON - The Horseshoe Tavern (w/ The Strumbellas)
January 24, 2020 - Toronto, ON - The Drake Underground (w/ T. Thomason)
January 25, 2020 - Kingston, ON - The Mansion - Wine Cellar Room
February 8, 2020 - Montreal, QC - Centre Phi
March 11-15, 2020 - New York City, NY - The New Colossus Festival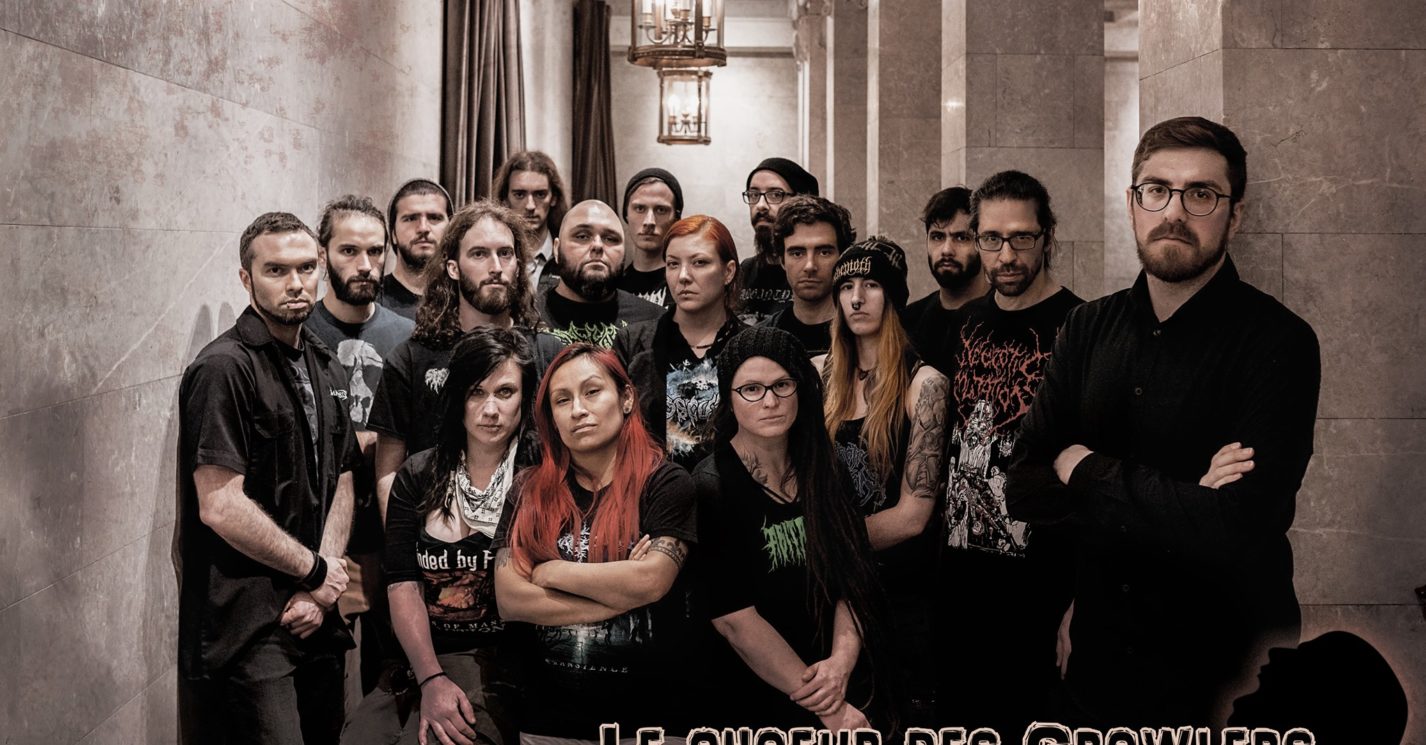 BITS'N'PIECES…..Montreal's  Growler Choir performs "The Dayking"…..Could this be the first next big thing this year? Are ya ready for Extreme Acapella? Montreal's Growler Choir (Le Choeur De Growler in French) was dreamt up by composer Pierre-Luc Senécal in 2016.  What may have been a wild fantasy for many metalheads was finally brought to fruition in May 2019 in co-production with Le Vivier et Codes d'Accès when the eighteen member choir took the stage for their first public performance…..Comprised solely of metal growlers, the choir blends metal and contemporary music in a way that is groundbreaking. In their debut performance conducted by Senécal, the Growler Choir performed the dramatic words from the poem "The Dayking" by Fortner Anderson backed with a reinforced sound arsenal. The Growler Choir does more than emphasize vocal techniques specific to the genre of extreme metal, they explore the sonic potential of the voice to demonstrate its extraordinary properties, both sensual and monstrous. The Growler Choir innovates on several levels. On one hand, it materializes an almost mythical idea of metal music; on the other hand, it renews the archetypes of a genre by approaching them in an experimental spirit. In short, they are making contemporary and metal music more approachable for new audiences.
Watch The Dayking here: https://youtu.be/4g58luYk2sM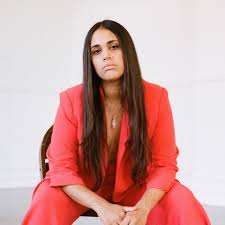 The Growler Choir is Fortner Anderson, Samuel Arseneau-Roy (Basalte), Laurent Bellemare(Basalte, Sutrah), Roxana Bouchard (Your Last Wish), David Caron-Proulx (Entheos), Corinne Cardinal (Valfreya), SébastienCroteau (Necrotic Mutation), Étienne Dufresne (ex-Deathbringer), Jessica Dupré (Fall of Stasis), Pascal Germain-Berardi (ex-Archetype). Marie-Claude Gosselin (ex-Illicit), Patrick Goyette (Hymnosis), Marie-Hélène Landry (Obsolete Mankind), Philippe Langelier (Bookakee), Jeffrey Mac Dermott (Hands of Despair), Yann Pouliot (Reign the Sky), Étienne Roy-Bourque (ex-Nephilim), MikaïlStandjofski-Figols (ex-Sanguine Glacialis), François Toutée (ex-Hybrid Chaos)…..The warm'n'fuzzies be breaking out big time next weekend in the Annex. That's cause the Tranzac Club on Brunswick hosts the First Annual  SPEAK Music Be Kind Festival  Jan.17-19. 2020, in Toronto, ON. Artists including Samantha Martin and Delta Sugar, ECHLO (Chloe Charles), Chloe Watkinson, Lydia Persaud, Johnson Crook, Rob Szabo, Gary Kreller, Dr. Draw, and more, will be performing on three stages – the Main Hall, Southern Cross Room, and Tiki Room –all at the Tranzac Club, 292 Brunswick Avenue, over a three-day weekend.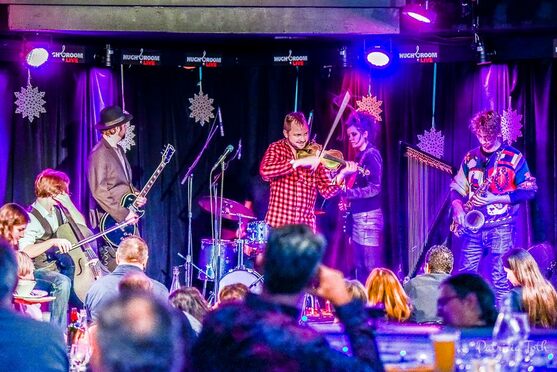 Of special note is the listing of 'conscious' r'n'b artist Shi Wisdom, raising the intriguing prospect of performances from unconscious artists…..All net proceeds this year will go to The Unison Benevolent Fund, which helps music-industry folks in need of financial and other assistance. For more information on the festival and for updates, please visit https://www.speakmusicbekindfest.com/….The Recollectiv (Alzheimer's Group) – a musical group primarily comprised of people in Toronto affected by cognitive challenges. Recollectiv's mission is to help them gain a new social network, rediscover a sense of accomplishment and find joy through music-making, will be in attendance. Friday, Jan. 17 | Doors 6:30 pm | Music 7:00 pm – 1:00 am, Saturday, Jan. 18 | Doors 12:30 pm | Music 1:00 pm – 1:00 am, Sunday, Jan. 19 | Doors 12:30 pm | Music 1:00 pm – 11:30 pm…..Long Winter is pleased to announce the third event of its 2019-2020 series that will take place at the Gladstone Hotel on January 11. This special edition of Long Winter celebrates the 1 year anniversary of Tea Base, a politicized DIY community art space tucked away in the basement of Chinatown Centre!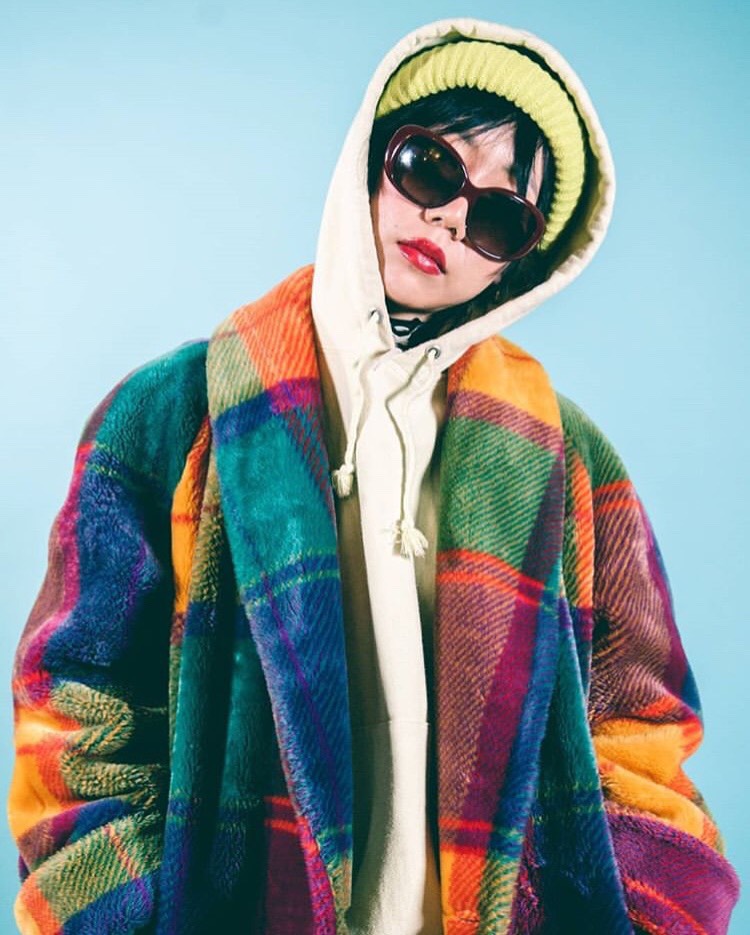 ……Co-curating art as Tea Base, Hannia Cheng and jessachse will be transforming the historic Gladstone Hotel into a tapestry of public installations including Tea Room, Smash Corner (Super Smash Brother Ultimate), Mahjong Room, Karaoke Room, and "Eclipse Cypher: Long Lost Winter", facilitated by Realije and Lost is Found as well as an extended exhibition running in the Gladstone Gallery from January 3-12 featuring Ananda Gabo, Florence Yee, Shellie Zhang, ArezuSalamzadeh, Jade Cheng, Christie Carrière. This Long Winter celebration honouring anti-gentrification art and activism will be embedded with accessibility; a resounding community-care takeover of the hotel, featuring disability justice meme screen content by Access Centered Movement and artist Sharona Franklin…..
Musical performances include improvisational experimental DJ and producer Korea Town Acid, Toronto's premiere hip hop and R&B party hosts and community forum Boosie Fade, the power-pop rock four-piece Kiwi jr., experimental multi-instrumentalist Joseph Shabason, punk psych band BBQ Pope, Robin Hatch, Nailbiter, Ichi-Bons and more… ….A Birthday Tribute to Elvis goes down Sat.Jan.11 at Hugh's Room Live featuring the tremolo soaked The Lustre Kings as the main attraction. Downbeat 8PM…. If you're lonesome that night, could be an option……..stepping off with Mister Dylan snarling truth to power on 'Masters Of War,' arguably the finest song of its ilk ever written https://www.youtube.com/watch?v=JEmI_FT4YHU
Support Live Music Everywhere...