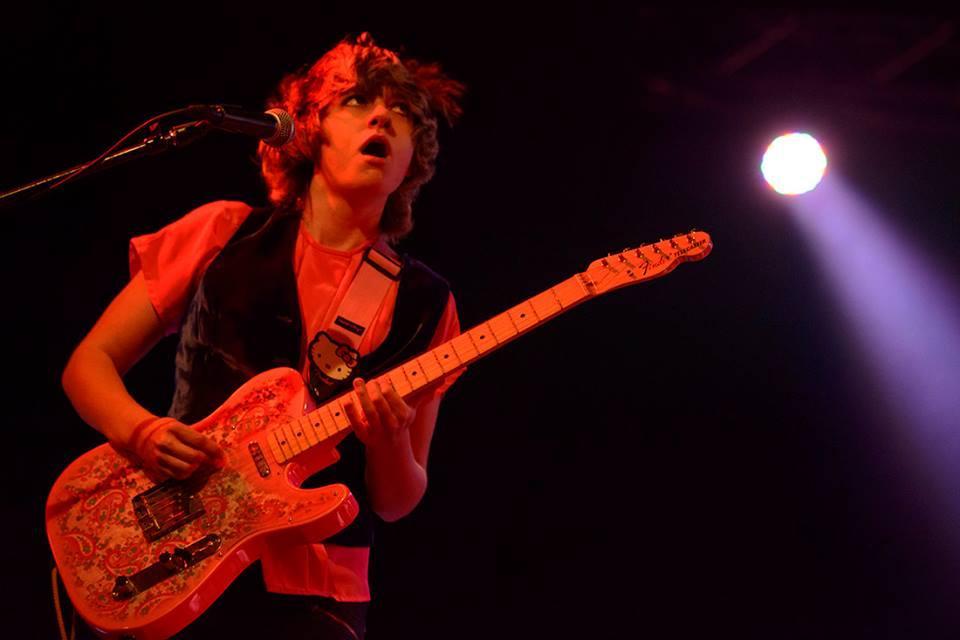 Fri Mar 20, 2015
So here's our pick for wild chile of the week. Grace Vonderkuhn is a musician and songwriter out of Wilmington, Delaware. She sings, plays the guitar, bass, keys, and drums. All ferociously. After fronting her bands (Kind of Creatures, A New Dakota) from 2009-2014, she went solo with a style which cherry-picks elements from garage, psychedelic, punk, classic, and glam rock genres. Some say she's the unearthly love child of Kim Deal and Joan Jett. Her current EP "Saints With Death Wishes", is rough around the edges in all the right places, She's all beautiful, messy charm and knows her way around muscular music, brave enough to let the skeleton show through in places.

noisey.vice.com/blog/premiere-grace-vonderkuhn-salutes-saints-with-wishes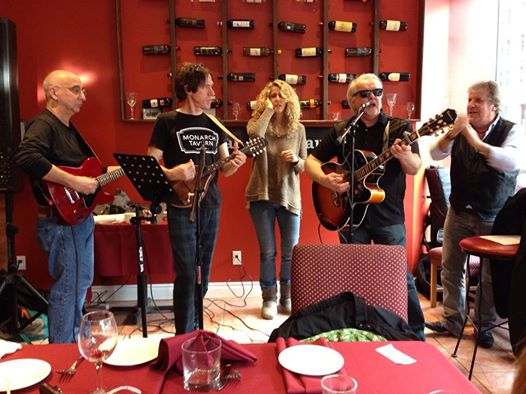 Lucky Mike (Cavanaugh) had the luck of the Irish with him on Sunday when the St. Patrick's Day Parade filled the streets and made it difficult to get to the inaugural gathering of Lucky Mike's Sunday Matinee.  But folks prevailed and the place was packed. Toronto musicians that included Bobby Cohen on guitar (who backed up and played every genre from country to jazz to folk) Don Graham, Max Layton, Robyn Hale, and the Shenanigans (Lucky Mike and Gene Hughes) along with Mike Cavanaugh who kept it flowing. This wonderful little restaurant Vino Rosso at 995 Bay Street in downtown TO kept the folks fed and watered and the music was non-stop for three hours. Rumour has it Lucky Mike will be doing more of these social musical gatherings. Keep in touch on Facebook
facebook.com/luckymikeTO
The change has come. The Mother Ship has named Shadrack Kabango, better known as Shad as the new host of the embattled CBC Radio One show Q, The Juno-winning hip hop artist takes over the chair in April. Shad has been a towering figure on the scene since he dropped his cebut album, When This Is Over in 2005. The album was a solid indication of the man's DIY ethic, being entirely self-made and financed with the $17,500 he won from a Waterloo radio station's Rhythm of the Future talent competition while attending Wilfrid Laurier University. The album was a tall flag for how it was going to be with Shad. Self-deprecating lyrics and a dry sense of humor deployed in the service of songs with a burning focus on social issues.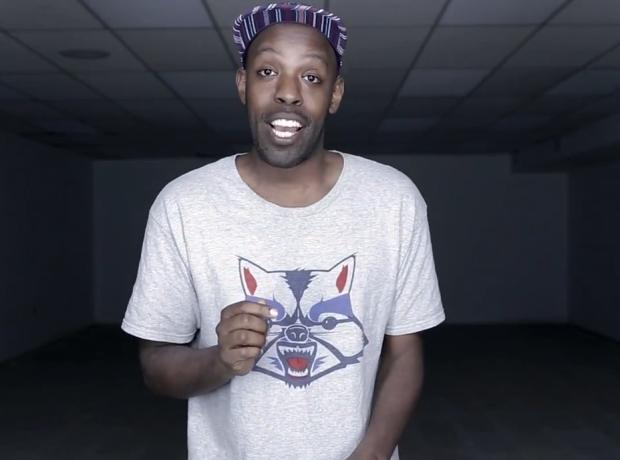 Signed to Black Box in 2007, Shad's third album TSOL took the Juno for Rap Recording of the Year in 3011, whipping a field of heavyweight contenders including international superstar Drake. His most recent coookie, Flying Colours, dropped in 2013 and given his new duties, it may be some time before dude's back in the strudio again. Good reason to hie thee down to Massey Hall Fri. 27th Mar. to catch Shad live before he disappears into the airwaves. Ya want more incentive? Opening act's the riveting and soulful Zaki Ibrahim and the tab's $20.
shadk.com
Talk about taking it to the street and they don't come harder than gritty roots singer/songwriter Chris Staig. To celebrate the release of current album 'Shack by the Tracks', Chris and band The Marquee Players plan on taking 'Shack by the Tracks' on a citywide series of launch parties and record store gigs. The lineup's Chris Staig (guitar, vocals, harmonica), Stephen O'Toole (bass), Shelley Coopersmith (violin and mandolin) and Ian MacKay (drums) and we've had the pleasure of watching this crew evolve from a good little bar band to a tight-knit unit with a sound all its own. This is all very accessible and intriguing stuff, the kind of album that'll make new friends for Staig. Good on you, dude. So here's where you can hear them.
The One-Day Record Store Tour:
When: Saturday March 28th
Where:  Cabin Fever 1669 Bloor St W, 11:30 am
            Parkdale Platters, 1614 Queen St. W, 1:00pm
            Pandemonium 2920 Dundas St W, 2:30pm 
            More Stores TBA
            Toronto (West) Album Launch
When: Friday April 3rd, 9:00pm
Where: Junction City Music Hall (2907 Dundas St West)
Toronto (East) Album Launch
When: Saturday April 4th, 9:00 pm
Where: Dora Keogh (141 Danforth Ave.)
This new recording is the best representation of both Staig's blues tinged folk rock writing and the live sound of The Marquee Players.  Of particular note are violin and mandolin contributions of Shelley Coopersmith, and her harmony singing with Staig and Irish bass player Stephen O'Toole. While available on CD and on Itunes, "Shack By The Tracks" the album is Staig's first recording to be issued on LP. Expertly mastered for vinyl by Noah Mintz at the Lacquer Channel, the result has inspired a unique single day acoustic tour of Toronto Music stores specializing in LPs.
chrisstaig.com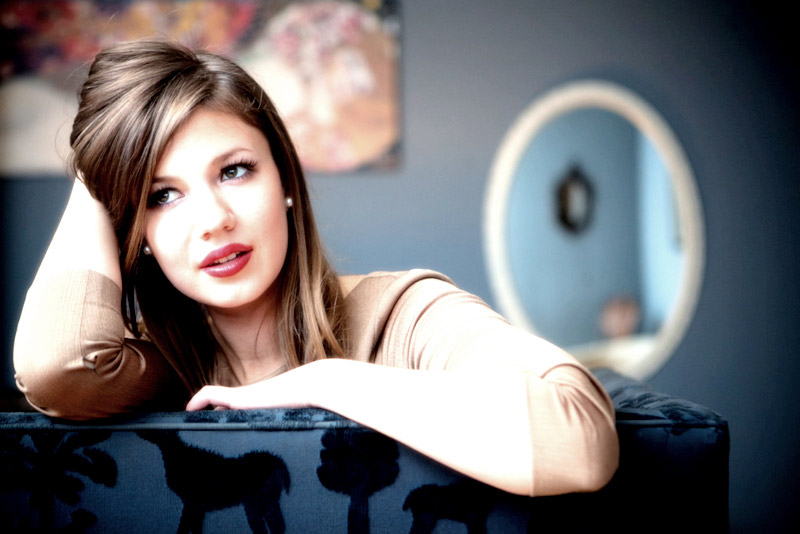 Downtown soul/rock queen Andria Simone is pumped behind new album 'Evolve' and can't wait to bust it out live. First time out is Wed. Mar. 25 at The Mod Club with an 8.30 showtime. This is a totally compelling and accomplished follow-up to Andria's debut full-length album, Good Lovin', and marks the musical and personal evolution of this most talented, charismatic young singer, songwriter and bandleader.  Producer Greg Kavanagh has witnessed the remarkable growth in the three years he has worked with Andria Simone and has been delighted to share the producer role with her.
Evolve is much more of a band record than Good Lovin'. Since that album's release Andria has performed extensively with her ace young group, affectionately dubbed Those Guys – comprised of bassist Mark Wilson, guitarist Dave Kirby, saxophonist Brian Dhari and George Nikolov on drums, (former member Anthony Brancati plays keyboards on Evolve). "Having a band involved now has completely changed the whole dynamic of what I do, and they're all over the new record," Andria says. "I believe that gives this album much more character." In fact, her admiration for Those Guys was the spark that ignited the fiery and sexy "Burn Me Baby", the first song she wrote for the album. "I wrote that one about the band, to show them my appreciation and respect for what they've done for me, helping me evolve through this whole process." Evolve's available on iTunes March 20, 2015.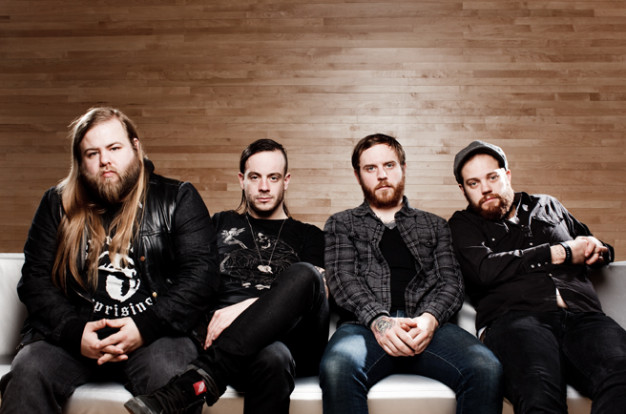 Cancer Bats continue to carry the flag for intelligent hardcore with their most accessible album ever. The album title, Searching For Zero, comes from the band's perspective of getting to that place where things can only get better. In musical terms, this means a more melodic and expansive sound taking in the band's primary sonic sources of hardcore, punk, stoner rock and heavy metal. Highlights include stoner rocker with a nod to the heavies ("Beelzebub"), bleeding-fingered hardcore ("All Hail"), and sludgy, doom metal grooves ("Dusted"). All hail a production sensibility from Ross Robinson (At the Drive-In, Korn) which, whether it be a song of mourning and loss on tracks  "Arsenic in the Year of the Snake" or the thrash-metal workout "All Hail" or hooky screamer "Satellites," there's an unyielding energy to the album and a profound sense of 'bandness', as if, having thrashed for a decade and five albums and still living to do it again, that they have found Zero and it's gonna be all right, it's gonna all be good stuff from here. So Searching For Zero has this tough'n'tender thing, making space for moments of reflection set to excellent screamo and thrash core playing.
cancerbats.com
Universal Music Canada recording artists Mother Mother, Wes Mack and SonReal to provide tracks for 3rd annual Nimbus Mix Contest, giving Canadian students & adults the opportunity to show their skills for a chance at a $25,0000 scholarship. Now in it's third year, the annual Nimbus Mix Contest opens up to include two categories: one for adults and one for high school students, with over $100,000 in scholarship prizes. Aspiring Canadian producers will be able to create their own mix (or remix) of tracks from Mother Mother, Wes Mack, and SonReal for a chance to win a $25,000 scholarship to attend Nimbus School of Recording Arts in Vancouver, BC.
Competitors will be able to download the stems on April 1, 2015 and create their own unique mixes to be uploaded for public voting. The resulting mixes must be submitted online by May 1, 2015, with the winners announced on or before June 1, 2015. Mixes will be judged by Nimbus co-founders Bob Ezrin and GGGarth Richardson, and Shawn Marino, Vice President of Universal Music Publishing Group Canada. The student and adult creating the winning mix in each category will receive a $25,000 scholarship to attend Nimbus School of Recording Arts in Vancouver, BC. The second prize in each category is a $10,000 scholarship and the third prize is a $5,000 scholarship to Nimbus. A popular vote prize of a $10,000 scholarship to Nimbus is also awarded in each category to the mix receiving the most public votes.
"Over the last two competitions we have heard some amazing submissions from young up-and-coming producers and engineers," says Nimbus co-founder and renowned music producer Bob Ezrin. "This year, we hope to uncover even more great Canadian talent by opening up the competition to include not just high school students, but adults as well."
"Universal is excited to be working alongside Nimbus for the third annual Nimbus Mix Contest," says Shawn Marino, Vice President of Universal Music Publishing Group Canada. "This contest is an invitation for Canadians of all ages to pursue their love of music as a career."