Fri Mar 13, 2015
Swamperella is a name synonymous with traditional Cajun music in Canada. Now celebrating its 20h year, this Toronto based group continues to honour the tradition from which their music stems while adding heartfelt and lively originals which dovetail beautifully into that tradition. Members include: Soozi Schlanger (fiddle, vocals, washboard); Peter Jellard (accordion, fiddle vocals); Conny Nowé (rhythm guitar); Rachel Melas (bass); Dave MacDougall (drum set , triangle). Swamperella has honed its musical chops over the years by playing to packed crowds at monthly cajun dances at the legendary Gladstone Hotel and has performed at kitchen parties, weddings and folk festivals across Canada. At the newly tarted up Tranzac last week, the crew showed no signs of slowing down, running through vintage zydeco material from such as Clifton Chenier, gorgeous Cajun waltzes with their roots in 17th Century France and original tunes from the band's four albums, most recent being Leopard Skin Coat. As advertised, getting dancing room on the packed floor involved sinuous squeeze plays as it almost always does when Swamperella roulez les bon temps and their ardent fans woudn't have it any other way.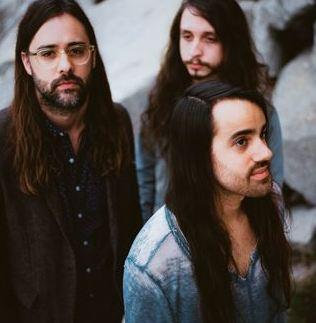 Straight outa Austin, so the freak is guaranteed, psychedelic rock outfit The Bright Light Social Hour delivered sophomore album, Space Is Still the Place March 10, via MapleMusic Recordings and Frenchkiss Records. The 10-track collection was written, performed, produced and engineered by the band at their home studio in Austin, TX, and mixed by Chris Coady (Beach House, TV On The Radio, Future Islands). The Bright Light Social Hour came together while Curtis Roush and Jack O'Brien attended graduate school together at the University of Texas in Austin. Following graduation, they dropped a self-titled LP in 2010. In the years that followed, their songs won over their hometown, and TBLSH scored an unprecedented six awards at the SXSW 2011 Austin Music Awards.
Space is Still the Place encompasses the idea of a "Future South," developed by the band after touring across the country, heavily in the South, over the last few years. While on the road, the band usually stayed with people in various cities instead of hotels and gained a new perspective on the struggle young Americans faced after experiencing it first-hand. "It was shocking," said Curtis. "We realized how few individuals were working jobs they felt self-actualized by to some extent. They're pedaling for survival. Our generation has grown up in continuous financial crisis, a lot of unemployment, a lack of opportunity, widening inequality, and pervasive issues of race, gender, and class. We're taking a lens to some of these gritty realities and espousing an optimistic, frontier-looking gaze into the future. 'Future South' is both an aesthetic and political statement. We're taking forms and influences from soul, blues, and gritty Southern music and ushering them forward. The idea evinces the south can be a vibrant egalitarian place. You can love barbecue and not be racist."
Opener "Sweet Madelene" tempers guitars thick enough to rustle tumbleweed with a bombastic beat and emotive, soulful vocals. "Slipstream" constructs "a death train for the ego," acting as a clarion call to let go of isolation and join the communal struggle under a haze of hypnotic delay and haunting textures. The ethereal "Dreamlove" blasts off on a synth swell, conjuring the image of what Jack likes to describe as "waking up in a hospital on a spaceship."
Their version of a love song is the dreamy and strangely danceable "Sea of the Edge". After the pensive and potent "Aperture", "Ouroboros" directly compares those stuck in that cycle of banality to the mythical snake, which eats its own tail over buzzing guitars. Lead single "Infinite Cities" coasts ahead on a driving beat before building into one of its sweetest refrains, while "The Moon" and "Escape Velocity" provide a subtly hopeful dénouement, leaving listeners with breathy optimism.
The Bright Light Social Hour is Curtis Roush [guitar, vocals, synths], Jack O'Brien [bass, vocals, synths], and Joseph Mirasole [drums, synths]. and they are way pumped for their hometown album release party at the legendary Stubb's in Austin, before setting off on a Spring tour across America, stepping over the line to play Montreal 4/14 at Quai Des Brumes and Toronto 4/15 at The Horseshoe.
Here's another odd crew making notable music, this time from bucolic Nanaimo B.C. Pop punkers Mr. Goshness filmed their song 'Five Personalities' at Tiger Music Mountain thanks to the help of videographers Josh McNair and Greg Weller. Captured in all its excitable glory, the 6:00 min video was filmed during the band's 2014 CD release party for their latest release 'A Guide to All Things Twisted'. Vocalist Kaliandra delivers a grabby performance referencing Hayley Williams from Paramore in terms of vocal power and smooth transitions. The progression follows a non-traditional pop song and again features a Mr. Goshness favourite... Breakdowns!
Singer Aidaen Carson had this to say about the live footage for 'Five Personalities: "This song is one of my personal favorites from the album because of its energy level, complexity, progression, and style. If you want to listen to a song that makes you think, check this track out, if you want to rock out, turn this track on, if you want a good mix of keyboards, tasty guitar riffs, or drum fiestas, then crank it to 11 and get ready for an adventure. Thank you for listening!"
Mr. Goshness aren't afraid to go in several directions, showing off their influence from many different genres to maintain a sound all their own. The album's a pushy and fearless twelve-track experience full of catchy vocals, heavy guitars, creative arrangements and intelligent musicianship. Producer Jim Blair describes them as "a deranged cocktail of pop, progressive metal, and Kurt Weil show tunes." Sounds like that'll work for us.
Then there's the ominously fabulous and hirsute Steeltown role model, Lee Harvey Osmond, aka Tom Wilson aka one of three Rodeo Kings, aka that large, melodic growling man from the former Junkhouse. He's got a new one, Beautiful Scars, so you've been warned. The captivating first single "Blue Moon Drive" was revealed today.
Produced by Michael Timmins (Cowboy Junkies), the humanity of the album is like the warmth of blood that rushes to the cut: a sudden alive jolt in the middle of peril and uncertainty; a suspension of possibility that anything can happen next. Redolent with swooning horns and guitars that bob and weave, Lee Harvey Osmond's voice - forever the hallmark of his sound which spans over three decades of work - sounds, here, like a warm hand to the forehead, an arm on the arm of the stricken, a comforting growl at the heart of a screaming world.
At once evoking Howlin' Wolf, Mike Scott and Roy Loney, Beautiful Scars bends and twists and stretches and squeezes Lee Harvey Osmond's deep baritone - the producer treating it as if caged in a transistor radio, bathed in echo from above, or sunk in the muck of distortion. The strength of the songs notwithstanding, Beautiful Scars is a fascinating vocal journey.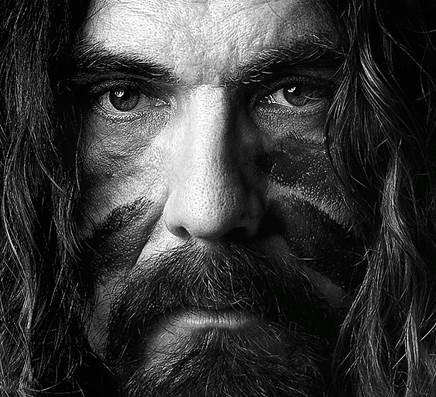 Through the truncheon swing of "Loser For Your Love" to the haunting balladry of "Come And Go" to the morose beauty of "How Does It Feel" to the exotic fusion of the album's penultimate track, "Black Spruce," Beautiful Scars journeys between the quiet, smouldering, raging, moving, and sad. Lyrically, Lee Harvey Osmond reflects on the mistakes of the singer's past with the resigned perspective of someone coming through the other side. A song like "Hey, Hey, Hey", featuring a thrilling slide guitar piece by Aaron Goldstein (Elliot BROOD, City And Colour, Cowboy Junkies) describes two lovers caught in the throes of personal despair, their "dreams turned to rust," their lives waiting until "the morning comes and sweeps us both away." Lee Harvey Osmond sings: "The world is fucked up. And so are you and I." It defines an album, and a songwriter, bereft of any choices other than to keep moving for fear of sinking into the mire of a dark past.
Lee Harvey Osmond heads to Canada's West Coast for a string of dates with Colin James beginning on March 24.
LEE HARVEY OSMOND TOUR DATES:
March 24 - Vancouver, BC - Orpheum Theatre **
March 25 - Victoria, BC - Royal Theatre **
March 26 - Nanaimo, BC - Port Theatre **
March 28 - Kelowna, BC - Kelowna Community Theatre ** March 30 - Edmonton, AB - Winspear Centre **
April 7 – Toronto, ON – The Dakota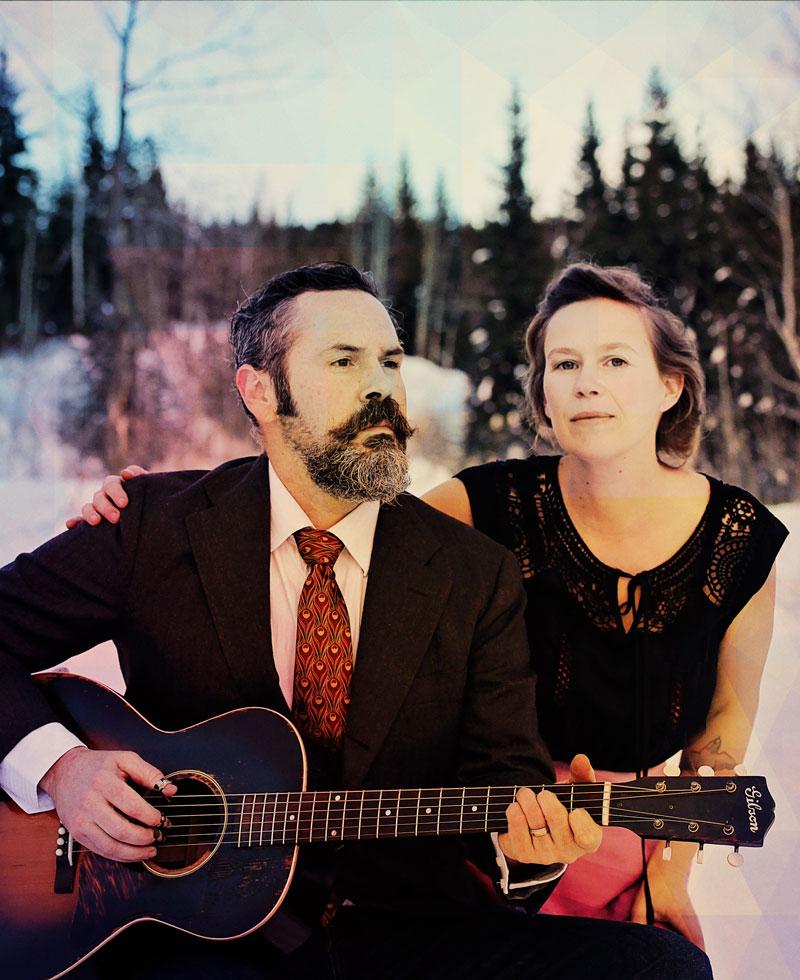 Critically acclaimed roots duo, Pharis And Jason Romero celebrate the upcoming release of their third studio album, A Wanderer I'll Stay, by streaming the album a whole week ahead of its March 3 release date courtesy of Exclaim. The duo's previous catalogue includes Long Gone Out West Blues (2013) and Passing Glimpse (2011) which have both been nominated and won multiple prizes from The Canadian Folk Music Awards, The Western Canadian Music Awards, and The Independent Music Awards. A Wanderer I'll Stay has that feeling of a record made with great intention. Running the J. Romero Banjo Company by day, serving custom banjo clients around world including Ricky Skaggs, Jerry Douglas, and Martin Simpson, the album was recorded in the Romero's home workshop in Horsefly, BC by David Travers-Smith (The Wailin' Jennys, Ruth Moody, Oh Susanna).
This is the first of their recordings to bring in other musicians: Josh Rabie, John Hurd and Brent Morton traveled to this remote part of BC to record fiddle, bass and drums, and Marc Jenkins' pedal steel was layered on from a studio in Victoria, BC. Some cuts on A Wanderer I'll Stay have their origins deeply rooted in the past. "The Dying Soldier" is a civil war-era ballad from banjoist Buell Kazee, "It's A Sin To Tell A Lie" is from a 78rpm of old-time crooner Riley Puckett, "Cocaine Blues" was the first cocaine-related song recorded, and "Goodbye Old Paint" came from a 1942 Alan Lomax recording of Texas cowboy Jess Milton. But the real focus of the album is the original songs. The past year has seen Pharis writing some of her best and most varied songs, including the title track "A Wanderer I'll Stay". Pharis and Jason also write striking songs together on this record, with "New Lonesome Blues" presenting as a vintage revival-feeling banjo tune with an impassioned pleading refrain, and they sing in duet to tell the life story of a local man who was eaten by a bear in "Ballad of Old William".
Pharis and Jason have both immersed themselves in folk traditions and spent their fair share of time on the road including stints with A Prairie Home Companion and CBC's Vinyl Cafe Tour. Currently on their way home from a string of dates in Europe, the duo will join up with CBC's Vinyl Cafe Tour in Grande Prairie, AB on March 4 and continue on throughout Western Canada for the next month and a half.
TOUR DATES
Mar 13 - Vernon, BC - Vernon Elks Hall
Mar 14 - Calgary, CB - Bow Valley Music Club
Mar 15 - Canmore, AB - House Concert
Mar 17 - Fernie, BC - Clawhammer Press Gallery
Mar 18 - Nelson, BC - Old Church House Concert
Mar 19 - Castlegar, BC - House Concert
Mar 20 - Grand Forks, BC - 257 Market St.
Mar 21 - Ashcroft, BC - TBD
Apr 10 - Vancouver, BC - St. James Hall
Apr 12 - Victoria, BC - Oak Bay United Church
Fresh albums well worth the checking: Will 'Arcade Fire' Butler's solo release is both what you'd think and more. Will's earned a rep as one of Arcade Fire's most creative and passionate members, so no surprise a lot of it sounds Arcade Fire-y. It's also brisk (27 mins), bristly and comes at you from all angles. For the most part, the genre hoppping is well executed, as on the upbeat, anthemic guitar pop of 'Take My Side' and 'What I Want' the gospel-ly 'Witness'and the synth-washed Eighties outings 'Anna' and 'Something's Coming'. Add to that Will's penchant for pitch-black humor in lines like "The Lord, the Lord is watching/But he's not your friend," from 'Something's Coming' and "I can feel my heart beating out of my chest / I apologise if I get heart blood all over your nice floral dress." is as charming as it gets on "What I Want." All in all an assured, entertaining outing sure to appeal to more than AF fans.
Aqua Alta's a new project from fab voiced Jenn Grant, Charles Austin (Superfriendz) and producer Graeme Campbell and lives up to its name with a double album full of aqueous sounds and song titles such as "Coral Castle" and "BTOcean". It's watery all right but not the tsunami or monsoon or flash flood type of water. It's heavy on the languid and delicate qualities of the water you might encounter in a Dreamsphere, the album's title and Grant's ethereal pipes fully enhance the vibe. The collection ably straddles the gap between electronic pop and ambient folk without hitting you over the head about it.
Not so much with East side power punks Ruthless Ones, whose new EP That Static (produced by Chris Wardman), hits you over the head and beats you about the chest and body with no regrets. This is straight from the shoulder, hard hitting stuff so you know the song, 'The Boardwalk. Tonight' isn't an invitation for a stroll in the moonlight. Ruthless Ones cross the bridge to play Cherry Cola's and The Horseshoe later this month. More on Joe Strummer's kids later. Music by the Ruthless Ones is available with worldwide distribution on Believe Digital http://player.believe.fr/v2/3614591285585, For more info visit www.ruthlessones.com. 
Ruthless Ones 'Pitiful Power Trip' Live at Johnny Land Presents: The Opera House, Toronto
YouTube:
>