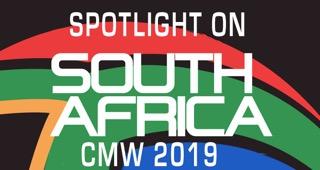 Fri May 24, 2019
The Canadian Association for the Advancement of Music and the Arts (CAAMA) welcomes a full slate of international business opportunities at Canadian Music Week, which runs May 9 to 11, 32019 at the Sheraton Centre Toronto Hotel (123 Queen Street West.)
Canadian Music Week's International Marketplace (IMP) is hosting back-to-back meeting sessions during this year's Canadian Music Week.
Pre-arranged meetings curated by the IMP include Meetings with South Africa, in celebration of CMW's first-ever Spotlight on South Africa.
Activities include a comprehensive panel from the South African music market and sector specialists on Friday, May 10 form 10:35 AM to 11:35 AM (Lower Concourse, Osgoode Ballroom West) followed by a session of business-to-business (B2B) meetings from 1:00 PM to 3:00 PM at the International Marketplace, Lower Concourse, Hall E). Join us for a taste of South Africa at the Spotlight on South Africa VIP reception at the International Marketplace on Friday from 5:30 to 7:00 PM.
Experience South African artists at the Hideoutfrom 8:00 PM to 2:00 AM on Thursday, May 9. Line-up includes Sjava; Kwiish; Anada Trap Story; DJ Mbuso; DJ Do Me & Mahlathini II. The line-up for Friday features Cara Frew; Brynn; Flying Bantu; Cape Town's own Jonathan Butler; DJ InviZable and Agugio. Saturday's Hideout show is presented by the Cape Town International Jazz Festival and features Nono Ntoane, and Don Vino along with some great Canadian jazz artists. South Africa will also be in the limelight on Saturday at Yonge Dundas Square.
The Spotlight on South Africa is produced in association with Ontario Creates, Global Affairs, The Trade Commissioners Service, FACTOR and the Department of Arts and Culture, Republic of South Africa.
Other pre-arranged B2B sessions include Meeting with Japan (Thursday, May 9 from 10:00 AM to 12:00 PM); Meet the Music Supervisors (Friday, May 10 from 3:15 PM to 5:15 PM); Meet the Festivals (Saturday, May 11 from 10:00 Am to 12:00 PM Noon.
Delegates can also participate in a series of Walk-Up B2B sessions including: Meet A&R (Thursday, May 9 from 12:15 PM to 2:15 PM); Meet Radio (Saturday, May 11 from 2:15 PM to 2:15 PM) and Meet the Agents (Saturday, May 11 from 2:30 PM to 4:30 PM)
Additional impromptu meetings will be taking place over the three days at the Mentors' Café (from 11:15 AM to 5:15 PM daily) located in the lower concourse lobby.
Experience the world atCMW Festival: Poland is introducing artists to the Canadian music market with performances by Cheap Tobacco (May 9 at Longboat Hall) andMay 11 at the Monarch Tavern) and DAGADANA (May 9 at Drom Taberna - and May 11 at Small World Music Centre. Experience music from the other side of the wall with Bashar Murad (Palestine) on May 11 at Small World Music Centre, and May 10 at Amsterdam Brewhouse. India's Parvaaz is performing May 11 at Small World Music Centre and May 12 at Cherry Cola's. All the way from Spain – check out AWWZ on May 9 at Velvet Underground. Weaving it all together is some of Canada's best Canadian artists.