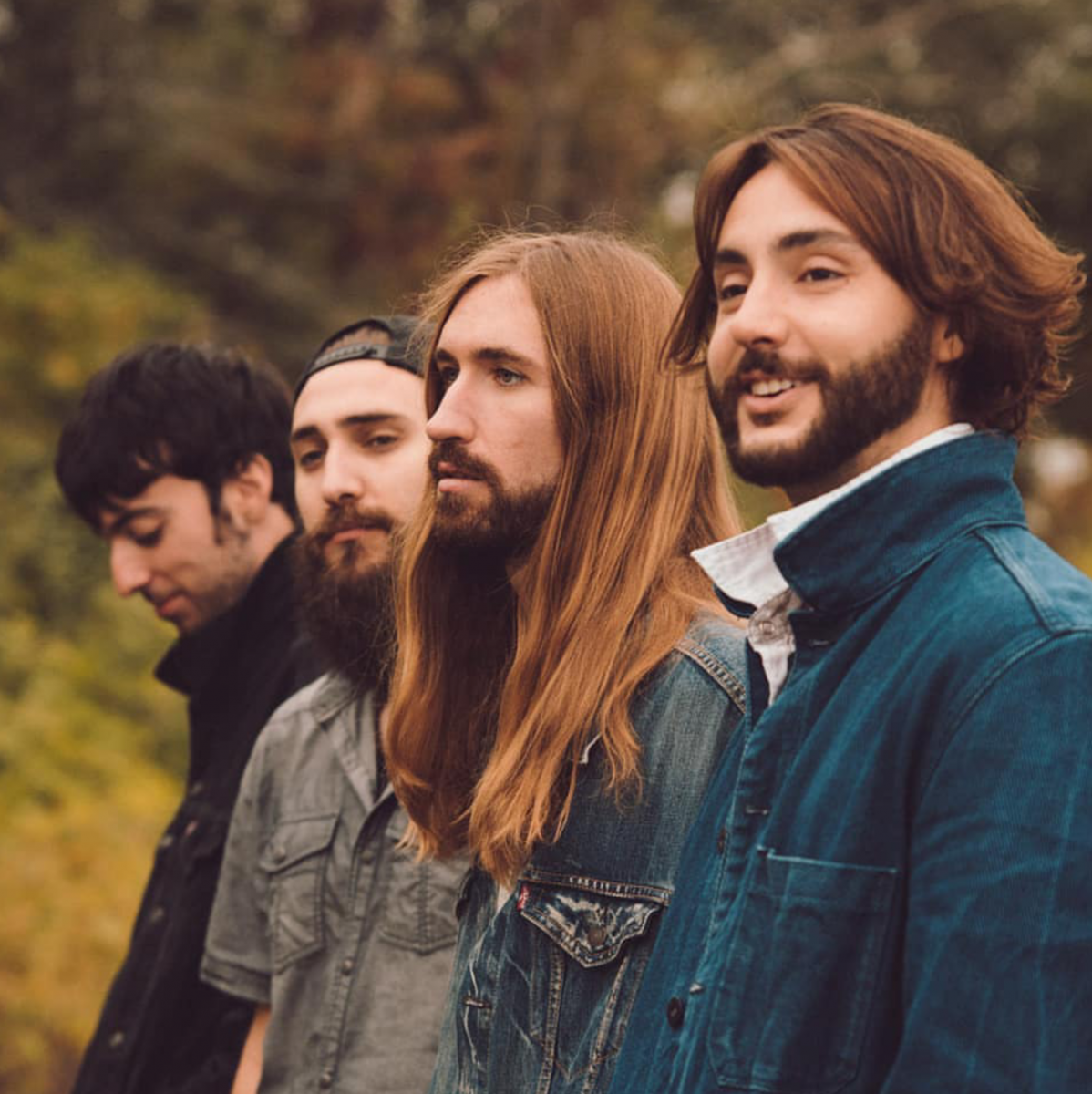 Fri May 03, 2019
So, four hunks of burning babe magnets, three voices entwined in celestial harmonies, two savage guitars, pumping bass and one unifying vision on drums and to date, with zero ineffective ballads which even rock.
This is Tribe Royal, musical children of Ottawa with a deep investment in the honeyed sounds of yesteryear's amber colored folk rock as dished up by the likes of CSNY and The Byrds but not Sonny & Cher. They are all young dudes tho so they don't get all tribute bandy about their music, just keep kickin' it 21st century streetwise while shaping and moulding a specific creative vision.
Which is what?
Before we get into that, the speaking voices of founder/members Chris Kerwin and Terry O'Brien are similar and their speedy, tag team style of answering questions makes it diff to figure out who's replying. So we'll hear the quotes as coming from the dual mind of Kerwin O'Brien.
So, the vision thing. Is Tribe Royal looking to build a distinctive sound?
"Yes and no, we kind of have a sound but we admire bands that have a sound that push their own envelope. Led Zeppelin is a great example. They had jazz, folk blues, all kinds of different styles in their music. We're more like that."
"Don't mind at all being called 'children of CSNY.' That's high praise to us. At the same time, we do step out in directions that group never went. We rock harder, play louder and don't shy away from exploring.That's not to say that we don't enjoy new music, things are just done a little differently."
Their sound and style span decades from the clean, warm pop ballads of the early 1960's to the gritty rock of the mid 1970's, and leavened by the guys' own musical era; alternative rock of the mid 1990's-early 2000's.
Tribal Royal came together in 2013. At that time, they we're rocking to the beat of a different drummer. He's long gone, the drum stool now occupied by Matt Robillard, who along with bassist/vocalist Bram Al-Najjar make up the backline for vocalists/stringb3nders/songwriters Chris Kerwin and Terry O'Brien. Think gorgeous harmonies, classy arrangements and heartfelt songwriting as done by the Red Hot Chilli Peppers.
This is music rooted in the relatable and familiar and holding a hand full of wild cards. So asked about their plans for the upcoming CMW Showcase at The Paddock on May 10 they deadpan. "The set list is top secret, sorry. We're going to open with high energy rock and roll and take it higher and heavier. Seriously, we don't know yet. We're rehearsing a lot of songs."
Tribe Royal's CMW debut is a peak experience of the sort that's been happening with the band throughout 2018. Having played anywhere and everywhere they could plug in, the steady career buildup reached the next level in 2018 when the band hooked up with manager Sandy Graham/EMG. That was the year Tribe Royal material started getting aired in Europe and played the Live at Heart Festival in Sweden and Newfoundland.
In April of 2018, Tribe Royal travelled to Muscle Shoals, Alabama to work with legendary producer, Norbert Putnam, famous for recording artists such as: Linda Ronstadt, Jimmy Buffett, Dan Fogelberg, Mickey Newbury, etc. to record two new singles "Holding On" and "Good To Me" for a vintage Double-A-Side contributing to the titled "Road To Muscle Shoals", released internationally on July 1st, 2018. This year has already seen them play them play Westway LAB in Portugual then on to a Showcase at MIDEM at Morrisons June 5 in Cannes, France. With CMW coming up fast and in June, their first opportunity, to paraphrase Nick Lowe, to make an American squirm when they play Milwaukee's Summerfest in Wisconsin. Then back to Live at Heart Sweden where it all began.
And if you can't go to any of those dates you can support the four lads at their upcoming travel fundraiser on Saturday, May 18, 2019 at The Blacksheep Inn in Wakefield, Quebec just outside of Ottawa.Tickets are $15 and you get to see two other bands as well, You can help the guys get to Europe by supporting this show. Heck, you might even be able to get them back home as well. Buy tickets here: https://triberoyal.ca/shows.
The international travel has given the Ottawa foursome a more sophisto view of their industry, circa 2019. Commenting on the value of the Showcase Festivals like CMW, they spoke thusly. "It depends. It you don't have representation, it does nothing but if you come with a team and you have product, it can make a world of difference. It says you've established yourself."
"We went in 2016 and networked, handed out cards, talked up people and nothing. Last year attending with our manager Sandy, who is established in the industry, she was able to gather credible interest in the band as one to watch. To get the best out of CMW, you need to first evaluate where you are as a band and you need to have the live show more pro calibre."
Lest you think it's all toiling in the music mines, all of Kerwin O'Brien would have you know life in Tribe Royal is lotsa laffs.
"You really learn a lot about each other and about life in general when you're travelling the country living out of a trailer with six people. Meeting and hanging out with interesting people has always been a highlight for us. It's so cool to hear someone's story and trade experiences. It's important to keep things light and with this lot, it turns into a competition of laughs."
"We take turns carrying the load. I used to be a Lennon and now I feel more like a McCartney. Playing for the European audiences wasn't that big a deal. We didn't need to sing louder to be understood as most of them were English speakers. Even knew enough to sing along, which was a great feeling."
As for their female fan base, it's wide, deep, multilingual and shows up in large and enthusiastic numbers.
"All are welcome. When I comes to meeting the fans, we're totally inclusive although I gotta say it's the older ladies that are most intent on taking us home for safekeeping."
Good night, sleep tight Tribe Royalites.
For more visit www.triberoyal.ca