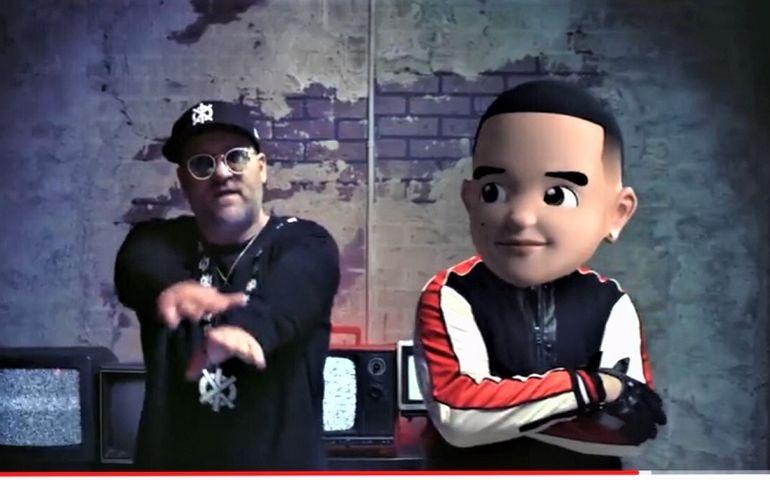 Fri Feb 15, 2019
Anyone who was around when Snow had his breakout hit 'Informer' would never think anyone can do it justice in a remake but somehow Puerto Rican hitmaker Daddy Yankee who released
"Con Calma" was produced by Domingo (Big Pun, Fat Joe, KRS-One) and features a cameo—in Spanish—from Snow, as he helps Daddy Yankee reinvent his smash hit single, "Informer," which spent seven weeks at No. 1 on the US Billboard Hot 100.
"It was one of my favourite songs growing up, and to do this the right way I needed the guy to be on the record," explained Daddy Yankee, who celebrated his 42nd birthday just a few days ago. "You got to give honour to a classic in order to make a new version of it, and once I showed it to him, he said, 'Wow, it's amazing. I'll 100% be on the song.' So you have a Canadian and a Puerto Rican making Jamaican music. Two pioneers, two people pushing the cultures."
Darrin Kenneth O'Brien better known by his stage name Snow, is a Canadian reggae musician and singer best known for his 1992 single "Informer", which spent seven weeks at No. 1 on the US Billboard Hot 100.
Snow was born and raised in the North York district of Toronto, Ontario. For much of his childhood, he lived in the Allenbury Gardens public housing project, and at the age of 17, moved to Ajax, Ontario. Growing up in a diverse neighbourhood, O'Brien blended dancehall and reggae with rock and popular music to create his own unique style of music.
In 1988, Jamaican-born DJ Marvin Prince witnessed O'Brien deejaying at a party and the two quickly became friends. For the next few years, they practiced in Prince's basement with Snow providing vocals and Prince playing records. While on a trip to New York City, Prince mentioned Snow to rap star M.C. Shan. Shan then invited Snow to New York and introduced him to music producers, David Eng and Steve Salem.
Snow eventually signed a contract to record on their Motorjam/Elektra record label and in 1993 released his debut album 12 Inches of Snow. While Snow served prison time for an attempted murder charge, M.C. Shan, David Eng, Steve Salem, and Marvin Prince promoted the recordings. Upon his release from prison, Snow's first single "Informer", written by Snow, M.C. Shan, and Edmond Leary, became a chart-topping hit. The album sold over 8 million records worldwide, with the "Informer" single remaining number 1 on the American Billboard charts for seven consecutive weeks. "Informer" has been recorded twice in the Guinness Book of World Records as the best selling reggae single in US history, as well as the highest charting reggae single in history.
The Marlon P-directed video was released on Jan. 23 and has already racked up over 60 million views to date.
You can find the single on Apple Music, Spotify, and other digital streaming services.
Check out the "Con Calma" video below.
Daddy Yankee & Snow - Con Calma
Informer – Snow (official video)
A true testament to the fact a good song is just a good song.