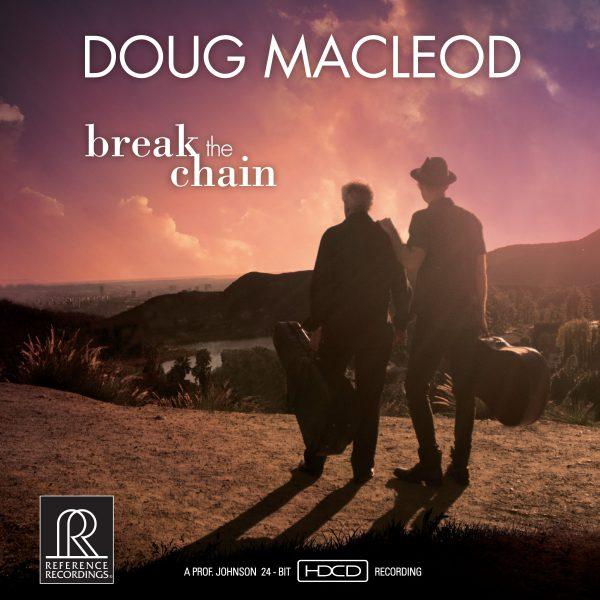 Fri Aug 04, 2017
'Break the Chain' is the latest, twelve-track offering from leading US steel-guitar and slide master, Doug MacLeod. Recorded once again with Reference Recordings and Prof Johnson's crystal-clear 24-bit set-up, this is an album that is bound to create enormous interest as is often the case with this guy's music.
MacLeod is a regular award-winner; indeed, it seems that everything he delivers is destined to pick up national and international awards. Success is pretty much assured with this guy. As usual the tracks feature MacLeod picking and sliding with a remarkable ease and enormous talent and confidence. Accompanied by his usual, preferred sidemen of Jimi Bott and Denny Croy on drums and bass respectively, this outing also sees Macleod's son, Jesse, and percussionist Oliver Brown step up to the plate. The result is a fuller sound than we have come to expect from MacLeod, who normally delivers stripped-back, pared-down acoustic blues with his signature sound and hints of wit and humour at the heart of his story-telling song-writing.
Doug MacLeod's newest release, 'Break The Chain, is quite possibly his strongest release to date, which speaks volumes. Each song extremely personal and at the same time, universal; covering subjects topical, humorous, and soulful; from the satirical to the sublime. The title song, 'Break The Chain', which was co-written and performed with his son Jesse. The song focuses on breaking the cycle of family violence and abuse, Doug and Jesse confront this pervasive issue directly. Together, they share the healing, reconciliation and peace available to all who work to prevent the cycle and 'Break The Chain'. As a youth Doug overcame abuse and a crippling stutter by turning to music. After picking up a guitar, and singing - he found his voice.
MacLeod is known for his superb songwriting, guitar wizardry, warm soulful vocals, wit and unforgettable live performances. At the heart of a Doug MacLeod performance is his knack for storytelling, bringing characters-from the faceless to the legendary-to strikingly real life. Doug is a multiple Blues Music Award winner, most recently the 2017 Blues Music Award for Acoustic Artist Of The Year and the Blues Blast Music Award for Male Artist Of The Year. He is an international touring artist who writes and sings original songs that are based on his own life and experiences. He learned from the old masters and carries forward a valuable tradition.
'Break the Chain' is yet another simply superb release from a guy who just keeps on keeping on, turning out albums of enormous quality, traditional blues with a modern twist and a humorous autobiographical edge at times. This is simply a wonderful album, a must for lovers of top-notch acoustic steel-guitar and tasteful slide work.