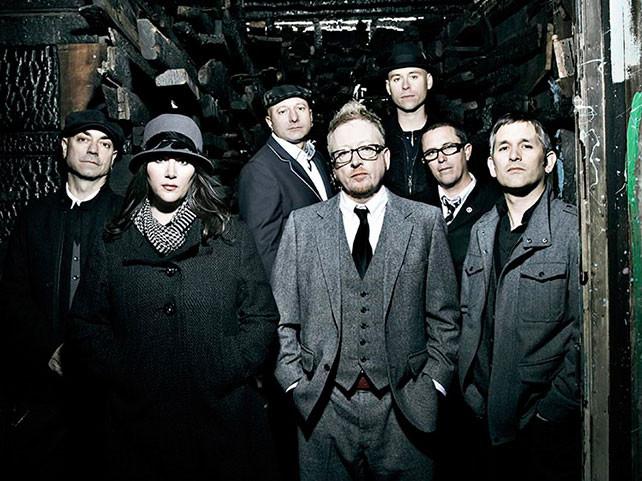 Fri Mar 17, 2017
Flogging Molly announces their 2017 North American Headlining Tour, which kicks off on May4th in Oakland, CA and brings the band's adrenaline-fueled liveperformances to cities including Vancouver, Denver, New York City,Montreal, Toronto, Chicago and more. Tickets go on sale Friday, March 17 th at 10:00 am local time. The tour is insupport of Flogging Molly's long awaited new album, LIFE IS GOOD, out on June 2ndvia Vanguard Records. Fans will be excited to know that every ticket order(in select markets) will include a digital download of the new album uponrelease. For additional ticket information, visit www.floggingmolly.com, and see complete list of tour dates below.
Produced by Grammy Award-winning Joe Chiccarelli (U2, White Stripes, Beck),and recorded in Dublin, Ireland, LIFE IS GOOD marks Flogging Molly's firststudio album in six years since 2011's highly acclaimed Speed of Darkness, which reached #9 onBillboard's Top 200. Foundedby Dublin-born frontman, Dave King, and fiddle-player, BridgetRegan, Flogging Molly has long been hailed for their compelling lyrics ofexile, rebellion, history and struggle told through exuberant anthems witha fierce blend of raucous punk/rock and traditional Irish music.
Flogging Molly is: Dave King (Lead Vocals, Acoustic Guitar, ElectricGuitar, Bodhran), Bridget Regan (Violin, Tin Whistle), Dennis Casey(Acoustic Guitar, Electric Guitar), Bob Schmidt (Banjo, Mandolin), Matthew Hensley (Accordion, Piano, Concertina), Nathan Maxwell (Bass Guitar),Michael Alonso (Drums, Percussion).
2017 'LIFE IS GOOD' NORTH AMERICAN TOUR:
The White Buffalo to support
May 4th – Oakland, CA – FoxTheater
May 5th –Portland, OR –Roseland Theater
May 6th – Seattle, WA – Showbox SoDo
May 7th– Vancouver, BC – Commodore Ballroom
May 9th – Spokane, WA – TheKnitting Factory
May 10th – Boise, ID – TheKnitting Factory
May 12th – Salt Lake City, UT – The Complex
May 13th – Denver, CO – Fillmore Auditorium
May 14th – Omaha, NE – SokolAuditorium
May 16th – St. Paul, MN – Palace Theatre
May 18th – Cleveland, OH – Agora
May 19th – Pittsburgh, PA – Stage AE
May 20th – Silver Spring, MD – The Fillmore
May 21st – New Haven, CT – College Street Music Hall
May 23rd – New York, NY – Irving Plaza
May 24th – New York, NY – Irving Plaza
May 26th –Boston, MA –House ofBlues
May 27th –Portland, ME – StateTheater
May 28th–Montreal, QC – Metropolis
May 30th– Toronto, ON – Rebel Complex
June 1st – Grand Rapids, MI – 20 Monroe Live
June 2nd – Chicago, IL – Aragon Ballroom
June 3rd – Detroit, MI – TheFillmore
June 4th – Cincinnati, OH – Bunbury Music Festival
PREVIOUSLY ANNOUNCED DATES:
March 16th – Las Vegas, NV – Boulevard Pool at the Cosmopolitan
March 17th – Inglewood, CA – The Forum
March 18th – Chandler, AZ – Pot of Gold Festival
March 21st –Dallas, TX –House of Blues
March 22nd – Houston, TX –House of Blues
March 24th – New Orleans, LA – Joy Theater
March 25th –Mobile, AL – O'Daly's Irish Pub
March 26th –Lake Buena Vista, FL – House of Blues
March 28th – Raleigh, NC – TheRitz
March 29th – Norfolk, VA –NorVA
March 31st – Atlantic City, NJ – Convention Center
April 1st – Rochester, NY – Dome Arena
June 16th – Stockholm, Sweden – Grona Lund
June 17th – Copenhagen, Denmark – Komos Festival
June 23rd – Scheessel, Germany – Hurricane Festival
June 25th – Neuhausen ob Eck – Germany Southside Festival