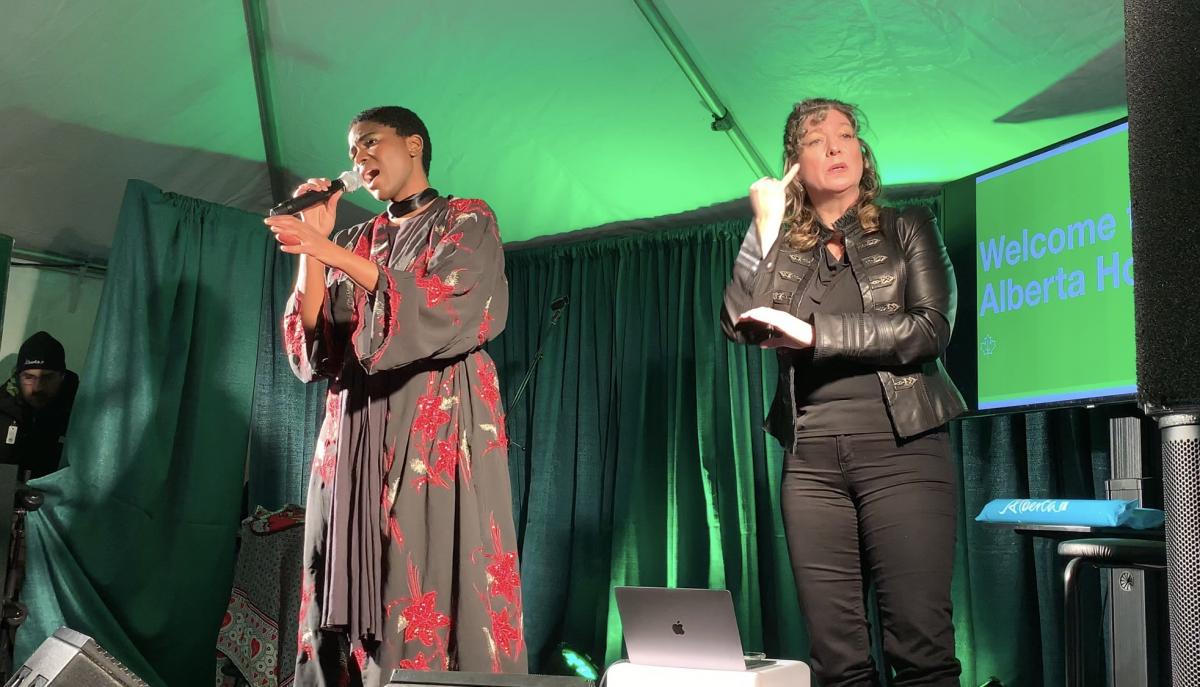 Fri Nov 30, 2018
Karimah, returned to her hometown of Edmonton, AB, after three weeks away at Calgary's National Music Centre, where she is participating in Canada's Music Incubator's Artist Entrepreneur West program.
"It was an honour to be asked to perform on the Alberta House stage, representing my province and hometown in front of audiences hailing from across Canada." - Karimah
On November 24, 7:45-8:15 PM, Karimah offered a solo performance, which doubled as a preview of her upcoming studio produced EP. She took her show one step further by performing with a American Sign Language interpreter (Nicole Sander of Nica Consolidated) an uncommon practice in the music industry.
"Accessibility is important to me, and since receiving feedback at the Black Arts Matter festival last year "Thank you for allowing me to hear music for the first time" from a deaf member of the audience, I have been interested in expanding musical reach to more audiences, namely the deaf community. I can't wait to keep working on making music more accessible and advocating for ASL interpreters to be a standard partner in live events". - Karimah
Karimah received positive feedback from the audience...
"I was standing outside the tent, and thought 'wow, who turned up the volume in the tent? Where is that powerful voice coming from?" said a festival goer, who entered the Alberta House tent upon hearing Karimah's voice ringing through the streets.
Words of encouragement to keep pursuing her career were cheerfully given to Karimah as she shook hands with her audience after the performance. Audience members included Alberta Government employees, as well as members of the public.
"The energy in the Alberta House tent was incredible. People are so attentive and warm. It was great to see everyone's faces, and tell the stories behind my songs." – Karimah
It appears that one audience member had a religious experience because of Karimah's music. "At one point in my set I looked down to the floor and there was a woman kneeled in front of me at the foot of the stage, tears flowing. At first, I didn't understand if something was wrong, perhaps she had dropped something, maybe she had fallen down. But then I realized she was praying! I was in the middle of my song "Your Lies" my song about confronting the devil on your shoulder, where I sing "you lie but never see, your lies won't work on me, you may kill me someday, but not today". She looked up at me with the sweetest eyes, and she reached out her hand to me and I held her hand while I sang lyrics to my song "Be good to me" (and in the night, you will know that you're perfect, you'd better know this, it's all you could ever be). She got up and signed a crucifix and thanked me for my performance, saying she died and came back to life this year. It was amazing and totally unexpected and wild, but that kind of intimate experience is something that I cherish. Everyone in the room looked incredulous. I had someone come up to me and ask if that was planned. I assure you, it was not." - Karimah
The Government of Alberta hand-selected artists to represent their province at the official Grey Cup festival. In a cozy warming tent called the Alberta House, overlooking the North Saskatchewan River, personalities and some special CFL guests provided all day entertainment. The festival took place on Edmonton's historic Jasper Avenue, where streets were blocked off to make way for throngs of football fans, festival-goers, and music lovers alike.
In classic Winter City spirit, Tim Horton's gave away free coffee, 50 feet away from an outdoor snow slide. Other attractions: A zip line descending into the deep North Saskatchewan River ravine, a 5 storey bungee jump, and conference rooms filled with football fans rallying their support for their respective home teams.