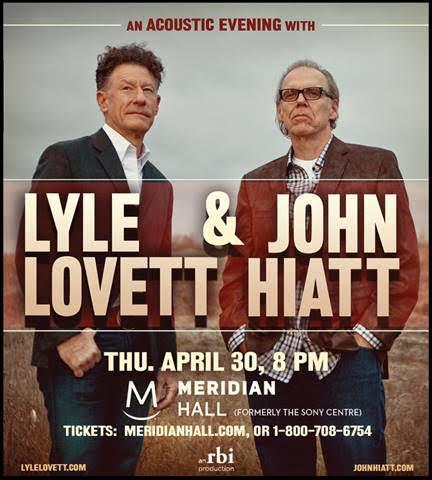 Fri Jan 24, 2020
Lyle Lovett and John Hiatt, two of America's premier singer-songwriters, join forces for an acoustic evening backed by nothing but their superb voices, first-rate guitar playing and charming reminiscences.
Lyle Lovett and John Hiatt will perform together at Meridian Hall (formerly the Sony Centre) on Thursday, April 30 at 8 PM. 
Tickets go on public sale this Saturday, January 25 at 10 AM. Tickets can be purchased online at meridianhall.com, by calling 416-366-7723 or 1-800-708-6754, and at select TO Live Box Offices.  Tickets range from $72.50 - $85.50 with limited Gold Circle at $99.50 (plus applicable fees and service charges).
Lyle Lovett and John Hiatt's previous Toronto appearances at Massey Hall (in 2008 and 2014) were both sold-out. These elegant, captivating meetings between cherished friends and collaborators make for dynamic song-and-story swaps that are difficult to resist.
Grammy Award winner Lyle Lovett first appeared on the scene in the late 80s. His recording and performance career has brought us great moments of Big Band Texas Swing, tender countrified Acoustic Folk, and always that brilliant Texas influenced wit. He has even dabbled in Hollywood films; including a role in the Robert Altman film The Player. The much-loved Randy Newman / Lyle Lovett collaboration, "You've Got a Friend in Me" from the Motion Picture Toy Story, was an Oscar Nominee in 1996 and their performance together on the Oscars was one of the highlights of the broadcast that year.
Similarly, John Hiatt, found real success in the late 80s recording Bring the Family which was recorded with his musical friends, Ry Cooder, Nick Lowe, and Jim Keltner, later to be known collectively as Little Village. This album offered us the Hiatt classics, "Have a Little Faith in Me," "Lipstick Sunset," "Memphis in the Meantime," and "Thing Called Love." Hiatt's work has been recorded by many other noted artists including Bob Dylan, Bonnie Raitt, Eric Clapton, Willie Nelson, Linda Ronstadt, Jimmy Buffett, Jeff Healy and Iggy Pop.
rbi productions inc., in association with TO Live, presents
LYLE LOVETT and JOHN HIATT
Thursday, April 30, 8 PM
Meridian Hall, 1 Front Street East, Toronto
Tickets on sale Saturday, January 25, 10 AM
Tickets are available online at www.meridianhall.com, by calling 416-366-7723