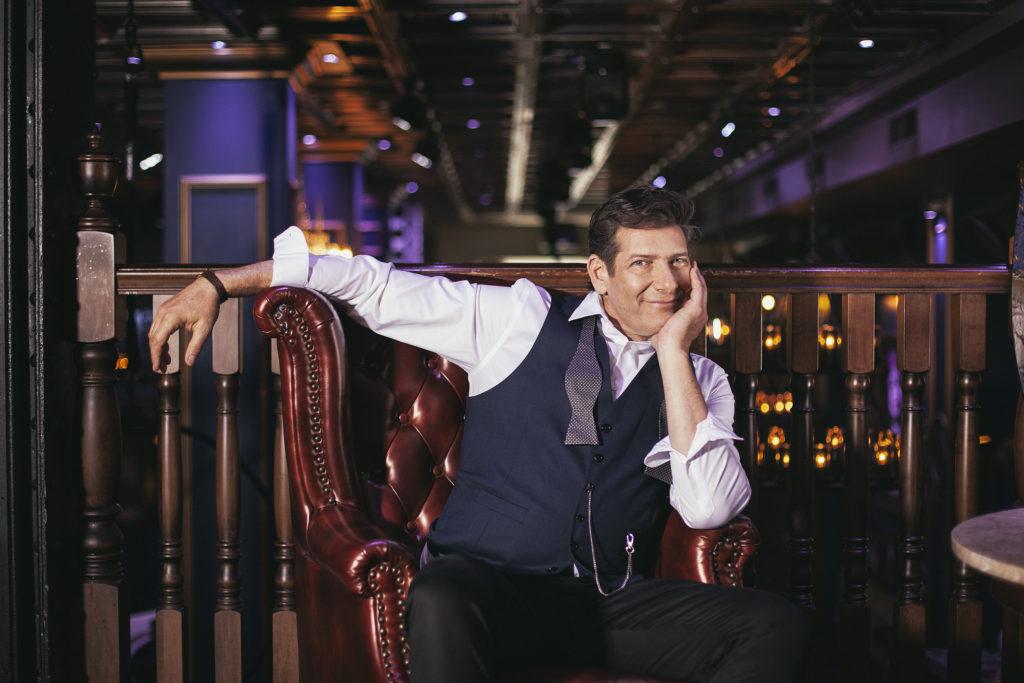 Tue Sep 24, 2019
Submitted to Cashbox Canada
Canadian jazz music star and one of the country's best-loved vocal coaches Micah Barnes has released his first single "THAT'S LIFE" and will be launching the full length "Vegas Breeze" album Spring of 2020.
Micah was recently featured in the new book, Bad Singer, as the vocal coach that made the author's singing much, much better, and gave advice to the Toronto Star and BT in Vancouver on how to become a powerful singer – great advice for the older audience who just want to sing and the younger YouTube generation who are looking for success through social media.
Micah brings the classic Vegas showroom back to life and audiences will be transported back to the early 60s, when the hottest entertainers in the world made their home at the legendary Sands Hotel. Micah and his band of top-flight Jazz musicians will be performing songs made famous by Sammy Davis Jr., Tony Bennett, Nat King Cole, Lena Horne, Mel Torme, Judy Garland & Frank Sinatra. Feel the sizzling and glamour of this classic Vegas era with one of Canada's best-loved vocalists.
A Juno-nominated recording artist, Micah is also one of Canada's best-known vocal, performance and career strategy coach and recording artist whose own career has included #1 Billboard hit Welcome To My Head as well as recording and performing internationally with the popular acapella group The Nylons. Micah is currently touring the country with his own solo cabaret show in support of his latest release New York Stories.
When his last album, New York Stories was re-released, it immediately hit the #1 jazz position on iTunes and stayed there for over a month – unheard of for a Canadian album on any of their charts these days. 
And if THAT wasn't exciting enough, Micah's friend and client Tatiana Maslany recently took home the Emmy and Canadian Screen Awards for best lead actress in a drama for her multiple roles in the sci-fi series "Orphan Black."
Micah is a top industry coach used by Managers, Labels, Producers and Directors in the Canadian and U.S. through his Singer's Playground company. His coaching credentials include Andrew Lloyd Webber's hit CBC TV show How Do You Solve A Problem Like Maria and the original cast of Tomson Highways The Rez Sisters. He has coached cast members of Mirvish's The Sound Of Music and Broadways Pricilla Queen Of The Desert as well as pop artists such as So You Think You Can Dance Canada's" Blake McGrath.
Having cut his teeth in the cabarets and jazz clubs of Toronto while still a teenager Micah became a well-loved singer-songwriter on the Queen Street scene before joining The Nylons and touring the world. Recording with the A Capella Pop act brought Micah into the global music scene and landed him in Venice Beach, California where he launched a solo career touring the U.S., which led to his #1 international club hit "Welcome To My Head" and coverage in Rolling Stone Magazine as "an Indie artist to watch".
Returning to the jazz-oriented songwriting of his earlier years has resulted in a series of critically acclaimed solo recordings including his most recent "Domesticated", which saw Micah returning to tour across Canada solo and with his trio. Micah's new collection "New York Stories" pays homage to the rich musical history of the Big Apple with songs that describe a long-distance romance using the rhythms of the Cotton Club, the Brill Building, The Apollo Theatre and classic Broadway. The recordings are stripped down in classic jazz style with Micah at the piano performing live off the floor with his trio featuring Daniel Barnes on drums and Russ Boswell on bass. On this recording, The Micah Barnes Trio is joined by special guest Michael Shand on keys and features a duet with the legendary Jackie Richardson. The results are an assured collection of deeply personal and sophisticated songs that remind us that the deepest of musical traditions are always contemporary.
Watch "That's Life" here:
youtube.com/watch?v=_0Ru9DzIrMk&feature=youtu.be
For more on Micah Barnes visit:
https://www.micahbarnes.com