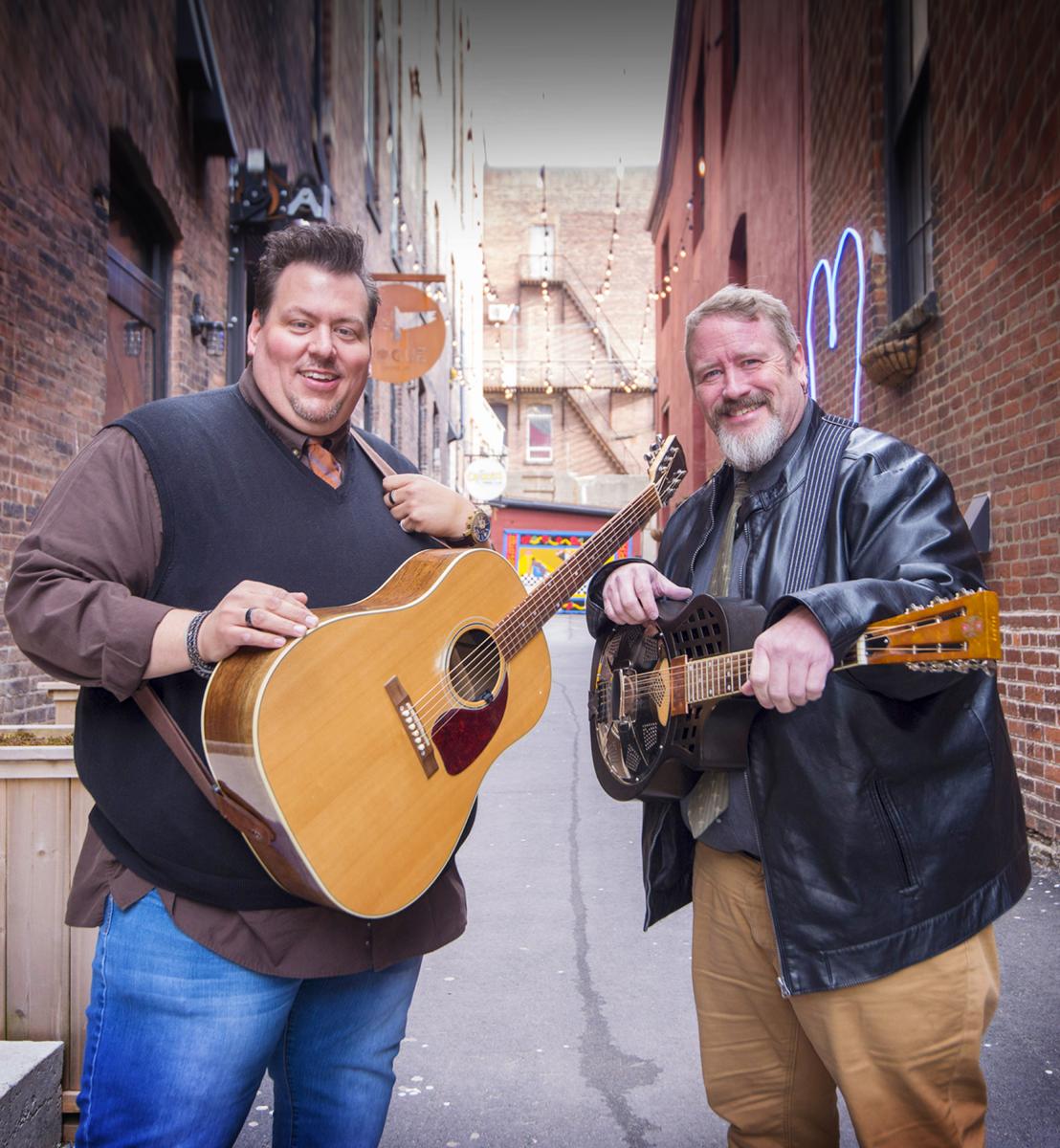 Fri Nov 15, 2019
Multi-award-winning soulful Roots & Blues artist MIKE BIGGAR and critically acclaimed, globe-trotting Blues master MANITOBA HAL have come together to hit the road with their first-ever combined tour, performing shows across the Maritimes, Quebec and Ontario in October and November 2019.
Watch "All the Same" here:
https://youtu.be/pfGglFzWcWU
Friends for years, Mike and Hal's first performance together came in February 2019 when Hal joined Biggar onstage for his blues showcase at the International Folk Alliance Conference in Montreal QC. They appeared again in May 2019 at East Coast Music Week in Charlottetown PEI for showcase appearances that garnered praise from audiences and industry delegates. Their first official tour combines Biggar's soulful melodies and powerhouse vocals – Hal's effortless mastery of the Blues on the resonator, cigar box guitar and ukulele – and abundant fun and humour from each with their onstage banter, demeanour and tales from the road.
This will be a great evening of Blues and Roots music from two of the East Coast's finest in a special double bill appearance.
ABOUT MIKE BIGGAR:
By any measure, New Brunswick contemporary roots and blues artist Mike Biggar is a natural live performer. With a musical history that stretches back to a gospel music childhood, Biggar is the picture of a lifetime spent in performance. Onstage his style is equal parts gutsy and joyful, reflecting the deep, soulful stamp left by those early musical days. Rollicking, high energy vocals steam down the line like a soulful, roots-inspired freight train, perfectly paired with the infectious melodies of his acclaimed songwriting and his warm, disarming banter. In his near ten year career, Biggar has been honoured with numerous East Coast Music Association and Music New Brunswick awards, including most recently the 2018 East Coast Music Award for Blues Recording of the Year.
Now with his newest album, 'MIKE BIGGAR & BAND – LIVE AT THE BMO THEATRE', (released May 1) listeners are offered the most intimate and memorable Mike Biggar musical portrait to date. His fourth full-length album on Busted Flat Records captures a special 2018 concert featuring his full band, performed before a sold-out audience in his hometown of Saint John, New Brunswick.
ABOUT MANITOBA HAL:
Manitoba Hal is a blues guitarist, songwriter and master ukulele player. Using a combination of looping technology and effects he creates a performance that is one-of-a-kind. His combination of fingerpicking and strumming creates an instantly accessible sound that compliments his fresh and inventive originals and arrangements of traditional blues.
Hal is a consummate bluesman and has toured Canada extensively. Manitoba Hal developed his brand of blues when he lived in Winnipeg Manitoba (where he also got his name). "Winnipeg often referred to as the Chicago of the north, is situated in a delta between the Red and Assiniboine rivers. I was born at the blues and when I found that music inside me, I came alive and my soul started expressing itself in songs that flowed with that music. The blues is where my soul came into this world. Where it will end up I don't know but I'm ready for the journey".
Hal's brand new album 'Vintage Blend' was released in early October 2019.