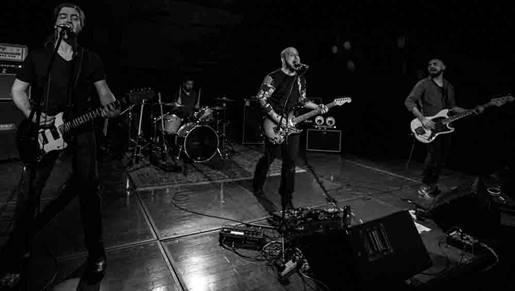 Fri Apr 14, 2017
Submitted to Cashbox Canada
Toronto-based alt rock band and Craigslist success story Iduna commands the attention of their listeners through exhilarating rhythms and powerfully rich harmonies and melodies, and I wanted to work with them from the very first time I heard their music. Iduna is heavily inspired by 90's alt-rock, and their debut album COUNTERPART is produced by Mark Makoway (known for his work with David Usher and Moist)! The album is being released at Iduna's May 12th show at Adelaide Hall and wanted to know if you can cover the show.
Iduna is a band bent on bringing back an edgy and mindful brand of alternative rock. Based out of Toronto, Ontario, this quartet spent their formative years playing Toronto-area festivals and the city's many venues.
Heavily inspired by 90's alt. rock, their music ranges from heavy and soulful to high energy rock and roll exploring a wide range of melodic flourishes and dynamic flux. With introspective lyrics in tow, sometimes wistful, sometimes fierce, Iduna delivers a unique flavour of rich harmonies, stirring melodies, and rhythms that compel you to move.
Iduna's music explores themes of betrayal, injury, optimism and compassion. Relatable and concise without sacrificing their values, they are a band about creativity and companionship.
Unlike their carefully crafted music, the band came together effortlessly. All four members met through Craigslist after Jason Craig posted an ad seeking potential bandmates. Everyone hit it off instantaneously and a new dream was born. All four had been playing in bands based out of Ontario and the Maritimes for years, but Iduna has certainly evolved into their most robust project to date.
Fuelled by the songwriting of guitar players Jason Craig and Trison Boyes, Iduna's music is stimulating and exciting in a way that sends shivers through your spine and drives you to move.
Paired with the impactful bass of Tim Saulnier and the precise, driving drums of Craig Koziar, Iduna is a band bent on bringing back an edgy and mindful brand of alternative rock.
You can stream Iduna's second single "All In His Head" here, which premiered on Music Notes Global last week.
And for pure 90's nostalgia purposes, here's a link to Iduna's cover of The Smashing Pumpkins song "I Am One" on YouTube. Just because.
Singles Stream: soundcloud.com/iduna-music/sets/counterpart-2017-1/s-hWJjY
Full Album Stream: soundcloud.com/iduna-music/sets/counterpart-2017-whole-album/s-6PrBu
For more contact Eric Alper www.ThatEricAlper.com