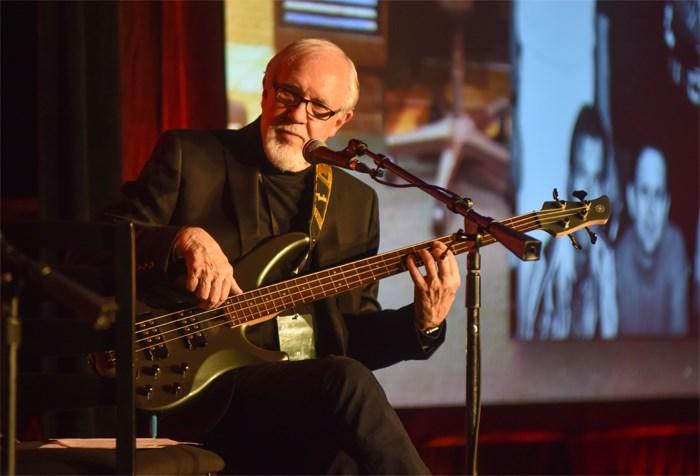 Fri Aug 10, 2018
Musician, Producer, Arranger, Publisher, Studio Owner, best-selling Author; Norbert Putnam has had a lot of awards and accolades thrust upon him in his long illustrious career and is about to have another to add to his collection. On August 13th, 2018, three days after his birthday and three days prior to the anniversary of the death of one of Norbert's favorite artists to have played on sessions with his true, close friend, Elvis Presley, he will be honored in Memphis Tennessee with a Brass Note on Beale Street. Known as the Beale Street Brass Note Walk of Fame it was started to offer a tangible embodiment of the many talented people who had put Memphis music and Beale Street on the world map and includes musicians, composers, disc jockeys, promoters and music supporters with celebrating them on the concrete sidewalks along Beale Street.
Norbert Putnam's connection to Memphis runs deep and long, having worked with the late great Elvis Presley at the Stax Studio and recorded at Elvis' home in Graceland. In total, Norbert played on over 120 Elvis tracks. Elvis was more than just a musical associate to Putnam, he was a close personal friend. We caught up with Norbert at his home in Florence, Alabama to discuss his feelings on this latest accolade: "Well, first of all, I consider any award or citation a great honor regardless of size or prominence, any recognition is an acknowledgment of accomplishment and I appreciate it. This particular Brass Note placement is so heartwarming to me because of my love for Elvis and Memphis. And I'm in great company. Besides Elvis himself, I'll be included with his original band, Scotty, Bill and D.J.  From what I understand the ceremony will be at Graceland on August 13 where I will receive a certificate and get to talk to the Elvis fanbase that will be gathering for Elvis Week. A few months later, there will be an unveiling of the Brass Note on Beale. I'm really looking forward to this event."
Norbert Putnam has not slowed down much lately, ("So much for retirement!" he jokes)and continues to produce new acts, play bass on sessions and performs with the Band of Legends which will be performing in Florence, Alabama on September 13 and 14. "These concerts are dedicated to artists we recorded with and the one here in Muscle Shoals is dedicated to Sam Phillips, Elvis, Tom Stafford, Rick Hall and of course, Arthur Alexander. We have James  Burton and Glen D Hardin with Milton Sledge and Randy McCormick, The Holliday Sisters with Jim Spake on sax and Andy Childs as my co-host and male singer. I will talk about the first nationwide hit we did with Arthur and how that recording enabled Rick Hall to construct the first professional studio in the Shoals. I have a local black singer who will sing "You Better Move On" and then James will talk about moving to California at the age of 16, meeting Ozzie Nelson and moving into the Nelson household taking a bedroom next to Ricky and that led to the TV show, 'Ozzie and Harriet". Then we do a Ricky classic and move on to Milton talking about Garth Brooks and Randy talking about Bob Seger. The show continues in this fashion with stories followed by the playing of the songs. It's a very interesting "show and tell" for the fans."
On top of all this Norbert gets to tour the world, promoting his book 'Music Lessons Volume 1'. But for a brief moment on August 13, 2018, his world will stop spinning so quickly as he breathes in this magical moment. I wonder if in his head he will hear "I'm walking in Memphis, walking with my feet 10 feet off of Beale, I'm walking in Memphis do I really feel the way I feel?" 
Congrats to Norbert Putnam on another milestone in an already diamond-studded career.
For more on Norbert Putnam visit www.musiclessonsbynorbertputnam.com
http://www.bealestreet.com/brass-notes/