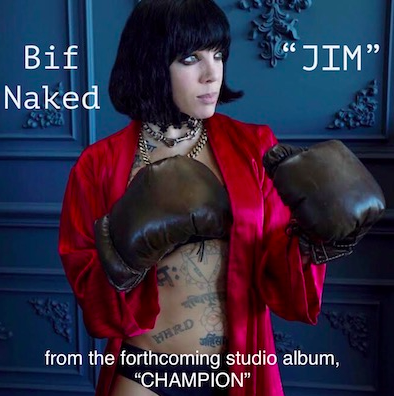 Fri Feb 21, 2020
Bif Naked, the multi-Gold and Platinum-selling Canadian rock star, author, songwriter, manager, producer, human and animal rights activist is packing a punch towards pain in her new single, "JIM".
"This is a song about loss, really," she shares. "It's the quintessential story of discovering a betrayal, and "JIM" is that villain. "It's totally about pain, and facing it head-on. It's about that disillusionment we all feel when someone turns into an imposter."
Accompanying the release is "JIM"s official video which reveals Canada's 'Princess of Everything' in her rightful throne, reigning rock supreme and as strong as ever. The track lands ahead of her forthcoming album, CHAMPION — her eleventh studio release.
Watch "JIM" here:
https://youtu.be/t0SKqhAKQy0
"I'm still fighting, still swinging as a legacy artist, an O.G. At this stage of the game- I am a CHAMPION" Bif says. "I have never allowed myself to be limited, and the direction of this new album was from experimenting and being fearless. I'm excited by it, and fiercely proud of these tracks."
CHAMPION as a title for Bif couldn't be more fitting for arguably one of the nation's most recognized and beloved entertainment industry icons whose personal story provides endless inspiration.
As detailed in her highly intimate, Internationally best-selling memoir, I Bificus (Harper Collins International), the multi-disciplinary artist and businesswoman — and notably, a vegan who lives a straight-edge lifestyle — has arm-wrestled breast cancer, heart surgery, and kidney failure. Inspired by her myriad of life experiences and ardent interest in wellness, she has recently launched MonaLisa Healing, a premium, organic all-hemp CBD online boutique available in Canada, the United States, and soon to the United Kingdom, Europe, Australia, and New Zealand.
And it's not as if she's not busy elsewhere; a contributor to such national publications as the Globe and Mail and Huffington Post — and as seen on shows such as Buffy the Vampire Slayer and The Tonight Show with Jay Leno — Bif is fresh off a series of talks at Vancouver's The Wellness Show.
This month she's set to embark on an intimate acoustic series, the Songs & Stories Tour, and the year ahead has her kicking off a podcast series, New Riot Girls, and a book of poetry and illustrations. A book designed to help empower patients and their families while navigating cancer treatments and the Canadian healthcare system is also in the works.
For the entirety of her prolific career — and interconnected in such a woven way only one of the country's most unforgettable and inspiring women can accomplish — Bif has documented her journey in a deeply personal, highly relatable and inclusive way, covering topics that allow her truths to be a source of empowerment for fans.
"JIM" and CHAMPION are no different.
"I'm still fighting," she says of the album, and career at large. "I'm still swinging as a legacy artist… An O.G.
"At this stage of the game, I am a CHAMPION.
"I've never allowed myself to be limited, and the direction of this new album was from experimenting and being fearless. I'm excited by it, and fiercely proud of these tracks."
Songs & Stories Tour — Acoustic
February 28 @ Sanctuary, Ridgeway ON
February 29 @ Aeolian Hall, London ON
March 2 @ Maxwells, Waterloo ON
March 3 @ Crow Bar & Variety, Collingwood ON
March 4 @ Market Hall, Peterborough ON
March 5 @ Doghouse, Napanee ON
March 6 @ Neat, Burnstown ON
March 7 @ Neat, Burnstown ON
 *July 25 (Full Band) @ WTFest w/ Sugar Ray & Uncle Cracker @ Lions Park, Brantford ON
For more visit:
bifnaked.com/
twitter.com/bifnaked?lang=en
open.spotify.com/artist/02odAcSXGSPTSO4P44Ztuw