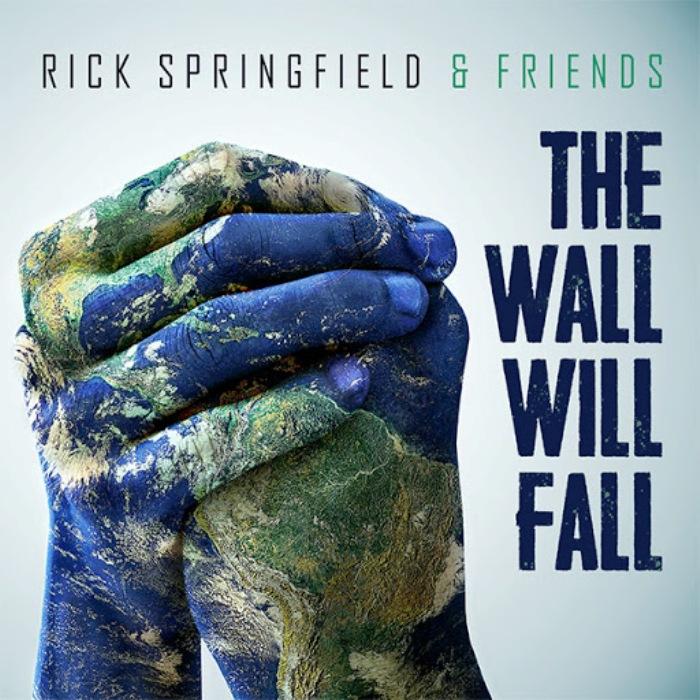 Fri May 29, 2020
Rick Springfield and Vance DeGeneres "Ultimate Mini-Series: The 60-Second Guide to Songwriting with a Partner", started off as a way for the two friends to have some fun online will home-sheltering during the current Covid-19 pandemic. But what began as a way to share a few laughs with their online communities grew into a popular 28-episode series and produced a rousing, uplifting universal anthem of hope and love. The song and video for "The Wall Will Fall" was released Friday, May 8 and all proceeds from the sale of the song will be going to benefit Feeding America.
Watch the video of 'The Wall Will Fall' here:
https://youtu.be/BMHI0KW39ho
The "Ultimate Mini-Series: The 60-Second Guide to Songwriting with a Partner", series featured a very smart and witty back and forth between the two, veering from showcasing musical ideas, suggestions from some famous friends and hilarious revisionist music history lessons showcasing Rick's impressive collection of Beatles memorabilia. 
"When Vance and I decided to try a parody of two musicians trying to write a song from our homes while in isolation we were just looking for some laughs and a diversion from the stay-at-home rules here in California," says Rick. "The next thing we know we're getting thousands of views and amazing comments from my fans loving the episodes and saying they wanted more and more."
"We just kept bouncing ideas with each other online and after about ten episodes realized we had a damn good song!" adds Vance. "I was really happy to release it on iTunes and Amazon Music and hope we can raise some funds for Feeding America which is doing such important and timely work right now."
Fans loved watching the song come together, especially when they brought in their famous friends and family: Vance's sister Ellen, Paul Stanley of KISS, Andy Cohen, Fred Schneider of The B-52s, Sammy Hagar and Richard Marx, who provided the lyrics to the bridge of the song.
These same friends and many more joined in for the music video including Shelia E, Kate Pierson of The B-52s, Mike Reno of Loverboy, Terri Nunn of Berlin, Claudio Sanchez of Coheed and Cambria, Tommy Tutone and Wally Palmer of The Romantics. Other notable cameos in the video include Yannick Bisson (Murdoch Mysteries), Bryan Batt (Mad Men), Linda Blair (The Exorcist films), Creed Bratton (The Office), Cat Cora (Iron Chef), Doug Davidson (The Young and The Restless), and Matthew Wilder (Never Gonna Break My Stride).
Notable Cameos in "The Wall Will Fall' Music Video:
Andrea Anders – Actor ("Joey"; "Mr. Sunshine"; "Better Off Ted")
Bryan Batt – Actor ("Mad Men")
Yannick Bisson – Actor ("Murdoch Mysteries")
Greg Bissonette – Musician (Ringo Starr Band)
Matt Bissonette – Musician (Elton John Band)
Linda Blair – Actress and Animal Activist
Creed Bratton – Actor ("The Office"); and Musician (Grass Roots)
James Carpinello – Broadway Actor ("Saturday Night Fever"; "Rock of Ages")
Andy Cohen – TV Personality and Producer
Cat Cora – TV Personality (Iron Chef) and Restaurateur
Emily Cutler – Sitcom writer ("Fresh Off The Boat"; "AP Bio")
Chris D'Arienzo – Writer ("Rock Of Ages")
Doug Davidson – Actor ("The Young And The Restless")
Ellen DeGeneres – Actor and Comedian
Vance DeGeneres – Actor, Musician, Producer and Writer
Duzat St. Marie - Musicians
Shelia E – Musician (Prince and The Revolution)
Mark Goodman – (MTV and SiriusXM Radio)
Ronnie Grinel – Musician (Fools Gold)
Tim Gross – Musician (Rick Springfield Band)
Sammy Hagar – Musician (Van Halen)
Alex Herschlag – Writer ("Broke"; "Will & Grace")
Eddie Jemison – Actor ("Oceans" series; "Waitress")
Marky Lennon – Musician (Venice)
Terri Nunn – Musician (Berlin)
Lori Majewski – Radio Personality (SirusXM) and journalist
Krista Marie – Musician (New North)
Richard Marx – Musician
Scoot Paisant – Radio Personality (WWL New Orleans)
Wally Palmer – Musician (The Romantics)
Tim Pierce – Musician
Kate Pierson – Musician (The B-52s)
Rick Polizzi – Producer ("The Simpsons")
Mike Reno – Musician (Loverboy)
Allan Rice – Sitcom writer ("Stuck In The Middle"; "The New Adventures Of Old Christine")
Claudio Sanchez – Musician (Coheed and Cambria)
Paul Sanchez – Musician (Cowboy Mouth)
Fred Schneider  - Musician (B-52s)
Paul Stanley – Musician (Kiss)
Matheny Treco – Broadway Actor ("Hamilton")
Brett Tuggle – Musician (Fleetwood Mac)
Tommy Tutone – Musician (Tommy Tutone)
Beth Utterback – Radio Personality (WWOZ New Orleans)
Katie Von Till – Actor ("Young Sheldon"; "Conan")
Jack White – Musician (former drummer for Rick Springfield)
Matthew Wilder – Musician ("Break My Stride"; "Mulan Soundtrack") and Producer (No Doubt)
Digital downloads of "The Wall Will Fall" are available to purchase on Apple iTunes and Amazon Music.  Free streaming on Spotify and Pandora.
PLEASE support this initiative for Feeding America – now more than ever people need help.
For more visit: http://rickspringfield.com/#