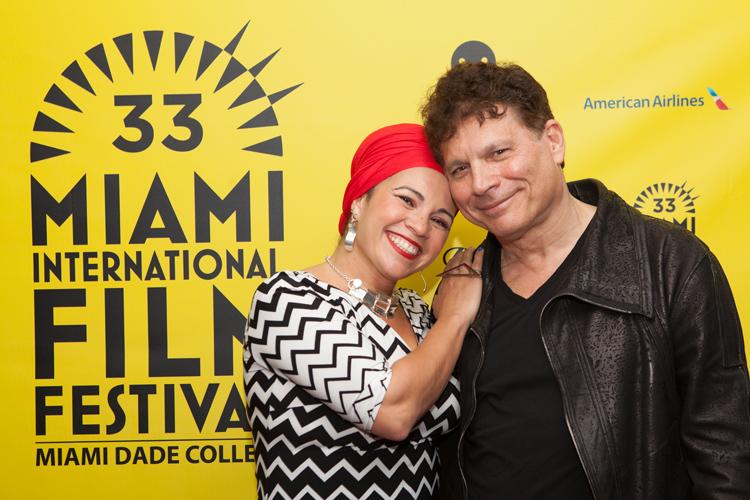 Fri Apr 01, 2016
To know more about who Ron Chapman is and what he's currently up to – here's is a bit of bio about the producer/director, musician. Chapman recently appeared as a guest on my CIUT 89.5 interview show, The Bill King Show and we dug back into his history and talked about his passion for film making and affection for Cuba.
Ron Chapman is a lifelong musician, producer, director and entrepreneur. Early in his career he was a musician, managed musical artists, produced albums, and produced and directed rock videos. He owned and operated the legendary, ground-breaking Toronto music club "The Edge", bringing an eclectic mix of some of the day's most exciting international acts and artists to the scene. For decades, he has been producing and directing television commercials, working with some of the world's leading brands.
As a filmmaker, Chapman's first documentary, "Who the F**K is Arthur Fogel" - CEO of the Global Touring division of Live Nation Entertainment and long time Canadian music promoter – Arthur Fogel – Chapman follows the impresario behind the scenes.
Chapman introduced his latest called, "The Forbidden Shore," the most in-depth cultural/music documentary ever to come out of Cuba, shot over a 3-year period, with performances from over 60 top Cuban artists and over 80 interviews at the recent Miami Film Festival.
Currently playing; "The Poet of Havana" featuring Carlos Varela, one of the most important, influential, and well-loved artists in Cuba. The film documents the preparations, rehearsals, and performances captured in two memorable concerts performed at the Teatro National in Havana, celebrating the 30th Anniversary of Carlos Varela's artistic career.
Varela is joined by a host of international stars, including Jackson Browne, Ivan Lins, Eduardo Cabre (Calle 13), Luis Enrique, Diana Fuentes, Juan and Samuel Formel (Los Van Van), Alexander Abreu, Issac Delgado, X Alfonso and more. The film is scheduled for completion September, 2013.
As well this year, Chapman released a completed album of his original songs, recorded in studios in both Toronto and in Havana, where renown trumpet player Julito Padron contributed horn and string arrangements and joined Chapman with an assembly of some of Havana's top musicians. The album was mixed by legendary record producer Terry Brown, famed for his work with Rush, among others.
Bill King: The title of your most recent documentary screened a couple weeks at the Miami Film Festival is The Forbidden Shore?
Ron Chapman: It was first called -This Ain't the Buena Vista Social Club for the longest time then changed. Before that I did The Poet of Havana with Carlos Varela, Jackson Browne and Benicio Del Torro and before that I did Who the F**K is Arthur Fogel?
It's interesting with Arthur – he goes back to the Edge; he was part of it. That's where we first met. He ended up becoming the head of Live Nation and responsible for eight of the top shows.
B.K: Were you partners at the Edge?
B.K: He was not. He was hired as night manager at one point. I had Derek Andrews as one of the managers who also created the club with me. Derek and I had a booking agency and Arthur was the drummer in a blues band we were involved in booking. Arthur wasn't quite happy with what he was doing and there was an opportunity to bring him in as a manager and get involved in the business. These were his first steps away from being a musician.
I was brought in by the owners at the time who wanted to have a partner who was on the premises. I had been in the music industry as a musician and traveling around Europe for a couple years and they wanted someone in the club who knew the business as a partner, someone who had 'skin in the game', as they say.
At the time it was pretty much a folk club with a long history and served pretty much the Ryerson community. Marc Jordan, David Rea – a lot of great artists went through there. I wanted change and I'd been involved in the industry and managed a couple of artists – Eddie Schwartz, Chris Hall, B.B. Gabor and thought there was an opportunity to do something different at the club.
B.K: You sensed music changing?
R.C: Clearly – that was the punk era. I'm operating a folk club and punk is sort of exploding. It was half-way through and the new wave was sort of beginning. It was a good friend – childhood friend in fact, Evan Levy and I who came up with the idea of turning a folk club into what it became. I think at the time The Garys had worn out their welcome at the Horseshoe and were looking for another place and Evan sort of hooked us up and we talked and thought it quite amazing to bring that kind of music in to what was a folk club – shake it up!
B.K: Was acceptance instant or over time?
R.C: Are you talking about the clientele? No, we said goodbye to the clientele. That's actually not fair. What we did have was an incredibly eclectic mix of music. We had artists like John Martyn, Bert Jansch, Leon Redbone – great jazz artists who came through. It did stop being a one stop shop for folk music and became much broader.
B.K: Was change gradual?
R.C: No, that was pretty immediate. We closed - tore down the walls, painted the place black, moved the stage and that was it.
B.K: What was your first big booking?
R.C: That's a good question – I'm kind of post-concussive – I had this car accident and can't actually remember. We had so many – the Police, XTC, Ultravox, the big commercial act that broke big at the time, The Knack with "My Sharona."
B.K: Carole Pope?
R.C: Carole Pope played there, Nona Hendryx, Sun Ra.
B.K: How long was the run?
R.C: Two and a half years?
B.K: Were you competing against the El Mocambo? They had the New York Dolls etc.
R.C: For sure. We were much more alternative I think and it probably forced them to try and be more alternative.
B.K: After the Edge, then what?
R.C: I continued to manage some artists – produced some records for Chris Hall at Capitol Records. I also started working in film because the rock video world was just beginning to erupt and I had connections in the music business and I got brought in to produce. I loved the medium; making films – programming and I got in to making commercials, corporate videos, rock videos. I did early stuff with Bruce Cockburn – "Rocket Launcher," - a bunch of other videos in the early days. I became a commercial producer and director. I started my own company and did commercials some twenty-something years. That company evolved into a marketing and communications company and then evolved into a multi-national advertising agency.
B.K: Born here in Toronto?
R.C: Don Mills then moved to York Mills at about twelve or thirteen.
B.K: Young and driven?
R.C: I think I've always been driven.
B.K: Self-motivated?
R.C: Very self-motivated. Having ideas and bringing them to completion, that's a great journey and always fascinated me.
B.K: How did you end up in Cuba?
R.C: I came to Cuba to help promote them through tourism throughout the work with my agency. Basically, we won the Cuba account for the world – excluding America - you can't advertise there. My real feel came for Cuba through shooting the commercials; televisions and stills. I ended up going across the country probably three times shooting. Of course when you are shooting commercials about a country, you are looking for those fascinating moments – that magic all of the time. I found the magic not just in the forests and mountains, oceans, the shores – I found it in the people and their lives.
I'd travelled so much of the world and found so much misinformation about the Cuban people. I think living so close to America there is a lot of propaganda even though we are Canada and have open borders I don't think we know what drives them, motivates and what they've been through the last 50 years. I was fascinated.
B.K: What year did you first enter?
R.C: About eight years ago now.
B.K: There is so much respect for the history – yet today, young artists are moving on.
R.C: It's the love, appreciation and understanding of their history, it is almost like nowhere else in the world. They know minutia – every detail from rumba up in terms of music – literature – their writers. They understand and all respect it.
You'll have intergenerational collaboration you won't see anywhere. You'll see a band that's got a seventeen year old and seventy year old in it and everything in between. It's just part of the process. Everything they look at is about building on what has gotten them to that point.
B.K: Documentaries?
R.C: With Fogel I thought there was a very interesting back story that hadn't been told to that point. This was more about the business, what had happened to the business since selling albums were no longer a reality. Instead of touring as lost leader to sell records you ended up having the CD or whatever as the lost leader so you could tour. It is also about all of the big activity behind the curtain that went into these large tours. It's just awesome.
B.K: With big ticketed shows people expect a spectacle.
R.C: Yes. I think we know a great artist can captivate without an instrument almost. The kind of shows I focused on in the Fogle film is spectacles, the mega tours. The U2 tour was enormous the biggest ever. The staging they did – sixty four trucks. At one time a thousand people building in one stadium and in another, a thousand people building and someone tearing down somewhere else heading to the next location. The military precision involved in staging those shows and bringing to the public, to me was absolutely mind-boggling. Never late or miss a beat.
B.K: Forbidden Shore?
R.C: It's the third film I started. When I was in Cuba I quickly got to know the musical community. I was overwhelmed with the depth and breadth of music – the number of genres that existed. I did a bit of investigating and there are over thirty-three genres of music that are uniquely Cuban. Even though I am Canadian and have access to this stuff – I wondered, where is all of this music, why isn't more accessible and why don't I know more about it. I them found out about some of the challenges they've had to deal with in terms of exporting the music and themselves – because of the American embargo. They couldn't make deals with multi-national companies which knocked every major record company pretty much out of the park.
To go play somewhere – they couldn't get visas because countries wouldn't allow them to come in because they thought most would immigrate and not leave. It's also incredibly difficult to travel because of money.
I had this epiphany when Buena Vista Social Club was made eighteen years ago with Wim Wenders and Ry Cooder that nothing had escaped Cuba since the revolution and Ry stuck his name on it and that was fantastic. Then what happened? They toured the world – they became known and everyone thought that was Cuban music. It was a Cuban music called 'son' and 'bolero' that was pre-revolution played by the older generation and didn't represent the breadth of Cuban music.
I thought there was an opportunity to make a film and take all of these great musicians and who played this great variety of stuff and hopefully take that to the world. That was my mission and what I hoped to achieve. This is why I changed the title it to the The Forbidden Shore of Cuba. On one hand, the Cuban shore was forbidden to Americans – they had no idea what their music was, who they are and what their culture is about and for Cubans, the other shores where the inability to get visas to travel.
B.K: Poet of Havana?
R.C: I started that on the film circuit about a year ago and it's had a great reception throughout the states. It's won a bunch of awards and recognition and got picked up very quickly by HBO in the states. Happily we just worked out a deal for Canada. It will be coming out on TMN on HBO in about two months.
B.K: You have an idea for a great film, you raise the dollars to film, you finish then have to sell the film. That must be the bruising part.
R.C: There is a structure set up for that. There are sales agents you can go to – there are distributors who have territories in their countries or in their hemisphere or in the world. There are all kinds of people out there who make their living selling films to broadcasters. Now that everything has changed it's not about a broadcaster or theatrical release it's about a VOD – downloading – all of these other opportunities that are out there and how do you best market your film. It is more complicated than it ever was trying to figure out how to do or what to do and what you should do and more difficult than ever to actually get money back these days.