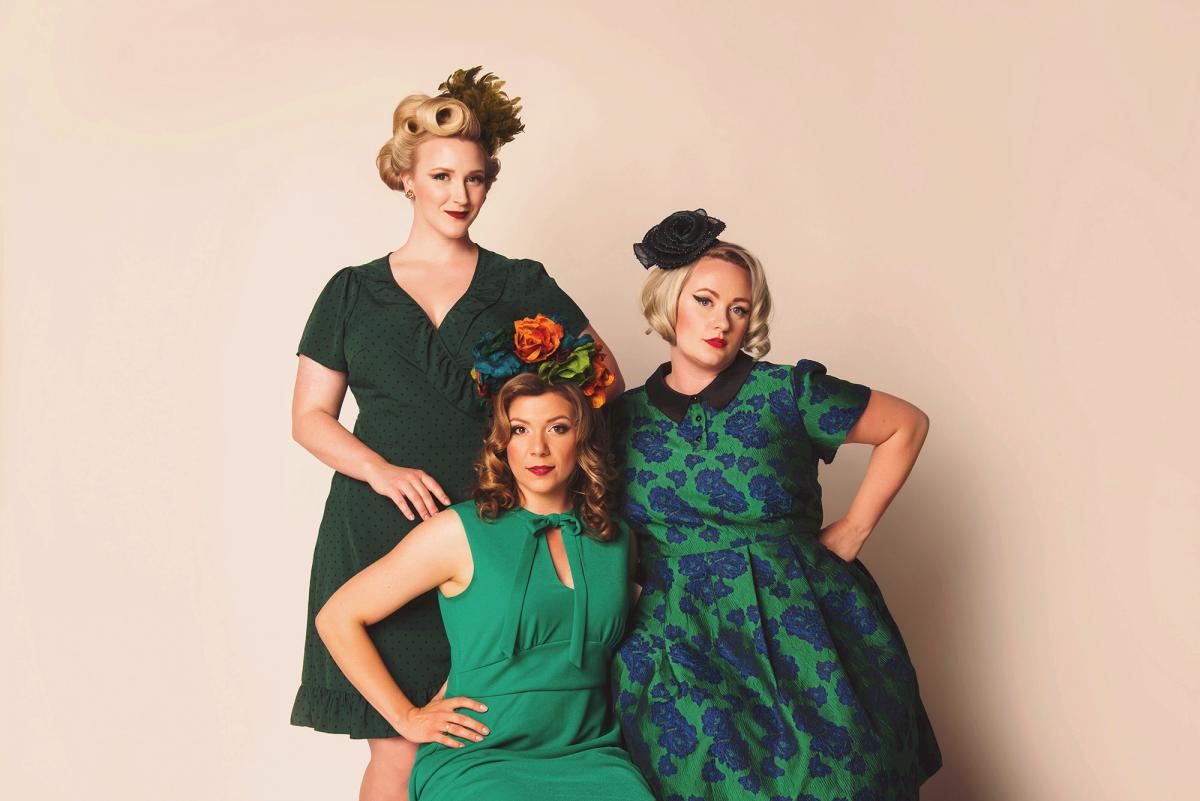 Fri Jan 26, 2018
Rosie & the Riveters never planned to get political. But opening a newspaper or watching the news these days made it impossible to see the status of women around the world and stay silent. The result is Ms. Behave - a 12-song collection of gritty, sultry, vintage-inspired folk anthems that paint a portrait of a woman's voice in a man's world. The Saskatoon trio is set to release the new album independently on April 6, 2018. The group is ready to engage a conversation with the lead single, "Let 'em Talk", released on January 26, 2018. "I go high, they go low, Won't let them run my show" - "Let 'em Talk" draws its lyrics from years of people pleasing, holding back, and feeling small. The band will kick off their North American tour dates, ahead of the release, on March 24 in Philadelphia. Further info on the album and tour can be found at rosieandtheriveters.com.
The band wrote over 40 songs in a cabin in Northern Saskatchewan before traveling to Toronto to collaborate with heavy-hitting Canadian songwriters like Royal Wood and Matthew Barber. A quick read through song titles like "Gotta Get Paid", "Let 'em Talk" and "I Wanna be King" gives an idea of what they have to say. While the title track, "Ms. Behave", rejects the policing of women's behavior, "I Believe You" sprung from the outrage and sorrow they felt after hearing the recent avalanche of stories of sexual assault. Produced by Joshua Van Tassel (Sarah Slean, Rose Cousins, Great Lake Swimmers), their sophomore album echoes Aretha Franklin's demand for R-E-S-P-E-C-T.
Rosie & the Riveters' unmistakable visual branding of red lipstick, pin curls, and overtly feminine costuming may be deceiving, but this is not a throwback band. Ms. Behave embraces the feminist undertone of their moniker, Rosie the Riveter, in a way they hadn't previously; one that allows them to shed their please-all attitudes, take a purposeful stance and dare be themselves. Listen closely to hear playfully defiant lyrics and confident talk-back harmonies. Every word, note, and movement on the new album is done purposefully to empower and challenge change.
UPCOMING NORTH AMERICAN TOUR DATES
February 15-18 - Kansas City, MO - Folk Alliance International
Saturday, March 24 - Philadelphia, PA - Philadelphia Folk Society
Tuesday, March 27 - New York, NY - Rockwood
|Wednesday, March 28 - Boston, MA - Club Passim
Thursday, March 29 - Markham, ON - Flato Markham Theatre
Tuesday, April 2 - Philadelphia, OH - Performing Arts Center at Kent State Tuscarawas
Wednesday, April 4 - Montreal, QC - Upstairs
Thursday, April 5 - Quebec City, QC - Theatre Petit Champlain
Saturday, April 7 - Annapolis Royal, NS - Kings Theatre
Sunday, April 8 - Saulnierville, NS - L'Association Le Moulin de la Baie
Wednesday, April 11 - Fredericton, NB - Fredericton Playhouse
Friday, April 13 - Summerside, PEI - Harbourfront Theatre
Saturday, April 14 - Windsor, NS - Mermaid Imperial Performing Arts
Wednesday, April 25 - Nashville, TN - TBA April 26 - 30 - Wilkesboro, NC - Merlefest
Thursday, May 3 - Vancouver, BC - Wise Hall Friday, May 4 - Edmonton, AB - The Aviary
Saturday, May 5 - Calgary, AB - Ironwood Stage & Grill
Sunday, May 6 - Stettler, AB - Stettler Performing Arts Centre
Friday, May 11 - Saskatoon, SK - TBA
Saturday, May 12 - Regina, SK - The Artesian
Sunday, May 13 - Winnipeg, MB - Park Theatre