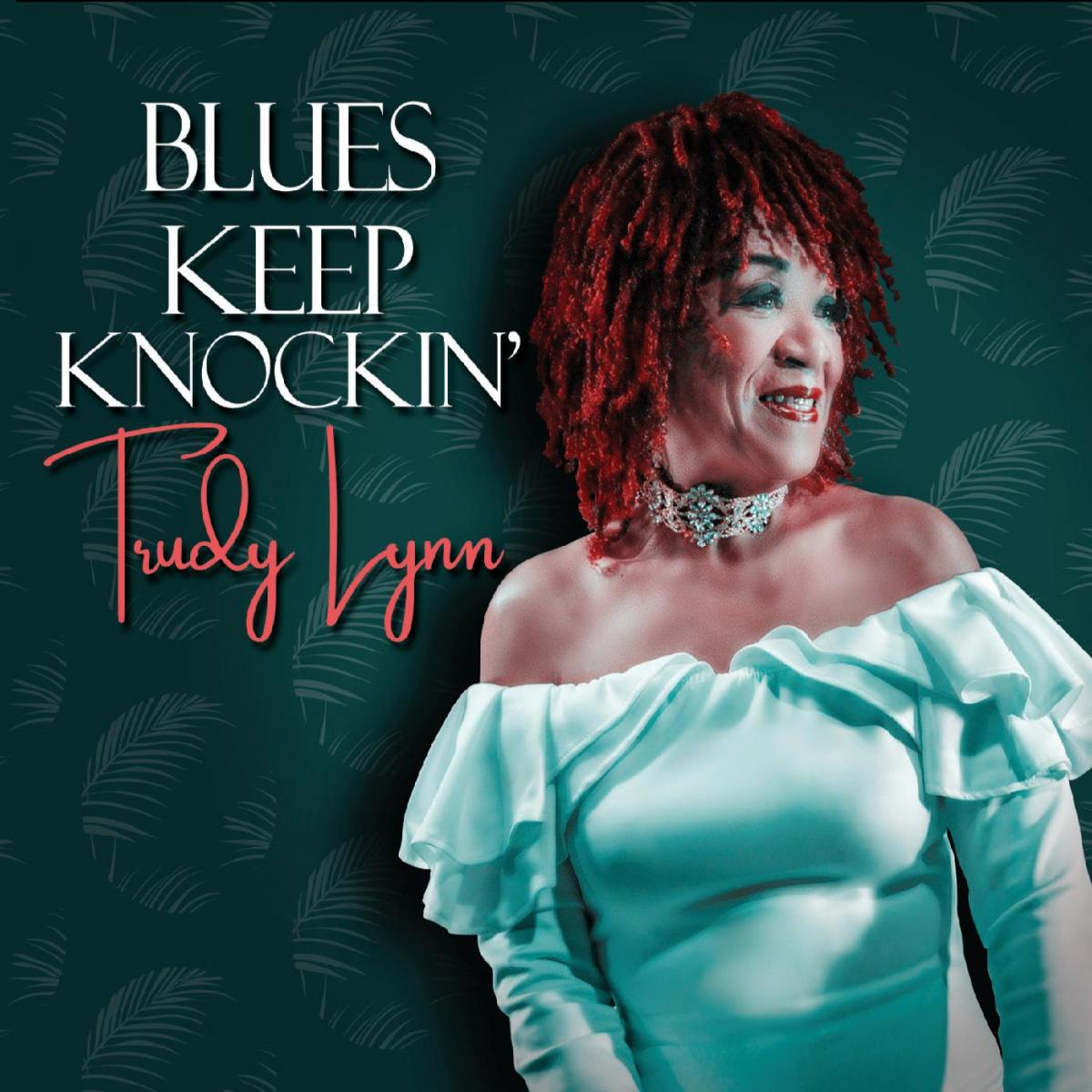 Fri Jul 13, 2018
Six-time Blues Music Award nominee Trudy Lynn will release her new CD, Blues Keep Knockin' from Connor Ray Music on July 27. Backing Trudy's vocals on the new disc are musicians Steve Krase – harmonica; David Carter – guitar; Terry Dry – bass; Matt Johnson – drums; Jim Brady – trumpet; and Dan Carpenter – sax; with special guests Bob Lanza and Carolyn Wonderland on guitar.
Trudy was recently honored with three nominations for the Living Blues Magazine Awards, with voting currently underway at the magazine's website: www.livingblues.com.
"I want to thank all my blues fans new and old, or should I say 'mature,' for being with me through my journey with the blues, both near and far," Trudy says in the album liner notes. "My name is Trudy Lynn and I sing the blues for you, some old some new and some borrowed too. I love singing the blues! The blues knocks on my door, on my window and my heart. I must sing and I sing only what I feel and I sing to make you feel exactly what I feel!"
Blues Keep Knockin' features ten soul-drenched songs dripping with blues and R&B. In addition to a new original song written by Trudy (the album's title track), she puts her own stamp on covers of songs from Etta James, Aretha Franklin, Big Maybelle, Big Bill Broonzy and Jimmy Rogers, among others.
"I am so grateful to all the musicians who contributed their talent to this recording," says Trudy, "with very special heartfelt thanks to producer Rock 'Papa' Romano for all the time and effort he dedicated to this CD. (Can't nobody call him 'Papa' but me!!)
"I also would like to give a special thanks to my 'daughter' … as I call her, Miss Carolyn Wonderland, who graciously added her talents to this recording. I can recall when she was just starting her blues career; she has blossomed into a force to be reckoned with. Our friend Jerry Lightfoot is smiling down on you. Love you baby girl!"
Blues Keep Knockin' is Trudy Lynn's 13th solo album and her fourth release on the Connor Ray Music label, following up on I'll Sing the Blues for You (2016), which garnered a Blues Music Award nomination for "Soul Blues Female Artist." That was preceded by 2014's Royal Oaks Blues Café, which hit #1 on the Billboard Blues Chart; and 2015's Everything Comes with A Price, which spent four months on the Living Blues Radio Chart. Trudy was also inducted into the Houston Music Hall of Fame in 2015.
Trudy Lynn was born Lee Audrey Nelms in Houston's Fifth Ward, where she began singing as a teenager. After high school, Lynn went to visit her aunt in Lufkin, where a club called the Cinderella needed a singer. She decided Lee Audrey Nelms wasn't going to cut it as a stage name. The club had a bunch of cartoon character names painted on the wall and she noticed "Trudy," which she quickly paired with Lynn. "Lynn was something in those days," she recalls. "Gloria Lynne, Barbara Lynn. I thought, 'I'm going to be one of those Lynns, too, baby.'"
Prior to striking out on her own, Trudy was the vocalist for such Texas greats as I.J. Gosey and Clarence Green, where Trudy spent five years as the vocalist for his band. Green was a stern mentor, but Lynn credits him with helping her become a professional. "He moulded me well," she says. "He's still in me because of what he taught me. It takes that." After leaving Green's band, Lynn began performing on her own. For years she struggled to get recorded in a manner deserving of her talent, until 1989 when Trudy signed with John Abbey's famed Ichiban label and provided the opportunity for her to tour the world and perform at the most prestigious festivals, including Lucerne and the Chicago Blues Festival. While at Ichiban, producers had a strong hand in directing her recordings. Since joining forces with harmonica wizard Steve Krase and the Connor Ray Music label in 2014, Lynn has played curator for herself. She has been writing original songs that blend nicely with the vintage material. The songs are mostly about good times and bad men. "Each one of these songs means something to me," she states. "I truly understand something about each one of them.