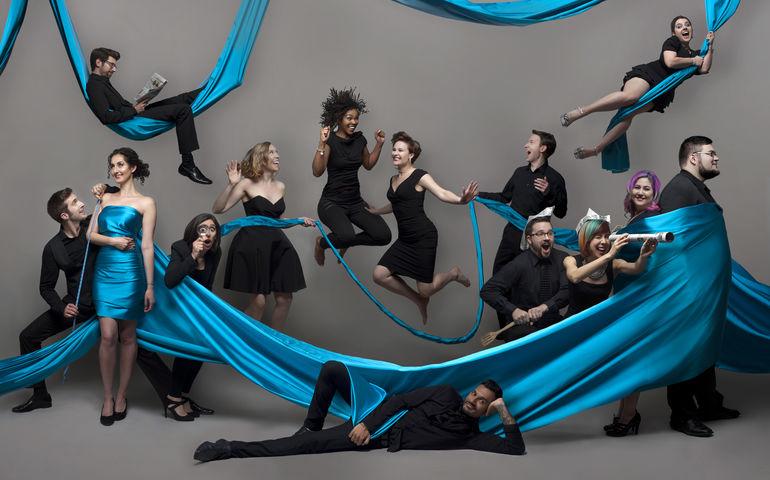 Fri Dec 04, 2020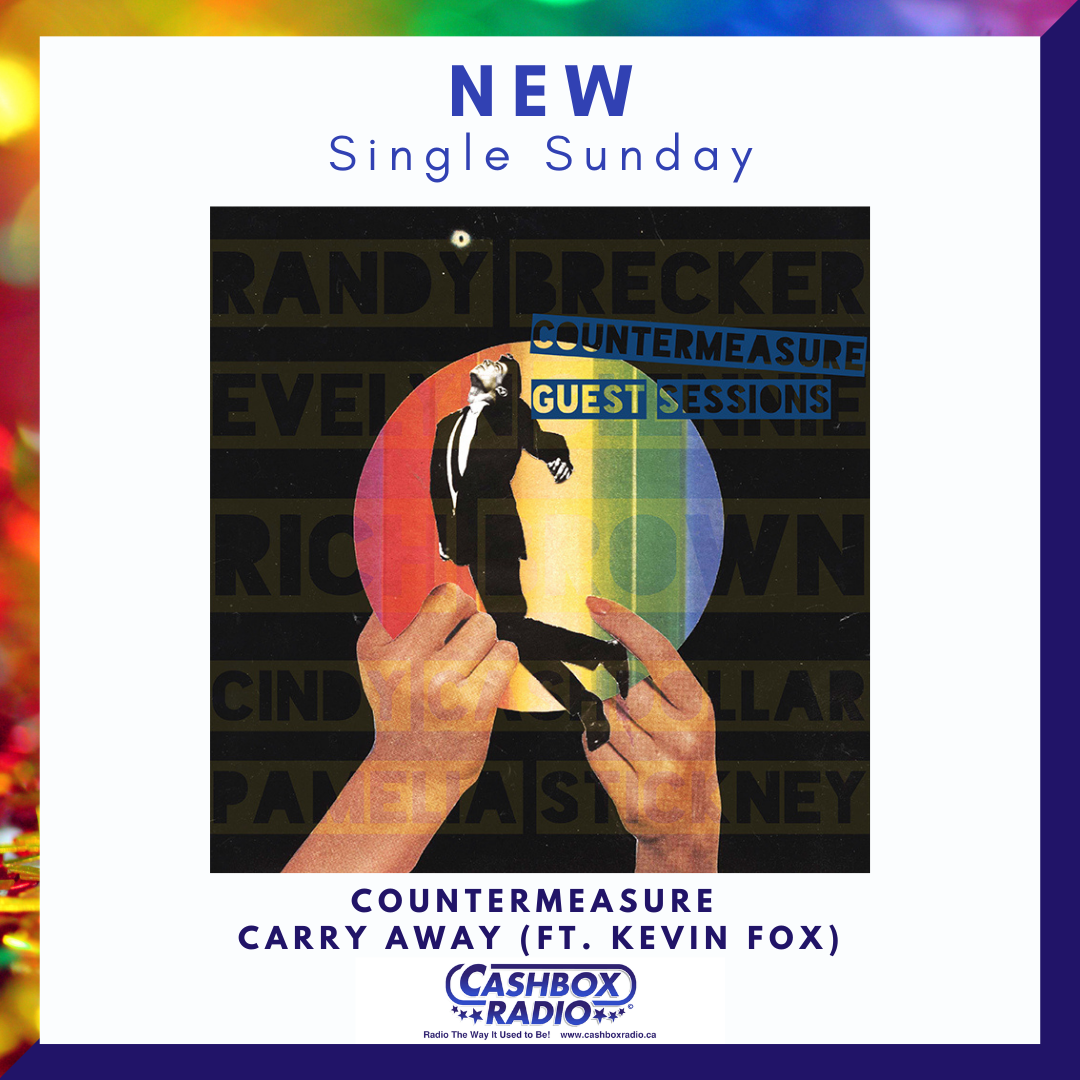 Acapella is the high wire act of vocalizing, You're out there all alone, just you and your voice and a tonne of expectations; you will rekindle old emotions, awaken the sleeping dogs of memory and bring fresh dynamics to songs your audience thought they knew inside out. That tall order is tough for most acapella crews. For Countermeasure, it's their specialty, made possible by voices that replicate the sounds of guitar, bass, percussion, trombone and more.
Here's why there's not another like this 13 member Toronto-based group. They're fearless. Their live sets and album are primarily original material, an act bordering on heresy in a genre where idiosyncratic arrangements of popular standards is the norm.
"Countermeasure has sung original music from day one, but the ratio of originals to covers has gone up considerably over the past five years. I'd estimate that 80% of our live show is made up of original songs at this point."
So says Aaron Jensen, Countermeasure's artistic director, conductor and lead tenor. When he's not doing any of that, he can be found writing the 13 piece group's lyrics. Said lineup can blossom to as many as 17 members, depending on what's on the set list.
"I wrote the music and lyrics for all of the songs on the Guest Sessions album. That said - I have also adapted the written word of other writers in the past. "Life is Fine" features the text of Harlem Renaissance poet, Langston Hughes, Fox in the Field, adapts text from Antoine de Saint-Exupéry's classic "The Little Prince", and "Into the Air" is a setting of The Soul's Expression by the poet, Elizabeth Barrett Browning.
"Trying to write something within a vacuum, it goes better if it's a story you can put that put it in the mouth of a character. The approach is not just as a collection of stories but an arc of connection from beginning to end of the show. There's no shortage of stories in a 13 piece group that has been together for a decade. Countermeasure is a family and we've been through all the weddings, funerals and babies together as a family."
Next, they play very well with others, getting outside of the group bubble being a big part of the Jensen aesthetic. Collaborations are a large part of the acapella scene but Countermeasure went nuclear on the concept by recording an entire album of collabs with renowned solo instrumentalists. The album celebrates Countermeasure's 10th anniversary and is infused by elements of jazz, pop, folk, soul, and modern choral music.
Guest Sessions is original works composed by Aaron Jensen. Each track features a guest instrumental soloist, including Randy Brecker (trumpet), Dame Evelyn Glennie (percussion), Cindy Cashdollar (dobro), along with Quebecois guitarist Christian Roberge, Natalie MacMaster (fiddle), Pamelia Stickney (theremin), 88-year-old bandleader Charlie Gabriel, Rich Brown (electric six-string bass), Kevin Fox (cello), and Michael Davidson (vibraphone).
Countermeasure's Artistic Director Aaron Jensen shares, "The concept of the album was that each song was tailored to shine a light on the special skills of each guest performer. It was incredible to watch these sensitive, high-level players adapt to the project in their own way...integrating themselves into the arrangements, bringing different "voices" to the group."
Sans COVID-19, Countermeasure would be rehearsing to perform with the New Japan Philharmonic at Sumida Triphony Hall, Sumida, Tokyo, in May 2021. They played the venue before and it was an illuminating experience for Jensen.
"I found that, even with the language barriers, the audience was relating to the emotions in the stories. It's not only music that bonds Countermeasure. We are a family and that deep emotional bond comes out on stage. It overcomes language and makes it so that the audience in Japan can easily relate to the emotional range of the show."
If you get a sense that there's something bound-for-Broadway about the Countermeasure experience, you'd be right on the money. Talking arrangements, the affable Jensen allows that he'll dip into the styles of Broadway musicals and vintage jazz, collabs with choreographers to further enhance certain songs, applauds TV series 'Glee' and "Pitch Perfect 'for bringing vocalising to mainstream attention, strolls to the jazzy side of the street with the group's harmonies and agreed that David Byrne's American Utopia is a genre smashing piece of musical theatre. American Utopia has had its successful run on Broadway interrupted by COVID-19.
"Since we aren't limited as to genre, we're free to explore larger stories or stories in greater depth, and frame them in the way that best for the song. For me, the entry point to an arrangement is the lyric, my own taste. I know I can take it in any direction because there is such a wide range of fine voices in the group.
"Occasionally we're asked to do covers for special events and I have rearranged songs from Cole porter to Carole King, Britney Spears to traditional chorale choir. We do a high energy show and we use that energy to make connections with the audience. It's a delicate balance in the U.S. You have to respect the traditions by doing acapella standards but we're not a traditional group, we don't stand in a line on stage with song sheets."
Seems to be working so far as Countermeasure has won multiple awards from Contemporary A Cappella Society of America, including Best CAL Album, best video, and for songwriting. So yeah, they do colour outside the lines but consider their upbringing….
 …..An IT consultant with a strong musical bent, John-Michael Erlendson decided at some point the time had come to focus his energies on managing a strong and challenging vocal group, his life being far too harmonious as it was. Enter Aaron Jensen, whom Erlendson met through a mutual friend, who serves as the group's conductor and artistic director. A Parkdale resident, Jensen is a tenor in the group, while Erlendson sings bass and does beat boxing simultaneously, a technique he calls "The Walrus". And that's how Countermeasure A Cappella came about. So yeah, mavericks in a dangerous time, making some beautiful music even though they're cut off from each other, weekly rehearsals now remote, digitized meetings bereft of the bonding hug, the high five, shared laughter, the elements that inform and make memorable the songs on Guest Sessions.
Here's what I'm on about in this video for 'Carry Away, "off the Guest Sessions album:
"Countermeasure has always been about the connections, connections with musicians, connections with singers, connections with audiences. We miss those connections dearly."
Next best thing is the songs on Guest Sessions, awash in warm sentiments amidst the thrilling high wire vocalising. The affable Jensen is reluctant to say Countermeasure is the best, most innovative acapella crew in Canada so I just did.
Next up, latest single off Guest Sessions, the moving and bordering on anthemic 'Hold On."
But that's a tale for next week so stay tuned.
This just in: Countermeasure is featured in the one hour special of new releases on Single Sunday, Dec. 6 10-11am EST on  cashboxradio.ca/ or on the FREE App - Cashbox Radio.
For more visit:
https://www.countermeasuremusic.com/
facebook.com/Countermeasureacappella/
youtube.com/user/CountermeasureMusic/subscribe
(20) Countermeasure (@DefyGenre) / Twitter