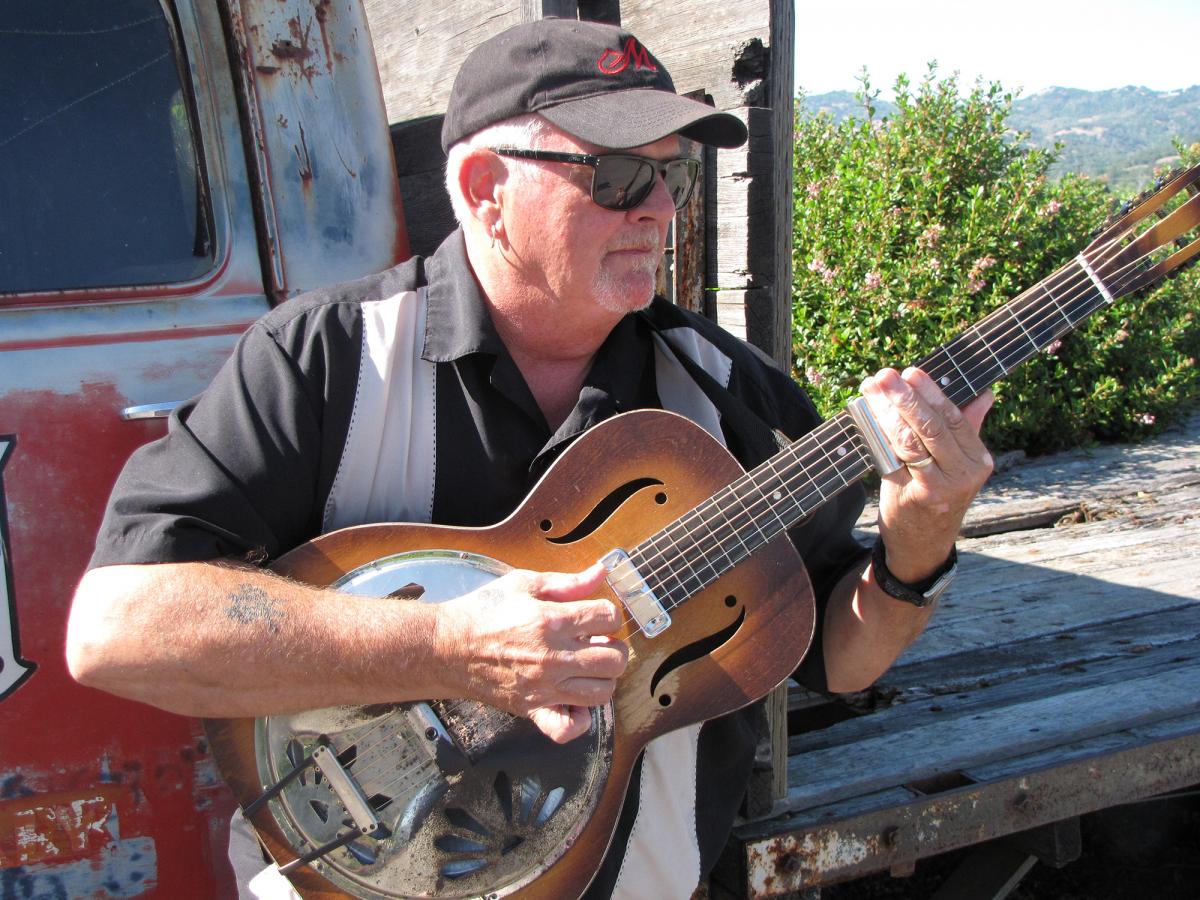 Fri Apr 07, 2017
If there is a true mystery about Canada-based,US acoustic bluesman Tim Williams, it must surely be why he's largely unknown and unrecognised. Williams is no new-comer, no new kid on the blues-block. This is a guy who has sure paid his dues, gigging widely and popularly across his adopted homeland in North America and turning out albums that positively zing with class and style. With his latest release, 'So Low', an inevitable play on words, selling well to widespread international acclaim, it's hard not to think that just maybe his time has come.
Williams himself is a tad self-deprecating about the apparent lack of global recognition, acknowledging the difficulty faced by all bluesmen of whatever stripe and style. He chuckles when asked why he's remained over-looked for so long, responding with typical humility and modesty: 'Yea, it's kinda puzzling at times. I've been a pro for many, many years but I guess it's just the way it is. It can be a tough business, for sure, but I love the life and the music.'
And with a brace of IBC awards in 2014 under his belt, it's pretty clear that many others in the blues-know also love his take on life and music. Williams is a truly talented picker, a Piedmont stylist of major significance who is also happy to turn his hand to some electrifying slide-work and Delta ringing blues when the fancy takes him. His influences come as little surprise and include many, if not most, of the old traditional acoustic greats together with a few unexpected regional influences that he values enormously: 'Lightnin' Hopkins has always been a particular influence, way back from the very beginning, when I first began playing guitar. Then I'd have to add Bill Broonzy, great thumping, rhythmic style of picking and delivery. Mississippi John Hurt, always a pleasure, a delightful, melodic picker; Skip James and Reverend Gary Davis. All the greats really. I try to take elements of all their various ways of playing and incorporate them in my own work. It's a natural, near-organic process now, not something I consciously have to think about,' he says in explanation of his own personal approach to the music.
'My style draws on all those greats. Their playing and ways of picking have all become style-tools in my own, personal musical tool-box, I have to admit. I guess Sam Hopkins was the one that first really fired me up back in California, before I moved North to Canada. His music has always been with me, a central importance to me. But I also love Hawaiian style music, and Tex-Mex. Mexico is ignored way too much. Some great music comes out of the place and I've been impressed and influenced by this too. What I love about Sam Lightnin' Hopkins was his ability to drive along with great rhythmic mastery and control and speed, when needed, before turning around to pull in, maybe, a sensitive sounding slow blues piece. Great skill and style. And then there's always Robert Johnston out there, influencing just about anybody who tries their hand with a slide.'
Williams first began playing local coffee-houses in southern California as a kid back in the sixties, when pop was king and often transitory one-hit wonders pretty much ruled the musical roost worldwide. 'I reckon I was about eight years old when I started. After about three years, maybe four years aged around twelve or thirteen, I got my first real, playable guitar. I became interested – maybe fell in love with – the sound of slide guitar way back then. My grandfather introduced me to the music, playing with an old pocket-knife. The sound was amazing. I was hooked. It made me want to figure out, see how they did it, how they made that sound, that incredible style of music. I immersed myself in this kind of playing pretty much exclusively till I was maybe seventeen or eighteen, listening to Mississippi Fred McDowell and Robert Johnston before also taking up mandolin and ukulele, a tenor uke, and some banjo. I became increasingly interested in the possibilities of the instruments themselves and then the various ways of using them looking out towards bottleneck work and some Hawaiian slack-string styles that were surprising and gripping.'
Williams describes his live sets as being the most enjoyable, personal parts of the business, and confirms he enjoys being out on the road, meeting blues-fans and hopefully also turning some onto the music for maybe the first time. His sets might typically break down into roughly equal thirds with some of his beloved Hawaiian focussed material, then maybe straight resonator slide-work and also some blues mandolin material all figuring in the mix. He just takes it all on, depending on how he's feeling and how the venue or gig feels to him. It's very much a sort of 'play it by ear' approach that probably has its roots in his own personal musical development and style.
As a song-writer he looks back to the historical greats but is keenly aware of the need to look forward and embrace the current life and environment: 'These days the blues is more important than ever. It has always been the language of struggle, of toughing it out, of pushing the boundaries. Blues is and always will be a real poetic language. Always important, I reckon.' Both Tom Russell and country music, Nashville giant, Willie Nelson are fans of his writing.
Of course, Williams' output and ability is admired by many other professional bluesmen across the Pond and he has worked with and alongside them. Among his countless efforts he has shared stages alongside the likes of Doctor John, BB King, Mary Flower, Taj Mahal, Robert Junior Lockwood, Odetta, Rory Block and Bonnie Raitt. He cites Leo Bud Welch, and the much younger current New-York-based Blind Boy Paxton among his best blues buddies before adding: 'Now John Hammond, there's a true bluesman. He's been around for about forty-five years, maybe more even. Now he's really blues to the bone.'
Although based in Canada, in Alberta, Williams travels and plays gigs and festivals throughout the Americas, often pitching up in Mexico, or maybe playing the legendary Arkansas King Biscuit Festival; he also turns up as a tutor from time to time and helped out at Port Townsend's blues camp in Washington State in 2015.  Like most bluesmen, he's open to suggestions and offers of engagements in the UK or Europe if possible, and recently played in Italy.
In 2014, Williams travelled South to Memphis to play as a contestant at the Blues Foundation annual awards bash. To his seemingly genuine surprise, he didn't just do well but successfully picked up two major awards for his stunning acoustic blues mastery: Best Solo and Best Guitarist awards were received, a recognition of his true blues mastery, if ever there was one.