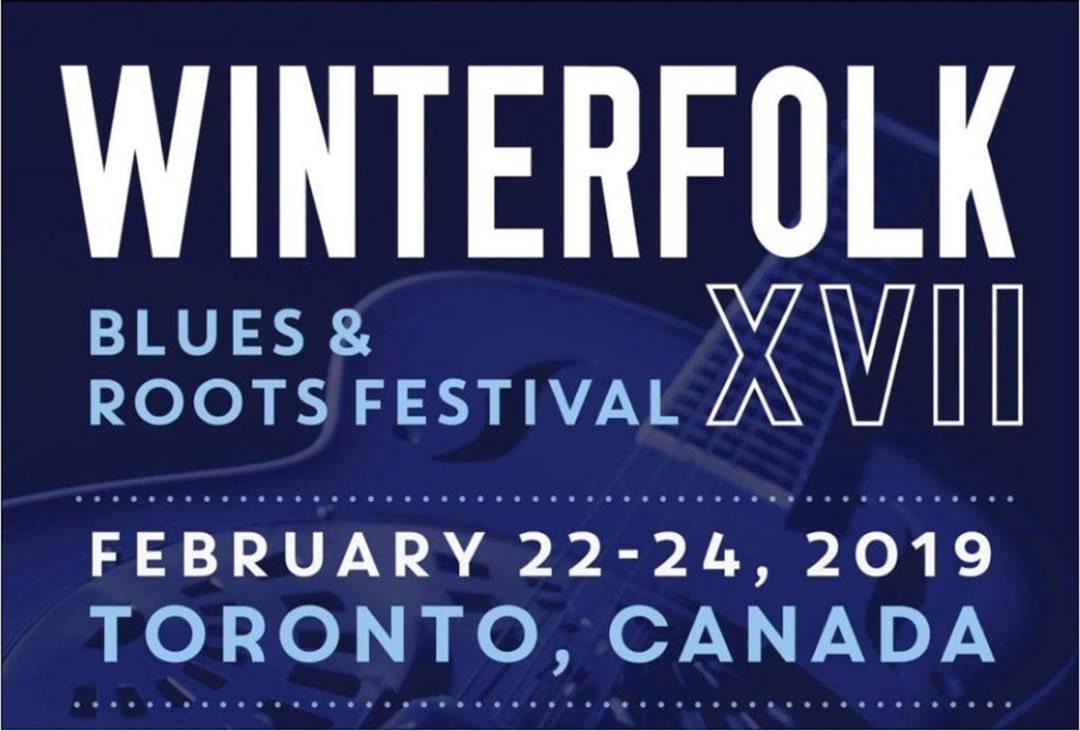 Fri Feb 01, 2019
The 17th Annual Winterfolk Blues and Roots Festival, taking place in Toronto February 22-24, 2019, is set to present the best of urban, blues, rock, jazz, country, folk and roots music, and will feature returning favourite artists as well as fresh new talent. It's an all-ages, mid-winter, weatherproof event that emulates a multi-stage rural summer festival. More than 100 artists will be performing at three venues and five stages over a three-day weekend.
Winterfolk XVII featured performers include Borealis Records artists Guelph-based activist and social conscience singer-songwriter JAMES GORDON, eclectic folk and traditional music duo EMILYN STAM andJOHN WILLIAMS who merge violin and clarinet with a bit of accordion to offer Klezmer, New Orleans jazz, old-time, bluegrass, French and Scandinavian folk songs; highly acclaimed Canadian folk, blues and gospel singer and multi-instrumentalist KEN WHITELEY, and MOSE SCARLETT, who's been on the Canadian music scene for more than 40 years and remains a delightful and skillful guitarist and performer.
Toronto Blues Society partners with Winterfolk again this year for a special showcase featuring BYWATER BLUES BAND, an award-winning seven-piece band drawing from the sounds of Southern soul, gospel and blues, featuring powerful lead vocals and slide guitar, CHLOE WATKINSON, who launched her solo career in 2018 with performances at Roy Thomson Hall and Yonge/Dundas Square will blow the roof off with her outstanding, formidable vocals and edgy songs; Toronto-based guitarist DAN MCKINNON is a 2017 Toronto Blues Society Talent Search Winner and is establishing himself as a Canadian blues artist on the rise, playing raucous, hard-hitting blues/rock. Others in the blues contingent include; 2016 CBC Sounds of the Season standouts JEROME TUCKER BAND; BLUZ FM personality DANNY MARKS; Award-winning GARY KENDALL BAND; and two-time JUNO and seven-time Maple Blues Award-winning artist JACK DE KEYZER.
Emerging and new-to-the-festival artists include: Brilliant Nova Scotian, now Toronto-based sisters CASSIE AND MAGGIE who offer Celtic fiddle and harmonies like honey; THE LIFERS, led by sisters Liv and Anita Cazzola, are an art-folk/rock collective from Guelph, Ontario, with harp-inspired ukulele, accordion swells, and lush vocal arrangements that give way to rip-roaring, soaring melodies and overdriven frenetic strums;Guelph's award-winning folk duo TRAGEDY ANN inspires chills, provokes smiles, and reminds you to breathe. Mixing alt-blues and contemporary folk-rock, Liv Cazzola and Braden Phelan intertwine the storytelling power of Tom Waits with the musical nuance of Mandolin Orange; BLACK SUIT DEVIL plays "acoustic soul," a fusion of folk, roots, blues and soul to give voice to social injustice and current political affairs; award-winning (opened for Brett Kissel), alt-country singer-songwriter ALESSIA COHLE; Kitchener native and multi-instrumentalist SAMMY DUKE performs as unique one-man-band; 2017 Songs from the Heart Contest winner, singer-songwriter DORIS FOLKENS plays old-time inspired folk and nostalgic tunes – all where the music beautifully transcends any age gap.
Other newcomers include New York-based guitar ace LYNDA KRAAR; Australia's soulful and honest, multilingual singer-songwriter STAV who shares her story of migration with bursts of rhythmic fire and soaring melodies; Toronto jazz vocalist SIMONE MORRIS exudes a rare blend of soulfulness and subtlety – a natural storyteller who artfully lures audiences into her craftily-spun musical stories; Toronto-based bluegrass outfit BARREL BOYS will keep everyone hopping and they'll join hillbilly swing duo HOTCHA! plus singer and fingerstyle acoustic guitarist MR. RICK for the annual and much-loved Americana Pie showcase. Accordion fanatics will love the very new accordion-driven trio SHAKE THE BELLOWS with their blend of Tex Mex, Cajun, Celtic and French waltzes.
A number of artists returning to the fest are the award-winning duo MOSCOW APARTMENT; the dulcet voice and guitar of MAGGIE & MR. ROGERS; KEN YOSHIOKA who'll bring his massive blues harmonica-guitar skills; slide guitarist extraordinaire ALFIE SMITH; slow-cooked, solid-groove folk blues with BRIAN BLAIN is soulful, thoughtful and always entertaining; folk roots troubadour GLEN HORNBLAST; two-time JUNO Award Winner DONNÉ ROBERTS and jazz scat master ORI DAGAN.
Festival Director and finger-style guitar picker BRIAN GLADSTONE will also take the stage with long-time musical partner and guitar whiz TONY QUARRINGTON. Tony has a new project as well, with singer ZOEY ADAMS plus his World War I musical documentary FOR KING AND COUNTRY featuring Brian Gladstone, Noah Zacharin, Stuart Laughton, David Storey, Roger Clown, Marg Stowe and James Gordon, will be a special ticketed showcase this year.
There'll be a couple of CD release concerts at the fest this year too. DAVID STOREY AND THE SIDE ROAD SCHOLARS is excited to announce the release of the new album Made in Canada, which continues the pattern established on Storey's two previous releases, of wry wit and penetrating insights about life's challenges, characters and passions. Award-winning songwriter and brilliant guitarist D'ARCY WICKHAM looks forward to the release of his third album Signal Hill which is an all instrumental venture and really showcases his prowess at composition and performance.
The festival will also include special community stages and various themed musical workshops with something for everyone to enjoy. Winterfolk is a combination of general admission wristbands and separate ticketed concert stages on the Danforth and is the ideal event for music-lovers seeking new and exciting things to do in Toronto.
Complete Festival Lineup in Alphabetical Order:
Alana & Leigh Cline, Alfie Smith, Alessia Cohle
Black Suit Devil, Brampton Folk Club, Brian Blain, Brian Gladstone, Bywater Blues Band
Cassie & Maggie, Chloe Watkinson
D'Arcy Wickham, Dan McKinnon, Danny Marks, David McLachlan, David Storey, Donné Roberts, Doris Folkens
Emilyn Stam and John Williams, Evaristo Machado, Gary Kendall Band, Glen Hornblast
Harpin' Norm Lucien, HOTCHA!, Howard Gladstone
Jack de Keyzer, James Gordon, Jon Brooks
Ken Whiteley, Ken Yoshioka
Lynda Kraar, Lynn Harrison
Maggie & Mr. Rogers, Mike McKenna, Moscow Apartment, Mr. Rick
Noah Zacharin
Ori Dagan
Peter Verity, Q&A w/ Zoey Adams
Sammy Duke, Sebastian Agnello, Seneca College Independent Music Presents, SHAKE The Bellows, Simone Morris, STAV, Steve Raiken, Sue & Dwight,
The Barrel Boys, The Best of Dr. B's Acoustic Medicine Show, The Lifers, Tony Quarrington, Tragedy Ann
Wayne Neon 
Purchase Tickets here: https://www.winterfolk.com/tickets-2/
Shows are at various venues on the Danforth, Toronto
Black Swan Tavern (three stages), 154 Danforth Ave., Toronto, ON | 416-469-0537
Dora Keogh Irish Pub, 141 Danforth Ave., Toronto, ON | 416-778-1804
Mambo Lounge, 120 Danforth Ave, Toronto, ON | 416-778-7004
WHEN: February 22-24, 2019 Hours:
Friday, February 22, 7:00 pm – 1:00 am
Saturday, February 23, 1:00 pm – 1:00 am
Sunday, February 24, 1:00 pm – 10:00 pm
PUBLIC CONTACT INFO: 416-469-0537, admin@winterfolk.com
WEBSITE: www.winterfolk.com
Twitter: @ABetterWorldOrg | #Winterfolk2018 | #WinterfolkXVI | @SPEAKMusicPR
Facebook: https://www.facebook.com/Winterfolk-XVI-Blues-Roots-Festival-115302915190784/
Schedule: https://www.winterfolk.com/winterfolk-xvii-performance-schedule/
MORE ABOUT WINTERFOLK - Winterfolk was formed to entertain, educate, enlighten, engage and encourage the community about various folk music styles including roots, blues, folk and more. Founded by Festival Director Brian Gladstone, it is run as a division of The Association of Artists for a Better World, a registered non-profit organization in the Province of Ontario, Canada. www.abetterworld.ca