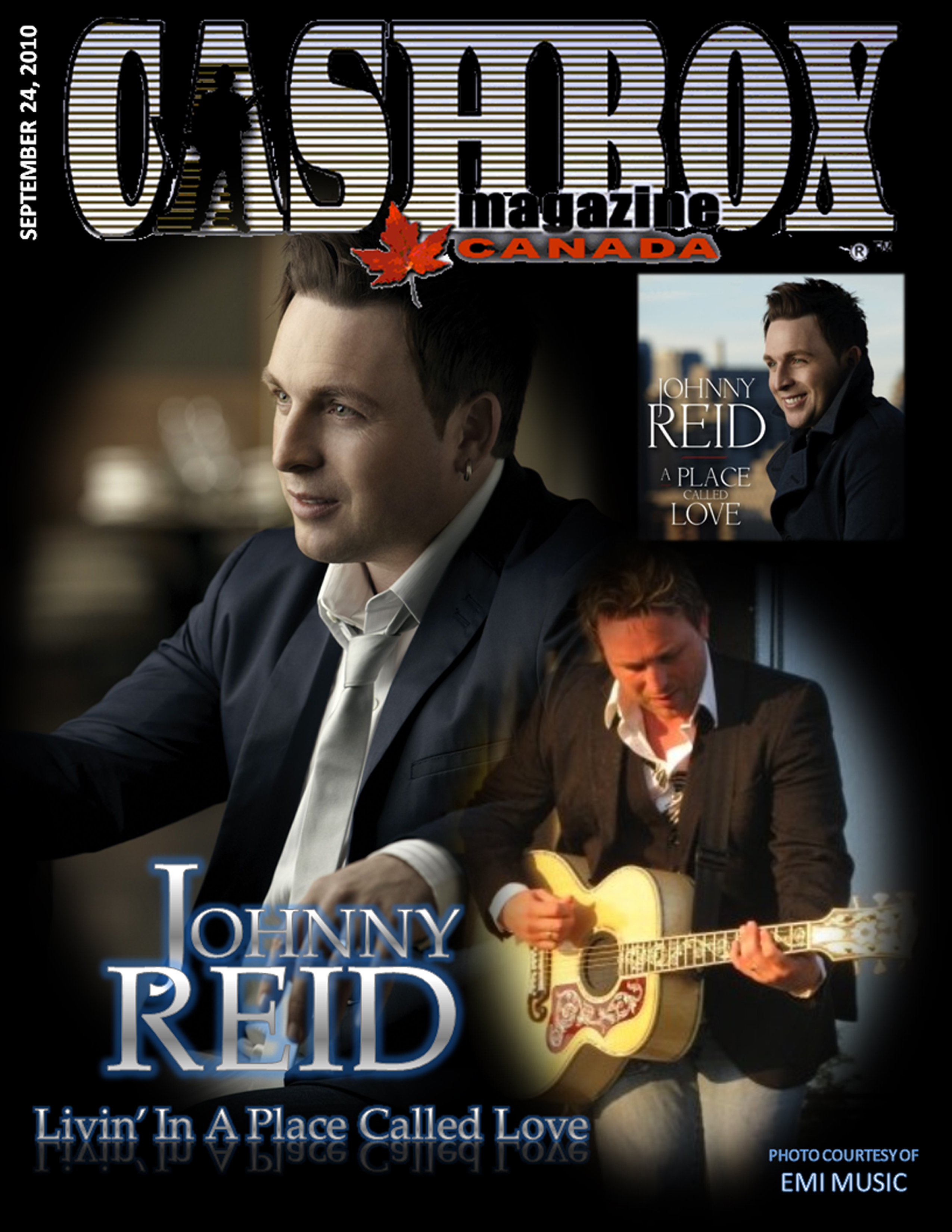 Fri Sep 24, 2010
There's nobody quite like Johnny Reid on the Canadian music scene right now. Ain't no one else rocking the nation with a soulful country groove, equal parts Jim Reeves and Otis Redding, and driving all manner of country fans wild. For Reid, this volatile, some would say, unlikely mix has been a passport to the top, In a landscape where established artists are struggling with album sales, this country gent moves units like bullets in Baghdad.
His breakout album went gold, the two albums that followed went double platinum and his current collection, A Place Called Love is just about to turn the double platinum trick. At the recent CCMA show in Edmonton, he added to the weight of his award-burdened mantelpiece with wins for both the Fans' Choice Award and Single of the Year.
Not too shabby for a guy who up until 2005, was toiling away as one of the song writing elves at DreamWorks. Reid, who emigrated to Canada in 1988 as a 15 year old from Lanark, Scotland, decided upon graduation to give the singer/songwriter thing a full shot, dropped down to Nashville and hooked up with DreamWorks, a perfect place to hone his song writing skills. When the chance came to cut an album for Open Road in '05, Reid was primed to make the most of his opportunity, and promptly parked his ball, Born To Roll, outside the park and into gold status.
The rest is well on the way to Canadian country music history as Reid continues to blaze a trajectory that threatens to outshine even Corb Lund's. All the more interesting when you consider Reid's music. While it adheres to traditional song structure and upholds traditional values it's anything but traditional country music.
For Reid is working a rarer groove, one with solid links to the times when the country music of the Appalachians came down from the hills and met up with the Delta blues rolling on down the Mississippi, probably somewhere near Kansas City, over time spawning artists like Jim Reeves, Roy Orbison, Solomon Burke, The Holmes brothers and Willie Nelson, cats who were cool with swinging on both sides of the country/soul line.
Cashbox Canada caught up with the fast-moving Reid during the load out from the previous night's gig in Saskatoon. The sold-out 2200 seater was one of the 46 shows Reid plays as he makes his fourth cross-Canada trip, this one in support of A Place Called Love.
" I mix the storytelling, the craft and the morality of country music with the intensity and the performance values of classic soul. It's what I came up with. As a lad, my biggest influence was my Mom; she was a huge fan of soul and r'n'b, all that Stax, Motown, Otis Redding stuff. There wasn't much country music in Glasgow then but my dad was a diesel engineer and that was their music, so I had the country from him".
" Last night's show went really well. I know that I have this connection with people through my music, I know that what I write reflects what a lot of people feel, which is why they come to the shows. But it's still a humbling experience when you look out from the stage and see all the people who've come out to hear your music".
'Humble' is a word that comes up when speaking with the amiable singer with the solid Scots burr. Asked if he's surprised at the speed of his success, Reid notes. " Well, I've been at it for 12 years as a songwriter. Some days it seems like it's only been yesterday since I was at DreamWorks, other days I can see the whole trail of how I got here from 12 years ago. So I'm not surprised as I am humbled by the experience"
'Family' is another word that comes up a lot, not just in the song lyrics but in the way Reid looks at the folks who work with him. " We have 32 people out on the road and most of them are people I've worked with since I started out. When we're out here on tour, it's about all of us and it's my responsibility to look out for all of them, that things are ok with all the families, because we need each other.
" I like familiarity, it gives me a good feeling when I'm standing on a big stage to look over and see (Lead Guitar player) Yvan (Petit ) standing to my right, like he's been from day one. Sometimes I remember going up to him and saying; Do you want to start a band? A lot of my songs are about those little things that can mean a lot".
Reid's brand of country soul hits all the right sweet spots. Female backing singers and a horn section have the soul nuances covered, the backline's at home with all manner of fatback grooves and the keysman and guitarists can go either way with equal authority. Much of the urgency and swagger that leaps off certain tracks comes from Reid's style of recording, more r'n'b hustle than country polish.
"Once the songs are written, we take about a week to do preproduction, working out chords and arrangements, trying out stuff. Then we go into the studio; drums, bass, guitars and keys and we record live off the floor. Once we've got something we like, then we'll bring in the backing singers one day, then the horns the next, build it up like that."
With that kind of attention to 'feel' you just know that when Johnny Reid hits the stage, he's bringing it large and in charge. Bordering on soul revival shouter on some tunes, ballad crooning country troubadour on others and mixing it up when need be, a good time is probably inescapable at a Johnny Reid show.
 " I guess I make music for people that feel the same as me, that share the same values. This is music you can listen to with your children and grandparents and not have to worry. What I'd like for people to take from this album is the idea of a 'place called love' in all our lives. Somewhere in there is one song or even one note that will take you to that place that you connect with love. I lot of the music is inspired by people who have touched my life and I'm moved that I can go out there in my turn and touch other people's lives".
And touch he does, working the crowd like a seasoned soul man, constantly reaching out to them in a style folks liken to uber-Scot Rod Stewart, and that's a very bankable style.
There's a little bit of the wistful in Reid's voice when he asserts he won't be in Canada much next year, as 2011 makes the launch of Johnny Reid on the world stage. He'll be working with Live Nation for a US tour that will see him placed in choice opening spots with established artists.
That's when an even bigger cowboy boot could drop. Knowingly or not, by taking his country soul revival sound to America, he'll be following in the giant footsteps of The Band, in rebooting a primal American music form and selling it back to them. Those good ol' Southern Ontario country boys sure blew up large doing that, so no surprise if the US sees Reid in a very bright and kindly light.  Then it's off to the UK and Europe, where, even though nothing's confirmed, Reid dreams of a gig in Glasgow.
" Now wouldn't that be great? Get a chance to catch up with my friends and family" Just about what you'd expect from a guy we suspect has 'family' in all kinds of places.
Tonight Reid rocks Bonnyville Alberta, with gigs next week in Fort McMurray and a three-night stand in Calgary. Ontario fans'll have to simmer till November to catch Reid live.