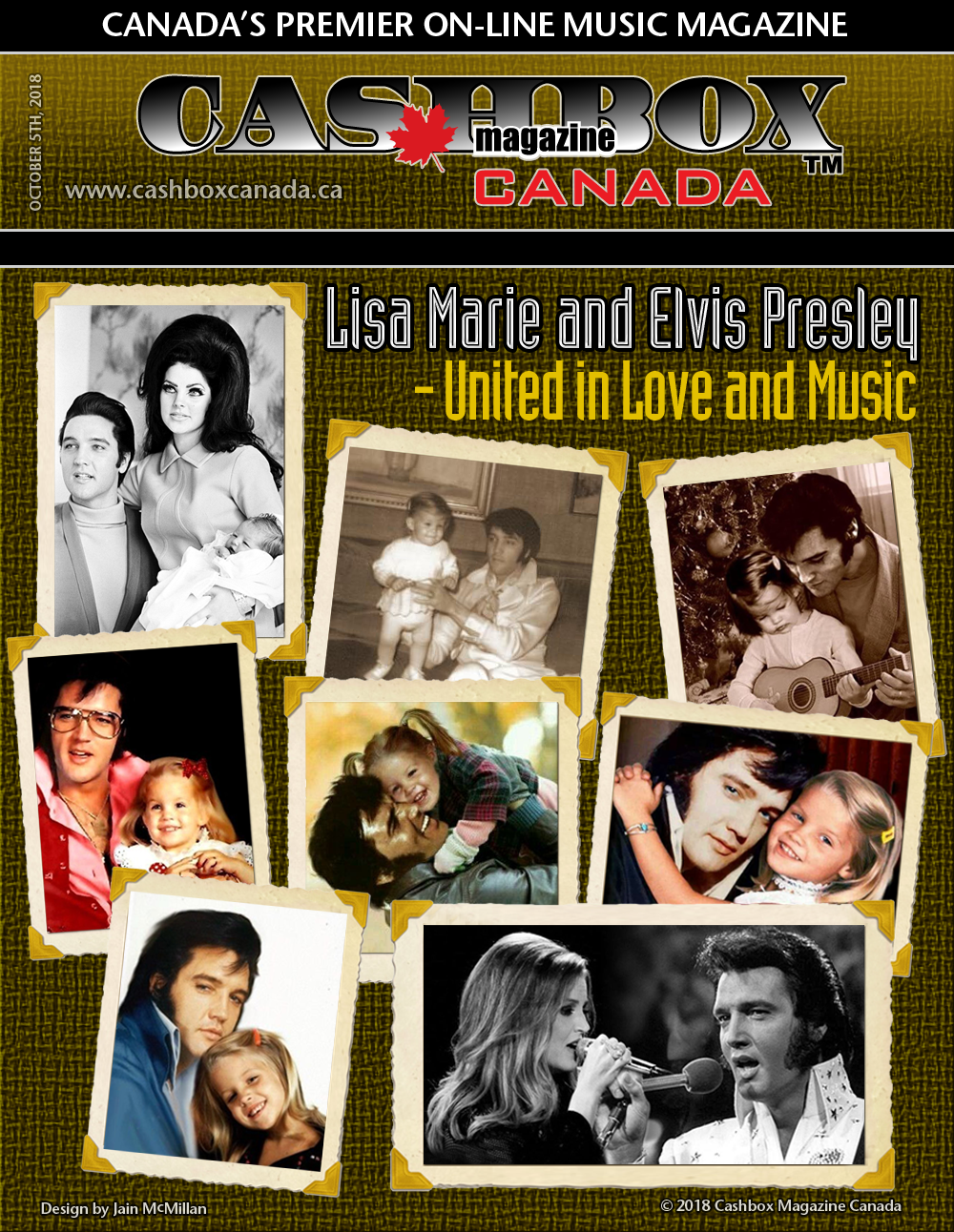 Submitted to Cashbox Canada by Sandy Graham
Fri Oct 05, 2018
Credit: www.lisamariepresley.com
RCA/Legacy Recordings, a division of Sony Music Entertainment, has released Elvis Presley - 'Where No One Stands Alone, a new Elvis album celebrating the artist's everlasting love of gospel music.
Produced by Joel Weinshanker, Lisa Marie Presley and Andy Childs, Elvis Presley – 'Where No One Stands Alone' introduces newly-recorded instrumentation and backing vocal contributions from music legends who'd performed on-stage and/or in-the-studio with Elvis. It also includes a re-imagined duet with Elvis and his daughter, Lisa Marie Presley, on the album's title track and spiritual touchstone.
"It was a very powerful and moving experience to sing with my father," said Lisa Marie, "The lyrics speak to me and touch my soul. I'm certain that the lyrics spoke to my father in much the same way."
Watch 'Where No One Stands Alone' here: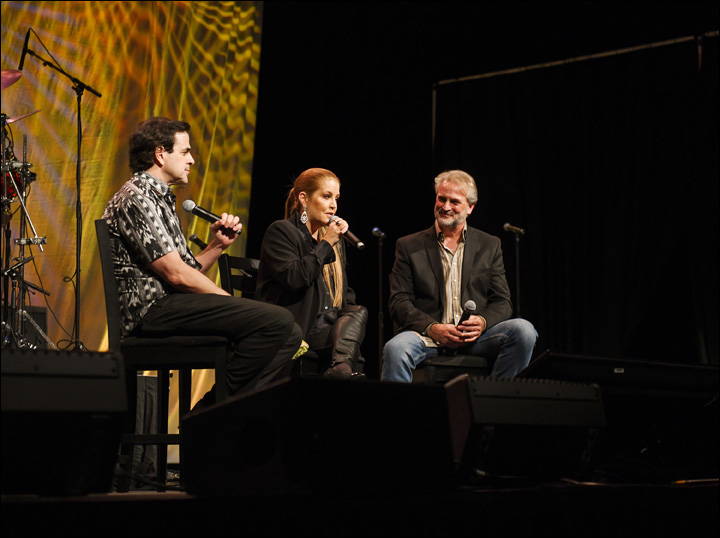 Background vocalists on the album include: Darlene Love (who first sang with Elvis on his 1968 NBC television special); Dr. Cissy Houston (who, with The Sweet Inspirations, sang with Elvis on-stage beginning in 1969); Terry Blackwood, Armond Morales and Jim Murray (members of The Imperials, who sang on Elvis' How Great Thou Art – with the title song winning the 1967 Grammy for Best Sacred Performance); and Donnie Sumner, Bill Baize, Ed Hill and Larry Strickland (members of Presley's longtime backup group, The Stamps).
Cashbox caught up with Andy Childs (singer/songwriter in his own right) the music producer of Weinshanker at his home in Franklin, Tennessee, to get a personal interview about this heartfelt and amazing musical offering. "Joel came to me about producing this project over a year ago, with the idea of taking isolated vocals of Elvis and creating new tracks around them, adding the duet of Lisa Marie with her legendary father. It started with my request to have Sony send me some of the alternate tracks to see what we could hear, with sometimes 7-8 alternate takes, which for some reason were not used and the standard with Elvis was that they used later takes from the sessions. Having all this music of Elvis was one thing, but when I sat alone in my studio and listened to the tracks, it was bittersweet because the alternate tracks also included Elvis talking and laughing with the session guys. He seemed so happy. Elvis always knew what he wanted in the studio, but he treated the players with the utmost respect. I spent hours listening to these tracks and had a range of emotions, listening to how wonderful his vocals were, hearing his laughter, knowing there was no one else like Elvis Presley and that he was gone. It was a sad feeling. The next step was to listen to everything Lisa Marie had recorded. I realized she was an alto, so the whole recording process would have to be Lisa Marie singing the lower range, with Elvis singing the high. It worked."
For anyone who has spent time in a studio, then you know it is truly an insular experience. We asked Childs about the actual feeling in the studio with the only child of Elvis. "We arranged to record at EastWest Studios in Hollywood, which was previously named Western Recorders, where Elvis had also recorded. When Lisa Marie arrived, she was nervous, and we did the same takes as I explained the vocal parts I had arranged for her. She is an emotional singer, and it must of hit her that she was standing in the same studio that her Dad had roughly stood decades before. They were videographers and photographers and it was a bit overwhelming.  Lisa Marie requested that the studio to be cleared so it could just be me and the legendary engineer, John Guess and Lisa Marie. She took a pause and started to sing and that is when we got the magic out of her vocal."  When asked about the Elvis vocals, Childs said 'the best you can do is turn it over to Elvis, and those stellar songs like 'Stand By Me', 'Crying in the Chapel', 'He Touched me in the Garden', are just as strong as they were when he first recorded them. With modern technology, and new tracks we just brought them into the new millennium with more quality audio that didn't exist back then."
In closing, Andy Childs said, "It was an incredible process for me, I had to go from being a fan of Elvis to being his producer in a way, and bringing Lisa Marie into the whole production. It was a tremendous responsibility but Lisa Marie and I hit it off from the start and I would work with her again if I had that chance." Were you nervous? "You betcha! I was sweating bullets with the pressure of the greatest pop singer of all time and his beloved daughter and my job was to make it stellar. It was recorded in May and then released in August. I am really proud of this project. Lisa Marie was amazing and I am pretty sure Elvis is proud of her and what came out of the session."
Elvis Presley – 'Where No One Stands Alone' provides new musical perspectives on 14 of the singer's favorite pieces of gospel music, from the reverential to the celebratory,with song selections including Presley's beloved enduring gospel classics (the 1965 Top 5 smash "Crying In The Chapel," "How Great Thou Art," "You'll Never Walk Alone"), praise-filled gospel-rockers (Jerry Lieber and Mike Stoller's "Saved") and traditional hymns and spirituals ("So High," "Stand By Me," "In The Garden," "Amazing Grace").
Elvis Presley once said, "Since I was two years old, all I knew was gospel music. It became such a part of my life, it was as natural as dancing. A way to escape my problems, and my way of release." It was Elvis' explosive mix of styles--blues, bluegrass, country, swing, pop--that generated his iconic world-changing rock n' roll, but it was the hymns, spirituals and church music of his childhood, the deep-seated gospel roots that sustained Elvis and his musical vision throughout his life.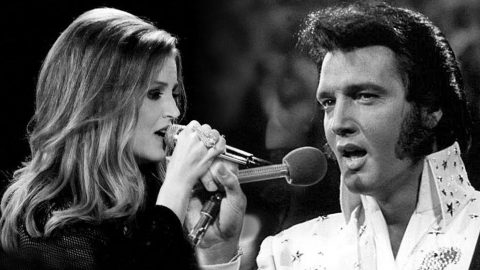 Friends and family would often recall hearing Elvis sing gospel tunes at home and to warm up before concerts. "We do two shows a night for five weeks," Presley said in an interview featured in the documentary Elvis On Tour, recorded during one of his residencies at the International Hotel in Las Vegas. "A lotta times we'll go upstairs and sing until daylight—gospel songs. We grew up with it…It more or less puts your mind at ease. It does mine."
"This was his favorite genre – no question about it," says Lisa Marie. "He seemed to be at his most passionate, and at peace while singing gospel. He would truly come alive – whether he was singing just for himself and me at home, or on stage in front of thousands of fans."
Shop.Graceland.com will have exclusive, limited edition versions of the album on blue 12" vinyl and cassette configurations. Fans purchasing the CD, exclusive blue vinyl, and cassette together from Shop.Graceland.com will receive a limited edition lithograph signed by Lisa Marie Presley. Pre-order from Shop.Graceland.com - https://Elvis.lnk.to/WNOSAPR/graceland.
Other Duet Videos:
In The Ghetto
https://youtu.be/hUlYONgjaoU
Don't Cry Daddy (Live in Concert)
https://youtu.be/aEqDwEMxQi8
For more visit www.lisamariepresley.com
Editor's Note: Many thanks to Norbert Putnam, legendary producer and renowned session bass player for the introduction to Andy Childs. When asked what Elvis was like to work with 'Putt' (as Elvis liked to call him) said "I played on over 120 sessions in the studio for Elvis and he always treated the session players like they were on equal ground with him in the recording process. He gave us the freedom to deliver what we thought would work for him, and that freedom created classic songs. He truly was a gentleman, a talent, a singer like no other."