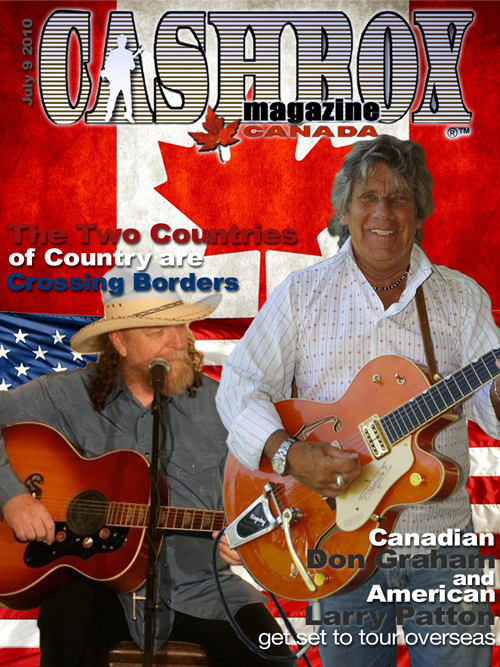 Fri Jul 09, 2010
I recently had the pleasure of chatting with Larry Patton, a talented Texan now living in Nashville, Tennessee. This unassuming man, with the list a mile long of greats he has played with, is about to embark on a tour to promote his new CD, 'A Strange Night', on the Canadian-owned 'Breakin' Records label.
SG: tell me a little bit about yourself – how did a Texas born kid who grew up on rock and roll end up living and working in Nashville?
LP: My mother was not just a rock-n-roller, she was also an avid country music fan. She took me to every country music show that came to town. In June of 1957 we went to the Grand Ole' Opry in Nashville and saw the Everly Brothers first appearance there. I moved to Nashville the first time in 1975, went to work with Ronnie Milsap and then later that year Hank Williams Jr. After Hank's mountain climbing accident in August, and the band's three months in New Mexico and Arizona, I moved back to Texas at the end of that year. In 1986, with several job offers in hand, I moved back to Nashville and have been here ever since.
SG: You have been in many bands over the years, with big name acts. (IE Willie, Hank etc.) there must be some interesting stories from all that experience – what is your favorite story?
LP: Back when I was with Johnny Bush, we played a gig at a mental institution in east Texas, along with Willie Nelson and Ray Price. As we approached the gate with all three buses in a row, I got out only to be greeted by a short little man smoking a cigar and dressed in a military uniform like General Patton. He gave me a big left hand salute and handshake and said to bring the busses on in and he would show us where to park. John had that 1957 Golden Eagle with his name on the side, Ray Price had a fairly new Silver Eagle with his name proudly displayed on the sides, but Willie was traveling in an old "Open Road" camper (like a Winnebago). As they started through the gate, the little General was very excited and started to announce their entrance to me. As the first bus passed through the gate he boldly announced, "Johnny Bush and the Bandoleros", I cannot believe they are really here". Then came the second bus, "Ray Price and the Cherokee Cowboys", that is one of my most favorite groups ever. As Willie came through the gate, he announced with even more excitement, "Open Road", that is my all time most favorite group in the whole wide world." I knew right then and there that we were in for a time that we would not soon forget.
SG: You have had the pleasure of some of your songs being recorded by other artists, in particular one Carl Perkins. What was that like?
LP: I have always considered it a great compliment to have a great songwriter like Carl Perkins record my songs. Carl recorded two of my songs (which I had co-written) one with my wife Pamela and one with Paul Overstreet, on his "Born To Rock" album. On the day that Carl recorded the song I had written with Paul I had just gotten to the recording studio when Carl drove up in his powder blue Lincoln Town car with the word "Suede" on the license plate. He reached into the backseat and pulled out a Fender guitar (without a case) made personally for him by Leo Fender himself. The song he was recording that day was called "Baby Please Answer Your Phone". It is a song about a guy desperately trying to find his girlfriend. One line says, "You're there I Know You Are, Cause I Drove Bye and Saw Your Car." Carl was singing that line of the song as he walked up to me, when he stopped, he looked at me and said "Man, there ain't a cat alive that ain't done that". That was typical Carl.
SG: You are asked this all the time, I am sure, but our readers would want to know what the experience of being in the Flying Burrito Brothers was like?
LP: I played all over the world with the Burritos, recording several albums with them on various labels including The Grateful Dead label. He sang duets on Burrito albums with Merle Haggard, Waylon Jennings, Delbert McClinton, Charlie Louvin and the Oak Ridge Boys. Many guests (including Buck Owens, Ricky Skaggs, Alison Krauss, Joel Sonnier, Sam Bush, Sonny Landreth, Dave Roe, Jamie Whiting, Earl "Poole" Ball and Al Perkins) were also featured on these albums. At one session in Los Angeles they were so close to having Keith Richard, that his guitar tech was in the studio in L.A. with all of Keith's gear. But Mick Jagger got some kind of stomach virus in San Francisco so they canceled the L.A. show. The Burritos were also given a gold star on the Australian Gold Coast Rock and Roll Walk of Fame during a seven week sold out tour of Australia in 2000.
SG: Who do you feel influenced you the most in your career?
LP: I grew up in a melting pot of music in the 1950 & 60's with artists like Merle Haggard, Lefty Frizzell, Buck Owens and then there was The Beatles and all of the English groups with something new every few weeks. Chuck Berry, Carl Perkins, Johnny Cash, Elvis. I was surrounded by influences. I think I took a little from all of those artists.
SG: What does Larry Patton see in his future?
LP: I can't even imagine my life without lots of music, recording, songwriting. I love to travel with my wife Pamela and see the world. Music has been generous to always give back more than it took from me. The music business can be very hard but also very rewarding. I will always have music in my life.
SG: Any advice for the new up and coming artists?
LP: I could never give anyone advice as far as direction for their life or career goes but if you can find out what it is that you love to do. Stick to it and do it with all you have. You are the only one who knows. Don't be afraid to be yourself and say no to the trends. They come and go. Most great things happen with much opposition and uncertainty.
SG: You are about to return to Norway again for a promotional tour of your new CD? In the industry Norway is quite uncharted. How did that come about?
LP: I always say I would like more money or a nicer home or different material things but I am very happy about where I am right now as far as my wife and kids and grandkids and would not do anything to change that outcome. To do one thing different would make me someone else and I still want to be me right now.
SG: You have a new CD coming out ? Tell us about that project and how your fans can purchase it?
LP: Being from San Antonio, Texas country music with fiddles and steel guitar is close to my heart. 'A Strange Night' was started in 2004 in Texas and included some of my oldest and dearest musician friends. Although the recordings went great, I was not able to sing the songs as well as I had hoped. It was obvious that a nearly 40 year cigarette habit was the reason and I had to make the choice to either smoke or sing. It was an easy choice between smoking and singing. I made the choice to stop smoking. In May 2005, I threw away a nearly full pack of Marlboro Lights and have not smoked one cigarette since. I did it for love;  for my love of singing. In the summer of 2009, I went into Crossland Studio in Nashville and with the help of my good friend, studio owner and engineer Howard Hibbet finally sang these songs the way I wanted them to be sung. After several months of mixing and mastering 'A Strange Night' is finally finished and I am excited about how it turned out. I have done several projects since starting this one in 2004 but none are as close to my heart.
For further information visit: www.larrypattonmusic.com