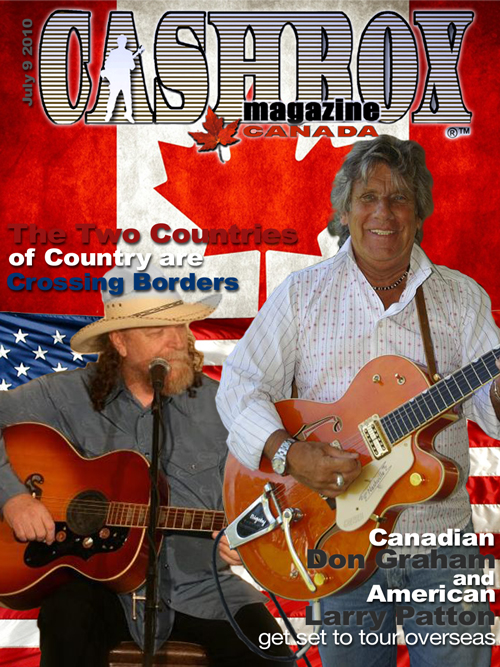 Fri Jul 09, 2010
Recently I interviewed Don Graham by telephone and he was gracious enough to answer the following questions and many more that I have edited from this article. The Toronto Tunesmith Graham is leaving at the end of July to tour with Texas Troubadour Larry Patton in Norway, Ireland, and Austria.
KB:  Tell me a little bit about yourself – how does a guy from Montreal, Quebec end up in country music?
DG:  "I could only get one Country Music radio station in the 60's and even then it was only on a clear night.  It was WWVA in Wheeling, West Virginia.  I loved the commercials.  You could order 500 baby chicks for $3.99 or something like that; that fascinated me.  I really enjoyed hearing the music of Marty Robbins, and Hank Williams."
KB: You had a pick hit in Cashbox Magazine in the late -70's – how does it feel to be on the cover now?
DG:  "I used to read CASHBOX Magazine when I was a kid working in a record store.  I read all the trades working in that store. Years later, I looked in there and saw I had a pick hit in the magazine called, "Shelter In The Sky." with my band, Graham County. It has come full circle because here I am again.  To be on the cover after all these years is very special."
K.B. : When you had those singles out on the Kapp Record label,  your MD and guitarist was Bill Hill (producer of April Wine, etc.) Now he is the producer on this CD. Tell me about how that all came to be?
DG: "Bill was one of the best guitar players in town.  He actually produced my first session which got the pick hit in CASHBOX.  He then joined our road band and toured with us all these years later we're still making music together, It's great to work with someone you know so well that words aren't needed often times to communicate."
K.B.: You have had an interesting career both behind the scenes and now back on stage. How does it feel to be back on stage doing what you love?
D.G.: "When I am on stage I am the most comfortable.  You have to be honest or your audience will see right through you."
K.B.: Who do you feel influenced you musically over the years?
D.G.: "Elvis, because I loved the excitement he created and all the songwriters.  I would always want to see who wrote the songs.  It was very important to me.  The band POCO was also a huge influence on me. Writers like Kris Kristofferson, Jerry Jeff Walker, Steve Goodman have also influenced me as a writer as well."
KB.: What does Don Graham see in the future? (tv show radio show more touring more albums etc)
D.G.: "All of the above.  We will soon begin production of a brand new TV show called, CROSSING BORDERS.  It will have both Canadian musical guests as well as American performers. I am also planning my next CD and writing the new songs right now".
K.B.:  Any advice for the new up and coming artists?
D.G.: "Be true to yourself and stick to it.  I would rather hear someone who sings from the heart than a perfect pitch vocalist that is not sincere."
K.B.:  Anything you would do in a different way if you had the chance to go back and start over?
D.G.: "Nope!  I would have avoided some things but I wouldn't change a thing."
K.B.: You are about to leave on tour to Norway, Ireland and Austria. This must be a very exciting time for you. What can you tell us about this tour?
D.G.: . "I am touring with my labelmate on 'Breakin' Records', Larry Patton. We figured since he is from the U.S. and I am from Canada we would combine the two countries of country. Since we have never toured together, but are friends, the name 'Together Again For the First Time' became the name of our tour. We will be gone one month.  We are adding more dates like little pubs and stuff.  We are basically out there to promote the release of our new CD's."
K.B.: You are currently promoting your new CD 'A Willing Heart'. Tell us about that project and how your fans can purchase it?
D.G. "You can go to www.dongrahammusic.com and click on Buy now.  You can click on it 2 or 3 times if you want to and I will send you 2 or 3.  Ha Ha just kidding." I would also like to thank you Keith and NBRN.FM for all the airplay and support you have given my new CD."
Visit Don Graham at www.dongrahammusic.com
www.myspace.com/grahamcounty
Management: www.entertainmentmusicgroup.com