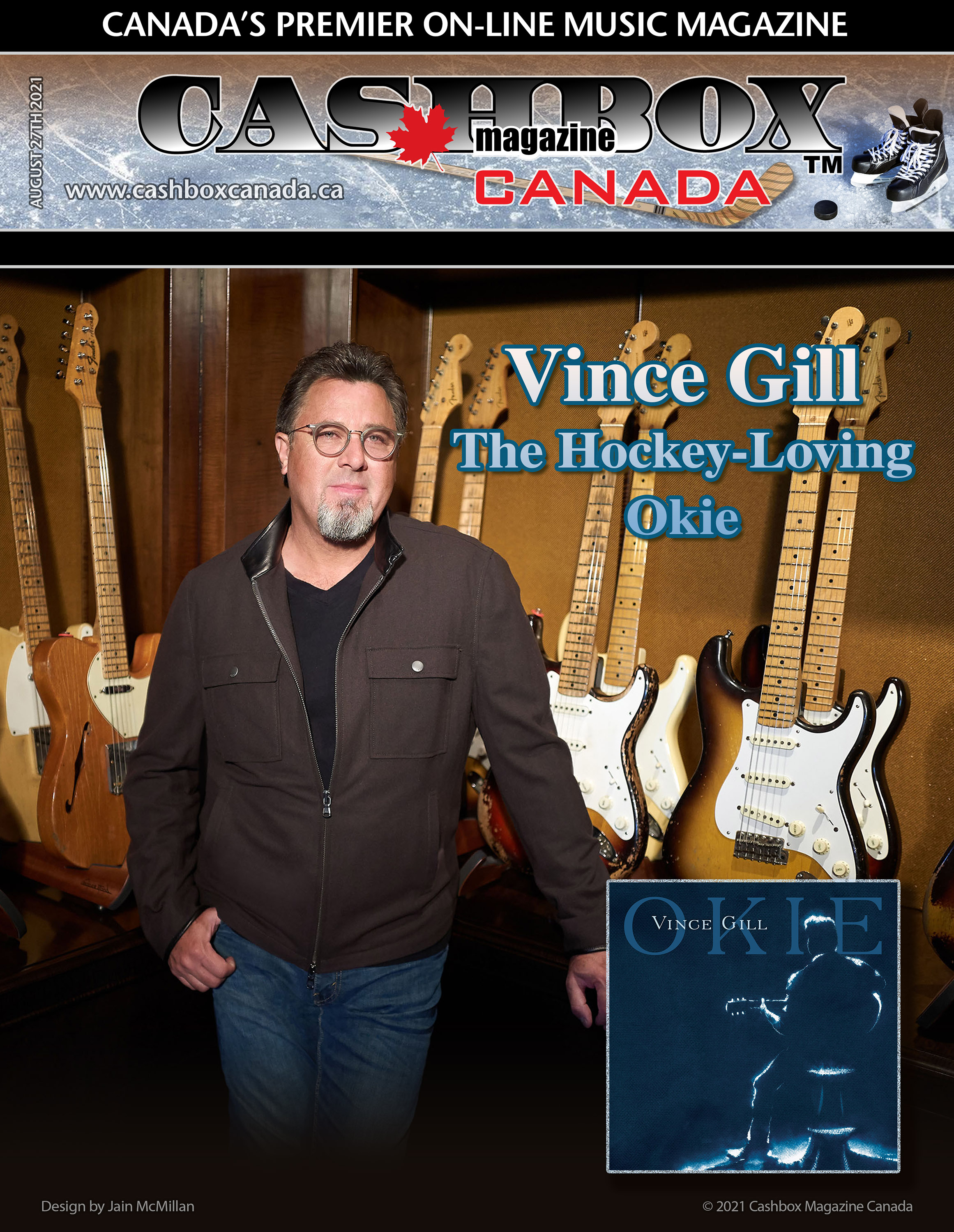 Kevin Shea – Guest Journalist
Fri Aug 27, 2021
It is hard to fathom that a boy who grew up in Oklahoma City would have much knowledge of hockey, let alone be a passionate fan of the game, but that is the story of Vince Gill, country music superstar now residing in Nashville with his wife, Amy Grant.
Vince has a special affinity for Canada. "Canada accepted me long before the States did as an artist, no matter what I was doing," he said. "I have always had a fondness for Canada."
The personable star sat down during the pandemic that put a hiatus on his touring and talked about a myriad of things, including two of his passions: music and hockey.
Kevin: How does a little boy growing up in Oklahoma ever dream about the incredible musical success that you have enjoyed – 22 Grammy Awards, the Country Music Hall of Fame, the Nashville Songwriters Hall of Fame?
Vince: It's amazing what a kid will do to keep from having to study! I don't know that I had those dreams. I had a love for music that was apparent from Day One. Music had always spoken to me in a deeper way than it likely does for most people, so I followed that muse and ran with it. I was driven by it to the extent that I had no idea that it would take me down the path that it did.
I played guitar for a long time before I ever had the courage to sing. When you're a young kid, bashful a little bit, to begin with, it took a long time to get the courage to open my mouth and start singing. Before that, I took my guitar to school. They let me play at assemblies and things like that. I was always just crazy about it. As I got a little older, I started to learn to play the banjo, the mandolin, a lot of different bluegrass instruments because I was in a couple of bluegrass-y kind of bands in high school. I didn't care what kind of music it was. I knew my rock 'n' roll songs just as much as I knew my bluegrass songs and my country songs. I had a love for all of it.
Kevin: Long before I got to know Vince Gill the artist, I knew and loved Pure Prairie League and their hit, 'Amie.' And then there was a new lead singer, long-haired Vince Gill, singing the Top 40 hit, 'Let Me Love You Tonight.' How did that come about?
Vince: I was a 19-year-old kid and moved to L.A. and started playing with a band out there. I ran into the Pure Prairie League guys by accident. When I was in high school, I had done a concert where we opened for them. We jammed together and had a lot of fun together. When I saw them later, they were in the process of trying to find somebody new to sing with the band and play guitar. They said, 'Aren't you that kid from Oklahoma that plays all the different instruments?' I said, 'Yeah.' They asked if I'd be interested in the gig and I said, 'Not really. I kind of enjoy the gig I've got right now.' They talked me into trying it. I went from being in a fun little bluegrass band to all of a sudden being in a pretty loud and raucous rock 'n' roll band. That was fun, too. A couple of hits ensued. I just followed wherever music wanted to take me.
We wound up on the same record label (Casablanca) as KISS and I had a really nice visit with Paul Stanley. I said, 'Do you remember back around 1974 when a bluegrass band opened for you?' He started laughing. 'Yes!'  I told him, 'I was in that band!' We had a big laugh!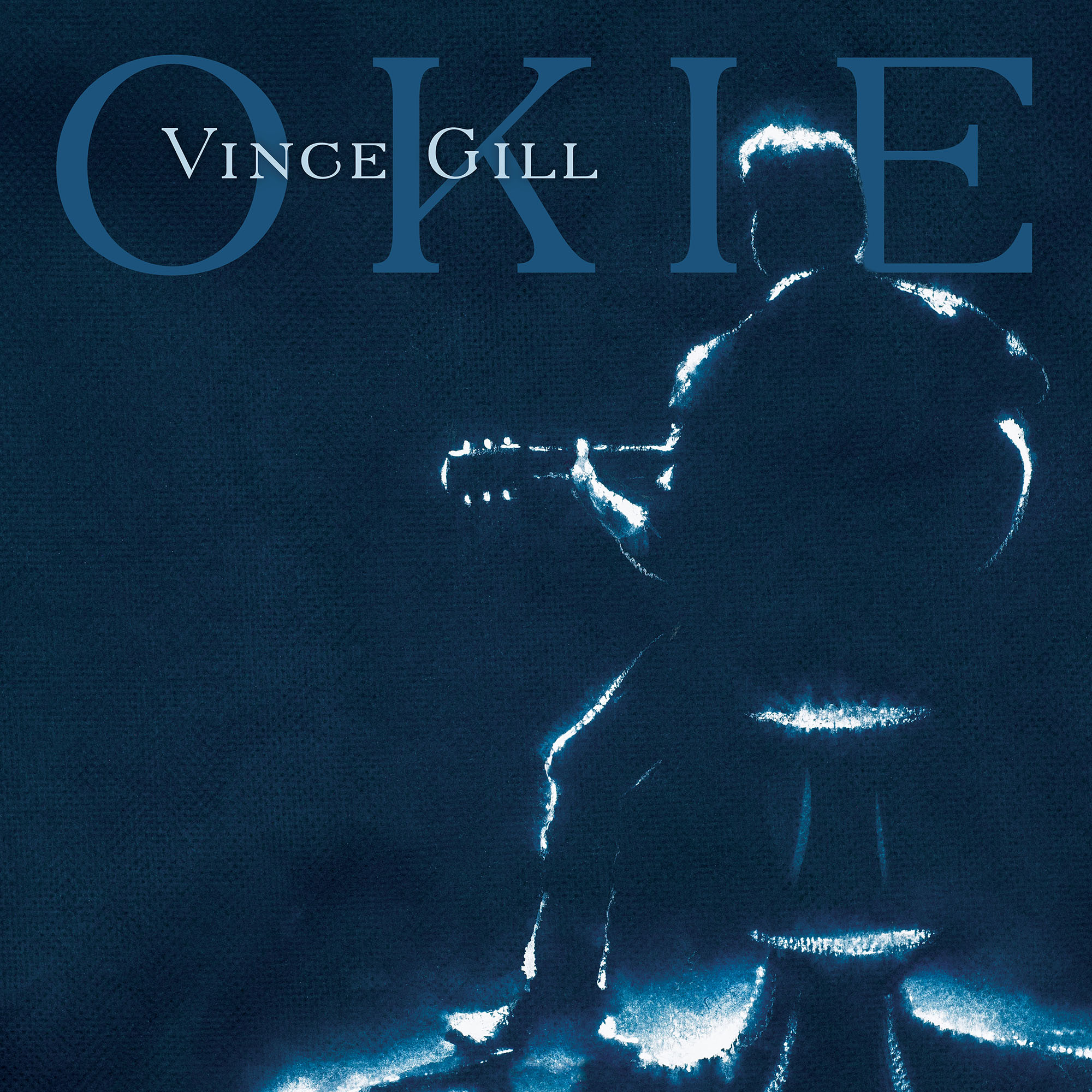 Kevin: You were signed as a solo artist with RCA, did really well and then moved over to MCA. What a monster career, and one that has been well chronicled. And then in 2019, you released your 15th studio album, Okie. That is a very special album; you sing about kindness and forgiveness, about love, joy and regrets. And you weren't afraid to take on some challenging topics in your songs.
Vince: A friend of mine said it was age-appropriate. I'm 64 years old. He said, "I don't think you could have written those songs when you were 20." He was right. It took the living of a life to gain some perspective and some wisdom. All I tried to do was have these songs tell stories without judgment.
Kevin: There is one lyric that really resonated with me, and it reminded me of the Vince Gill I met all those years ago. It's from the song 'Black and White': "Being kind means more than being right."
Vince: That feels true to my core. I'd rather be kind to someone than be correct. Being right isn't that big a deal. There's nothing really to gain from it.
Kevin: How did joining the Eagles come to pass? We've all grown up with those songs, but to be standing there on the stage, playing and singing them with some of the guys you had listened to on records or radio is quite extraordinary.
Vince: My philosophy of what makes them so great is their songs. They're amazing singers and musicians, given and true, but what sets them apart is their songs. Throughout time, the things that leave great legacies are great songs. They're timeless. In my life of doing everything that I've done for the last 45 years, the fact that those guys thought enough of me to ask me to come and be a part of that band was very powerful. It's not lost on me. In a sense, it's towards the end of a long career that I've had, and to have that validation from those folks is pretty overwhelming. And the only reason I'm getting to do it is because of the tragedy of the loss of Glenn Frey. He was an old friend of mine, and I never lose sight of that. I didn't have anything to do with their legacy of those great songs and those great records, but I do get to be a part of keeping those songs alive by singing and playing those songs.
Kevin: Let's talk about hockey. I know you as a golfer, but we never talked about hockey when I first met you. Where did your love of hockey come from?
Vince: You would think that being from Oklahoma, we wouldn't even know how to make ice. As a kid, I was as big a sports junkie as I was a music junkie. I played all sports and was a pretty decent athlete. We had a hockey team called the Oklahoma City Blazers that was a CHL (Central Hockey League) team and the farm club of the Boston Bruins. The Boston Bruins in the early seventies were top of the mountain, so through the ranks of the farm team, we saw a lot of great hockey players that went on to play for the Bruins and do great things. I used to go to the games as a little kid.
I loved the sport. I think hockey is, by far, the most fun live sport you can go to. To see the speed and the intensity they have, the end-to-end action – it's full-tilt from the drop of the puck. I've always been drawn to the game.
So I grew up with hockey in Oklahoma City but I didn't get to have anything to do with hockey until the Predators came to Nashville in 1998. The guy who owned the team, Craig Leopold, called me. He said, "I've talked to a lot of people about bringing this team to Nashville and you're the only guy I'm going to ask to be a partner with me. Would you go in with me on this team?" At the time, I was going through a divorce, so I said. "Man, I just can't at this time. It just wouldn't make any sense. But I'll do anything you need me for to promote this game and this team. I'll come to the games, I'll play in between periods, sing the anthems – whatever I can do to help." So I did that. They put my face with no teeth on billboards around town to advertise the team. I started going to the games from Game One. I was the Predators' first fan, so to speak. That's where my love of hockey goes. I'm not nuanced in every aspect of the game, but I love it.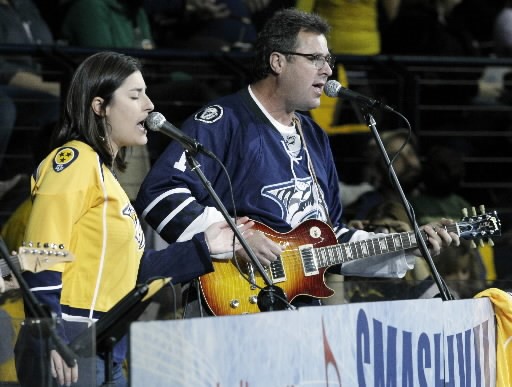 Kevin: Toronto is a cerebral crowd – quiet but intense and very knowledgeable about the game, but my friends who have seen games at the Bridgestone Arena in Nashville tell me you HAVE to check out a game in 'Smashville.'
Vince: I remember when we first got a team, I was watching David Lettermen one night and he goes, "It's just been brought to my attention that Nashville has an NHL team now. That's amazing. It'll be the first time in the history of hockey that the players have more teeth than the fans!" That was so funny. I thought it was hysterical. But it did take a while for everybody to catch on to the game. I would think that the authenticity of a hockey crowd in Toronto versus the craziness and mayhem of a game in Nashville are two different things. I wouldn't say one was better or more important than the other. It just is what it is. But I tell you, it's a fun environment in Nashville.
Kevin: Have you ever put on skates, picked up a stick and played the game, Vince?
Vince: No. When I was a kid and went to watch the Blazers, every now and then after the game they'd let you wear some skates and go out there to skate around. I can skate a little bit but never very well. Never enough where I thought I could grab a stick and get out there. I'm worth more off the ice, I think.
One of my most embarrassing moments and greatest achievements was giving the business to Todd Bertuzzi, who was playing for the (Detroit) Red Wings at the time. My seats were right behind the net on the glass and there was a little space between the glass where you could yell and the players could hear you. Now, it's all covered up and you can't do it. They've taken my fun away from me. I was lighting Todd Bertuzzi up, just giving him the business. Finally, he looked at me and invited me out on the ice! He said, "Come on out!" I started laughing and I yelled, "I can't skate!"
Hockey is great fun. And if you make it out this way, Kev, I've got an extra seat and we'll go watch a game.
Kevin: You've got a deal! I'd love to do that one day. Good luck to the Predators and continued success with your music. This has been a blast.
Humble, kind and yet, immensely talented and successful, Vince Gill is a modest superstar. His most recent album is the superb, Okie. For more information, visit www.vincegill.com.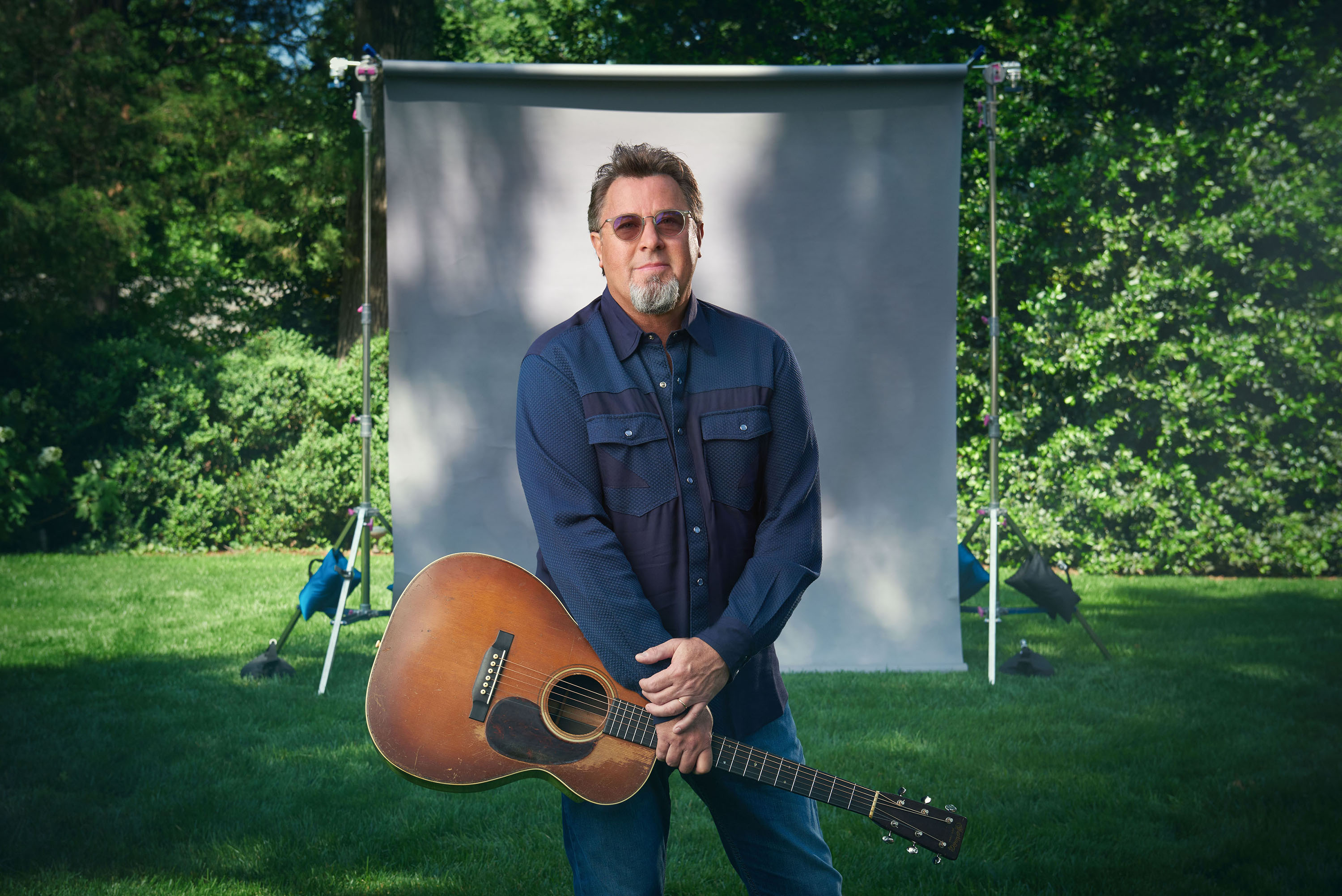 Editor's Note:
Kevin Shea spent 9 years working on-air in Canadian radio stations and another 15 doing promotion and publicity at Canadian record companies, including RCA and MCA, where he crossed paths with Vince Gill. Today, Kevin is following another of his passions, working at the Hockey Hall of Fame and writing 19 books about hockey.