Fri Dec 07, 2018
Santa willing, this could be one hot mess of a Christmas party. The Tiki Collective (TTC) is a large ensemble of instrumentalists and vocalists based in Toronto who have performed around Ontario for the past two years including jazz festivals, clubs and charity events. It is also the most slyly subversive of Jaymz Bee's several bands and invariably brings the party. The stellar lineup is George Koller bass, Eric St-Laurent guitar, Great Bob Scott drums, Michael Davidson vibes, Bill McBirnie, flute. Vocalists include but are not limited to: Jaymz Bee, Jocelyn Barth, Lily Frost, John Finley, Heather Luckhart, Denielle Bassels, Irene Torres, Jessica Lalonde
The Tiki Collective's debut album 'Muse' has been taking North America by blizzard, charting on the Canadian "Earshot" as well as the American "Jazzweek" Charts.
The album's incredible mix of sexy, funky, cool music is capturing ears and hearts around the globe! The song "Hypnotized" by The Tiki Collective (featuring Heather Luckhart) is currently #1 recommended track right now on All About Jazz (a global web magazine based in Philadelphia).
media.allaboutjazz.com/media.php?id=11501.
The Tiki Collective plays a unique Christmas party at Hugh's Room Live, Sat. Dec. 22. If you there, you better watch out and you really should shout. Showtime 8.30 PM and this is a benefit for the Unison Benevolent Fund y'all, so no guest list.
The Unison Benevolent Fund is a non-profit, registered charity, administered and funded by the music community it serves. There are two distinct types of support available through the fund: financial assistance and counseling & health solutions. There's not a week that goes by where the charity doesn't see applications for financial assistance. The operation is lean; the Unison Benevolent Fund only has two part-time staff and is totally deserving of your support.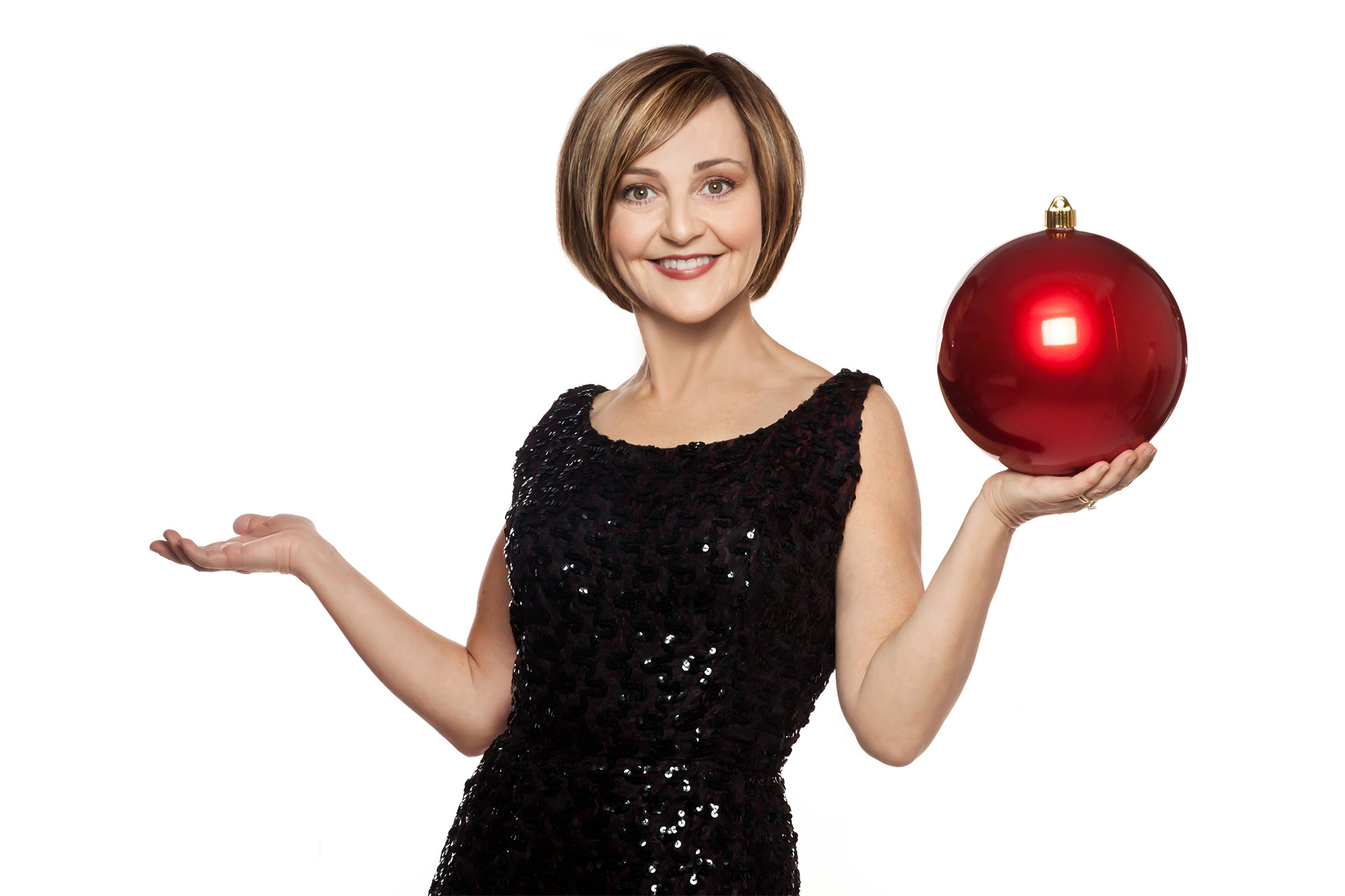 Heather Rankin, most well known as the youngest member of the 6X Juno Award-winning and multi-platinum selling band, The Rankin Family, is bringing her solo Christmas show, Picture Perfect Christmas, to the Richmond Hill Centre for Performing Arts Dec.19th.
The singer/songwriter's solo career began in 2016 with the launch of her Juno Award-nominated album, A Fine Line. At 48 years old, after spending over 25 years singing songs mostly written by men, Rankin courageously stepped out as a singer-songwriter in her own right. Her recent success story is inspiring and emblematic of a shift in our collective culture that finally sees women of all ages feeling empowered to be seen, heard and taken seriously.
Rankin says, "I set out to make a solo record to empower myself to stand on my own, to speak from my heart, and sing with my voice." Now, with a second album out and tours that have taken her across the country, Rankin is reminding women that it's never too late to chase their dreams or forge their own path."
Picture Perfect Christmas includes a mixture of traditional and original songs from Rankin's 2017 seasonal album Imagine, as well as favorites she performed with her sisters, Raylene and Cookie, on their Christmas record over twenty years ago. She mixes in songs from her 2016 Juno nominated album, A Fine Line, some Rankin Family classics, and some special surprises, along with stories that are equal parts funny and endearing.
"Picture Perfect" is the second single released from Imagine. Written with Jamie Robinson, Rankin describes "Picture Perfect" as being inspired by "a visit to the country, to the vacant home of my mother's people. A grand farm, once thriving, now sits silent and empty. All the love and joy that once held the heart is no longer, and all that is left are memories of what now seems but a dream."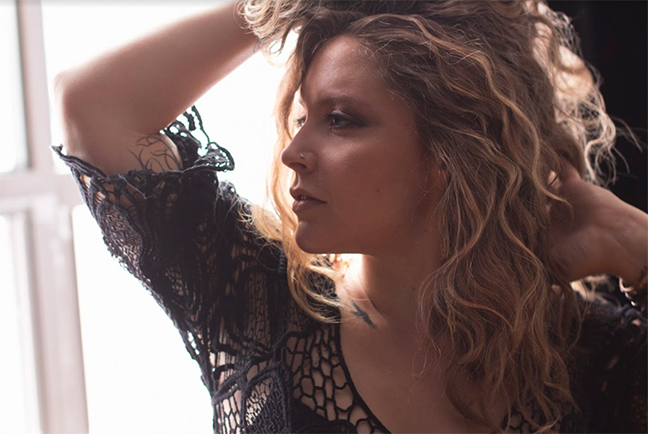 Toronto up and comer Sandra Bouza has just released Three Years — three songs in a nod to her sobriety that crystallize her journey can help others open up to healing and confidence, or simply draw you into her story and struggles.
Sandra notes, "For years I've been hiding behind other people's songs. With Three Years, I'm grateful to have the confidence to step out with songs I am immensely proud of and so emotionally connected to. I'm committed to continuing this journey because I have so much more to say, and I'm finally at a place where I'm not afraid to say it."
Having spent three years in Morocco where music and healing were very much on the forefront of Sandra's priorities, the young Canadian R&B/pop singer has a lot to offer through her music and life experience.
On her introductory EP, Three Years, produced by Hill Kourkoutis (Jules, SATE, Eh440), the Toronto native who has lived, studied or worked all over the world, let her stories breathe in songs that are deeply personal.
The richly spun "Where Have You Been?" — written when she was in the throes of addiction — is about reaching out for a higher power when feeling abandoned. The sultry ballad "Hotel Door" is about the fear of intimacy and commitment, and the funky R&B number "I Want You" is about the worrying pull of her relationship to booze.
"I thought I had to give up music, but when I reached sobriety I got this offer to work in this beautiful country full-time doing music and that's where I did a lot of my healing," says Bouza of her three years in Morocco, starting in 2015. "It was a gift, and then to be able to come back to Toronto and work on these songs and recordings, that was a gift too."
In her youth, Bouza spent five months every other year in Spain, where her father was from and her mother would homeschool her children up in the mountains. As for music, she says, "Mom was the foundation of my musical education. She was always singing and playing guitar and encouraging us to sing. She had a great record collection and constantly had the radio on, drilling us about who was playing and took us to concerts and musicals."
While they didn't have a piano, Bouza learned how to play using a piece of paper, and by the time she was given a Casio keyboard at age 10, she was ready. She and her sister regularly performed for family and neighbors, and at age 11 were offered $100 to play three songs at the Contessa Ballroom in Toronto. She wrote her first original song in grade six.
At 19, to pursue music as a career, she next went to St. Andrews University in Scotland to get her Masters in Museum Studies. Not surprisingly, her second week there she met a guy on the beach playing guitar, and they started playing in a 10-piece soul-funk band. She also played solo in the town of Dundee. "I was still pursuing museum work, but more of my heart was in music," she says.
She next ended up in Vancouver. "No real reason except Toronto was cold," she laughs. While there, she made her first EP, Kingdom on the Run, in 2010, but it wasn't a good experience. "When I recorded that, I was in addiction years. The producer pigeonholed me into a Canadiana folk artist, which is not what I wanted, but I was too young and inexperienced, and I couldn't speak up for myself."
She then returned to Toronto, where she fronted an original funky-rock band Redbrick in 2012 and gigged monthly, or more, for a few years. But in 2015, just one month into sobriety, she got a referral to go to Morocco to play music. It was supposed to be for six weeks, but it became three years, playing rock, rock-blues, and top 40, as well as her favorite duo gigs with Brooklyn, NY transplant Kevin Cummings, "my musical brain twin."
But as much as she loved playing other people's songs, Bouza felt she was hiding behind that. She had been a prolific songwriter since her 20s. "I'm proud of my songs," she says. "They speak to my story."
Three Years — a signal to her sobriety — are three songs that crystallize her journey and can help open up others to healing and confidence or simply draw one into her truth and struggles.
"I was so full of fear that people wouldn't like me or what I had to say or wouldn't like my songs, and to be able to get to that point where I didn't have that fear anymore, I just wanted to do it," she says. "I had this spiritual and mental clarity, which meant I attract different people. I attracted Hill and she'd been so amazing. Her encouragement and her support and honor to these songs, I think that's all a gift of sobriety."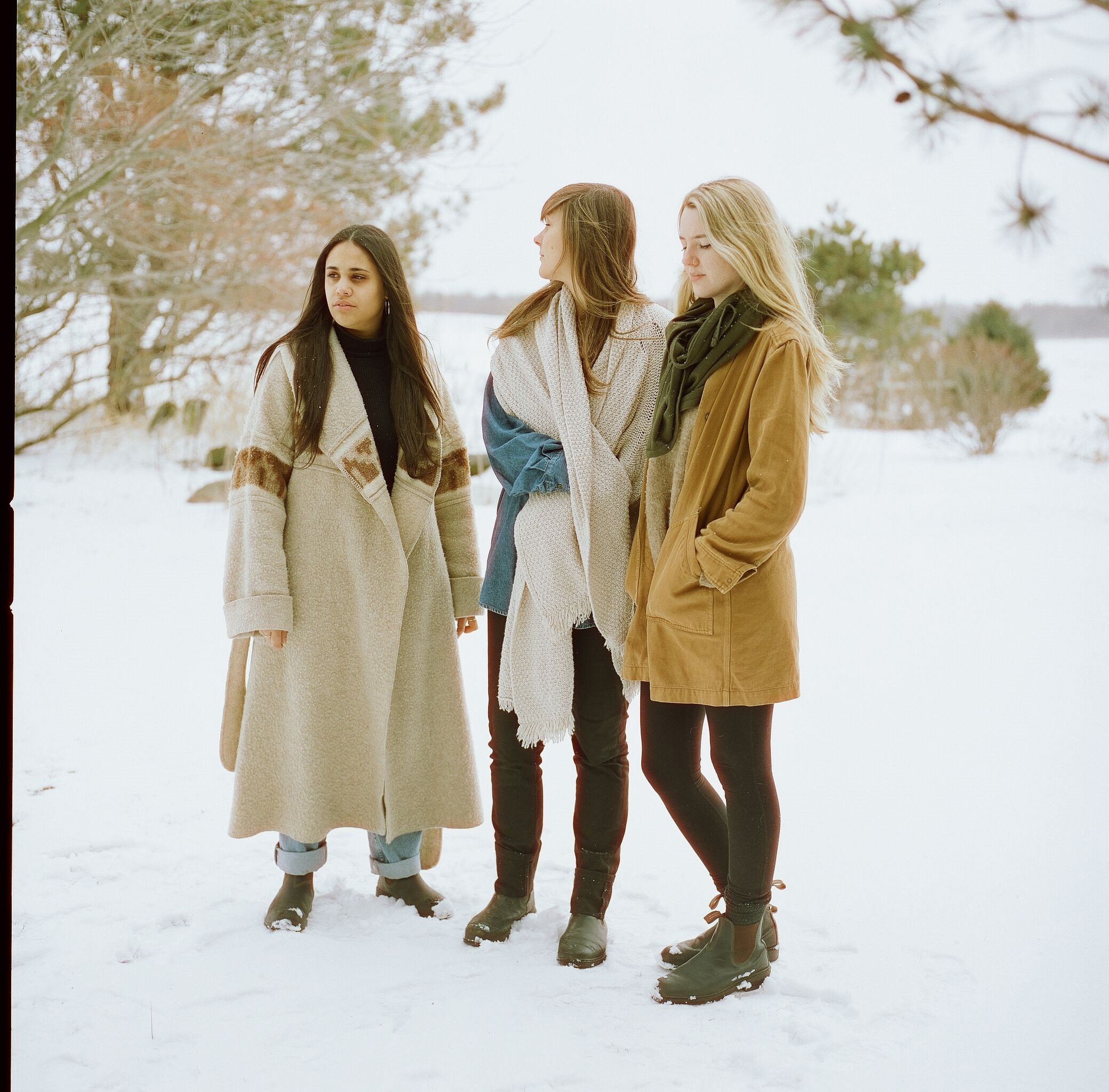 Here's another climbing act worth a listen. The O'Pears (Meg Contini, Jill Harris and Lydia Persaud) has their soph album, Stay Warm, coming out December 7th.
Check first single and title track here: soundcloud.com/theopears/stay-warm-2/s-Vk9TJ.
The album features a collection of originals as well as traditional holiday interludes. Highlights include hooky opener A Candle Burned, Find The Sun, & Lady Winter.
The O'Pears are a Toronto-based contemporary folk trio, three songwriters who weave stories that stir the spirit and capture the timeless character of folk music. With beautifully blended harmonies, insightful songwriting, and a playful love of performing, they make perfectly balanced vocal performances look effortless. Winners of the 2018 Folk Music Ontario Stingray Rising Star Award, these women know how to turn an audience of any size into a gathering of friends. In 2018, The O'Pears are giving audiences, even more, to love with their second full-length release.
Their 2016 debut album Like Those Nights, captured the trio's soaring harmonies and seamless blend, evoking the profound intimacy of Nick Drake, the sister-like connection of The Staves, and the dynamic harmony of Crosby, Stills, and Nash. They toured that collection of songs to high acclaim at renowned Canadian festivals including Summerfolk, Wolfe Island, and Lunenburg Folk Harbour Festival and garnered radio play across Canada, including on the CBC. In 2017, they toured across Europe, performing in centuries-old churches. Since then they've toured to Qatar and joined the ranks of performers at the 2018 GroundUp Music Festival in Miami, Florida. Their engaging performances and absolute musicianship have earned them performances alongside Joey Landreth, Blackie and the Rodeo Kings, Lionel Loueke, Weaves, Royal Wood, Good Lovelies, Michelle Willis, and Coco Love Alcorn as well as direct praise from David Crosby who called them "fantastic singers".
Stay Warm illuminates the comfort, darkness, and complexity of the winter holiday season. This isn't a commercial Christmas album with charming cover songs, blinding tinsel, or any assumption about "the most wonderful time of the year". Instead, Stay Warm flickers with the glow of family reunions and new love while taking in the chill of blowing snow, drifting hearts, and seasonal solitude. A cappella covers of winter classics are sprinkled between original songs that examine the many ways that the holidays can bring rest, joy, and cheer while also inspiring feelings of loss, grief, and nostalgia. Taken as a whole, Stay Warm is a balanced offering – musically and emotionally – from a trio that mixes tight a cappella and rootsy instrumentation.
The O'Pears on Tour
Dec 6 - Hamilton, ON @ Mills Hardware
Dec 7 - Trenton, ON @ Old Church Theatre
Dec 9 - Russell, ON @ House Concert
Dec 11- Toronto, ON @ The Drake Underground
Dec 13 - Canmore, AB @ Canmore Arts Place
Dec 14 - Red Deer, AB @ Knox Presbyterian Church
Dec 15 - Sangudo, AB @ Cookhouse on Main
Dec 17 - Fernie, BC @ Fernie Arts Station
Dec 20 - Calgary, AB @ Ironwood
Jan 12 - Kitchener, ON @ The Registry Theatre
Jan 19 - Utopia, ON @ Utopia Hall
Jan 25 - London, ON @ Aeolian Hall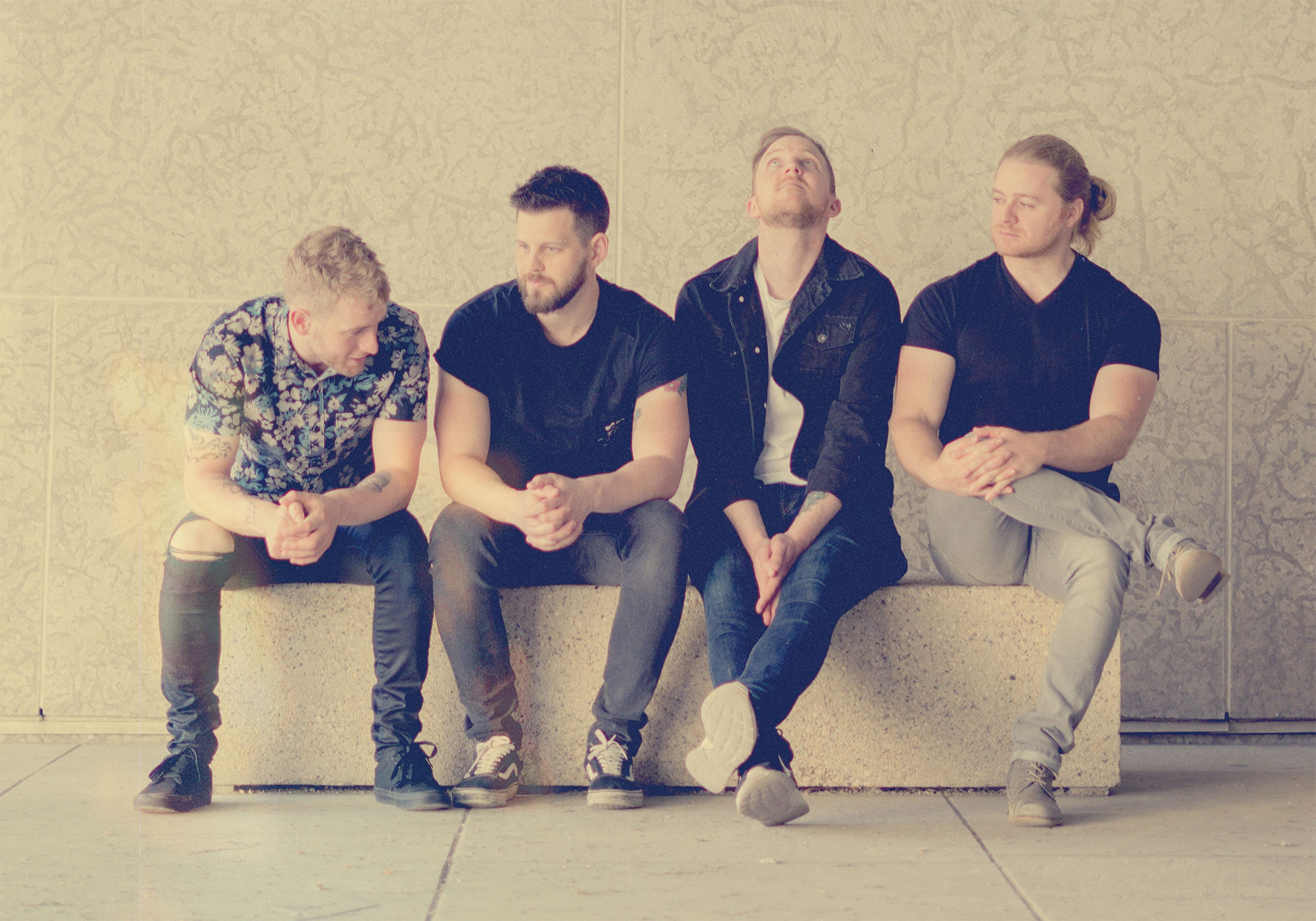 Winnipeg alt-rockers The Treble share their brand new single "Saturday Night." A track that delivers a unique blend of pulsating rhythm and powerful lyrics
Reflecting on the inspiration for the song, lead singer Mark Brusegard says "A little while ago, a bar we used to go to back home in Winnipeg got torn down to put up some new condos. It got me thinking of all the crazy times and experiences that people must have had there. Breakups, fights, new connections. It made me think of relationships I had when I was younger, that burned too bright and never could have lasted. That's what Saturday Night is about."
This is the second track from the band's upcoming full-length due in 2019. The tracks "Eyes On Us" and "Saturday Night," are just two of the album's melody-heavy tracks that couple anthemic group harmonies and poignant autobiographical lyrics with urgent brooding rhythms and soaring electronic flourishes. It is likely the sound of The Treble coming into its own. Lyrically the album takes on everything from tough personal relationships to struggles with anxiety, self-doubt, and mental health and the result is an honestly delivered portrait of what it's like to wade through the sometimes murky waters of young adulthood and finally make it out on the other side.
The band will be opening for The Trews in Winnipeg on their special New Year's Eve show at Club Regent Event Centre.
BITS'N'PIECES The incredible, inimitable White Cowbell Oklahoma will be performing their 15th annual X-Mess at Lee's Palace Dec.14th. As every year has grown, this year's event will be once again a southern-fried onslaught featuring a dizzying array of surprise guests, nubile flesh, power tools plus the general sullying of long-cherished holiday icons. To sum it up here's live video from their 2012 X-Mess. - https://youtu.be/fe3LgqiUHh4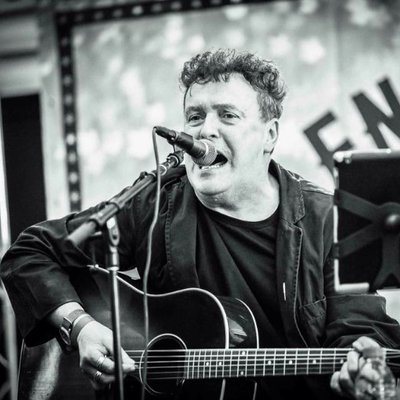 ......UK singer/songwriter Kete Bowers' debut album is due early 2019, having just been completed at Latent Recordings, produced by Michael Timmins of The Cowboy Junkies, mastered by Peter Moore, and featuring backup musicians from The Cowboy Junkies and Skydiggers. Should be a treat….Roots rock dwags Sin City Boys roll into Cadillac Lounge Sat. Dec.8 for the Sin City Boys Christmas matinee, starting at 4 PM. Bets are on as to how many actual Christmas songs this crew know enough to pull off. So good-natured hilarity and gritty rock'n'roll should abound…postpunk subversives Random Order, fronted by Lynx Dean, busy putting the finishing touched to the new album due early 2019. Based on an advance listen to a couple of singles, it's gonna be a banger.
Support live music. This Christmas, give bagpipes and drums to your friends' children.