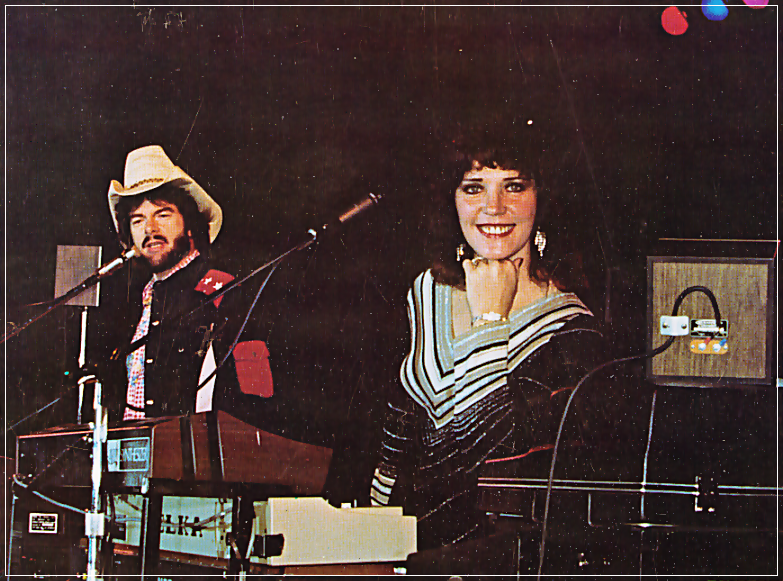 Fri Jun 20, 2014
Jack Blanchard and Misty Morgan were born to be together. They were both born in in the same hospital. albeit 3 years apart, in Buffalo, New York and both their families relocated to Ohio when they were young and both can trace their roots back to Alsace-Lorraine in France. To continue the similarities , both had blue eyes and brown hair, both had parents named John and Mary and sisters named Virginia. They finally met when they were both living in Florida and working in separate acts doing the club circuit, Misty as a keyboardist and Jack as a musician (piano/guitar and sax) and comedian. They met, fell in love, got married and began working together, writing and performing.  In 1969 they had released their first record, 'Big Black Bird' which charted for the duo but one year later came their big break through song.  In 1970 Tennessee Birdwalk became a # 1 record for Jack and Misty, landing them concert tours and spots on shows like Nashville Now and solidified their spot in music history, garnering a Grammy nomination and a host of awards.
The pair's second album, Two Sides of Jack and Misty, (on Mega Records) was released two years later. From this album came four more chart singles, including the # 15 "Somewhere in Virginia in the Rain" and another novelty song, 'The Legendary Chicken Fairy'. Later in that decade, Jack Blanchard & Misty Morgan released six singles on Epic Records in the Top 40 for the last time in 1974 with the # 23 'Just One More Song'. Other  than  a compilation disc called 'Sweet Memories' in 1987, the duo did not release any other material until 1995's 'Back in Harmony'. After that  they began recording on their own independent label, Velvet Saw Records; Jack's nickname given to him because of his deep bass voice, and  from 2005 through 2008 they released three archival CD albums on Australia's Omni Records label. They were inducted into the Buffalo Music Hall of Fame in 2010, a Hall that includes folk pioneer Eric Anderson who was also born in the Buffalo area.
These  days  Jack and Misty are living comfortably in Florida and thanks to the internet and social media are still very active with their fans, old and new and still selling their music online and hard copies by mail. In addition they own their own mastering company, The Music Hospital. Reached at their home in Florida, Jack sounds vibrant and enthusiastic, like a man half his age. There is an edge of excitement still  very present in Jack's  resonant bass voice.  " We're still very active in the music business. Recording, mastering. I took some of our older stuff, some I found out had never even been mastered , and re-mastered them. I was thrilled with the end result we got, sounding brand new, like they were recorded today. Mastering is so important and a lot of folks don't realize it. I've actually started my own mastering business down here and would be happy to help people out by providing them with excellent quality product at a really good rate."  Jack want on to say, "Our fans have really supported us over the years from the 'Tennessee Birdwalk'  days to 'Somewhere In Virginia In The Rain' and on down the line. We love them all for their dedication. We are also so pleased that through the internet a whole new legion of fans are discovering our music. "
And the pretty half of the duo, (sorry Jack) the lovely Misty Morgan sounds just as youthful and energetic as she did back their heyday. "We've  had such a great ride in this career, so many great times and memories and we're still happy and making music. We have great memories of the old days in Nashville, hanging out at the Opry and all the friends we had are heartwarmimg and enduring. We would hang out with George and Tammy and we were very close to Jerry Reed. Nashville was one big family, happy one for the most part." she adds with a quiet laugh.
A visit to jackandmisty.com will keep you up to speed with what's going on with these American treasures and help you in purchasing their music online and below is a look at Jack Blanchard and Misty Morgan on Nashville Now performing 'Tennessee Birdwalk'
Tennessee Birdwalk
Jack and Misty Morgan
Footnote:  Sadly as we were wrapping up this article the devastating news came of the passing of Jack and Misty's daughter Susan. An offer to postpone the publishing of this story was extended to Jack and Misty but Jack insisted that the best  thing for all concerned would be to run the story.  With heavy hearts we offer our condolences to the pair and pray they receive the strength to see them through this troubled time.