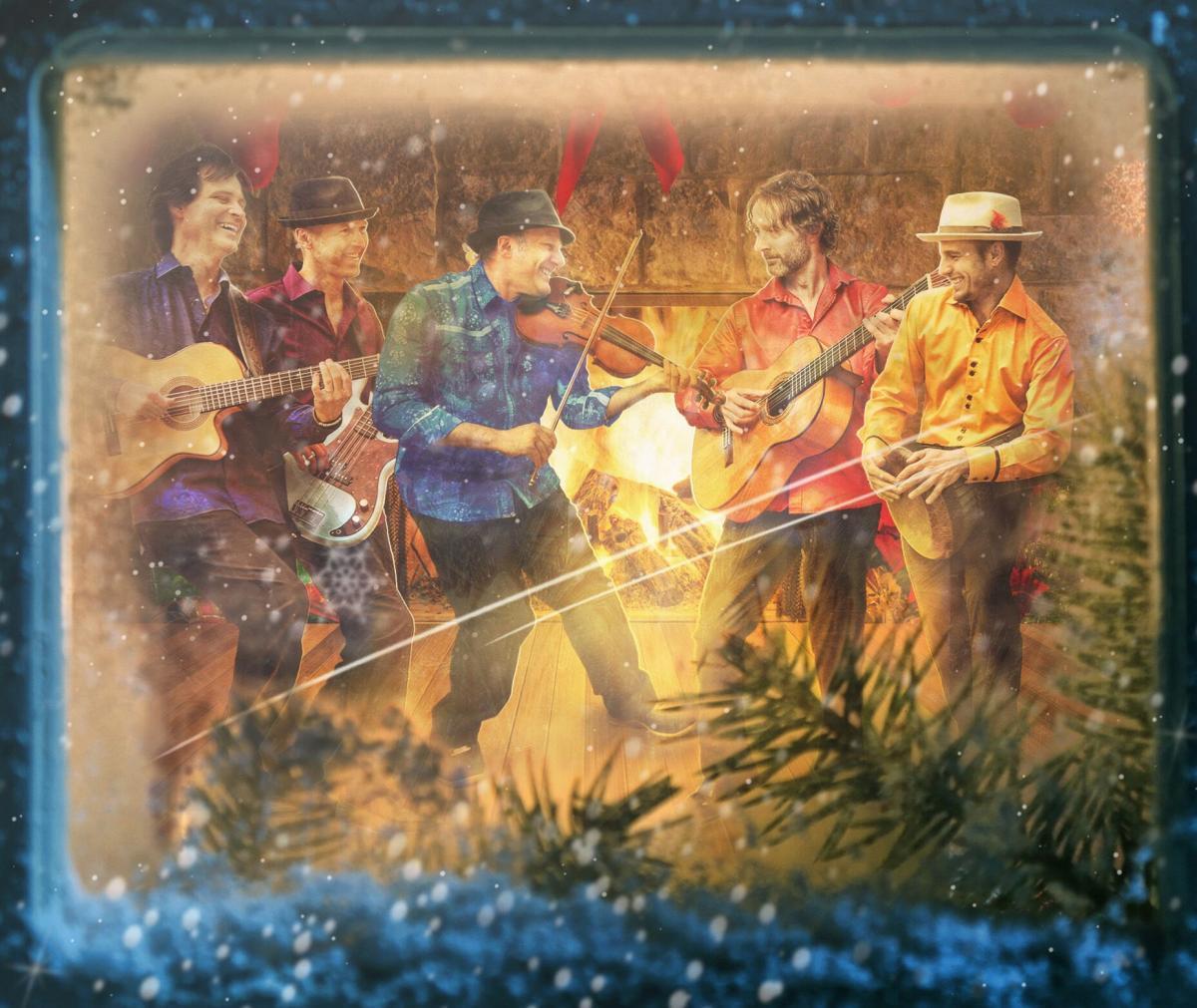 Fri Dec 07, 2018
It's that time again folks, when Canada's ambassadors of musical diversity, Sultans of String, take their show on the road with a Christmas flavour. Fresh off the heels of the Toronto International Film Festival (TIFF) where their award-winning song "Snake Charmer" was included in the new film Hotel Mumbai, these string slingers are now set to take their Christmas Caravan show to venues across Canada and US for a special fundraising world music tour (calendar below).
The Christmas Caravan stops in Ontario with a date on Dec 13, 8pm at the Flato Markham Theatre with special guests Rebecca Campbell, Amanda Martinez, Donné Roberts, and Ken Whiteley for tickets call 905-305-7469 or log on at https://tinyurl.com/y9alew8l.
Sultans of String are fundraising partners with UNHCR, the United Nations Agency for Refugees in Canada. UNHCR is the world's leading organization aiding and protecting people forced to flee their homes due to violence, conflict and persecution. UNHCR provides shelter, food, water, medical care and other life-saving assistance to refugees around the world.
Please visit https://fundraise.unhcr.ca/sultansofstring for more info.
Before they loaded up the gear, bandleader Chris McKool talked about the companion album, Christmas Caravan. Christmas Caravan hit Billboard's World Music Charts for 3 weeks and the New York Times Hits List was recorded and co-produced with JUNO Award-winning engineer John ' Beetle' Bailey. Christmas Caravan isn't your typical holiday album. You may recognize a few titles, but you've never experienced seasonal music quite like this before.
The band's companion Christmas Caravan CD which hit Billboard's World Music Charts for 3 weeks and the New York Times Hits List, was recorded and co-produced with JUNO Award-winning engineer John ' Beetle' Bailey.
Christmas Caravan isn't your typical holiday album. You may recognize a few titles, but you've never experienced seasonal music quite like this before.
"We wanted to make a real contribution to the Christmas repertoire, and hopefully create some new standards," says bandleader/violinist and Queens Diamond Jubilee recipient Chris McKhool. "This is a Christmas album but approached from the perspective of a world-music band. We explored diverse genres, from Quebecois fiddle tunes to collaborating with a traditional Turkish string ensemble, and jump around from the classic sounds of the Andrews Sisters, to a Himalayan sleigh ride, African roots music, Gypsy-jazz, rumba flamenco, ska, and the grandeur of the symphony."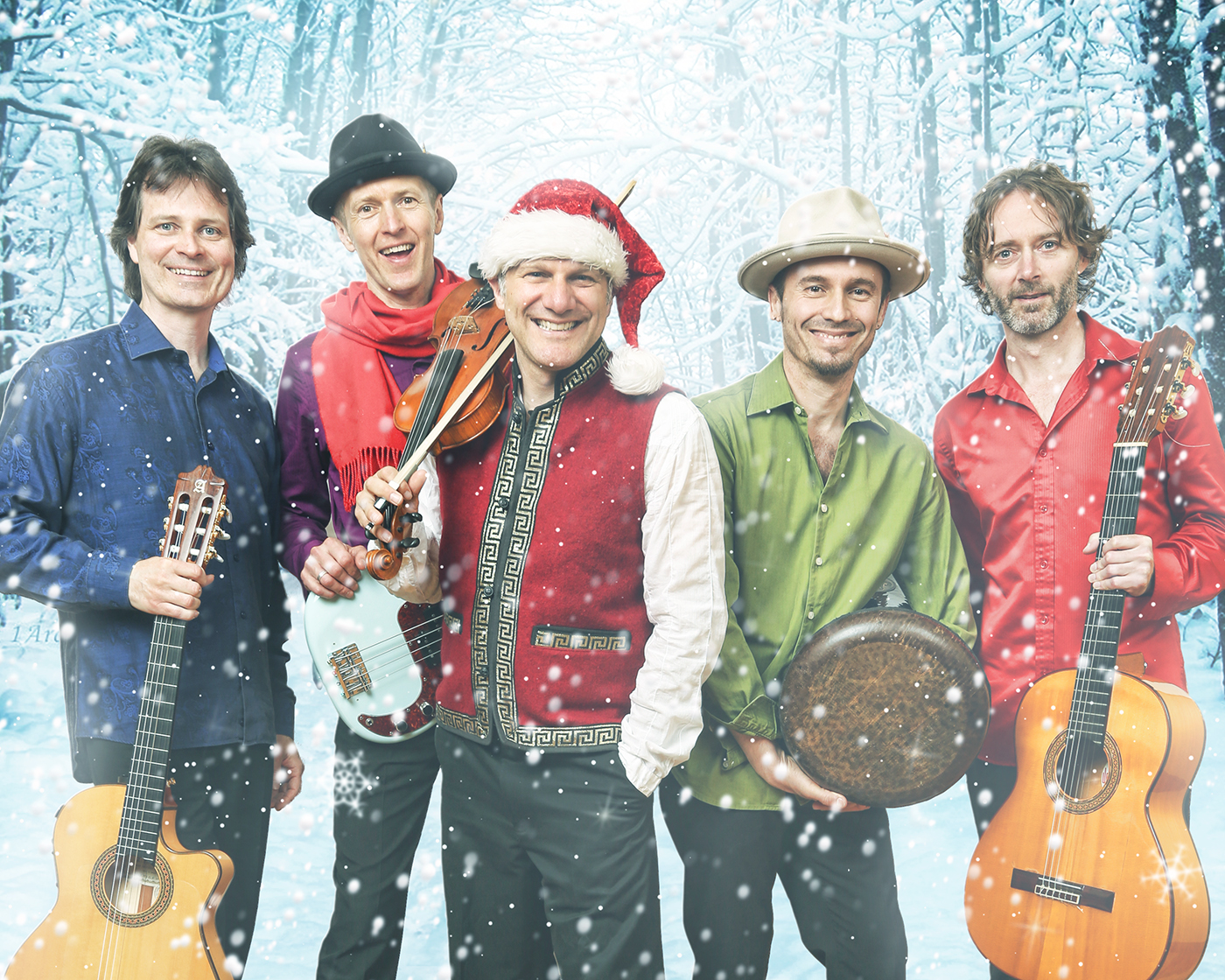 Sultans of String's acclaimed world music tapestry has been amplified on this release through its embrace of orchestration and pop, and spurred on by a stellar cast of guest musicians, bringing even more color to their lively palette.
"We really did want to contribute to the Christmas repertoire in a meaningful way and we wanted to do so in a way that honored the Christmas tradition while paying tribute to the world music traditions. It was a lot of fun to do and we also wanted to mark that journey with videos which allowed us to re-experience the songs. That was super fun. But mostly we were thinking about how to create a really enjoyable experience for our fans who are fans of Christmas music and world music that stands alone as one piece of art. One of my favorite tracks is Turkish Greensleeves because with that song we had the opportunity to collaborate with a collective of Turkish Roma string players and they brought the song to a whole other place, a whole other world which we couldn't have done on our end. Same with Silent Night and the hang drum playing of David Charrier, or Neil Gow's Lament and the pennywhistle playing of Paddy Moloney. The strength of the guests and being able to collaborate with them is what really makes this album shine.
"One of the things we love to do with Sultans of String is play rhythms and grooves that come to North America from all around the globe, everything from rumba Flamenca from southern Spain, Gypsy-jazz from eastern Europe, Arabic rhythms (my background), Cuban rhythms (our percussionist Chendy's background), Panama, Africa, East Coast Celtic music, —we thought it would be really fun to bring that energy and drive of all those rhythms to the Christmas songs that people love to sing, as well as some of the musical mash-ups that we create from scratch. So while it's a Christmas album, we've really tried to tie in diverse voices from many parts of the world. It's the kind of music that can only be made in collaboration with different cultures and languages, and that's what makes it I think a more compelling holiday project. The idea of the Christmas Caravan linking people together to make a beautiful sound together. And that really is a big part of what it means to be Canadian. The more diverse a population is its cultures, languages and traditions, the more chances you have of coming up with a great idea.
"The album has songs celebrating Kwanzaa and Hanukkah because we're always looking to have fun ourselves in exploring world music traditions and diving in for the first time or celebrating cultural traditions of the guests themselves, so music is one of those ways where we can find a deeper connection and collaboration to learn more about other people and their families' traditions. I guess we bring our audience on that journey with us.
"In addition to the Turkish players I mentioned, Richard Bona is a personal hero to the members of the band, as is Ruben Blades who's a star Panamanian singer. Other notable experiences were working with Crystal Shawanda who did a totally gorgeous vocal on Jesous Ahalonhia. That's a really interesting song. A lot of people know it as Huron Carol. I found a direct transliteration of the original Huron-Wendat lyrics, which were written in the 1600s by St Jean de Brebeuf. This is Canada's first Christmas carol, and while there are some complex issues around this song, it is of great historical significance. Now people can hear the intent of the original lyrics for the very first time.
"Recording with Sweet Honey In The Rock was an amazing experience. They're an African-American, all woman Grammy-winning acapella group who are very popular in the folk world. They brought a whole world of harmony to a song we co-wrote called Celebrate The Holydays and it really came alive in the studio with a lot of clapping and stomping. That was a real treat.
For all the globetrotting and awards winning, McKool and the gang remain down to earth and eminently relatable.
"We like to remind ourselves all the time that we are playing music for a living. It's not a risky job and no one's going to get hurt if we fool around. So we get to be like kids playing in a sandbox. We take every song and strip it down to its bare bones and then mess with it and try each song in ten different styles and see what style suits the song the best and not be afraid to really mess around with things. And when we end up taking that to the stage, there's the added fun of playing against the other and hamming it up and creating little musical puns and joke with each other, trying to crack each other up. I think part of the fun for the audience is that we're having so much fun on stage. We've been at it for a while so we have to keep it fun for ourselves and experimental and interesting for ourselves and that's one of the ways that we do it.
Among the many little treats scattered throughout the album is the rarely heard intro/verse to "The Christmas Song."Sung by jazzer Nikki Yanofsky, it's pure brilliance.
"Nikki really wanted to perform that particular song for this project. When I discovered that verse, I was very excited since we're always trying to bring something new and fresh to our arrangements. And even though that's actually a very old verse, I never in my life had heard it before until I discovered it in an ancient archival film of Mel Torme singing the song. I asked Nikki if she would sing that with the new arrangement. And she did a gorgeous job. She totally killed it."
Joining the band for the full tour is top shelf vocalist Rebecca Campbell (Jane Siberry, Lynn Miles, Parachute Club).
Dec 5 – Vancouver BC -- Centennial Theatre
Dec 7 - Maple Ridge BC -- ACT Arts Centre
Dec 12 – Picton ON -- Regent Theatre
Dec 13 – Markham ON -- Flato Markham Theatre – w/ special guests Amanda Martinez, Donné Roberts, Ken Whiteley
Dec 14 -- Sudbury ON -- Collège Boréal Concert Hall
Dec 15 - Welland ON -- Welland-Port Colborne Concert Assn - w/ special guests Amanda Martinez, Donné Roberts, Ken Whiteley
Dec 16 – London ON -- Aeolian Hall – w/ special guest Amanda Martinez
Dec 17 – Lindsay ON -- Academy Theatre
Dec 18 – Ottawa ON -- NAC Studio Theatre – w/ special guest Kellylee Evans
Dec 19 – Bellows Falls VT -- Stone Church Center
Dec 20 – Norfolk CT -- Infinity Hall
Dec 21 – Stroudsburg PA -- Chester Concerts
Dec 22 – Boston MA -- Extended Play Sessions
Dec 23 – Cazenovia NY -- Catherine Cummings Theatre
If you're anywhere close to any of these, get out to this shouldn't miss experience!
For more visit www.sultansofstring.com