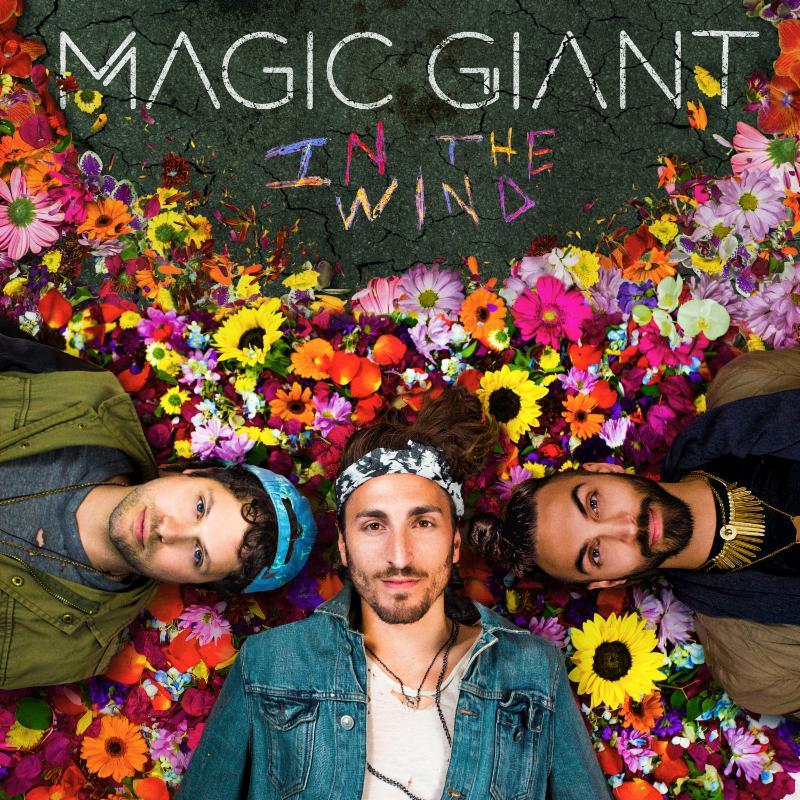 Fri Apr 14, 2017
Submitted to Cashbox Canada
In anticipation of the May release of their debut album, In The Wind, LA-based alt-folk trio, Magic Giant, announced their In The Wind 2017 tour with shows in San Francisco, New York City, Washington DC, Vancouver and more! They will also be playing at various music festivals including WayHome Music and Arts Festival, Emerge Festival, Sun Drenched Music Festival, LaureLive, Firefly Music Festival, RiSE Festival, and more. See below for the complete list of tour dates. Magic Giant premiered Set On Fire live from The Bunker via Culture Collide.
The band has released two songs from In The Wind, Set On Fire and Jade.  In The Wind will be released on May 19th via Washington Square/Razor&Tie. The album was co-produced with Ben Allen (Walk the Moon, MIA, Gnarls Barkley, Animal Collective).
To date, Set On Fire, amassed over 4 million streams in less than one year, and reached #4 on Spotify's US Viral 50.
In the spring of 2016, Austin Bisnow (lead vocals), Zambricki Li (banjo, violin, harmonica), and Zang (acoustic guitar, cello) welcomed nature into the fold as their unofficial fourth member. Magic Giant converted a shuttle bus into a solar-powered mobile recording studio and set out to record In the Wind. Inside a Redwood tree off the coast of California, within a tunnel by Snoqualmie Pass, on an airstrip in Marble, Colorado, and in a wild daisy field near Crested Butte, are just a few of the places the trio recorded their debut. They ended their recording journey at their home studio "The Bunker," in Silver Lake, Los Angeles. The instrumentation includes (get ready...) orchestral drums, banjo, trumpet, saxophone, harmonica, synthesizers, electric bass, cello, viola, violin, dobro, lap steel, mandolin, and more. The three band members found themselves serendipitously through social media, and when their virtuoso talents were combined, it created a sound that was incredibly vibrant and booming with life.
In The Wind 2017 Tour Dates:
April 24 – Chicago, IL @ Lincoln Hall
May 12 – San Francisco, CA @ The Rickshaw Stop
May 13 – Santa Cruz, CA @ The Crepe Place
May 19 – Santa Ana, CA @ The Observatory
May 20 – San Diego CA @ The Casbah
June 3 – Denver, CO @ Sun Drenched Music Fest
June 4 – Wichita, LS @ Wichita Riverfest
June 6 – Kansas City, MO @ The Riot Room
June 7 – St. Louis, MO @ The Duck Room at Blueberry Hill
June 11 – Cleveland, OH @ LaureLive
June 13 – Columbus, OH @ The Basement
June 17 – Dover, DE @ Firefly Festival
June 20 – New York, NY @ Bowery Ballroom
June 21 – Philadelphia, PA @ Johnny Brenda's
June 22 – Washington, DC @ Rock & Roll Hotel
June 27 – Asbury Park, NJ @ Wonder Bar
June 30 & July 1 – Pembroke, ON @ Emerge Festival
July 15 & 16 – Chico, CA @ California WorldFest
July 21 – Vancouver, BC @ The Fox Cabaret
July 22 – Seattle, WA @ Capitol Hill Block Party
July 23 – Portland, OR @ Lola's Room
July 25 – Napa, CA @ Silo's
July 29 – Toronto, ON @ WayHome Music and Arts Festival
August 18 – Pullman, WA @ National Lentil Festival
October 6 & 7 – Moapa, NV @ RiSE Festival
You can also pre-order the CD and merchandise bundle from Magic Giant's @
www.magicgiant.merchnow.com