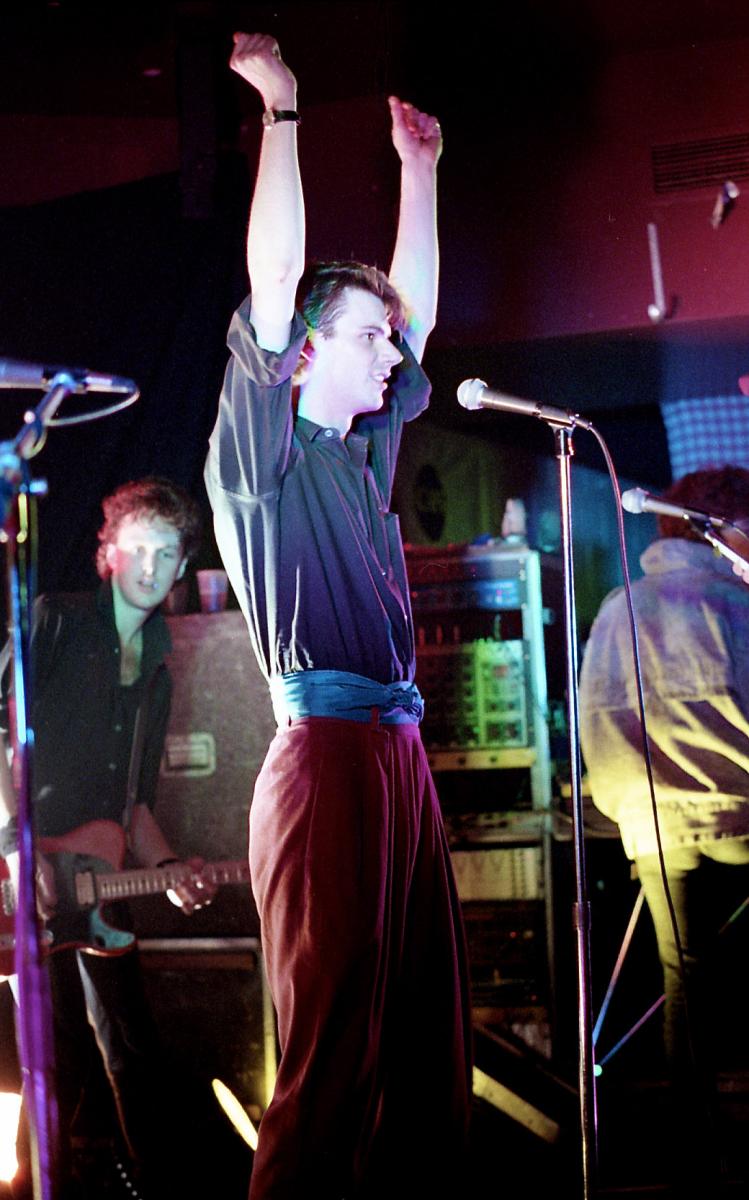 Fri Apr 09, 2021
Canadian artist Paul Humphrey passed away April 4, 2021 after a long illness,  Humphrey was best known as the talented, charismatic frontman for the the new wave band  Blue Peter.  
Blue Peter was not a household name, the band was deeply influential to a generation of Canadian listeners who were attuned to the new wave scene that reverberated through the post-punk era.
Their music video for "Don't Walk Past" helped usher in the glory days of MuchMusic while Humphrey's stage persona was punctuated by improvisational storytelling and dance moves — years before Gord Downie would adopt similar characteristics as the frontman of the Tragically Hip.
Blue Peter co-founder Chris Wardman remembered first meeting his late friend and collaborator as a teenager. "I had long hair and a guitar. He had a pony tail and played the flute," Warman wrote. "We invited him to jam with an early incarnation of Blue Peter and our prog-ish aspirations crashed into punk and new wave. He taught us how to play 'Sweet Jane' and our future course was charted."
As a teenager in the late 70s I had a band, an early incarnation of Blue Peter, that was rock-influenced, a little bit prog a little bit Led Zep. We rehearsed in various basements in what was then rural Markham. Our original bass player, Geoff McOuat, brought his pony tailed, flute playing high school friend Paul, from the big city of Willowdale, to jam and and we started incorporating his flute into some of our songs. With the influx of punk and new wave, and the departure of our original singer (Terry Young who later joined folk act Tanglefoot) we decided to try the odds with Paul's quirky (at the time) vocal delivery.
As there was no path to playing bars at the time without doing standard radio covers we came up with a set of Bowie, Stones, Beatles etc that was almost, sorta, sometimes appropriate, sneaking in a few originals when we could. Fortunately it wasn't long before punk and new wave bars started opening in Toronto and we soon got gigs at the Turning Point, The Edge and Larry's Hideaway. It was just a few months after we played our first downtown bar that we were asked to open for The Clash at their first Toronto show, the Rex Theatre on the Danforth. Sadly we got cut from the show, before we had a chance to play, in favour of an all-female band called The Curse, but our gear was on stage and we saw the show!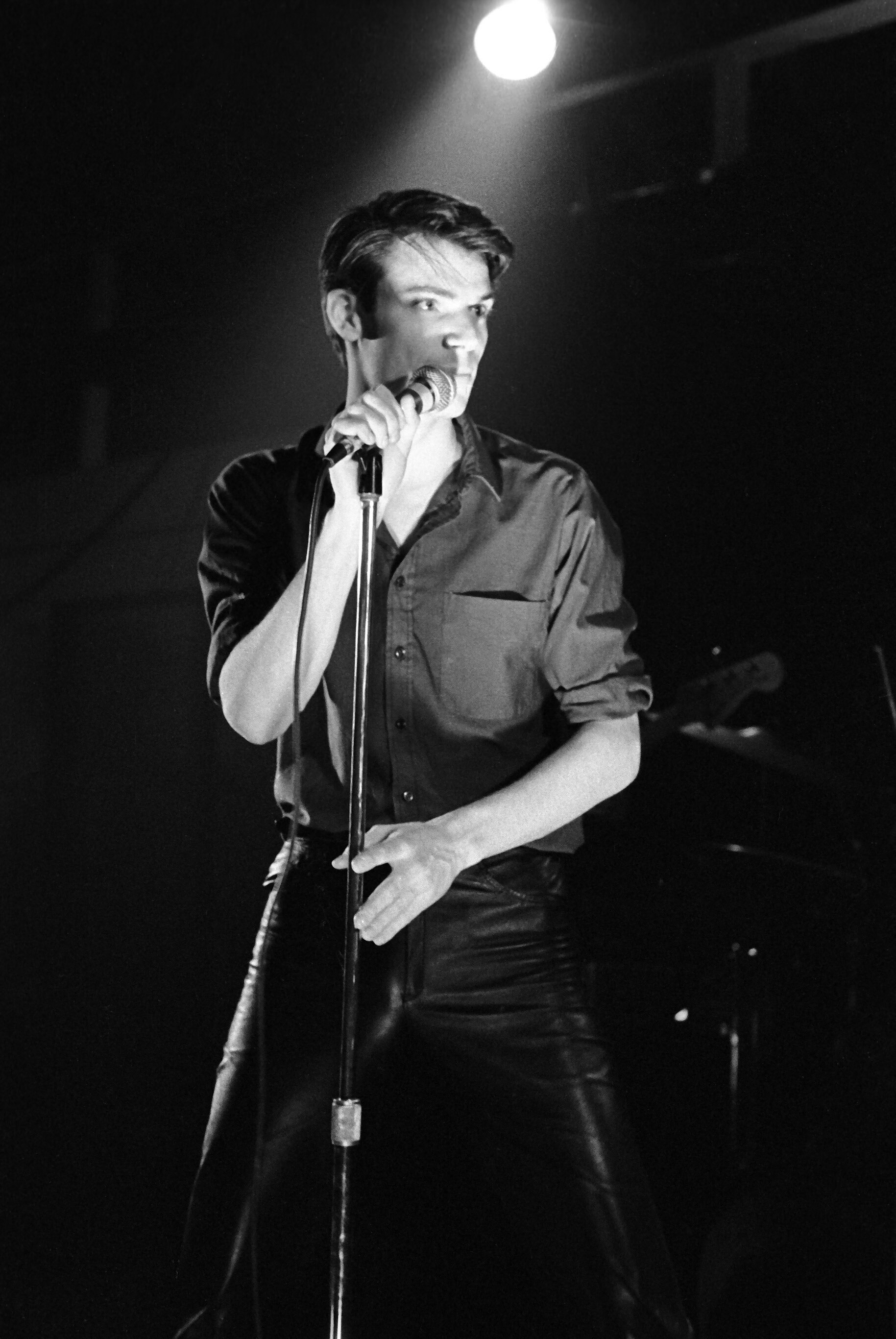 We asked Chris Wardman what musical influences he and Paul have in common?
"Musically we shared a love for Roxy Music and Bowie, but Paul introduced us to the new world of Elvis Costello, Talking Heads, Chris Spedding and 70s John Cale, which we eagerly embraced. After our first Toronto show we went back into songwriting mode and fine-tuned our sound to face the crossed arms scrutiny of the new audience."
Paul Humphrey was a certain flair for style, and that fashion-style influenced other members of Blue Peter, including his close friend Wardman.
"Paul's sister Leslie was modelling in Milan at that time and she would bring back fashion treasures like matching Fiorucci shirts with leather collars and leather pants. She and Paul would push us towards the cutting edges of style. Our original manager, John Hughes, had a deal with the vintage clothing store "Flying Down To Rio" where we could go in after hours and grab garbage bags full of anything we wanted!"
From there, Wardman recalled how it was "out with the rawk rock, in with the art rock" for the Toronto outfit. "What a ride we had over the next 8 years or so. Recording, radio airplay, sharing stages with our favourite bands, videos, success beyond our wildest dreams and then, decades later, joyous reunion shows."
Wardman continued: "Paul always pushed me to play better, write stronger songs, embrace fashion and to put on a show. We were early explorers, occasionally playing shows where we were not yet wanted, which only made us tougher. It was fun to watch the world slowly bend to the path we wanted to take as our popularity grew. He was a unique talent, a great dancer and an amazing front person for Blue Peter's musical aspirations."
Wardman wrote that outside of the band, Humphrey "was accommodating, generous and would always go out of his way for his friends. I admire his bravery of the last few years, and the tireless support of his partner Allyson. I will miss his voice, his humour, his warmth, his friendship and his fearlessness."
Humphrey and Wardman founded Blue Peter in the late 1970s, rounding out their initial lineup with bassist Geoff McOuat and drummer Ron Tomlinson. The four-piece would make their debut with 1979's Test Patterns for Living, ahead of Mike Bambrick replacing Tomlinson on drums for 1980's full-length debut Radio Silence.
When it came performance, Blue Peter had opening slots for regional shows alongside the Police, the Boomtown Rats, the Jam and Simple Minds.
Blue Peter's EP Up to You was released1982, ahead of full-length Falling landing in 1983. While it would ultimately be Blue Peter's final album, the album would also prove to be their most successful.
Falling peaked nationally at No. 64 on the Canadian Albums Chart, holding the position for three weeks, while a Blade Runner-inspired video for acclaimed single "Don't Walk Past" was the first music video from a Canadian indie label to receive MTV airplay in the United States.
Although Blue Peter disbanded in 1985 and reconvened for occasional reunion performances in the decades that followed and remained friends.
Humphrey's post-Blue Peter bands included the Paul Humphrey Band, the Monkey Tree and Broken Arrow. In 2007, he released solo album A Rumour of Angels.