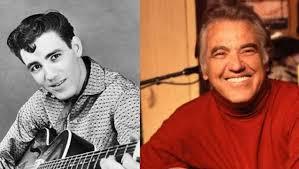 Fri Jan 22, 2021
American singer/songwriter Jimmie Rodgers has passed away at age 87. The cause of death and the location has not been released at this time.  Jimmie Rodgers was born just across the river from Portland, Oregon in  Camas, Washington where he took music in school and sang in the choir.
He started singing around 1952, joined the Air Force and got deployed to Korea. While in the military, he joined a band called "The Melodies" and during his service he was transferred to Nashville to Seward Air Force Base from 1954-1956.  It was during this time that he began expanding his musical repertoire. While in Nashville he heard the song that would change his life, "Honeycomb." He started singing around in clubs with his eye on one day becoming a recording artist. He worked his way to California where he auditioned for different folks until he eventually headed east to New York City.
In June of 1957 he auditioned for jimmy Roulette Records who were looking for new artists. Jimmie sang them that song he'd found, "Honeycomb". The next day he found himself at Bell Sound where they brought in four musicians and three singers and 2 hours later they had a record. It was an instant hit, reaching #1 on the charts. During the next two year period Rodgers had 6 million selling records. Over the years Rodgers collected 22 Gold Records globally from such diverse locations as Japan, Australia and England.
Some of his hits included "Kisses Sweeter than Wine", "Oh-Oh, I'm Falling in Love Again", "Secretly", and "Are You Really Mine" and "Bimbombey", "Ring-a-ling-a-lario", "Tucumcari", "Tender Love and Care (T.L.C)", and a version of Waltzing Matilda. In 1960 he had a hit with "The Wreck Of The John B." which later a hit from the Beach Boys as The sloop John B.
In 1966, a long dry spell ended for Rodgers when he re-entered the Top 40 with "It's Over".  It was recorded by Eddy Arnold, Elvis Presley, Glen Campbell, Mason Williams, Sonny James and Dusty Springfield. Rodgers wrote the song in New York while doing a tour with The Tijuana Brass.
On December 1, 1967, while driving near the San Diego Freeway in Los Angeles, Rodgers suffered traumatic head injuries when the car he was driving was pulled by an off-duty police officer. He had a fractured skull and required several surgeries. There were reports in the news that attributed his injuries to a severe beating with a blunt instrument by unknown assailants. Rodgers had no specific memory of how he had been injured, remembering only that he had seen blindingly bright lights from a car pulling up behind him.
It took about a year from Rodgers to recover from his injuries that stopped him from performing. During the summer of 1969, he made a brief return to network television with a summer variety show  on ABC but  it was not until the early 1980s that he began doing some limited live appearances again, including a series of shows in late February 1983: at Harrah's Reno Casino Cabaret. He also performed a few shows in other cities, including at a nightclub called Mister Days in Ft. Lauderdale FL in late 1983.
Rodgers and his first wife Colleen divorced in 1970. Colleen passed away in 1977. They had two children, Michael and Michelle. He had remarried in 1970, and Jimmie and Trudy Rodgers had two sons, Casey and Logan. He and Trudy divorced in the late 1970s, and he remarried again. Jimmie and Mary Rodgers were still married when he died, and they have a daughter, Katrine, who was born in 1989.
Rodgers appeared in a 1999 video, Rock & Roll Graffiti where opened up that he had  spasmodic dysphonia  and could hardly sing. Nevertheless, he gave "Honeycomb" a go.
Rodgers wrote and published his autobiography, Dancing On The Moon: The Jimmie Rodgers Story. He went home to Camas, Washington in 2011 and in 2012 he  performed to sell-out crowds. After the 2012 concert, he returned home for open heart surgery, following a heart attack three weeks earlier In 2013 he had a street named after him in his old neighborhood.
God Speed Jimmie Rodgers Thanks for the music and the memories.