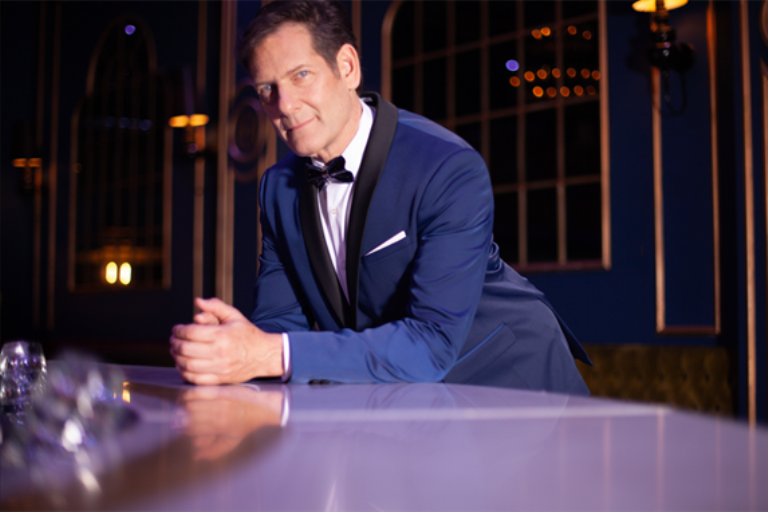 Sat Dec 05, 2020
Thursday, December 10th
Pre-recorded from Koerner Hall — 7:30 - 8:30pm EST
Tickets
New Meaning to the Name: Jazz Master Micah Barnes Set to Co-Host & Headline
LOFT Community Services' 30th Annual Home for the Holidays Benefit Concert — Virtual for 2020
The COVID-19 pandemic is bringing new meaning to Ontario-based LOFT Community Services' annual Home for the Holidays Benefit Concert. The long-standing charity is set to mark its 30th season with a virtually streamed offering this Thursday, December 10th at 7:30pm EST.
Given the fast spread of COVID-19 through the province, LOFT has decided to move the concert online to focus on everyone's safety and to bring a much needed holiday cheer to people's homes.
There will be both familiar and new faces lighting up screens to delight audiences at home in the name of an outstanding cause: JUNO Award-nominated and chart-topping jazz master Micah Barnes is set to both co-host, headline, and serve as Artistic Director for the hour-long event.
He will also perform with The Gospel Quintet — former Nylons alums — Billy Newton-Davis, Gavin Hope, Mark Cassius with Jeremiah Sparks.
"Serving as artistic director for the annual LOFT Community Services concert is my way of supporting the incredible work LOFT does by providing housing and support to those in my community most at risk," Barnes shares. "The need during this pandemic has never been greater."
Micah's relationship with LOFT goes back to 2012, when he joined the event as one the performing artists. To this day, Barnes has been a champion of LOFT's work and supported the concert every year.
"I'm excited to be hosting, and it's especially sweet to be performing with some of my fellow former Nylons."
Pre-recorded from Koerner Hall, the event will feature performances from Jackie Richardson, Hogtown Brass, Vanessa Sears, Thom Allison, Curtis Sullivan, and Ma-Anne Dionisio. Tabby Johnson will return to co-host with Barnes, and Diane Leah will serve as Musical Director. Award-winning television producer David Kitching produces the show.
"This year, we'll be celebrating 30 years of a benefit that helps make LOFT's work possible," Mona Lee-Tam, Sr. Director, Development and Communications, shares. LOFT is known for its extensive work in the community to promote recovery and independence for those coping with complex mental and physical health challenges, addictions, poverty, homelessness, and more. This year, more than ever, LOFT's clients need all the support they can get.
"Our Home for the Holidays Concert is our signature fundraising event, and an important opportunity to showcase the incredible impact of our community and the urgent need for ongoing support."
"This year, audiences will have the opportunity to make a special holiday donation alongside their ticket purchase, which will go to work straight away helping LOFT offer compassion and unwavering support to the most vulnerable people."
Tickets are $50 per household and the event is Thursday, December 10th from 7:30 - 8:30pm EST.
Pre-recorded from Koerner Hall — 7:30 - 8:30pm EST
Tickets
ABOUT MICAH BARNES
Born in Vienna and raised in Canada, Micah Barnes cut his teeth in the cabarets and jazz clubs of the city while still a teenager, before touring the world as a member of the A Cappella vocal group The Nylons. A JUNO Award-nominee, the years since have seen Barnes developing as an International solo artist with top-charting hits including the Billboard #1 "Welcome To My Head,"  & #1 Jazz albums New York Stories and most recently, Vegas Breeze. Most recently, Barnes completed a 14-date creative and inventive digital cross-country tour, and is also an internationally respected vocal, performance and career strategy coach.
https://www.micahbarnes.com/
ABOUT LOFT Community Services
Since 1953, LOFT Community Services has offered dignity and hope to people facing mental and physical health challenges, addiction issues, and homelessness. The LOFT name stands for Leap of Faith Together. As one of the largest specialized mental health service, personal care, and dementia providers in Ontario, LOFT is a substantial supportive housing provider in central Ontario currently helping more than 5,300 people every year find safety and stability. Known for their diverse and all-inclusive services, LOFT proudly welcomes youth, adults, and seniors of all gender identities, races, religions, cultures, and sexual orientations.
https://www.loftcs.org/