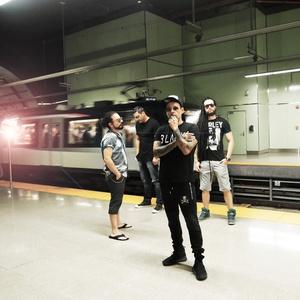 Fri Oct 27, 2017
On "Chow Chow Eyyy Pow Pow" - Monsieur Job, fuse diverse talents by inviting artists such as; Marty of No Mercy, Kiño, Luis Carlos Toro, Alejandro Gomes Caceres, Sarah Sophia, Elemece, Thiago, Christian Gimenez, Vojke Djans, Diego Caceres, Oscar Moncada, Denis Dzigal, Cholo, Vick D, Mc Lions & Bingi, Kid Corrupt, Dave Floyd, Nacho Alvarez, Pablo Bendov and Aldo Cadiz therefore mixing a variation of many styles recreating genres like Reggaetón Electronica, Dancehall, Reggae, Dub, Tropical House, Rock, Chill Out, Rap, Trap, Hip Hop, Worship, and Son Montuno involving Afro Cuban and African Succu rhythms.
They do a good job, if I am so inclined to opine on what isn't sung in English, possibly being ambiguous anyway. It's the Hip Hop and Dancehall factors that shine through no matter what, so if you love that you'll enjoy the song. It kicks off with an Electronica intro and at first you might think it's going to be an EDM track. But it flows better in Pop waters than it seems. This is a Latin wonder at the end of the day, and all you can do is let it do its magic or not, depending on your taste. It's a very simple but satisfying beat tracking. This is all best understood in Spanish, but a universal language speaks through the music as well.
Written by Toby Holguin & Stan Kolev, it features Martin Cintron the singer and guitar player from the recognized nineties band - No Mercy, along with the others listed. It was recorded in Bogota and Miami at Basswalk Studios, Outta Limits Studios in Miami, and Barba Studios in Belgrade and mastered at Sterling Studios, New York. A lot of people behind it, and that explains why it's such an infectiously good track. You don't have to know what the title means or what the song is about to like it, but that's just coming from an English-speaking perspective. It works on all levels, crossing demographic boundaries.
This is a universal mash-up of talents, and that is one of the most important things about the music, it's not just coming from Marty of No mercy. But if you're not familiar with any of these artists it will only matter after hearing this upbeat track. You can't knock what they're doing, so it doesn't matter who's who, it matters what's what. The song itself will do the business for any Latin, Dance, and overall world music lovers. You just have-to find your partner and hit the floor, because that's what it's for. This music is formulized to dance to, so it should be used to its full potential that way.
The syncopated beat is the first thing that grabs you about it, and the vocals are all vibrant and cheerful, but the language barrier is where I cannot comment. I recommend it for the musical side because that is what speaks here more than anything, or I'd be able to explain what the song is about. I wish I could say more, but let the music speak for itself and you'll enjoy "Chow Chow Eyyy Pow" for all it's worth. If you're already familiar with Monsieur Job then you already know what to expect from them, and you'll be able to understand and process this song a lot better than I am able to describe.
FACEBOOK: https://www.facebook.com/MONSIEURJOB/