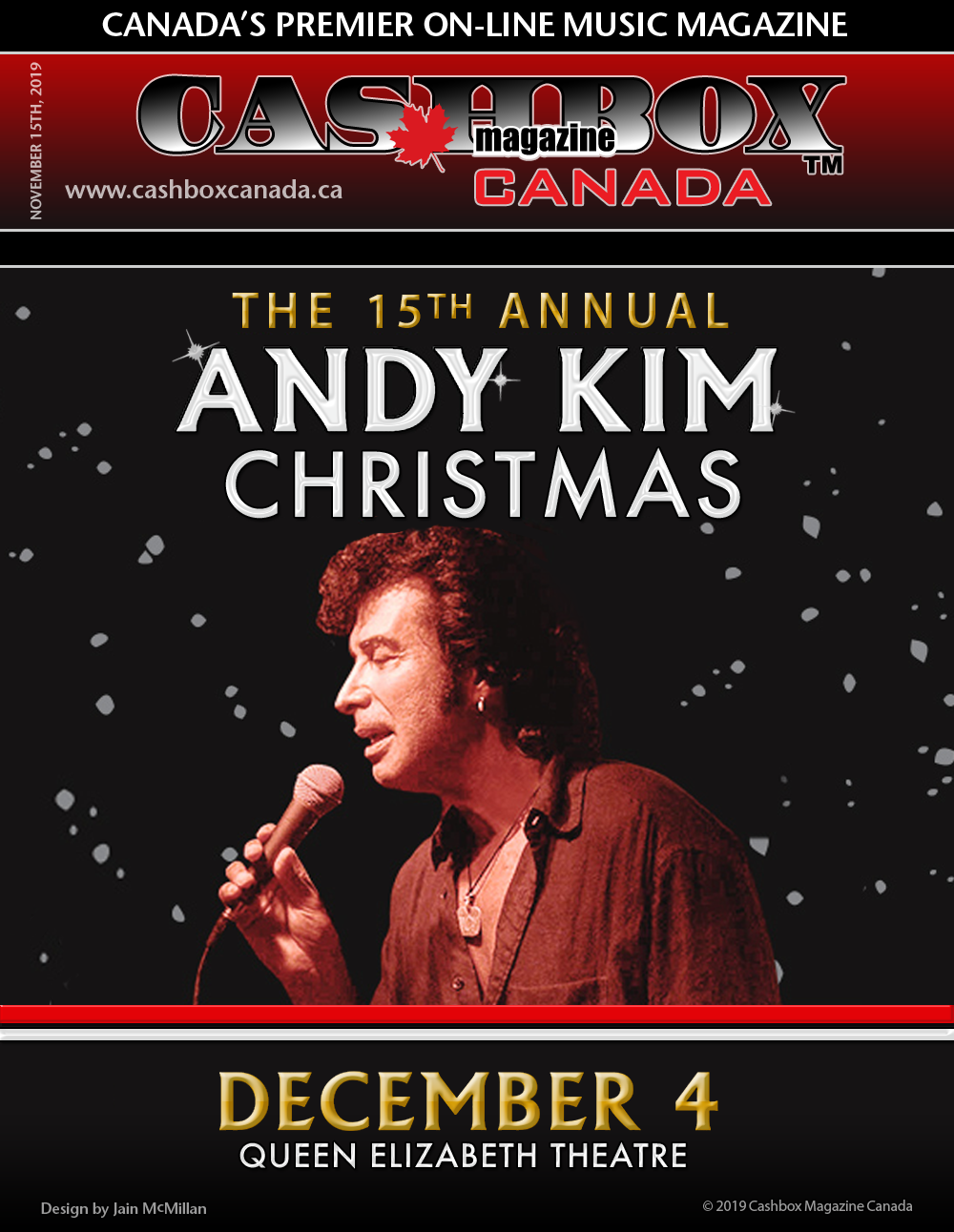 Fri Nov 15, 2019
Canada's own Andy Kim celebrates Christmas every year by producing a star-studded event both in Toronto and his hometown of Montreal.  Now in its 15th year, this event has become a tradition for fans and music industry folks,who by supporting with ticket purchases provide much needed funds for the Gift Of Light through CAMH.
Gifts of Light is a 100% donation-funded program that works with patients, families, and front line clinical staff to identify the patient wellness gaps in our system and support areas that do not receive ministry funding – with the goal of improving the patient experience. Through Gifts of Light, over 13,000 patients benefit each year from the resources and experiences that are offered by this unique patient-centred program. Basic necessities, like a toothbrush and a pair of socks, mean everything to patients who arrive at CAMH with nothing. Some patients stay for just a few days, while others stay for much longer - no matter how long they need to stay, it can be a challenging time for people in crisis. A simple 'Gift of Lights' can give a patient confidence and courage to keep going every day when some days may be a challenge.
Andy Kim is a Canadian legendary music icon and celebrated songwriter. He is known for his chart-topping hits that he released in the late 1960s and 1970 scoring the international hit "Baby, I Love You" and "Rock Me Gently", which topped the North American singles charts. He co-wrote "Sugar, Sugar" which to this day is a pop-rock anthem recorded originally by The Archies. He went on to have charting songs over the years; "How'd We Ever Get This Way", "Rainbow Ride", "So Good Together"and the remake of "Baby I Love You" to name a few. Over the years, Andy Kim has stayed current, releasing a recent CD entitled "Happened Again" and "It's Decided" still appearing on large stages and oft seat theatre shows to sold out crowds.
Andy Kim has received awards; March 2005, Kim received the annual "Indie Award" for Favourite Solo Artist during Canadian Music Week, 2009 Kim was inducted into the Hit Parade Hall of Fame, 2016 inductee into the Canadian Music Industry Hall of Fame, 2018, Canada's Walk of Fame and most recently had the honour of being inducted into the Canadian Music Hall of Fame in Calgary.
"Christmas has always been a special time for me, and when I started the Andy Kim Christmas I wanted to give back for all the success and love I have received during my career. Over the years we have donated to many different charities, then we found Gift of Lights and they have been our charity of choice ever since. To see the happiness a small "Gift" can give to people and to see how it "lights" up their faces is truly a humbling experience".
Over the years there have been many well-known acts that have taken the stage to help Andy Kim raise the numbers through the roof. He has also been known to take unknown bands who actually ended up as headliners a few years later, based on his uncanny sense of music.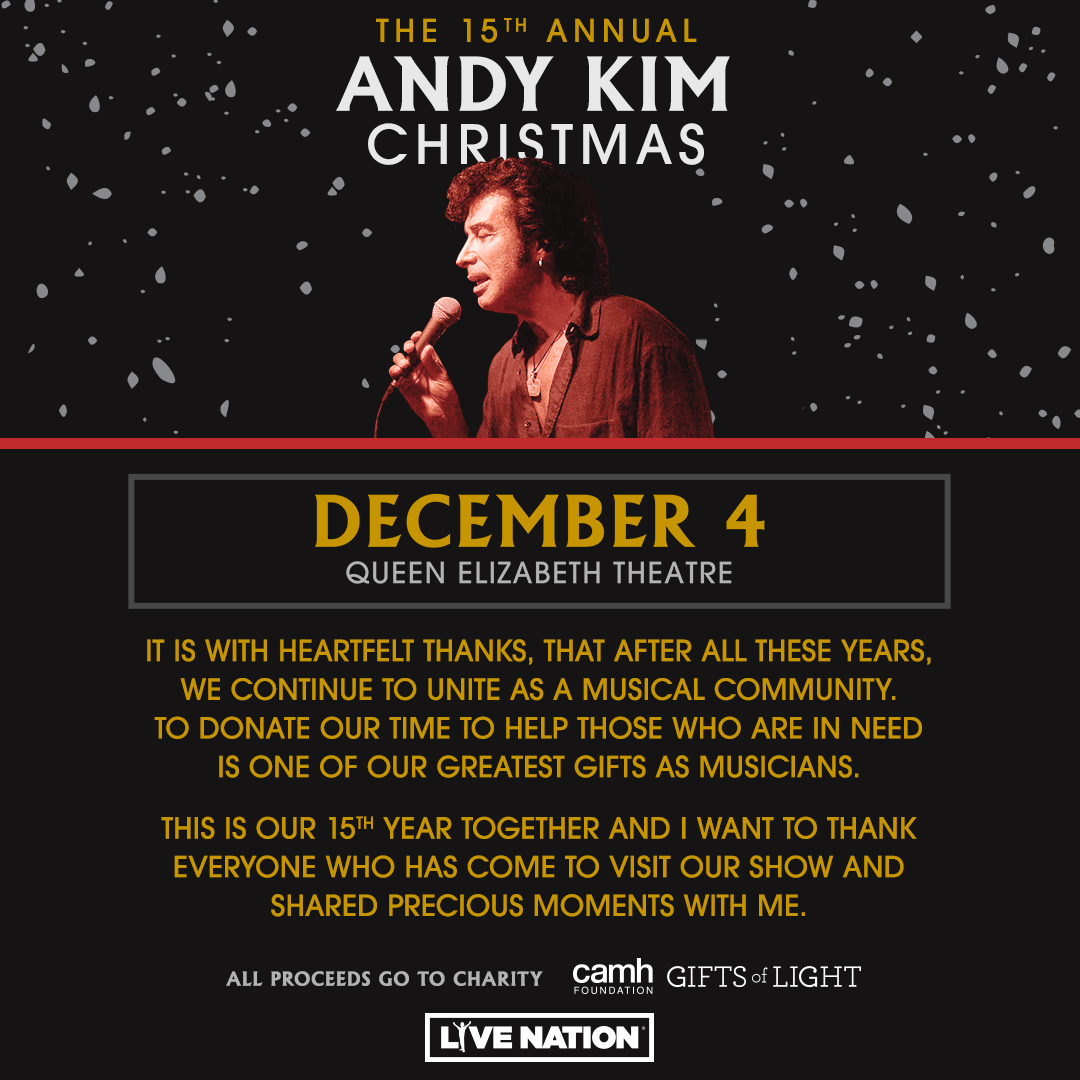 This year's line-up has just been announced:
Tracey Ullman
Ron Sexsmith
Sloan
Bif Naked
Men Without Hats
Crash Test Dummies
Jane Siberry
Lorraine Segato of The Parachute Club
Jake Clemons
&
Jessica Mitchell with Tim Hicks
To date, Andy Kim Christmas has raised over a million dollars to date and it is a 'must-see' concert – give the Gift of Lights this Holiday Season!
Andy Kim Christmas
Wednesday, Dec 4, 2019, @7pm
Queen Elizabeth Theatre
190 Princes' Blvd (CNE)
Tickets $52.50 -$183
Available through Ticketmaster: www.ticketmaster.ca
Friday December 13
6:30PM Doors
8:00PM Show
Theatre Jean-Duceppe, Place des Arts-Montreal
https://oss.ticketmaster.com/aps/pda/EN/buy/details/P9J1213
For more visit: www.andykimmusic.com