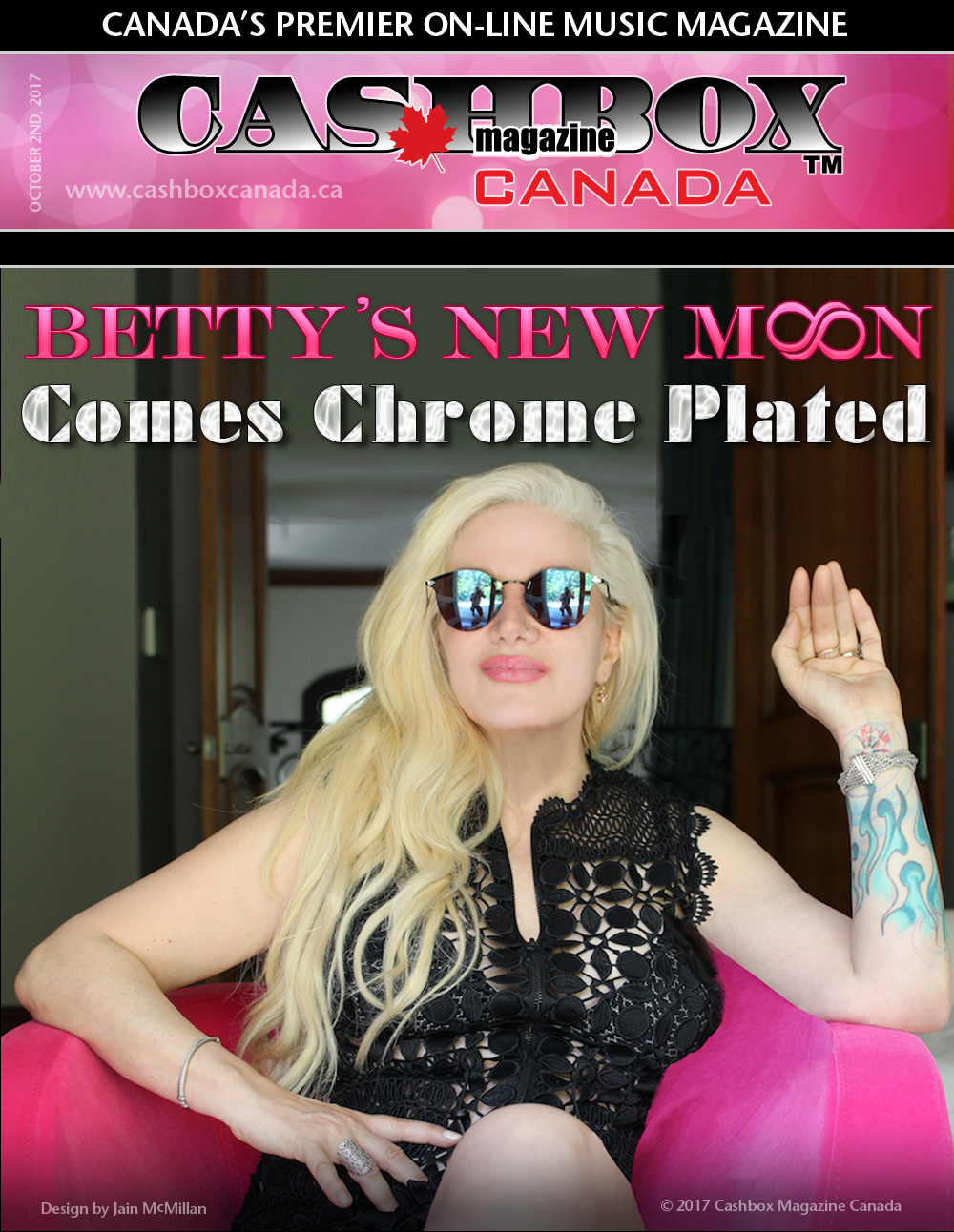 Fri Sep 29, 2017
In these troubled times, Betty Moon wants us to all to chrome out and appreciate the bright and shiny aspects of life. So it follows that her current cookie Chrome is the soundtrack to all that appreciation, an on point SoCal NuPop sound filtered through Moon's quirky and all-embracing sensibilities.
"The name Chrome comes from an expression I use. When you think of chrome, you think of shiny, sparkling, something that mesmerizes you, the cream of the crop. That was how we saw the album, so Chrome it was."
If you're familiar with Moon's output, 7 albums staggering the lines between Goth, garage rock and metal, this shiny happy new thing seems to be coming outa nowhere. Truth is, Betty's always been a genre dabbler. While the lines she's blurring may have changed, the blurring itself remains, flirting brazenly with disco, clubby bangers, pure pop harmonies and Europop and techno throughout. Being Betty, the girl pop on " Bullet To My Brain" and "Natural Disaster" comes over like something Haim and Nina Hagen cooked up in a Detroit basement.
"The album was crafted to be a collection of singles, each strong and attractive on its own. I would get the feeling of an idea, a flavour, and the songs would evolve from there in an organic way. We worked on them together as a band and by the end of recording we had about 25 songs. Picked 12 for the album, set the others aside for other projects, and put together Chrome."
As with previous album Pantomania, Chrome was written by Jason Ganberg, Betty Moon and Owen Barry. Drummer/percussionist Ganberg and guitarist Barry, along with bassist Justin Smolian and Moon on guitar and piano are the only musicians on the album. In usual Moon fashion, with El Lay's vast rocker population to choose from, the Toronto born artist wound up making albums with a trio of Brits.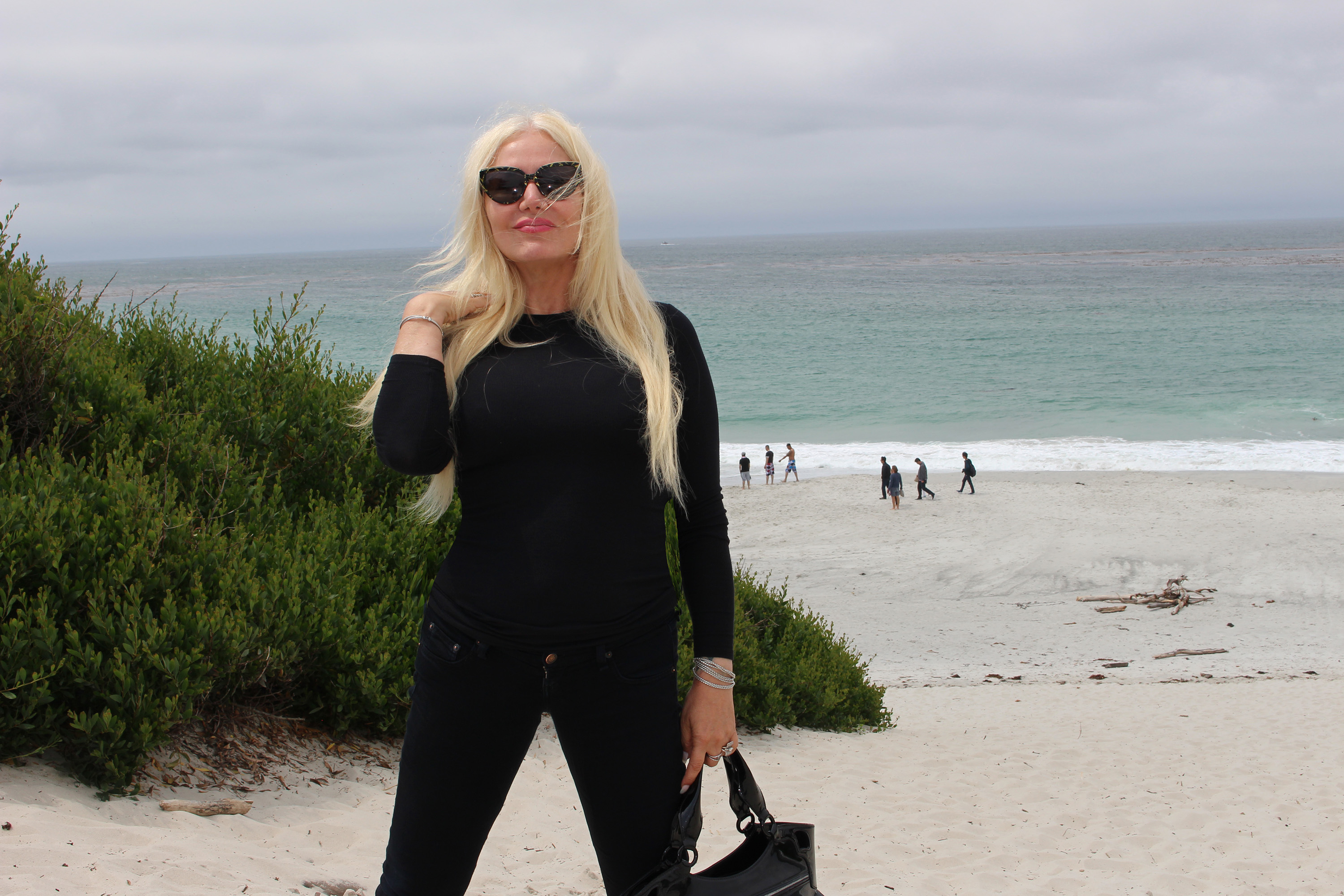 "I'd put the word out I was looking for songwriters to work with and one day within hours of each other I got two high recommendations for Jason and Owen from people I respect. When we met, we clicked right away. Getting and keeping the right band together is difficult. I was fortunate that Jason and Owen were not just good songwriters but good players, solid musicians.
"Why this changeup now? A little bit of restless and a feeling like I'd taken my sound as far as I wanted to take it. Felt a little like we'd done all we wanted to do with it. I started looking for challenges. With this album, because we were committed to something different, it felt very liberating not having to stick to a theme, being free for instance to bring in different people to make the singles, to incorporate different sounds.
" It's not a theme album, we were about songs that shared certain moods and with a strong chorus..Songs that had a better chance of radio airplay, of reaching a wider audience."
With "Sound" and "Life Is But A Dream' "already charting and leading the charge and the likes of dance floor focused "Demolate","Crazy I Am" and the drum'n'bass referencing " Parachute" on the back burner, Chrome is looking like the album to make Betty's wishes come through.
"About the most interesting success we've had with Chrome is getting to number one with "Life Is But A Dream" on a platform which measures the amount of times a song is played at retail outlets. We're looking at getting the album on all types of platforms, including movie and TV placements.
" I'm very proud of this Chrome, I feel empowered by it. It was an album I felt I had to make, even when I had no real direction for it. In putting together the album, it was never about a theme or specific sound. More about venturing into sounds and genres I liked but hadn't really worked in. It wasn't an easy thing going for the change. At the end it became the album it needed to be."
This SO Cal poprock with more than a twist of Moon's lighter, dancier side, shows up in most of the songs but "Life Is But A Dream" aside, the instrumentation and arrangements are such that an air of menace is never far away. Nor is the edgy side of Betty, which accounts for the next single coming, "Natural Disaster."
"Yeah there was some discussion as to whether it was appropriate to release a song with that title at s time when there was natural disaster all around. Since it was about a 'natural disaster happening to a person, say me, was kept it on a personal level and didn't reference any of the real natural disasters, I didn't see it as exploitive. It was picked as the single well before all of that."
Moon's fan base appears to be embracing Chrome from the get go, which is a good thing since the album won't be toured until 2018. Also, the mercurial Moon advises Chrome is not necessarily the sound of her future.
" This album is a stand alone piece with its own merits. This is this record and the next record is the next record. It's all about the change so I'm just as likely to make a heavy metal album next as to make one that references Chrome. One thing that I got out of the process of making this album was that I'm sounding stronger and more nuanced now, on account of all the upper register singing I did."
While Chrome the album has a brash, in yer face side reflective of its metallic namesake, in delivery and production it's a very nuanced album, not yielding up everything on first listen, lighting up inside your head, making you go back and play it again.
"I did the right thing in going for a changeup. You never know when something will come around again or if it ever will. I was at Michael's restaurant in Toronto three days before someone was shot dead there. Nothing's for granted, neither the dark nor the light. So take a moment to stop and love the Chrome that's all around you."
For more on Betty Moon visit www.bettymoon.com