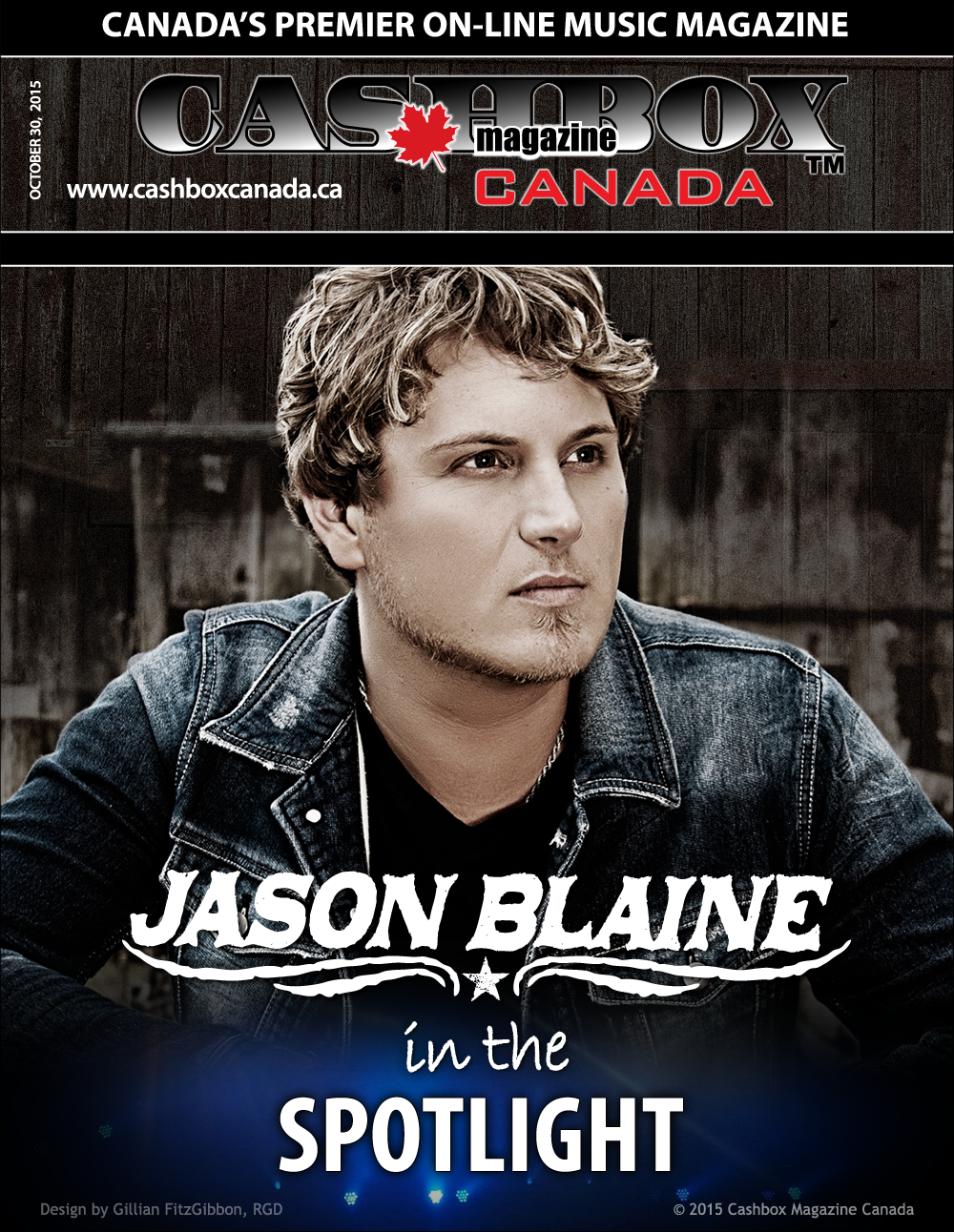 Fri Oct 30, 2015
The pride of Pembroke, Ontario, Canada, Jason Blaine, is about to break new ground with a new album (his 6th) and it is arguably his best to date. The album, Country Side, was released last week in conjunction with a new single, Spotlight. We caught up with Jason, who has been living in Nashville, Tennessee for nine years now. "I feel so blessed to be able to do what I love, in a town that I love surrounded by people I love, my wife and three kids."
The road to success has been a long one for Jason but he has stayed the course, remaining true to himself and his music and he couldn't have done it alone and lovingly acknowledges the support of his wife. "I remember when we first moved to Nashville 9 years ago , my wife held down the fort in our little apartment with our baby girl while I pounded the streets of town trying to get a deal. It took about a year but it finally came together. I couldn't have done it without her."
Jason comes by his love of music naturally growing up watching his Dad's band and eventually playing with him. "I learned a lot watching my Dad and his band play and he bought me an acoustic guitar that I worked hard to learn to play." Jason is an accomplished picker these days, playing some leads on electric guitar giving him even more room to express himself musically. "I grew up mostly strumming rhythm on an acoustic and then one night I had a dream that changed everything. I dreamt I was playing in my Dad's band and I was wailing on these incredible solos", he said laughing. "I loved it so the next day I went out and bought an electric guitar and started learning my scales." Jason is endorsed by Gibson guitars now and is thrilled by the arrangement.
"Gibson has provided me with some excellent instruments to play over the years. Couldn't be happier."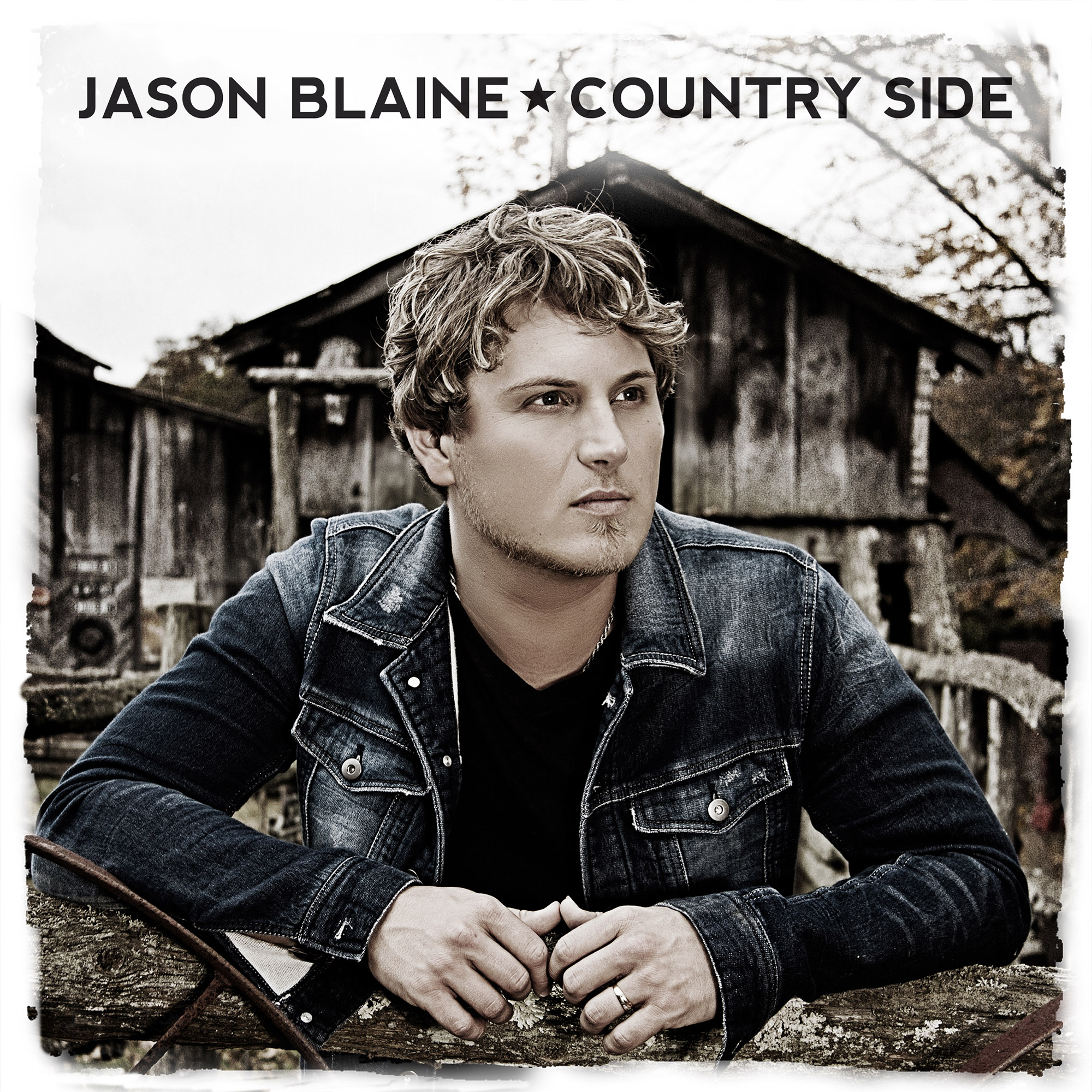 And now he has a new album, Country Side, to promote. The opening cut is the title track and it sets the tone for the whole album. A lively track that picked up considerable airplay as a summer single, it showcases Jason's vocals and songwriter skills. "Traveling Light" is a great driving song, nice crisp production, very radio friendly while "Spotlight", the current single sounds like a hit from note one. "Back To You" tells the tale we've all been through; hurrying home to get back to that special someone.
"Getaway" is more rock oriented tune at first but the banjo and Blaine's country vocals soon take over and the country boy is rocking. "Arms Around" is close to a ballad, well written and well sung. This boy can sing. "Sugar Ridge" is more of the well written and well sung arsenal that Jason has perfected. There is a consistency that comes with years and hours of working at your craft. "Cover Band" is an homage to the years of going to clubs and listening and dancing to a "cover band" that is playing the hits of the day. "Night Falls" slows the tempo down a tad and speaks of romance and moonlight. "Heaven Comin' Down" moves at a steady pace; great dance tune. "We Were That Song" is very Dierks Bentley like to my ears, and that's a good thing. Might be my favourite track on the album. Lots of references to old familiar hits that bring back tons of memories. The following two tunes are the bonus tracks on the CD. "Dance With My Daughter" is obviously about Jason's little girl and will probably end off as a much requested wedding song. The album wouldn't be complete without a tribute to his son which Jason delvers brilliantly in "Play With My Son." In Jason's words, "I'm really proud of this album and I hope everybody enjoys it as much I enjoyed making it."
Jason is set to embark on a very ambitious cross Canada tour beginning on October 30th right through to November 30th, 22 dates in 30 days. The Three's A Party tour will include Tebey and James Otto, starting in Halifax and ending in Vancouver. "I'm really looking forward to this tour , can't wait to play with these guys and meet old fans and meet a bunch of new folks. This tour will definitely be a highlight of the year. And I'm so grateful to so many people for the year we've had, managers, label folk, friends, fans and family. Thanks to all of you and the future holds even bigger things to come. Blessed."
Jason Blaine's take on it all is succinctly summed up with, "At the end of the day, when the stage lights come down and I get off the plane or the tour bus and I come home, I'm just a husband and a father."