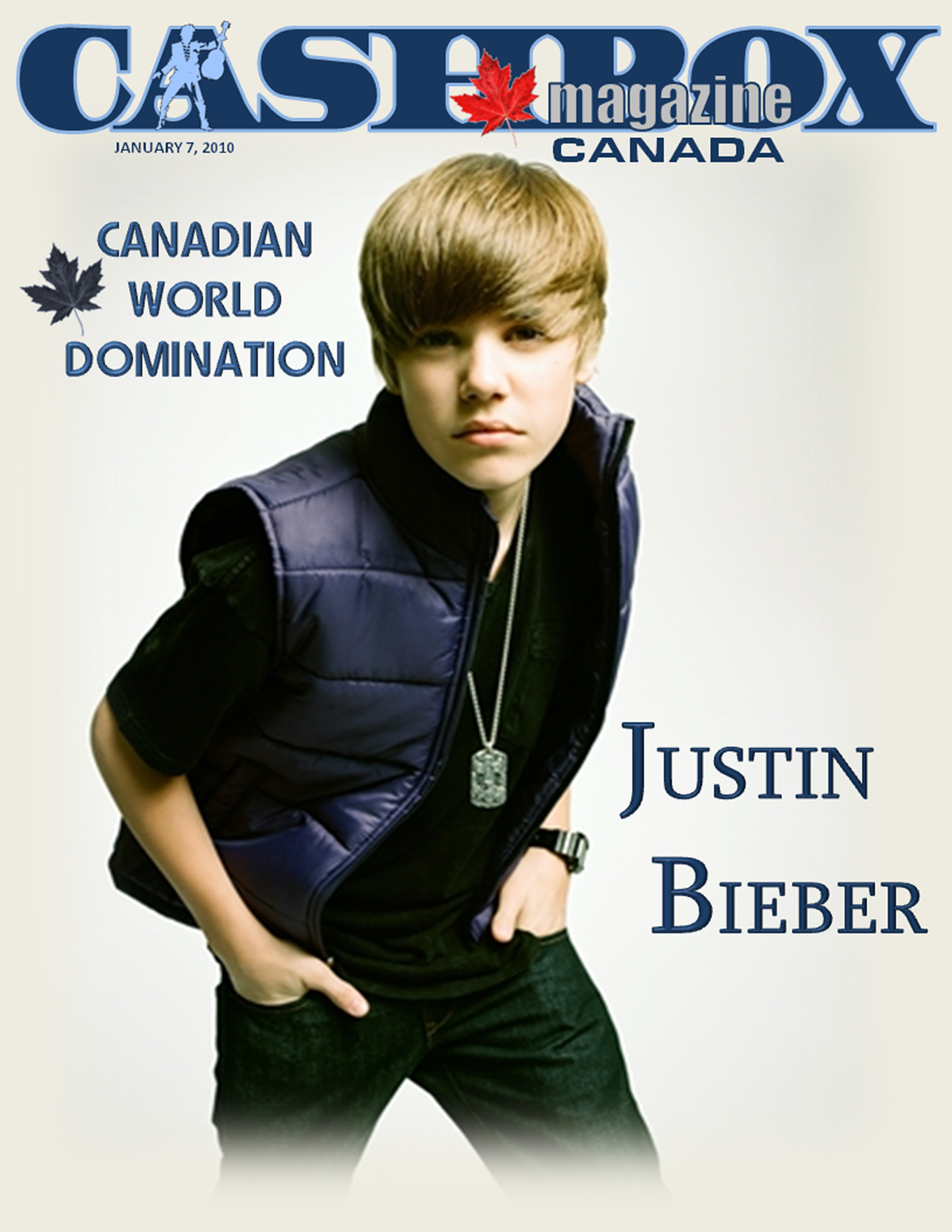 Fri Jan 07, 2011
He's the reigning Prince Of Pop, a singin', dancin' Beatle bob wearing sixteen year old teen dream, music's logical successor to Michael Jackson. How did a sweet kid from Stratford Ontario get like that?
Justin Drew Bieber,  born March 1 1994, is the biggest star spawned on YouTube to date, so it's fitting that his discovery was a random thing. Happened to the kid from Stratford,Ontario when So So Def marketing exec Scooter Braun clicked on a Bieber video by accident and unknowingly unleashed the next Pop Idol of The Universe.. A blown away Braun flew to Canada and persuaded Bieber's mom to allow the kid to fly with him to meet with r'n'b star Usher at the company's Atlanta offices.
In short order Bieber was inked to Raymond Braun Media Group (RBMG), a joint venture between Braun and Usher, followed by a recording contract with Island Records . The high speed pace here is indicative of what is to come for an artist who will write an autobiography before his sixteenth year is out.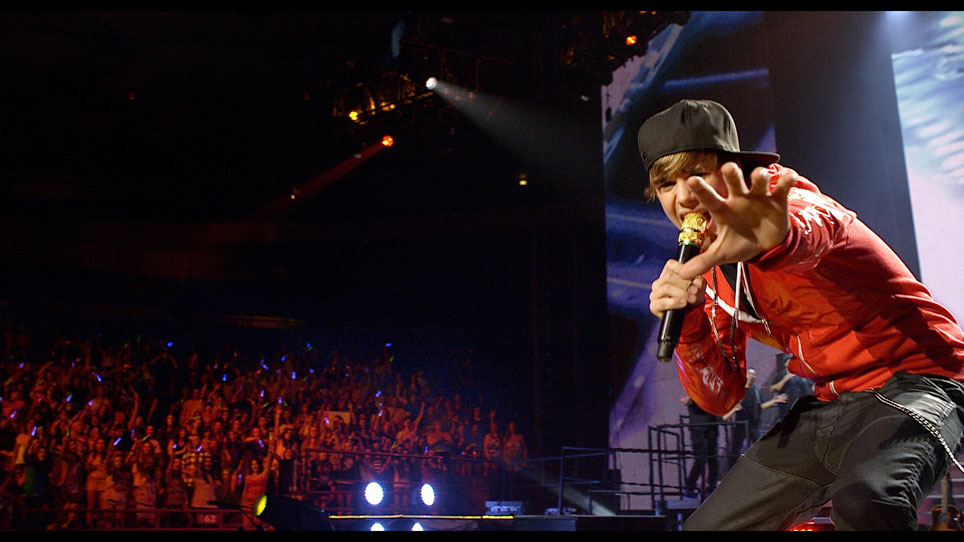 The first taste of things to come was the pure pop single 'One Time' released worldwide in 2009 and charting in the top 30 in over ten countries. Encouraged by the response, an EP album My World  dropped on November 17, 2009, and blasted its way to platinum status in the USA, double platinum in Canada and the UK..
Lil' dude suddenly became the first artist to have seven songs from a debut album chart on the Billboard Hot 100. The frantic pace continued with the first full-length album My World 2.0  released March 23, 2010 and by now its success was never in doubt.
The pop world hadn't seen a teeny pop success like this since Avril Lavigne and Bieber quickly left her accomplishments in his dust. The album walked in at Number One on the Billboard Hot 200 and within the Top Ten of several countries, reaching platinum in the US and doubling the trick in Canada.
Raised by a single-parent mother Mallette, Bieber taught himself to play the piano, drums, guitar, and trumpet.In early 2007, when he was twelve, Bieber sang Ne-Yo's 'So Sick' for a  singing competition in Stratford and placed second. Proud momma posted a video of the performance on YouTube for family and friends to see. She continued to post videos of Bieber singing covers of various R&B songs, and the kid began to gather a following on YT.
The campaign that pushed My World 2.0 to great heights kicked off with the world-charting 'Baby' which was followed by two others straight into the Billboard Top Forty. Then Bieber became Everywhere Boy, staring out from magazine covers, all over the internet and seemingly on every channel on your TV. The kid showed face all day, from Good Morning America to The Late Show With David Letterman and an impressive appearance on Saturday Night Live.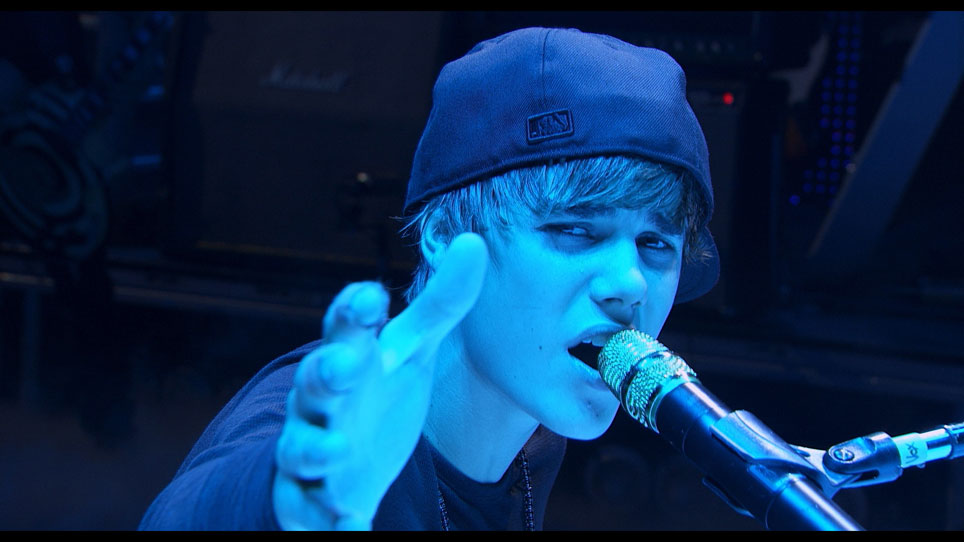 He had the hunger, the Canuck work ethic and the American marketing machine going for him. Coupled to an image somewhere between Justin Timberlake and Eminem, the JB juggernaut was unstoppable.
Among the many rungs on the ladder to the top the kid's climbed were carefully selected special live performances. Bieber got busy at the White House with a special gig for Pres.Obama, rocked the house on Dick Clark's New Year's Rockin' Eve, was an award presenter at the 52nd Grammys. When the quake hit Haiti, he was right there, appearing first on the remake of 'We Are The World', released to benefit that unfortunate nation, then on Mar.12 2010 showing up as a featured performer in a group of Canuck musos known as Young Artists For Haiti, to record K'naan's 'Waving Flag'.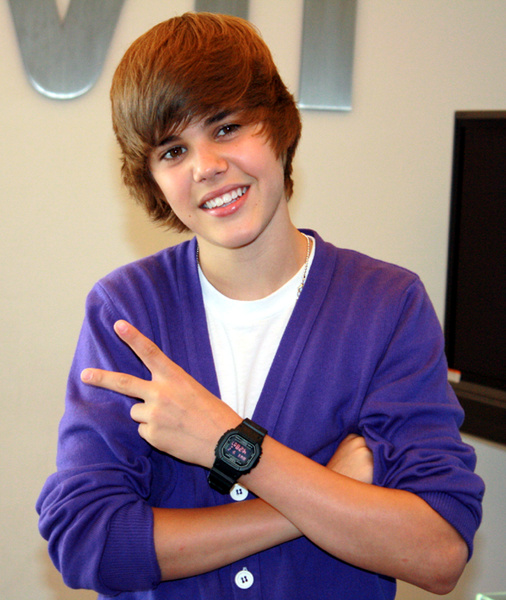 June 23, 2010 saw Bieber taking it to stadiums on his first headlining tour in support of My World and My World 2.0. The tour reportedly grossed $36 million from the live appearances alone.In July Bieber became the most searched for celebrity on the Internet, his music video for 'Baby' blasting past Lady Gaga's 'Bad Romance' to become the most viewed YouTube video of all time. By year's end JB, as he's called by members of his entourage, was accounting for three percent of all traffic on social-networking site Twitter.
Bieber began recording his follow-up album in July 2010 in NYC, in the throes of the career-killing Breaking Of The Voice. To settle fan misgivings, he went public about it, noting, "It cracks. Like every teenage boy, I'm dealing with it and I have the best vocal coach in the world. Some of the notes I hit on "Baby" I can't hit anymore. We have to lower the key when I sing live".
Aware of the importance of the follow-up album, Team Bieber jacked up the bar by bringing onboard hot Brit singer/songwriter Taio Cruz and Eminem mentor Dr. Dre produced a pair of tracks for Bieber last summer. Work on the project continues with a summer 2011 tentative date.
Meanwhile, to keep the pot on the boil, November 2010 saw the release of one of the year's bolder cash grabs. My Worlds Acoustic featured acoustic versions of songs from the two 'World' albums, plus a new one titled "Pray'. That title may have been a note-to-self for JB, as reviews of the album have been less than kind.
What's next for The Beeb is as yet not clear. There's the album and its support tour but there's also his movie. The semi-bio pic Never Say Never is slated to drop just ahead of Valentine's Day, with considerable speculation it's intended as a springboard to a movie career for the kid.
This kinda  talk is by no means idle; Bieber guest-starred in the season premiere of  CBS crime drama CSI: Crime Scene Investigation on September 23, 2010. He played a "troubled teen who is faced with a difficult decision regarding his only brother." And did it so well he'll continue to appear in later episodes as his character's story progresses.
One thing's for sure, Justin Bieber won't be stepping out of the spotlight anytime soon. If anything, he'll be even more visible in 2011, doing more for the colour purple than Oprah and Prince combined, all the while waving the Canadian red and white worldwide.