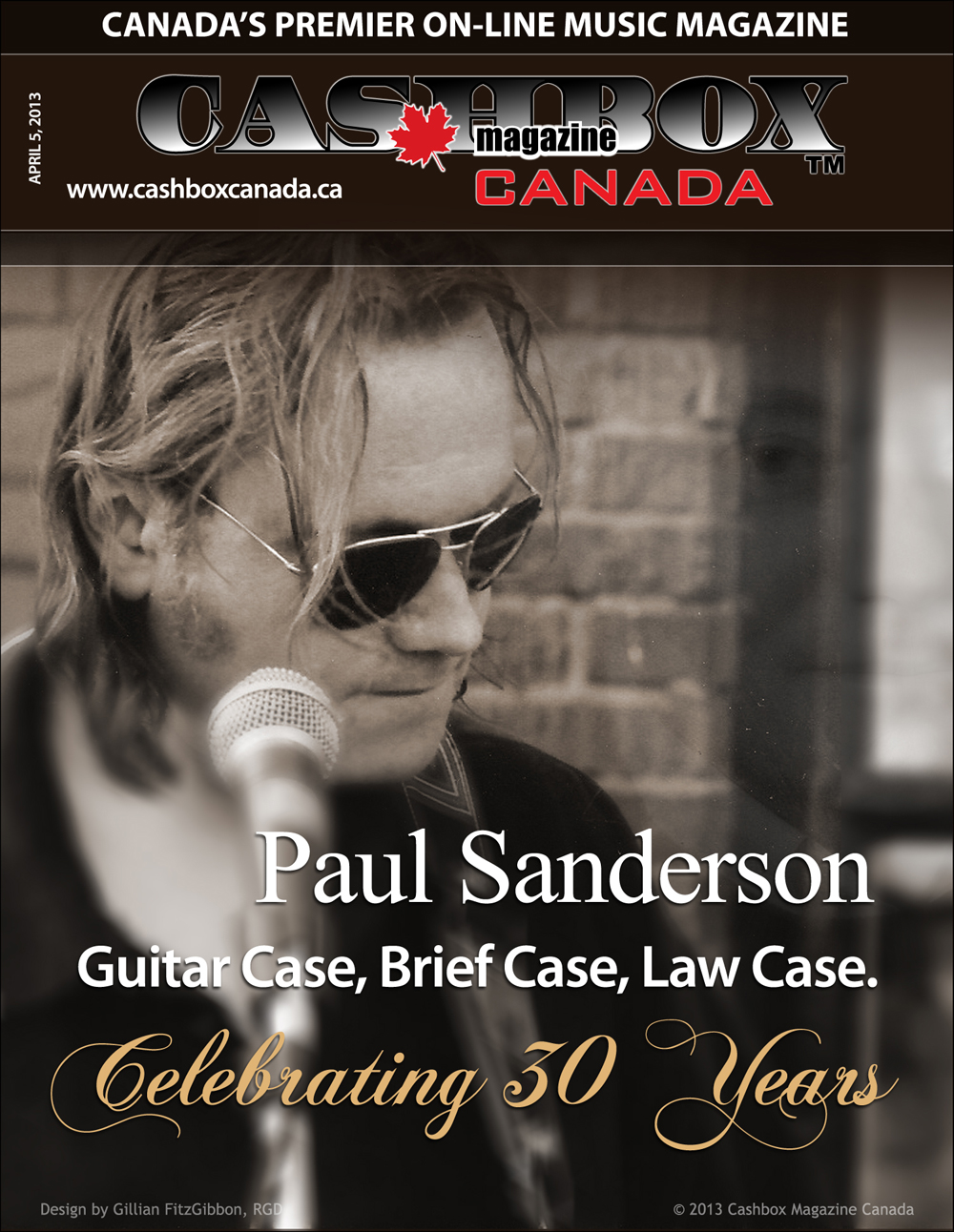 Fri Apr 05, 2013
The calm, quiet voice of Paul Sanderson doesn't sound like he is even close to 30 years old, let alone having been in the law business for that long. But it has been 30 years on April 07, 2013, that this multi-faceted man has been practising arts and entertainment law. The name Paul Sanderson is a familiar one with most of us in the music world who would have required an entertainment lawyer at one point in our careers. Quite a celebration and a test of time, in a business that is known for its lack of tenacity and longevity.
For those who do not know, Sanderson is also a talented musician, writer and photographer. Born in Toronto and raised in the east end of Toronto and Scarborough, he went to school where it is rumored that another famous Canadian, Robbie Robertson also attended (John A. Leslie Public School).  He came from a solid family background, although there was not much trace of music or law in the family. "My mother actually had me take classical piano lessons at the age of 7, but my real interest became guitar at a very early age. I am self taught and credit the Beatles, Jimi Hendrix and Carlos Santana for inspiring me to learn my first riffs. The 50's and 60's were a wonderful time to grow up; there was a sense of optimism, and our parents wanted more for us than they had in their era."
The work ethics could possibly come from his Celtic background. "I have Scottish and British blood in my background, and the Celts are not afraid of hard work. I grew up in a very strong, supportive environment, with parents who taught us family values. My Dad, Harold, was what they called a TTC Operator back in the day, so he spent his time 'riding the rails.', so it is as a tribute to him that I have served as a volunteer adjudicator for the TTC Subway Musicians Auditions since 2002. We spent many summer months as a family at the family property, a farm house and lodge in the Haliburton Highlands, 20 minutes south of Algonquin Park.  Part of the property, a cottage, is still in the family, and we continue the tradition of spending family time there."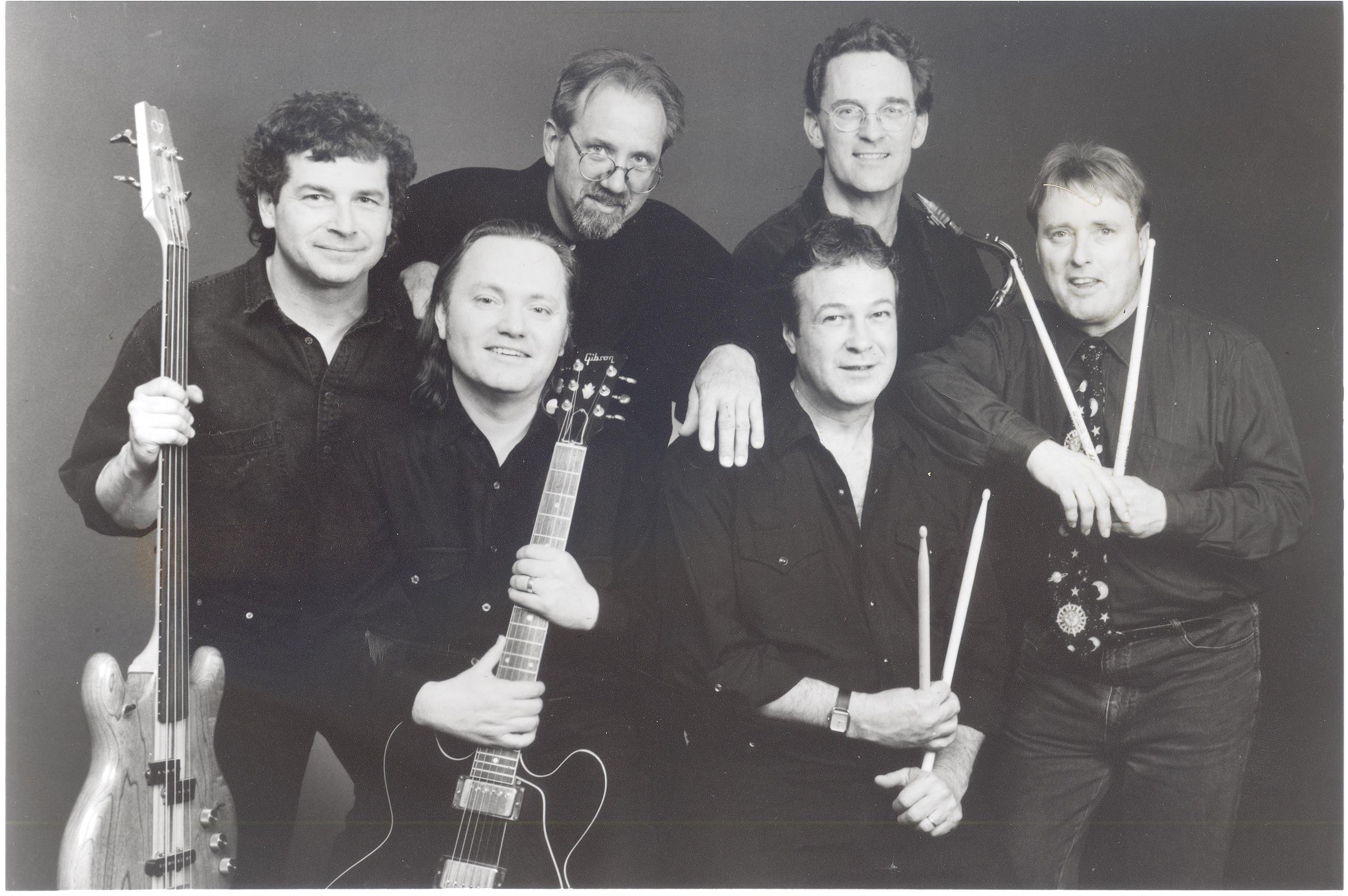 So when did law school appear in this musician's vision?  "At 19 I left home, but went back to school at 21. I already spent time hitchhiking on the road, and as so many of us did during the hippy days of the 1960s, had experienced very small brushes with the law. At that time I became a (courier) messenger at Borden and Elliott (now Borden, Ladner and Gervais LLP) and my young mind thought this could be the way of finding focus and success above and beyond my music. So I applied myself to education, attending Osgoode Hall Law School and was called to the Bar in 1983. It has served me well to have a solid monetary background, which allowed me to raise a family while still pursuing my other interests which, of course, has always remained music. I only stopped playing for two years, the first year of law school, which is pretty intense and the year I wrote and researched the first edition of my book Musicians and the Law in Canada."
In three decades in business Sanderson has consistently been recognized in the legal community as a leader in the arts and entertainment legal field. Accolades include but are not limited to:  "Most Frequently Recommended" as an entertainment lawyer in the Canadian legal directory "LEXPERT; listed in the 2007 and 2010 Special Report of "The Best Lawyers in Canada" in the Entertainment Law category under Music and most recently, listed in the 2011 edition of "The Best Lawyers" in Canada in the practice area of Entertainment Law.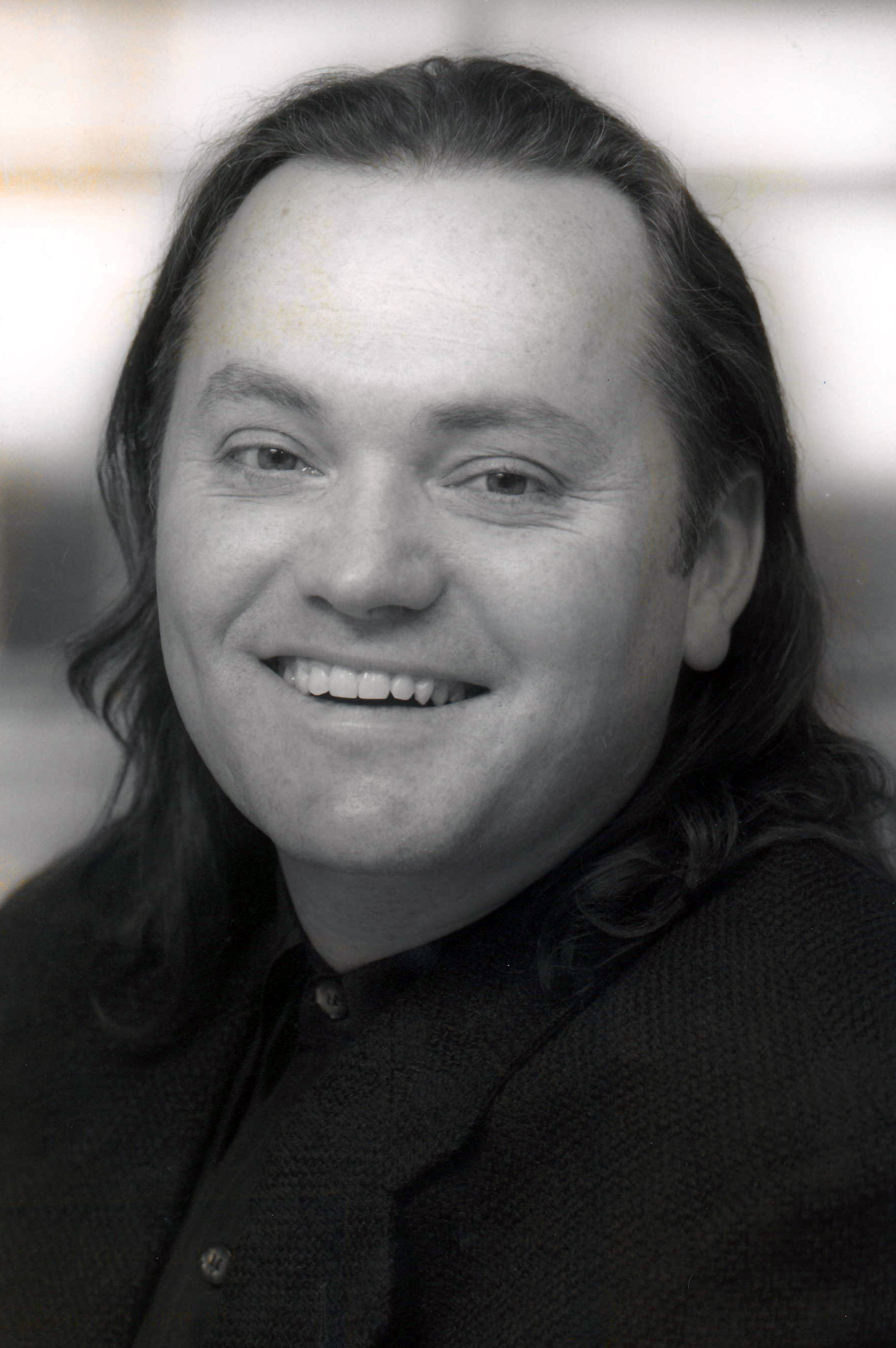 Throughout his career, Sanderson's client roster has included a 'who's who' in the Canadian entertainment, music and visual arts communities.  Past and current clients include: Chantal Kreviazuk, Ron Sexsmith, The Management Trust, The Philosopher Kings, Classical Kids, Edwin and Elephant Records (Sharon, Lois & Bram).
On his long-term success in the entertainment business, in private practice, Sanderson states:  "Not unlike the ratio of those musicians that would like to make their living full-time as musicians, but very few actually do, I find that the same degree of commitment – yes even obsession that your clients have, is what it takes to succeed, survive and thrive, particularly if you're looking to be an entertainment lawyer in private practice".
One of Sanderson's valuable services is the legalities of Trade Marks. "I was an associate at one point with Clark Miller, a well known lawyer in Canada, and mutual graduate of the first joint Osgoode Hall/University of Toronto Law school entertainment law course that we attended, and in 1985 he insisted that I learn trade mark law, in addition to our practice of entertainment law. I am now very grateful for learning that aspect of the law, as it is a part of my practice today. Most clients do not know the value of their intellectual property; it is like a house, you build it from the ground up - it truly is the foundation of your legal rights."
Outside of the law practice, Paul Sanderson is also an accomplished photographer, musician, author, teacher and guest lecturer.  Paul co-authored Artist Agreements:  Contracts for Visual & Multi-Media Artists (CARFAC Ontario), now in its second edition.  The fourth edition of his book, Musicians and the Law in Canada (Carswell Legal Publications), considered the industry's "bible",  is scheduled for an April 2014 release. 
Since 2005 Sanderson has also lectured on contracts and intellectual property at Metalworks Institute, a post secondary private school focusing on preparing students for careers in the music business.
In addition to his weekly teaching commitment at Metalworks, Paul is a frequent guest lecturer.  In 2013 alone he was part of a conference for the Hamilton Musicians Guild (local 293) in February, was a panelist at the Arts for all Canada conference at the Metro Hall and gave a keynote address for the business students at Queen's University's inaugural music law conference in March.  Upcoming speaker engagements include the seminar Sing! at the Miles Nadal JCC in Toronto on April 07th and as a lecturer at the Canadian DJ Association on April 13th at the Airport Hilton Hotel.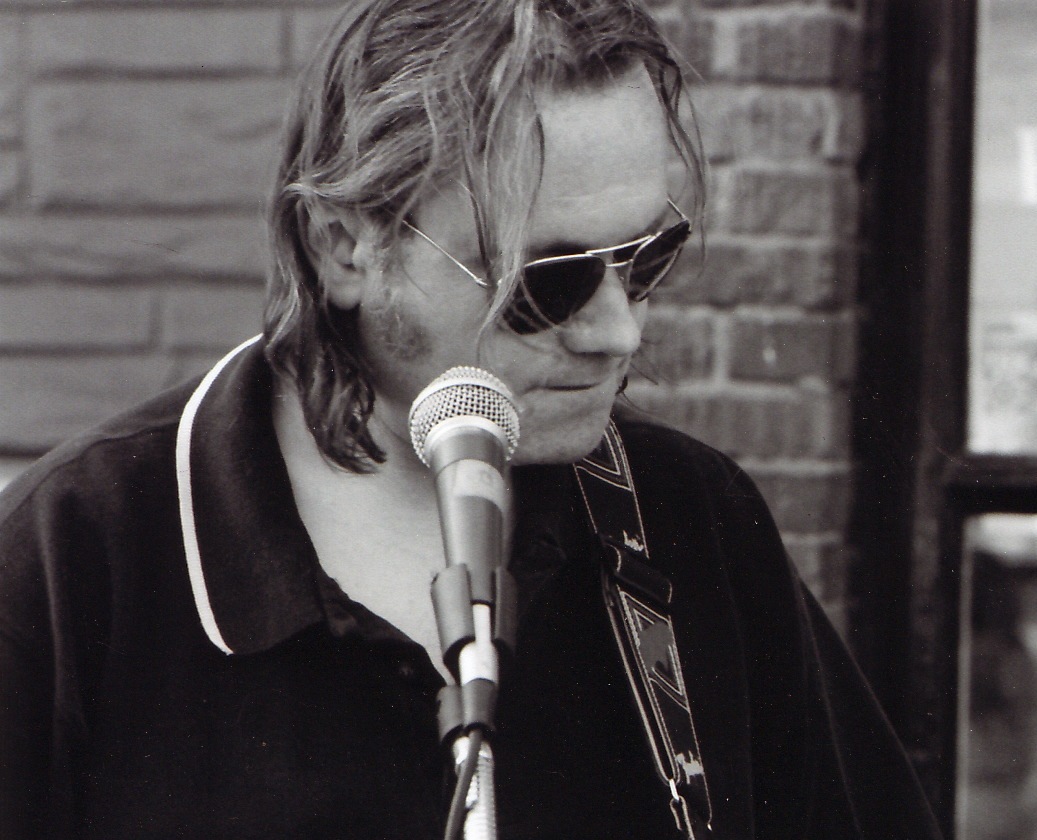 In terms of volunteer work, Sanderson is "committed to the practice of law as a profession, not just as a business".  He is co-founder of ALAS (Artist Legal Advice Services), Canada's first summary advice legal service which offers free legal advice for artists of all discipline and currently is a director of ALAC (Artists and Lawyers for the Advancement of Creativity) which oversees ALAS.  He has appeared before the House of Commons Standing Committee on Taxation of Artists, made submissions to the Macauley Commission concerning arts and public education and prepared a major legal opinion for the Ontario Arts Council on film and video censorship.  Paul also sat on the board of directors for the Scarborough Arts Council when it was known as Arts Scarborough.  He is a past member of the Canadian executive committee of the International Association of Entertainment Lawyers and has been a member of and acted as co-ordinator of the executive committee for legal panels at Canadian Music Week. He currently is on the board of the Toronto Blues Society and has served as an advisory board member of the Music Gallery and the Humber College Music Program.  Sanderson Entertainment Law continues to be an industry leader with legal expertise in the Music Business, Visual Arts, Corporate and Trade Marks. 
Paul is also a founding member, guitarist and songwriter for Blue Room, an original blues based band in which he plays guitar, writes the songs and founded in 1996. He is a member of the Toronto Blues Society, CARAS and SOCAN. He is a published poet and a full member of the League of Canadian Poets. He is also an award winning photographer and is a member of The Scarborough Arts Council and Rail's End Gallery in Haliburton.
When asked what he would give as advice to the next generation of artists, Sanderson said, "If nothing else will suffice, and if you want it bad enough you can make it happen. Focus on being the best you can be.  Do your legal homework, get it in writing, but if you are just chasing dollars you are in the wrong business" and remember, "you don't get what you deserve you get what you negotiate."
All said from a man who has learned to carry a guitar case, a briefcase and a law case. 
Congratulations on 30 years in the business Paul. The music industry could use another 30 years of you in it.