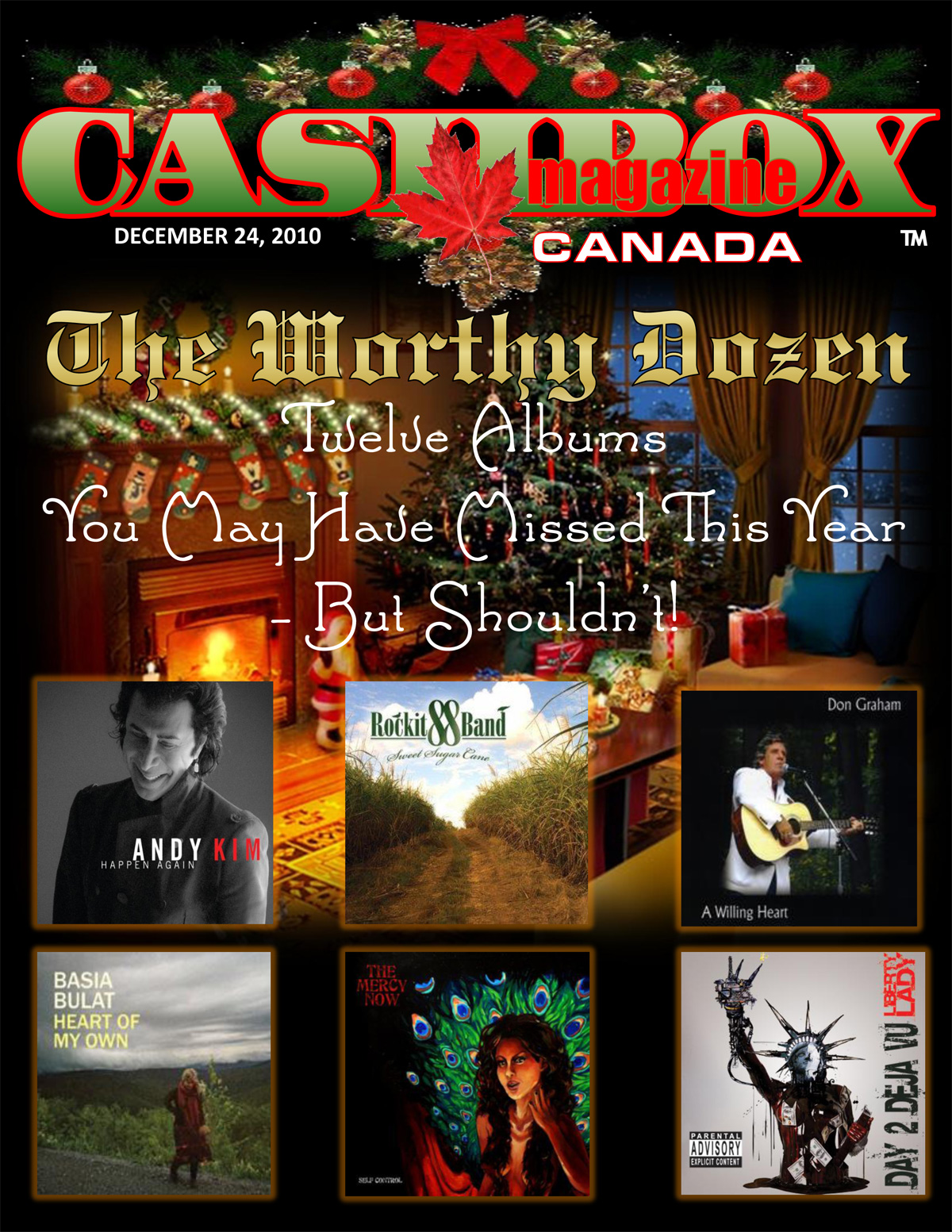 Wed Dec 22, 2010
The Worthy Dozen-Twelve Albums You May Have Missed But Shouldn't
Even with all the gloom and doom emanating from the major and minor record companies, new music continues to be released in greater number than ever. Which means as sure as God made minor keys that much worthwhile music gets buried under the torrent. Even with social networking and all, media attention and career breakthroughs come soonest to those allied with the major labels.
In no particular order except that they all deserve the attention, here's the first six pack of twelve hearing-worthy Canadian albums whose release may have flown under your personal radar.  The other six-pack arrives next week.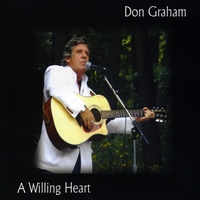 Don Graham
A Willing Heart
Breakin' Records
These 11 originals from a country rock veteran highlight the niche Graham has carved out for himself. It's a little bit country, a little bit rock and a little bit Celtic. Teamed with his long-time associates from Chestnut Tree Productions, the Hill brothers Bill and Andrew, Graham's tales of personal relationships are lovingly arranged and executed.
From the clever, bluesy opening riff of 'Got What It Takes' to the stately harmonic cadences of the album closing title track, Graham has crafted a elegant, insightful collection of tunes that speak to the best in all of us. Plus the man's a guitar picker of renown and tasty licks abound. Indeed, one of the sparkers here is 'Play Like Scotty' a string bending tribute to Scotty Moore, longstanding lead guitar player with Elvis Presley.
Elsewhere, we get sweet Appalachian style picking on 'Dug A Hole', 'The World Didn't End' is pure Nashville country, then the man does a sharp turn for the Tex-Mex-inflected 'Como Te Amo', featuring a vocal reminiscent of Marty Robbins.
Which is another sharp point here; Graham's vocals are correctly interpretive on every song, even when the tongue is gently applied to cheek with lines like "got swept away by the mariachi". One of the year's best country releases.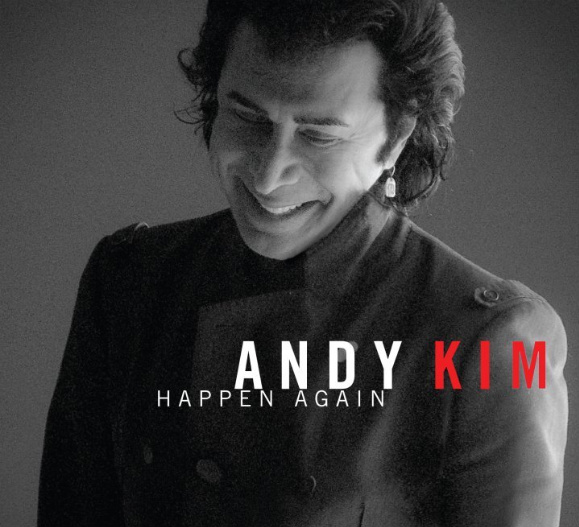 Andy Kim
Happen Again
Unsigned
Pop confections never sounded better than the ones cooked up by Montreal's Andy Kim in the late Sixties/Seventies. His first album release in 20 years offers 10 songs in his vintage style. Think Brian Ferryesque high gloss pop. Balancing the observational with the deeply personal, the album's smoothly sequenced, making it perfect ambient music for the slow seduction or the reflective evening by the fire. The subject matter, while understandably rooted in the personal, is written by a man who knows how to make them connect universally. So he's in the driver' seat for the full ride, taking us from the full on, gorgeous ecstasy of ' Days In Heaven' through the hands on hips defiance of "This Is Me' and into the slyly humorous Cupid-bashing 'Love Has Never been My Friend'. Kim's been saying in interviews that during the years away from the spotlight, he was still writing songs and it shows in the killer lines the man drops effortlessly. How about, "I'm not trying to win moments with you/I'm trying to win a lifetime' from 'This Is Me' or "Cupid if you hear me / don't come near me with that bow", from "Love Has Never Been My Friend,"
The collection includes ' I Forgot To Mention', the 2005 comeback single written and produced with Barenaked Lady Ed Robertson. Classic pop with just a hint of soul swagger.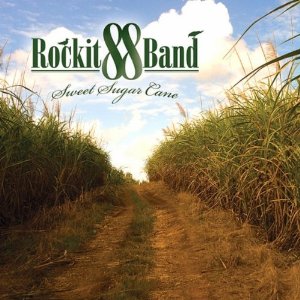 Rockit 88
Sweet Sugar Cane
Unsigned
Welcome to Sweet Sugar Cane, only the second album from T.Dot blues/roots rock band Rockit88 and it's linked to the same pedigree as the music of The Band and early Van Morrison. Fronted by dual singing songwriters Neil Chapman and Bill King, Sweet Sugar Cane is the game changer for the band and the In Door to a whole new identity as an original act.
As such, the stakes are high but on most tracks, the band raises the bar then easily soars over it.
The album opens with 35 seconds of Southern fried Gershwin-ish piano riff, which nicely sets up 'Summertime Is Here', a mid-temp invitation to party down summer style, sprinkled with slide guitar licks like stardust and the propulsive drumming of Jim Casson. From there it's on to all manner of original material inflected with country blues ('I Never Knew The Blues'), swamp rock touched by barrelhouse piano ('Brother, Sister'). Among ballads so American Gothic stately you can almost see the Spanish moss hanging off them is the brilliant r'n'b infused 'Angels Crying' and the show-stopping title track, dusted with the kind of organ lines which link it to genre gems like 'Long Black Veil'.
Folks say good material will elevate a band's performance and certainly both King and Chapman bring their A games to the vocals, giving each tunes a specific signature. The ensemble playing is tight without feeling constricted and the sincerity just oozes out the tracks.
This is a class act all the way and the best album of roots Americana by a non-American band released this year. Essential listening for the fedora-wearing hipsters fooling around with roots music.
Big props to Toronto music magnate Gary Slaight, who not only inspired the album but also paid for it. Way to rock it dude; coin well spent.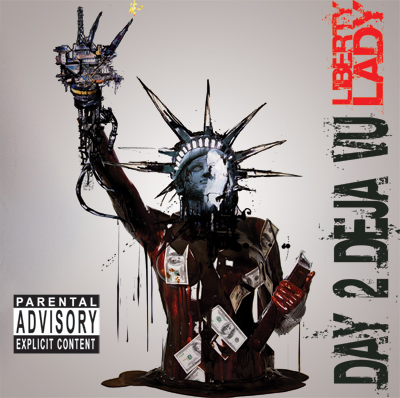 Day 2 Déjà Vu
Liberty Lady
Unsigned
Day2 Déjà Vu are Jeff Fulford (lead vcls, gtrs), Sean MacLean (lead vcls, bass) and Justin Fulford (drums, percussion, backing vcls) and a big part of their punch comes from having dual lead singers. This ensues that both the sweet and the rough get the appropriate delivery and indicates a band with a reach beyond the indie rock clichés they occasional play into. Which is pretty much par for the course on a young band's debut album and helps highlight just how hot the good stuff is.
F'r instance, the one-two punch of Sad Face and She Wants America will forgive the strangely unresolved Inhale, which seems to stop just short of going all the way to full songhood and the girls will forgive them a roll cal of sins for the infectious indie dance rock of Lay You Down.
Which is probably as good a genre tag as to what this 905 area band is up to. Judging by the crowds which regularly show at T.Dot venues like Tattoo Rock Parlour and Cherry Cola Rockarolla to wig out to guitar rock, the boys have a large potential audience out there. It's only a matter of time till they find each other.
Then it'll be all about Salvation and Burning In The Rain, which close out the album, leaving behind the sense of having been into something good.
That's supported by reports from the band's album release party at Toronto's Mod Club that yes indeed, did fair damsels dance and the men that love them did bang heads in appreciation of the barrage of guitar riffing roaring off the stage.
Overall an impressive debut that could vault Day2 Déjà Vu over the bar circuit and onto the level of Alexisonfire and Billy Talent.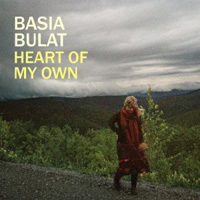 Basia Bulat
Heart Of My Own
Secret City
The tunes here are largely shaped by Bulat's imagined idea of a mythic Yukon before she'd ever set eyes on the place and the fact they were all written on the road, a new experience for Bulat. Even the ones not overtly Yukon-influenced carry an ambience of re-imagined times and places.
The resulting collection offers a mix of delicate and rollicking nu-folk, all very heartfelt with just enough sprinkles of 'world' influences and all in the service of Bulat's vocals and Autoharp. It builds on Polaris Music Prize nominated debut Oh, My Darling with a more daring approach with some of the finest moments on Heart Of My Own appearing when the instrumentation is peeled away to let the lady's lush vocalising come out to play.
Check 'Once More For The Dollhouse' and 'Hush' for vocals that'll make you shiver with a certain kind of recognition.
Other tracks like album opener 'Go On' and 'Run' power out with a solid band feel, the former largely driven by savvy drumming.
If the best of the band tracks has to be the horn-inflected 'If Only You', the epic 'The Shore' is the showstopper among the more personal, inward-looking tunes.
With Heart Of My Own Bulat has pulled off the neat and oft-elusive trick of dropping a sophomore album which not only pleases the fans of her debut but will pull in anyone with an ear for good tunes, no matter the genre label. This is folk-rock to make Neil Young a believer.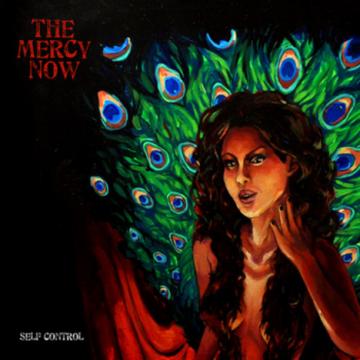 The Mercy Now
Self Control
Unsigned
Best straight up rock'n'roll debut album of the year. The band say their sound's a virile mix of classic hard rock, soul and garage rock, and it can all show up in the same song. That sense of impending head-on musical collisions is what keeps The Mercy Now from being just another bar band mining classic rock.
The soul's mostly from belter Russ Fernandes, former Shikasta shouter; he's rougher than that but owing a debut to Jagger; the blues rock courtesy of dual guitarists David Viva and Adam Burnett.
 The playing's tight and there's passion aplenty but what elevates many a tune here are the vocals. Fernandes can go from throat shredding to a Plant-y falsetto without any apparent damage, then switch to a SoCal punk croon on the very next tune. Elsewhere on the album, when Fernandez isn't being theatrical, he's being anthemic, as on the first single "Hard Times'.
Recorded directly to analog tape using a ton of vintage gear and mostly live off the floor, the total sound comes over all old-school with that cops-at-the door urgency but you can tell it's not from back in the day.
About now, it's customary to say you'll be hearing a lot from this band in the future. Know what? Frag the future. Hear them now. 
Or as my bud Collie W, put it, 'This is righteous shit indeed'.
What's here is slyly summed up on  "Lean On The Music" No tricks, all solid licks and makes total sense it's out on vinyl. We hear tell there's a red version out there. Gotta get me one of those.