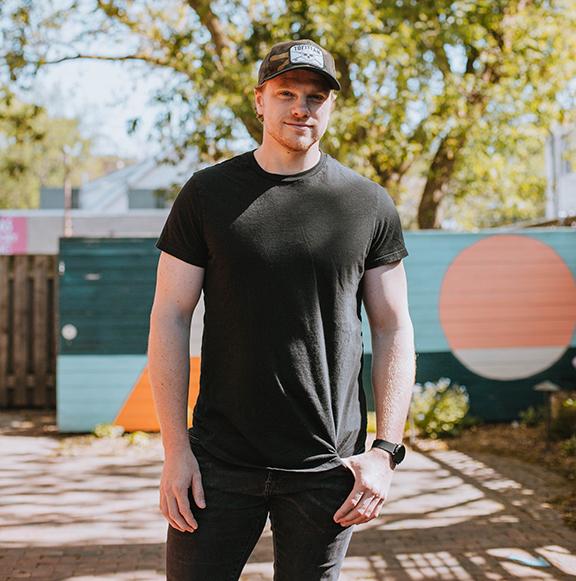 Fri Jul 10, 2020
Canadian country-pop artist Greg Rider takes to wondering if the love of his life is just "One Town Away" in this, his new single release.
"This song was actually written in two days," Rider recalls, looking back at a songwriting session with collaborator Rich Cloke. "I didn't plan it at all. I was a bit stuck," he explains. "I had songs that I couldn't release yet, so William Gaboury — producer and owner of Father & Son Records — suggested I write something new and come visit him in Montreal that same weekend to record everything. It all happened so fast… Within four or five days, everything about 'One Town Away' was done!
Watch and listen to 'One Town Away' here:
This song's particular process may have been quick, but the concept had been percolating in Rider's mind for years — albeit subconsciously, for the most part.
"This is the first song inspired by my roots," he shares of growing up in Waterdown, suburban-meets-country town about an hour east of Toronto. "I was always running away from my hometown, and running towards new opportunities. Those county lines could never keep me for long."
That's for sure.
With music influenced by the likes of Sam Hunt, Kane Brown, and Tim McGraw, Rider first set his sights on starting his musical journey in Montreal, busking on busy street corners and playing the city's vibrant bar scene. From there, he took flight to the Cayman Islands, balancing time between bartending and songwriting, playing open mics under the sun and stars.
His islander life wouldn't last for too long; he was soon convinced to try his hand at North America's country music capital, Nashville, where he earned the opportunity to play on Grand Ole Opry's radio station WSM, at the incomparable venue Whiskey Jam, a full-time residency at Nashville Broadway's top venues, and full-time at FGL House.
He's back where it all started, now, setting up shop in Waterdown after a recent cross-Canada tour playing over 75 schools to more than 30,000 high schoolers, sharing music with a message of hope and resiliency.
"After years of traveling, I'd been thinking more and more about the day when I'd finally settle down. Crazy, eh? But I always think about when and where I'll meet my 'person. I thought I would have found her by now, but I guess it's not the right time. But can you imagine if I've travelled all around the world and she ends up being one town away? That's what the song is all about.
For more visit:
instagram.com/gregridermusic/
twitter.com/gregridermusic
open.spotify.com/album/7LpQXqFE3gAxhalWUq6qcp?highlight=spotify:track:6pchi7dhb3hrSTPdFZqQgg